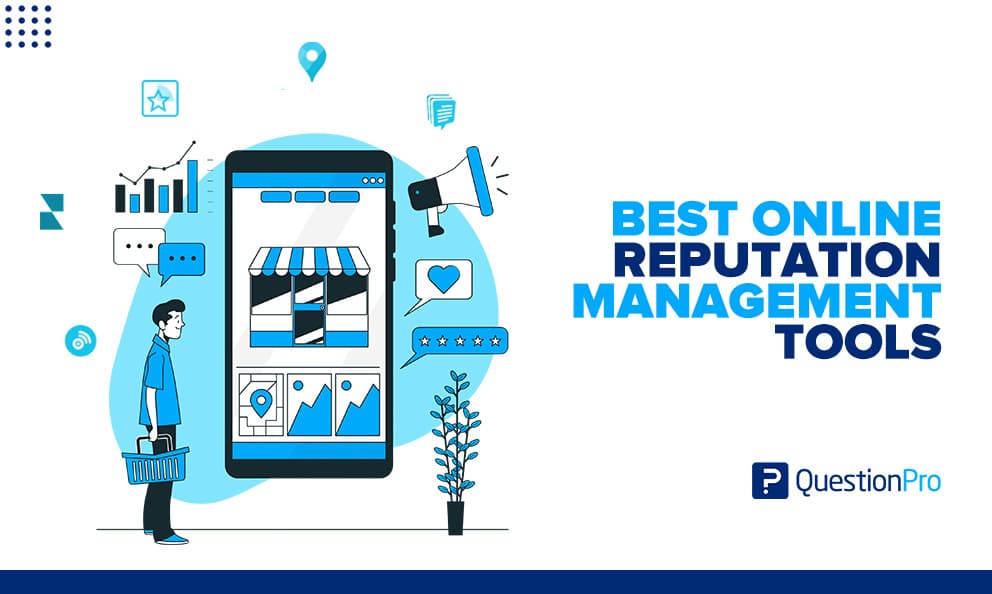 Digital presence is one of the most critical aspects for brands. Despite that, very few have initiatives dedicated to understanding and improving what happens with it. We want to tell you everything you need to know about online reputation management tools and how they can benefit your business.
The online reputation management tools are great allies of those who seek to know and take action on their users' perceptions and how they express them in the digital world. Below we will tell you a little about these platforms, a list of the best, and some recommendations, but first, let's start with the basics.
What are Online Reputation Management tools?
Online reputation management tools are digital platforms that allow users to monitor what is said about their brand through digital media, such as customer review portals, social networks, and online maps.
Its primary function is to gather in one place the various opinions and comments that users could be making about your product or brand. From there, the possibilities are endless, and it is possible to conduct an in-depth qualitative and quantitatively analysis.
Other important functions for which this type of tool is increasingly popular among customer experience experts are the management of user opinions and the possibility of responding in real-time, data collection, and sentiment analysis, among others.
In the market, there are a lot of options. Below, we list some of the best that exist.
Best 10 Reputation Management Tool
We have created the following list based on the popularity and potential that these tools offer to their users, we know that you will find the right one for your needs.
1. QuestionPro CX – Reputation
QuestionPro CX is a platform focused on all aspects of the Customer Experience, this software offers a series of functions to evaluate each touchpoint a client has with a company or brand.
Among the incredible features that QuestionPro CX offers its users, Reputation is a feature that stands out among all due to its ability to monitor what is said about your brand in media such as Capterra, Google Play, Yelp, and Twitter.
With this incredible function, you can see all the reviews and opinions of various sites in one place. With this, you will not only be able to respond and interact with said comments, but you will also be able to collect data and carry out advanced studies such as text analysis and sentiment analysis.
Are you interested in knowing more about this tool? You can start with a free trial or learn more about this incredible product.
Google Alerts is a tool that allows you to create alerts triggered when a new mention of your brand or any established keyword appears in articles on the web.
Thanks to its powerful search engine, Google allows users to define which word to monitor so that when an organization or person makes a publication that contains that word, triggers a notification that will enable you to take action on the matter.
Its intuitive interface and how easy it is to create alerts have made this tool one of the favorites of people.
Despite not offering many analysis tools, Google Alerts will always allow you to have a pair of eyes watching what is being said about your business on the web.
Buzzumo is popular among marketing professionals. Since its inception, it has focused on developing functions dedicated to facilitating the process of creating content in all its formats. Among all of them, it has some parts to know what people think about your brand on the network.
Within the "Monitoring" section, Buzzumo offers the possibility of exploring various aspects related to the perception of your brand and find areas of opportunity:
Brand Monitor: With this function, you will be able to find and monitor the mentions that users make about your brand and be able to provide them with an immediate response.
Topics Explorer: You will be able to know what is being said about your industry before anyone else, identify the most relevant news and inspect the news related to your products. Ideal for SWOT analysis or PESTEL analysis.
Competitors Tracker: With this function, you will be able to know what your main competitors are doing, what people think about them and identify opportunities that allow you to generate competitive advantages over them.
Products: It will allow you to see the new products and functions in trend within your industry as well as the news about them before anyone else.
Despite being a payment platform with some functions for this purpose, Buzzumo is a great option for monitoring your online reputation score.
Brand24 is a trendy online reputation management tool because its various functions focus on effectively monitoring what is being said about your brand online.
Some of the most outstanding aspects of this platform is undoubtedly the ability to perform sentiment analysis with the comments and opinions of people.
Another function worth mentioning is its real-time notifications when opinions are made about your brand in various portals. With this, you can take action in real-time to mitigate any possible problem or encourage positive comments to generate brand ambassadors organically.
SentiOne takes online reputation management to another level thanks to the integration of Artificial Intelligence to its various functions.
Thanks to this integration, it is possible to perform powerful sentiment analysis and advanced analysis with the mentions of your customers throughout the network.
In addition, SentiOne offers a social listening module, ideal for collecting and monitoring comments on networks such as Facebook, Twitter and YouTube.
Another advantage of this platform is the possibility of creating reports with all the data collected, thus facilitating the task of analyzing all this information simply and effectively.
TrustPilot is a consumer review portal. However, it has become an important tool to consider when managing our online reputational risk.
This tool allows companies to encourage users to share their experiences and opinions about their services. It has also developed interesting functions to control false reviews that proliferate on the network, as well as the possibility of reporting false comments, which make it one of the most reliable review platforms in the market.
Podium is an interesting platform that will allow you to boost your online presence thanks to its various features focused on generating interactions with users and collecting feedback.
In addition to its integrations and real-time chat, Podium offers its users the possibility of collecting reviews in real-time through its conversational chatbots, without a doubt an intelligent and creative way to know what your users think about the various aspects of your business.
Like many other online reputation management tools, with Podium, you can receive alerts about the comments people make on other review portals and encourage the participation of your audience through its invitation manager.
8. Qualtrics Reputation Management
Qualtrics Reputation Management's reputation management tool offers cool features to monitor mentions of your brand and reviews shared by your customers across popular review platforms.
Qualtrics will allow you to close the loop with your customer thanks to its real-time alerts, integrations, and its real-time dashboard, where you can see everything related to your online presence in seconds at a glance.
If you want to compare this software with one of its main competitors, we invite you to visit: Best Qualtrics Alternative
Reputation stands out for its centralization among the various channels where users can comment on its products or services.
Thanks to its control panel, you will be able to optimize all the descriptions and information of your business on multiple platforms and sites in a simple way, in addition to maintaining constant monitoring of reviews and responding directly to your detractors and promoters to mitigate potential problems.
In addition to its various integrations, Reputation also offers the ability to conduct online surveys to collect and analyze information from your target audience. Its ticketing and analysis platform will allow you to identify areas for improvement to offer a better experience to your consumers.
ReviewPush is a straightforward but powerful tool that will allow you to concentrate all the online reviews about your business in one place. Thanks to this, you will be able to receive alerts, notifications, and messages in real-time to react quickly to any eventuality.
Its significant difference is the ability to monitor various locations in a segmented manner through any platform and generate specific reports for each store or establishment you own. Without a doubt, something ideal for restaurants and local businesses.
Start listening to what they say about you!
What do you think of these reputation management tools? All are undoubtedly great and will mean a big step in your company and its online presence.
At QuestionPro CX, we are committed to supporting brands to improve their users' perception of its product or service. We have developed many tools beyond just knowing what your users are saying. You can also evaluate your customer journey, detect your detractors and turn them into promoters, collect data and do all kinds of analyses, all to delve into the minds of your audience to meet their expectations and provide them with unique experiences.
If you want to try out one of the best reputation management tools on the market, you can schedule a live, no-obligation demo here.