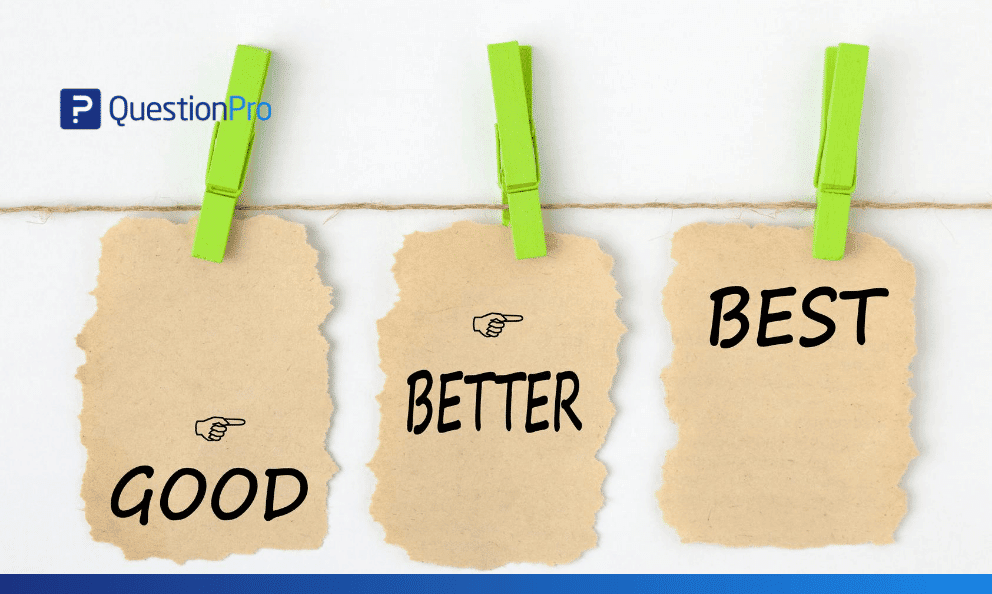 Anyone who's been to this part of the world will agree that the MENA region at large is a unique mega-market for all of the world's finest things. Leading tech companies have gained a strong foothold in the region's booming digital market as the Middle East boasts of one of the highest ever mobile penetration rates in the world. 
Survey & insights solution market is saturated with software companies – local and global- and companies have a tough time weighing the options available to choose the best one. Should you select the local, home-grown software company that understands the region's nuances and offers on-ground support? Or go with the world's leading solution provider with their operations based in a faraway continent? 
QuestionPro offers the best of both worlds- we are a global software, based locally, and our customers love the flexibility we offer. This article will shed light on how we emerged as the business's preferred partner in the MENA and what makes QuestionPro the best in the market.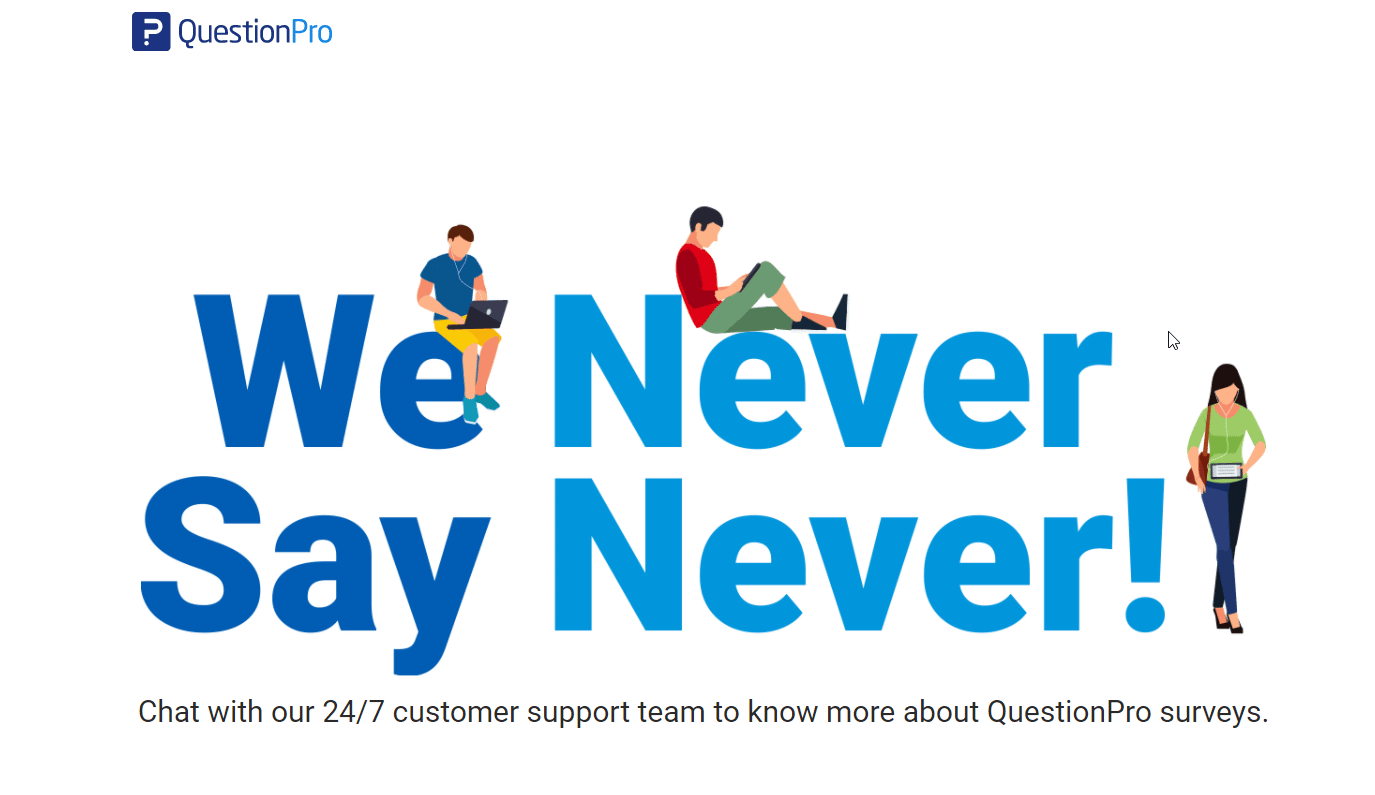 Why do customers in the Middle East choose QuestionPro as their preferred partner for Market Research, Customer Experience, and Survey Solutions?
We listen to our customers to understand what sets QuestionPro apart from our competitors and prompts them to select us. With customers across industries and businesses of all sizes using our product licenses or a combination of licenses, it was illuminating to understand why they picked us. Here're the 8 reasons why we are the MENA's go-to partner for Online Survey Solutions, Customer Experience Management, and Market Research. 
1. Superior product and feature-rich solutions
We could tell you a hundred reasons why our customers like us, but this is the only reason that really matters! It trumps everything else!  Businesses in the MENA (and everywhere else) choose us and stick to us because they are convinced that our products are the best of the lot. 
We take great pride in our products and solutions and go to great lengths to make it the best in the market in terms of advanced features, support, pricing, and customizations available. No matter which niche you belong or how unique your requirements are, we have the perfect solution for you. 
Our core products- Online Survey Platform, Customer Experience Software, Employee Experience Platform, and Research Platform are each sophisticated solutions with advanced features and intuitive UI. Besides, QuestionPro range of services includes Full-service Market Research, and Audience (global sample of consumers) to further assist your needs. A license system based on usage enables you to choose a free license, Advanced, or Enterprise based on your specific needs. 
We bend over backward to ensure that our customers find everything they need with us and get to enjoy endorsements like these in return!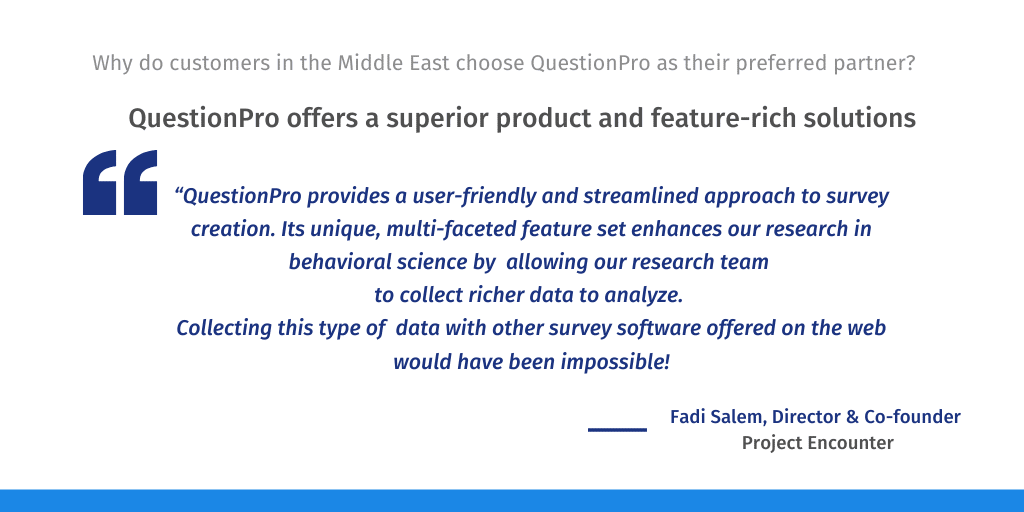 2. Locally available – we have our team in Dubai
We have seen time and again how important it is for the MENA customers to have a locally available product team. Businesses in the Middle East operate in a truly unique model and one has to be here to understand the pulse of the customer. QuestionPro understood this early on when we decided to branch out to UAE and set up a base here with a handpicked team with decades of experience in this part of the world. 
Key players in the MENA market like Emirates, Ad Noc, TAQA, Audi Volkswagen Middle East,  Abu Dhabi Executive Council, and Emaar  are among our happy customers– clients who believed in us only because we worked for them just like their own people did! Being local gives us a unique edge over our competitors as we are able to assure instant support – we, like you, start our weeks on Sundays and celebrate our Fridays! Emails that take 48 hours turnaround time? They NEVER happen with us! Perks of being a truly global product based out of the middle east are whopping great.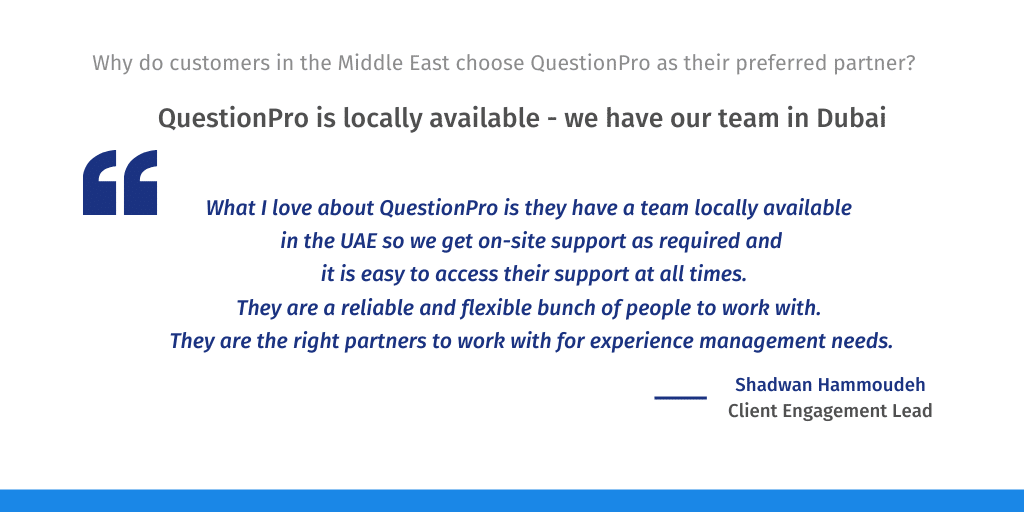 3. Arabic support and 24/7 Live chat
Yet another reason why customers in the Middle East think of QuestionPro when they need the best online survey software, customer experience solution, or market research platform. None of our competitors can beat the quality of our instant support. 
Our response time is always less than one hour- our team is readily accessible whenever you need us. Burning your midnight oils? We will join you! Need a hand with the product on the weekend? Sure, our team would love to help! 
While other products in the market take up to 48 hours to get back to you, QuestionPro will have resolved your issue within an hour. We are available 24/7 on email, phone, or chat, forever! 
Multi-language support is especially valuable for our international customers, and a lion share of our MENA customers enjoy Arabic support. Our dedicated Account Managers for the higher licenses will work with you, for you. Did we mention local on-ground support too? 
Customer experience is at the heart of everything QuestionPro does, and our support team is world-class, available locally.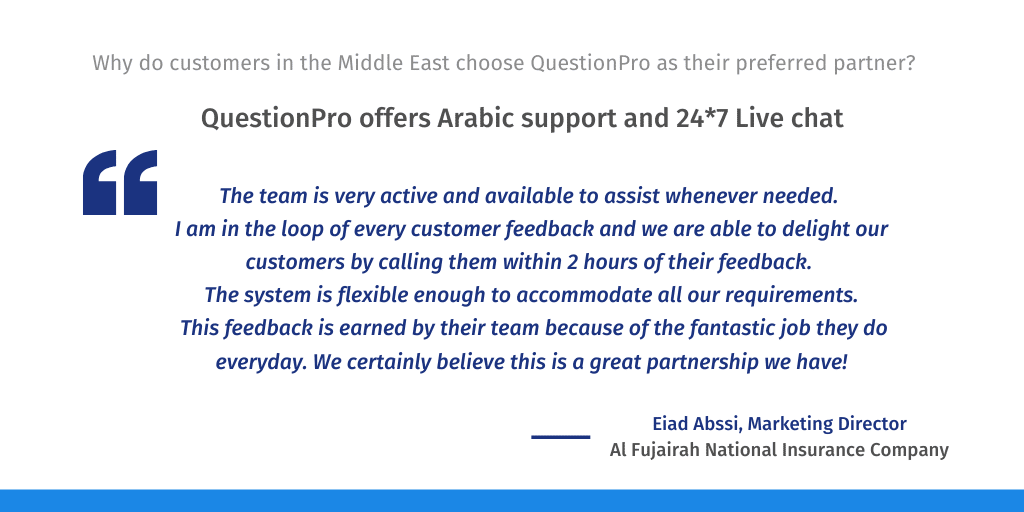 4. Constant innovation – designed to meet every customer needs
New features are rolled out at QuestionPro every month, designed to cover every inch of customer requirements and beyond. We have millions of customers across the globe, and yet, no two customers are entirely alike! Customer requirements and expectations vary from case to case, and it takes a very committed team to meet all of them.
QuestionPro invests heavily in Research & Development and goes to great lengths to identify what else is required by customers. And we are always onto something new that'll make our features richer. There is something new bubbling at QuestionPro at all times, and our updates show all the extra features we keep adding to an already-stellar product!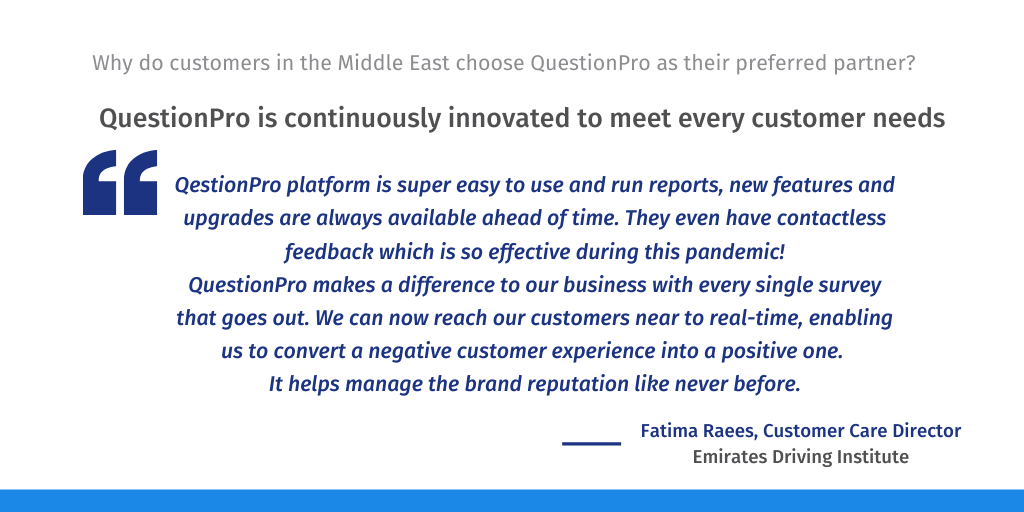 5. On-premise solution with locally hosted data center 
QuestionPro is extremely particular about data storage, and our locally hosted data centers ensure utmost privacy and security to our MENA customers. 
We won't have your valuable data stored in a faraway continent and out of reach- no way! QuestionPro is trusted by various government departments and nodal agencies to keep the data safe and secure because we are the only product amongst our competitors to have local data centers. We assure you ultimate control and the best of infrastructure for your data!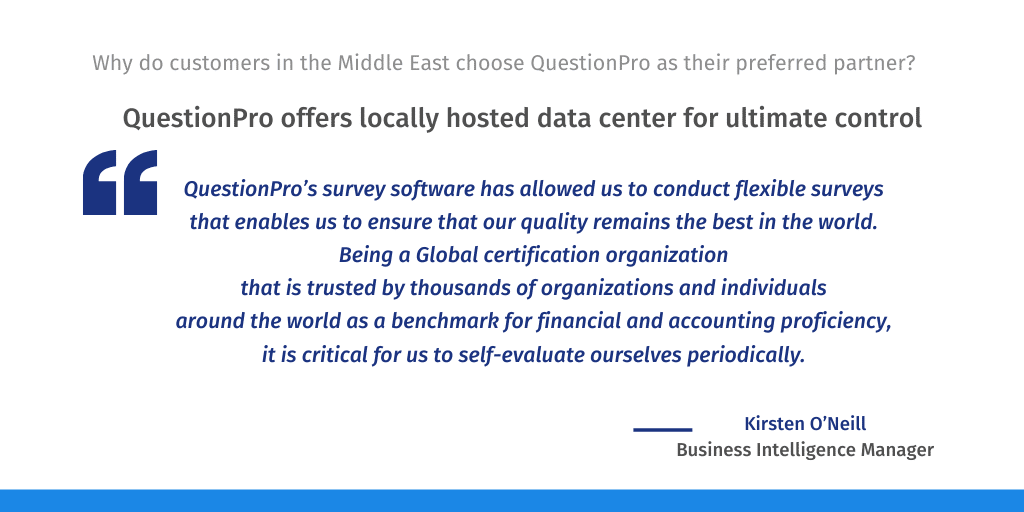 6. Readily available custom requirements
We understand how unique your requirements are and why they may need tailor-made solutions. What's the point of subscribing to software if it doesn't work the way you want it to work? Unlike our competitors, QuestionPro makes it a point to offer any level of customizations needed to get the exact solution our customers need. What's more, we deliver it in quick turnaround time with our dedicated development team. Be it custom coding, hands-on support with survey creation, or scripting services; our team is ready to take it on. Our customers often tell us how pleasantly surprised they were of our willingness to go the extra mile and tailor the solutions just so. 
At the end of the day, the only benchmark we care about is if QuestionPro met customer requirements to the 't' and exceeded expectations. Anything for you!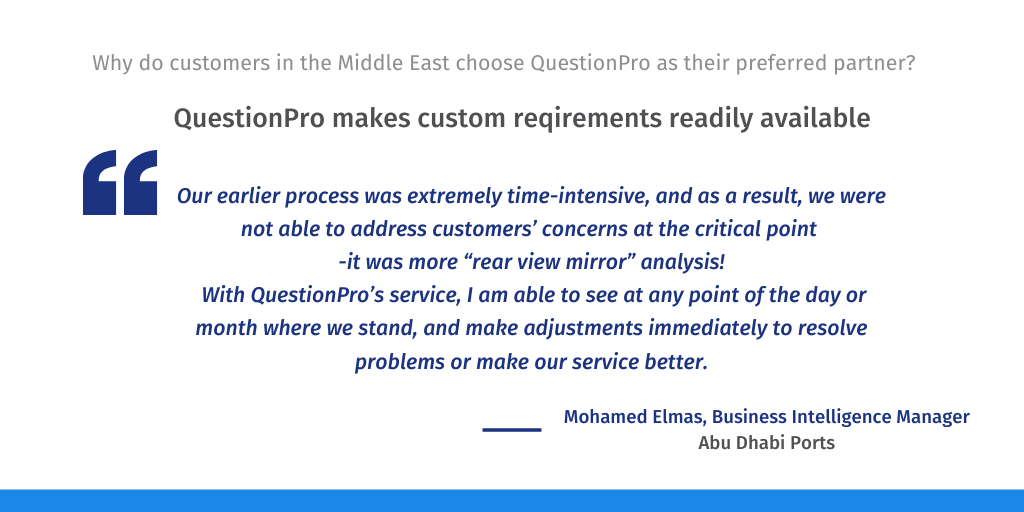 7. Friendly pricing
This is where things get exciting! For a high-end platform, our pricing plans are agreeably cost-effective. 
Take our online survey software, for example. Our new pricing strategy took the survey industry by storm when we unlocked the heretofore premium features and offered it for free! No longer will free survey software offer the bare minimum; it will be a feature-filled survey solution accessible for all. All this while our competitors are still charging a small fortune for the features we offer free! Need we say more? 
QuestionPro has a similarly competitive pricing plan for our other products too, making the selection process for customers rather obvious. We look at ROI religiously, and we want our customers to see the evident value for their money when they choose us too.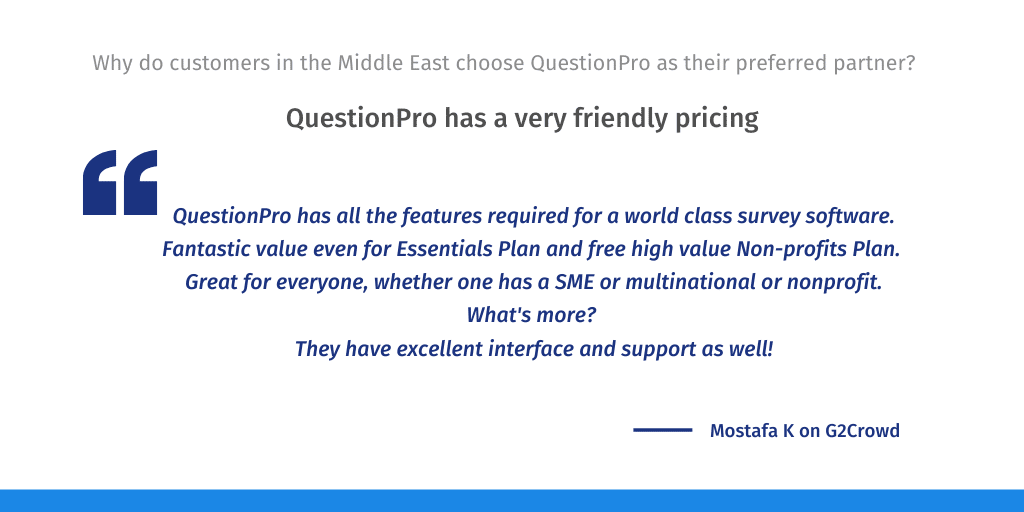 8. Foolproof security
Our safeguarding measures to keep our customer data secure is not limited to on-premise data centers alone. We firmly adhere to all the compliance requirements by various governments and ensure the highest standards are met. 
Security is not a trivial matter to us and we follow Dubai Electronic Security Centre (DESC) standardizations, and is also ISO certified, and GDPR compliant. You can read about more of our security measures here.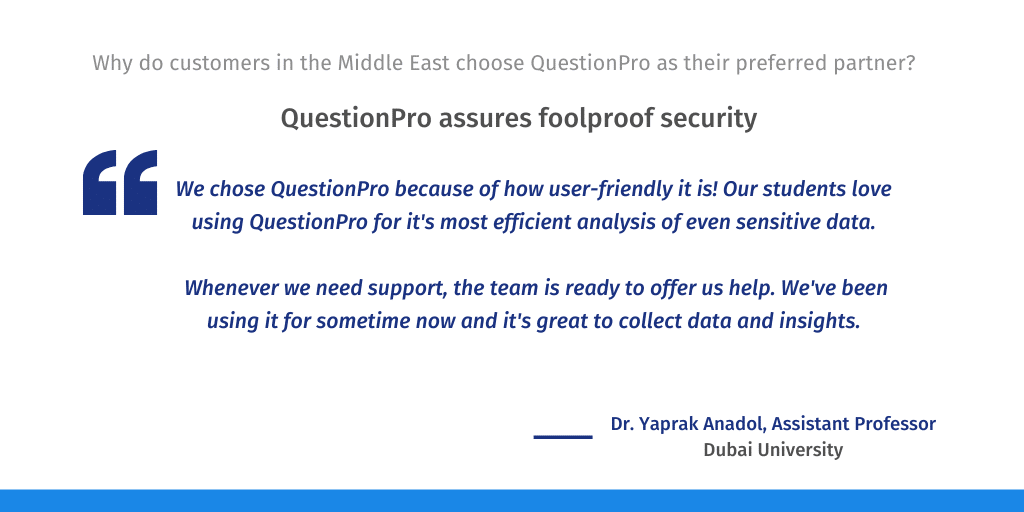 When our delighted customers describe how and why they loved the QuestionPro experience, it makes our day and inspires us to try harder. For an experience-obsessed world, we strive to offer only the best of it! 
Yet to try QuestionPro? Hop on a chat with our executive and decide for yourself!