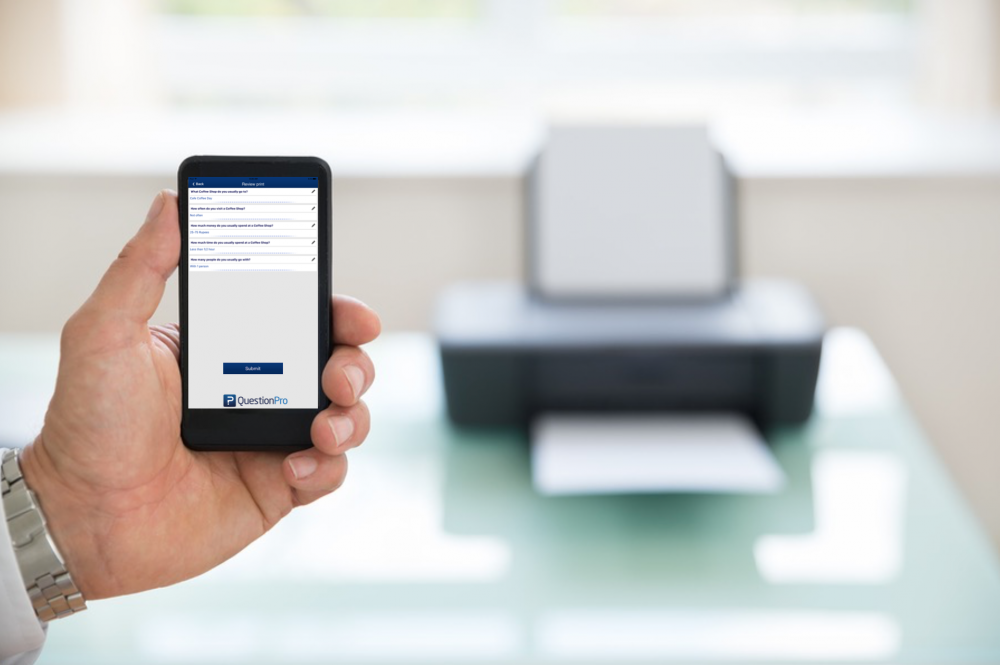 Save and Print Survey as a Pdf
I met a few friends of mine over the weekend and of course, work, as usual, came up as one of the topics. They work in Travel, Hospitality, and Telecommunications. Myself, being in Market Research, I was naturally interested in how the companies they work for, get in touch with their customers and get feedback. For which they said that they get in touch with the clients via email or phone.
I thought that this would be the moment when they would actually be interested to know that I work at QuestionPro. Using QuestionPro they obviously would be able to gather feedback easier with our online surveys, which QuestionPro also offers to conduct offline surveys with our Mobile App – just to make Market Research that much easier and problem-solving.
Trust me – all of them were amazed by the features QuestionPro offers and the usability of the Mobile App. What caught their interest was that you can save and print survey as a pdf file with the Mobile App.
Some of you guys must be wondering:
What do we mean by saving and print survey as a pdf?
Why would you need to save and print a survey as a pdf file?
Save and print a Pdf is a new feature which we have recently implemented. It allows you to edit the responses which have been collected using QuestionPro Mobile App before the sync. Then you can also export the responses in Pdf format.
Activating this option is quite simple. Please, follow the steps below.
Install the QuestionPro Offline Surveys App.
Enter the device key.
Click on settings.
Enable the Review Responses option.
This option has two sub-options, which are Edit Responses and Print Response.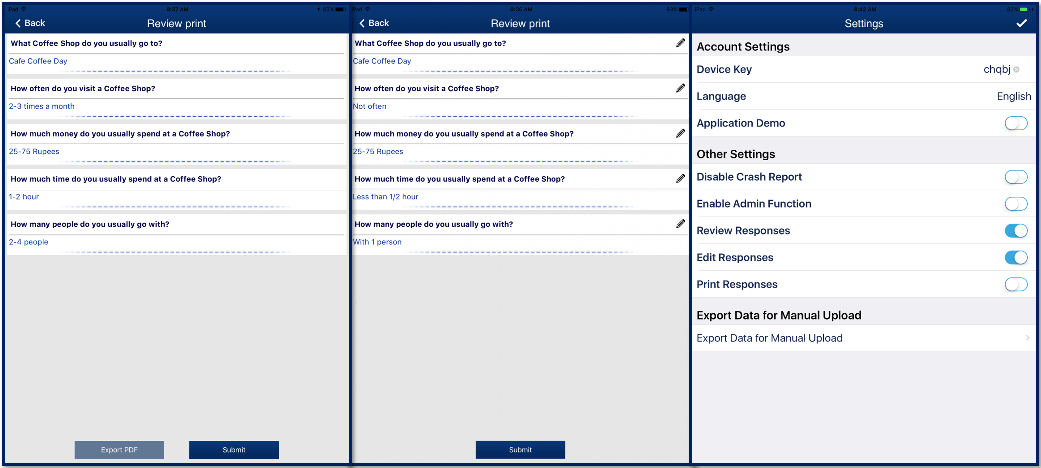 Edit Response: Once this option is enabled, the user can edit the responses before submitting them from the Mobile app.
Print response: Using this option, the user or the respondent can send a printed copy of the responses which he/she has collected using the Mobile app.
I hope, you like this feature. Do check our other blogs to learn more about the exciting features – Store Locator Question Type and Lookup Table, which are implemented in QuestionPro Offline Surveys.