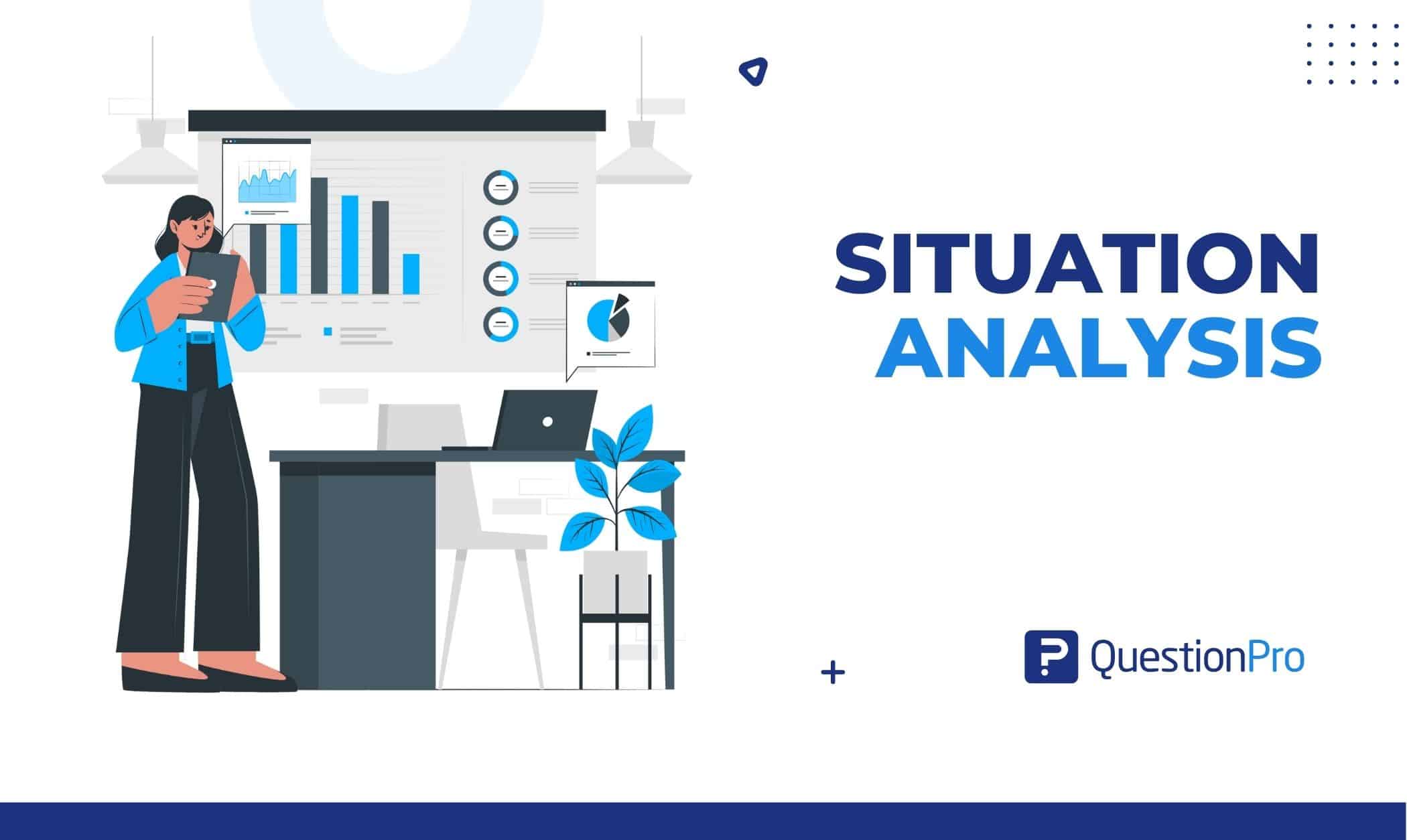 Before making a marketing plan, you should do a situation analysis to determine how well your business is doing. This analysis is a good way to determine your business's strengths and weaknesses and what opportunities and threats it faces (SWOT analysis).
The results can give you a clearer picture of what's going on in your business and help you decide how to move forward in the market.
LEARN ABOUT: Market Evaluation
In this post, we'll talk about situational analysis and why it's important. We'll also explain how to do a situational analysis to help you understand the idea better.
What is situation analysis?
Situation analysis is the process of gathering and analyzing past and present data to make a plan for the future. It means understanding the inside and outside of an organization to make better decisions.
Situational analysis is usually the first step in the marketing strategy planning process. A business needs to do a situational analysis on a regular basis so that it is aware of its constantly changing environment and can make the necessary changes to its marketing plans.
This analysis can be used to make different marketing plans, such as product development, pricing, and promotion plans. It can also help a business decide if it should enter a new market or add a new product line.
Importance of situation analysis
Analyzing the current state of business and industry helps companies make smart decisions at crucial times. Here are some importance of doing a situational analysis:
A situation analysis shows you how your business is doing right now. It gives no gimmicks or exaggerations, just a straightforward look at where you are. By doing an analysis, you can get a complete picture of your organization and how it is doing right now.
Every business can always do better. A situational analysis can clarify these things and give you a plan for setting and reaching your goals.
A situational analysis ensures that initiatives, plans, and strategies stay focused on areas that add value to the company and reduce the chance of redundancies or unproductive sidetracks.
It can better help a business understand its customers, products and services, competition, and environment analysis.
How to do a situation analysis
Situational analysis is usually done before starting a new project or using a different marketing strategy. It requires using several different ways to analyze critically. Here are the steps you need to take to do a basic situational analysis:
Step 01: Analyzing your customers
The first step in a situation analysis is to evaluate your customers. It means knowing what they need and want and how they usually buy things. Also, if you want to make growth plans, you need to know who your customers are.
You could make a customer journey map to analyze your customers. It will help you determine your customers' issues and goals at different points in their interactions with your business.
Step 02: Analyzing your products and services
The second step in a situational analysis is to look at your products and services. It looks at each feature, its benefits, and its pros and cons. Also, it's important to know your products and services well if you want your strategies to work.
Again a customer journey map can help you determine what problems and opportunities you need to solve in your products and services. You can also get customer feedback through reviews, surveys, interviews, and focus groups. You can use QuestionPro to conduct surveys on analyzing your product and service and manage your customer feedback.
Step 03: Checking out the competition
The third step of situational analysis is to evaluate the competition. It means figuring out what the products and services are and what their strengths and weaknesses are. It also helps companies understand their competitors so they can come up with plans for growth.
Step 04: Environment Analysis
Analyzing the environment is the fourth step in doing a situation analysis. It includes analyzing how political, economic, social, and technological factors may affect your business. For growth-driven strategies, it is important to understand the environment.
Step 05: Checking your resources
A situation analysis's fifth and last step is figuring out your resources. It gives information about your money, people, and things. It is important to figure out how to use your resources well.
Conclusion
A situation analysis is a very important marketing tool. By conducting a situational analysis, businesses can find out their strengths and weaknesses and develop a plan to improve their situation.
So, situational analysis is a key first step in any marketing effort. If you want to improve your marketing results, start with a situational analysis. It will give you the information you need to create an effective marketing plan.
We hope that doing situation analyses is now easy for you! QuestionPro can give you the tools you need to finish your analysis.
QuestionPro can help you with your analysis process, create and design a survey that meets your goals, and analyze data for your business's situation analysis.
At QuestionPro, we give researchers tools for collecting data, such as our survey software and a library of insights for all kinds of long-term research. If you want to see a demo or learn more, contact QuestionPro for a free trial.