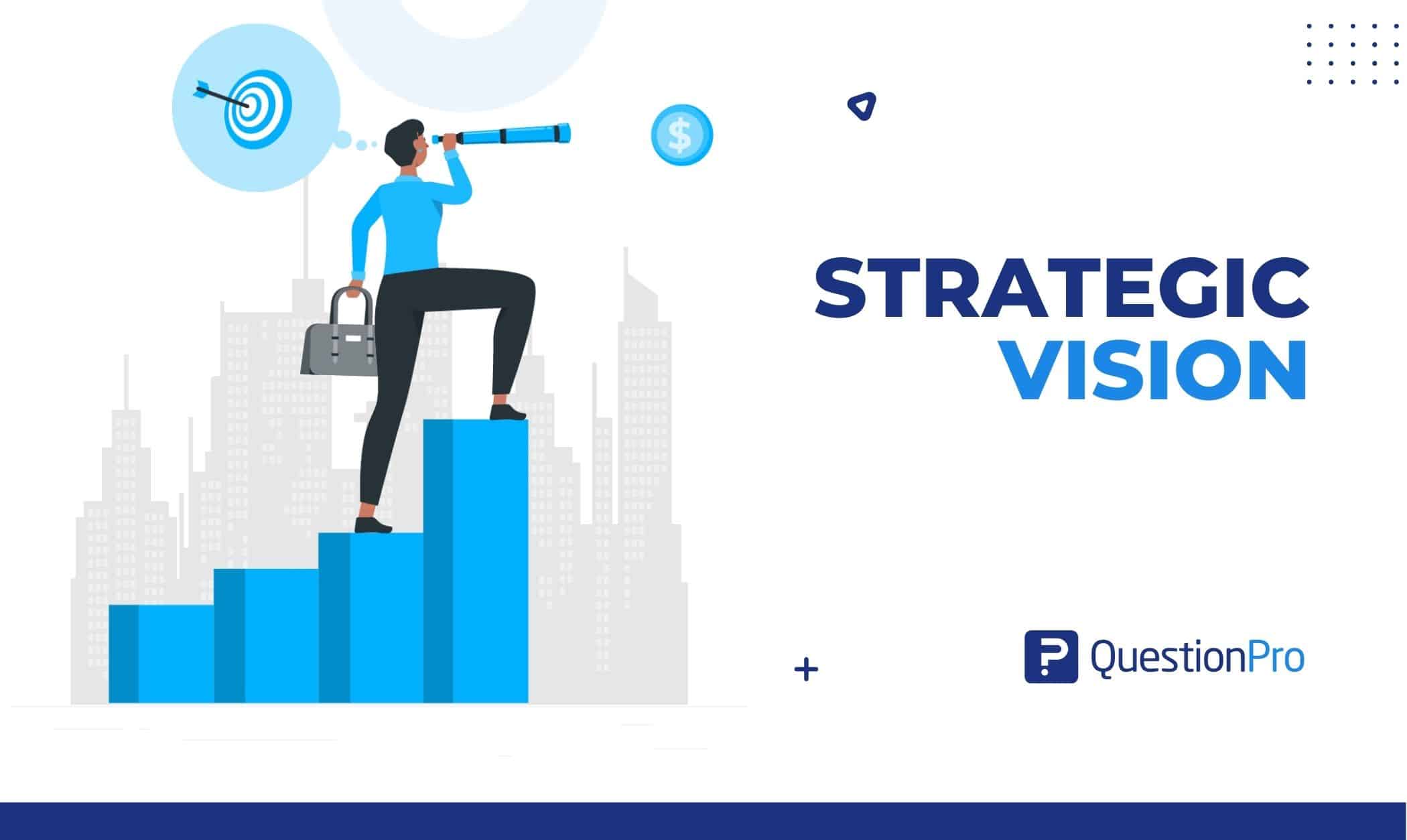 A strategic vision is essential for the future of a business because it reflects its values, purposes, and goals. Developing and implementing a strategic plan can be critical to organizational progress, but it takes research, time, and work.
No matter what position you hold within a business or team, your chances of success can be increased by having the capacity to develop and implement a strategic plan.
In this blog, we talk about what strategic vision is and how to create your company's vision. Stay with us till the end to learn more.
What is a strategic vision?
The strategic vision is a long-term, comprehensive picture of an organization's goals and the methods for achieving those goals. It guides a company's strategy and decisions.
It allows an organization to identify and respond to environmental changes, set clear goals and priorities, and allocate resources to meet those goals. It assists in focusing the organization's efforts and ensuring that all of its actions align with its mission and objectives.
Developing a strategic vision usually involves thinking about a number of things:
The organization's current position and resources
Its strengths and weaknesses
The opportunities and threats in its environment
The expectations and needs of its stakeholders
It also involves defining the organization's goals and values and figuring out how it will differ from its competitors.
Guide to developing your company's strategic vision
Each organization's strategic ambition has unique parts, but there are general steps you can take to ensure your company or team has a good strategic vision. Try these steps:
Clear definition of the management team
The leadership of the organization develops and implements an effective vision. Set up the management structure before you make the vision.
If you make a strategic plan for a team, choose two or three team members to help the director and assistant director with this project. When the team's roles are clear, the process can go smoothly.
Clear discussion of relevant strategic vision
Once a business or team has identified all the important stakeholders or participants, they openly and honestly discuss the organization's future. A company could write different vision statements depending on the organization's needs. Some kinds of strategic vision are:
A quality vision describes the company's long-term plans to improve quality, such as buying new materials or training new employees.
An organization's brand strategy, consisting of its image, reputation, and recognition, are all components that are outlined in a branded vision document.
An organization needs to have an economic vision describing its strategic approach to its financial development.
Market position analysis
Defining a strategic vision depends on the current state of the organization. It is important to analyze the company's products with those of the competitors.
This analysis may include perspectives from a variety of entities, including management, staff, and customers. Examining the company's or team's position may create strategic visions that more properly answer the company's current needs.
Come to a decision
After analyzing the organization's current status and hearing everyone's vision for its ideal future, it's time to engage in open conversations and debates.
These discussions can lead to a unified vision that takes everyone's perspective into account. When you build a strategic vision together, the team or organization is more likely to be motivated and inspired to achieve the goals.
Effectively format the statement
It's important to format the statement well when you start writing it. You may keep the statement short and relevant by including only brief sentences.
You could even use a bulleted list to make the message even easier to understand. It's also important to make sure that the statement is realistic and motivating. These traits can help encourage employees and increase success rates.
Get feedback
After you have written the strategic vision statement, show it to some employees, outside consultants, key customers, and partners to get their feedback. If they tell you something, try to answer their questions and concerns. This process can help develop a more transparent, helpful, and inspiring vision.
You can collect your customer feedback with the help of QuestionPro. It is a survey software and feedback management platform that can be used to manage feedback.
Finalize and communicate the vision
Finally, after implementing feedback and obtaining approval from all parties involved, it is time to express the vision to others.
If it's for the whole organization, you can fully integrate yourself into the company's communication, marketing, sales, and any other promotional or investor materials. If the strategic vision is specific to a team, call a meeting to discuss it.
Leave space for modification
It is best to give flexibility for modification when you begin working toward the strategic objective. It allows you and others to implement new strategies without affecting the overall goal.
You can motivate employees by trying out new policies, procedures, and processes. If one strategy isn't working, you can try a new one without straying from the main goal outlined in the original vision statement.
How can QuestionPro help you with strategic vision?
In terms of strategic vision, QuestionPro can be a great tool for organizations trying to gather insights and make data-driven decisions. Businesses can better understand their target audience and identify areas for improvement by doing market research and gathering customer feedback with QuestionPro.
QuestionPro also can help businesses come up with and implement strategies that are more in line with the needs and preferences of their customers and other stakeholders. It can assist them to attain their strategic goals.
Conclusion
Strategic vision always moves the organization forward in line with your mission. And because a vision can only be realized with the whole team's help, the best visions are made with insight from everyone, not just the leaders. With all employees involved and on board, you have a better chance of remaining on track and meeting your goals.
But you also need to take steps to make your vision come true. Start projects that are important and set timelines that fit with your vision. Track progress by holding meetings and giving reports on time. And you can do it easily with QuestionPro.
QuestionPro is a survey software that helps you collect data with surveys and give your business real-time insights. These data and insights help you to guide the development of a strategic vision for an organization.
Try QuestionPro today!