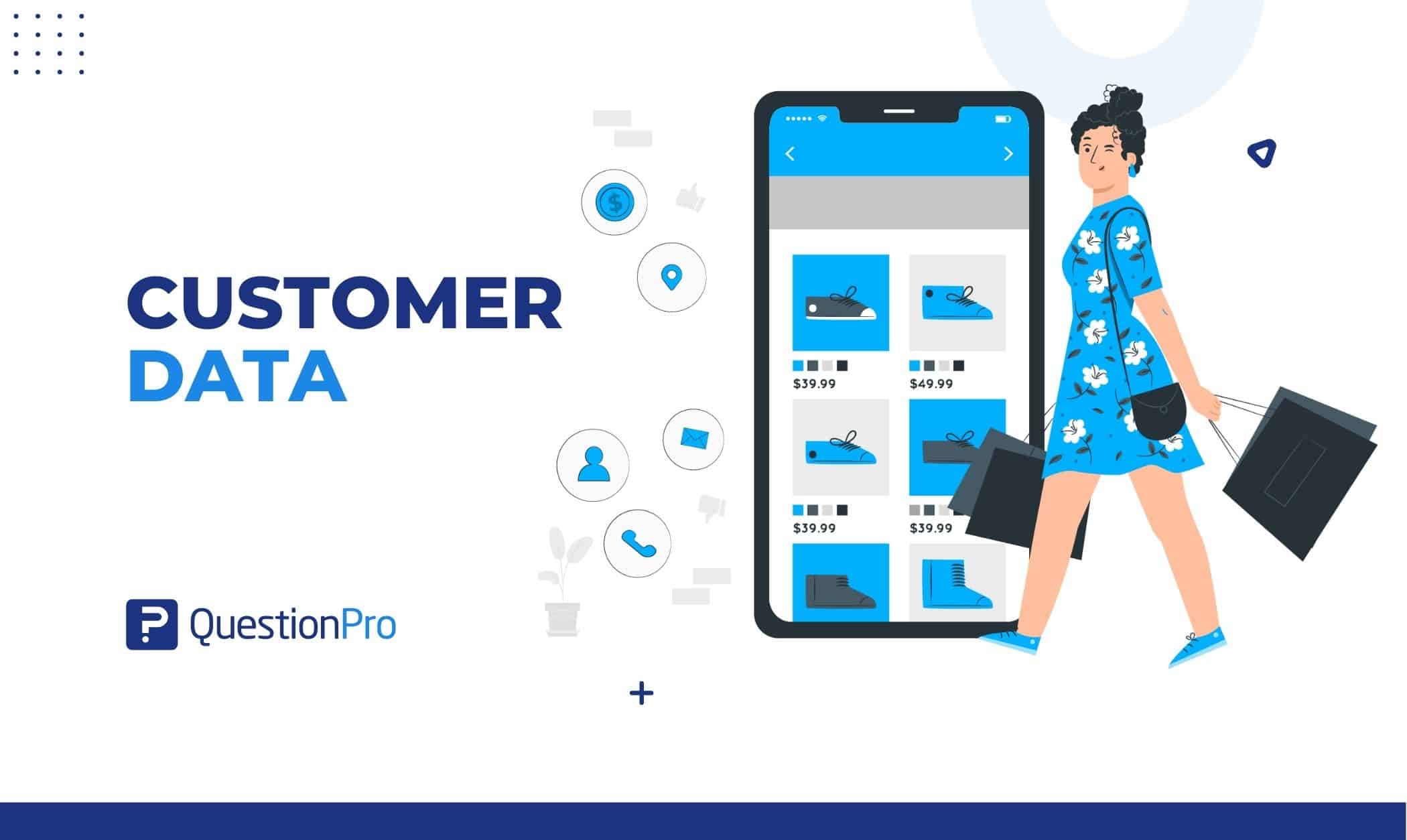 Customer data can provide valuable insights into the demographics that interact with a brand. Businesses can use this information to make various future decisions, including modifications to their marketing strategies. Understanding the various types of data and how to collect them can help you better understand your customers.
LEARN ABOUT: Average Order Value
In this article, we will discuss the four major types of customer data and provide advice on how to collect data more effectively.
What is customer data?
Customer data is the information your customers give you when interacting with your business through your website, mobile apps, phone surveys, social media, marketing campaigns, and other online and offline channels.
It is one of the most important parts of a business plan. It refers to the behavioral, demographic, and personal information that companies collect from their customers.
LEARN ABOUT: Behavioral Targeting
Brands gather client data to understand better, communicate, and engage with target customers. It enables businesses to better understand what customers want from brands, the specific products they seek, and how they prefer to interact.
Types of customer data
Here are four types of customer data, with details about what part of the customer experience they cover:
Basic data
Basic data is the information you can use to make customer profiles in a database. It can include a customer's name, gender, location, and contact information. Another part of basic data is financial information, like what they do for a living, what industry they work in, how much money they make, and how much money they make each year.
Examples of basic data include:
Date of birth
Phone number
Email address
Passport number
Interaction data
Another type of customer data is interaction data. It includes the different ways customers can interact with the business. Also, it includes information about how a product is used, how it is bought, and how popular it is.
Monitoring how people interact with your ads, social media accounts, and website is another way to get interaction data from your marketing efforts.
LEARN ABOUT: 5 Ways Market Research
Support engagement can also give you useful interaction data by showing customers the most common reasons for using your support platforms. You can easily count and sort this information using different customer engagement data platforms. QuestionPro is the best example of a customer engagement platform.
Other kinds of customer interaction data are:
Website visits
Email open rate, forwards, and bounce rate
Post likes, shares, or replies
Click-through rate
Cost per click
Conversions
Behavioral data
Behavioral data can be similar to interaction data, but it focuses on how people directly interact with a brand. It can include information about how users use your services, such as when they sign up for a free trial, log in to their accounts, or cancel them.
You can even learn about people's habits by how they interact with your email newsletter, such as how many people sign up and how many leave.
Website analytic tools make behavioral data quantifiable so you can improve customer experience.
Behavioral data about your customers can also include:
Subscription details
Average order value
Previous purchases
Devices
User attention
Attitudinal data
Attitudinal data provides information on a customer's direct opinion of a business. It can give you an idea of how well a product or service in your business is doing and what the public thinks of the brand.
You can get this type of customer data from direct methods like customer interviews, focus groups, and online surveys. You can also get this information by putting the option for online reviews on your website.
Examples of customer attitudinal data include:
Customer satisfaction or sentiments
Purchase criteria
Motivations and challenges
Product desirability
Customer data collection methods
Marketers can collect data from every platform where customers engage with a brand. However, there are hundreds of ways to collect client data. We will look at the most important methods that you can use to get your client data in a better way in this section:
Customers usually make contact with you through your website. You can collect information about your customers, such as their demographics and location, how they interact with your company and what they do through the website.
Tools like Google Analytics, Mixpanel, Piwik PRO, and Matomo can help you learn about your customer's interests, referral sources, conversion details, and real-time behavior on your website.
You may learn a lot about your customers based on their social media interactions with you. Aside from basic customer engagement metrics like likes, comments, and shares, you can learn a lot about your customers by looking at each social media platform's analytics/insights section.
Through online reputation management (ORM), you can get customer feedback that will help determine how people feel about your brand and products.
Social media ads can boost the ante on your customer data collection initiatives. You can find out about your customers' interests and other traits by using the targeting tools on social media platforms.
LEARN ABOUT: Best Data Collection Tools
By uploading your email list to social media platforms and using the custom audience feature, you can find out what they do on a certain social media channel to learn more about them.
A tracking pixel is a small piece of HTML or JavaScript code that is added to a website or email and keeps track of every person who visits or opens the email.
Tracking pixels can keep track of IP addresses, operating systems, browsers, etc., which helps advertisers run sophisticated remarketing campaigns. Using tracking pixels, marketers can also learn about the conversion activities of customers.
Customer feedback and surveys
Customer feedback and surveys are good ways to find out what your customers are interested in, what they like, and what they prefer. Surveys can help you get information about people's thoughts and feelings by asking the right questions.
You can find out what people think about your products, services, sales, and marketing through surveys. With Net Promoter Score (NPS), you can determine how much your customers love your products.
You can go for QuestionPro if you consider collecting customer data through surveys. QuestionPro is a complete survey platform that offers versatile survey features to explore.
They provide customizable survey templates to do surveys easily. Moreover, they have customer feedback management tools to help you manage your data.
Customer service software
Customer service software can help you figure out the following:
When do your customers need help?
What problems does your product have?
How complicated are those problems?
How do your customers want to get in touch with you?
How long it takes to solve a problem?
How can it be made better?
With this information, marketers can see how happy their customers are.
Transactional information
Depending on how your business works, there are different ways to collect transactional customer data. A SaaS business is often done entirely online and usually consists of standard data like the customer's subscription information.
For example, an e-commerce business will include cart abandonment data, while a retail brand with physical stores will mostly rely on the PoS (Point of sale) system to collect purchase data.
Aside from these ways, you can collect client data through focus groups, customer interviews, a data management platform (DMP), and so on.
LEARN ABOUT: data management software
Conclusion
To sum up, we talked about customer data and its different types, such as basic, Interaction, behavioral research, and attitude data. We talked about six methods to get data on your customers. These are essential methods we discussed above for collecting client data and making it easily available across your organization.
LEARN ABOUT: Client Management
We hope this article has given you a basic understanding of client data. You can now start gathering your data and analyzing it to improve your business strategy and return on investment (ROI).
If you need help managing customer data, don't hesitate to contact QuestionPro. QuestionPro is a survey software with customer feedback management features that helps you manage your customer data and provides real-time statistics with your business insight.