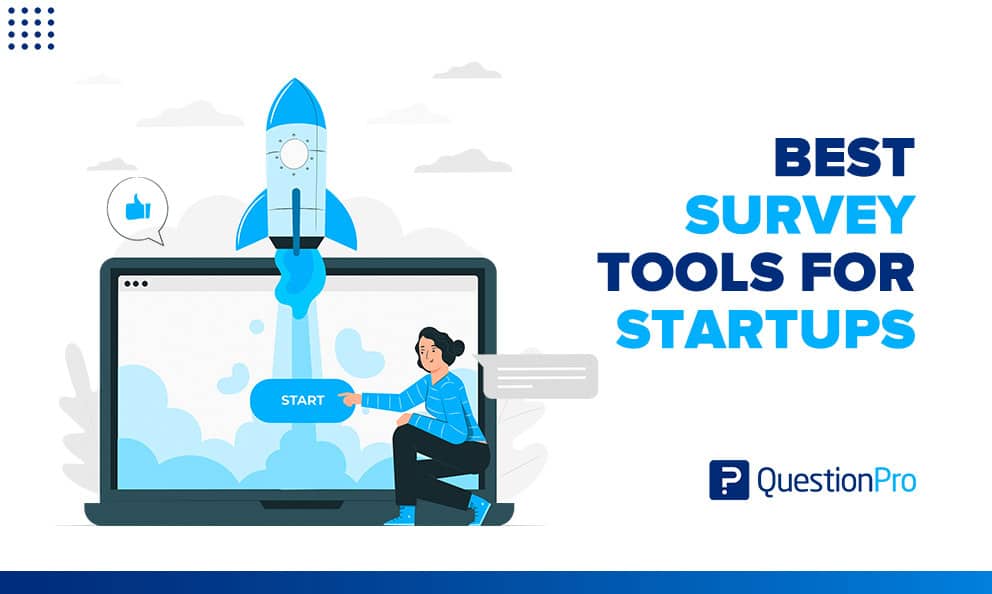 Entrepreneurship is a challenging task; it implies a lot of planning, impeccable execution, a great product or service, and of course, doing all this with few resources compared to large consolidated companies. Let's talk about survey tools for Startups.
At QuestionPro, we know we were once that startup in the garage starting its bootstrapped path in the SaaS world. Research has become not only our business industry but also the most powerful tool when growing, which is why this time, we bring you a list of the best online survey tools for startups.
These will be of great help to collect data, know the opinion of your users and make intelligent decisions that allow you to grow and achieve your goals.
What is the best survey tool for startups?
Before we get started on the list, it's essential to discuss the elements that make a great data collection tool for startups. These criteria include a listing to identify the best survey tool for startups for market research.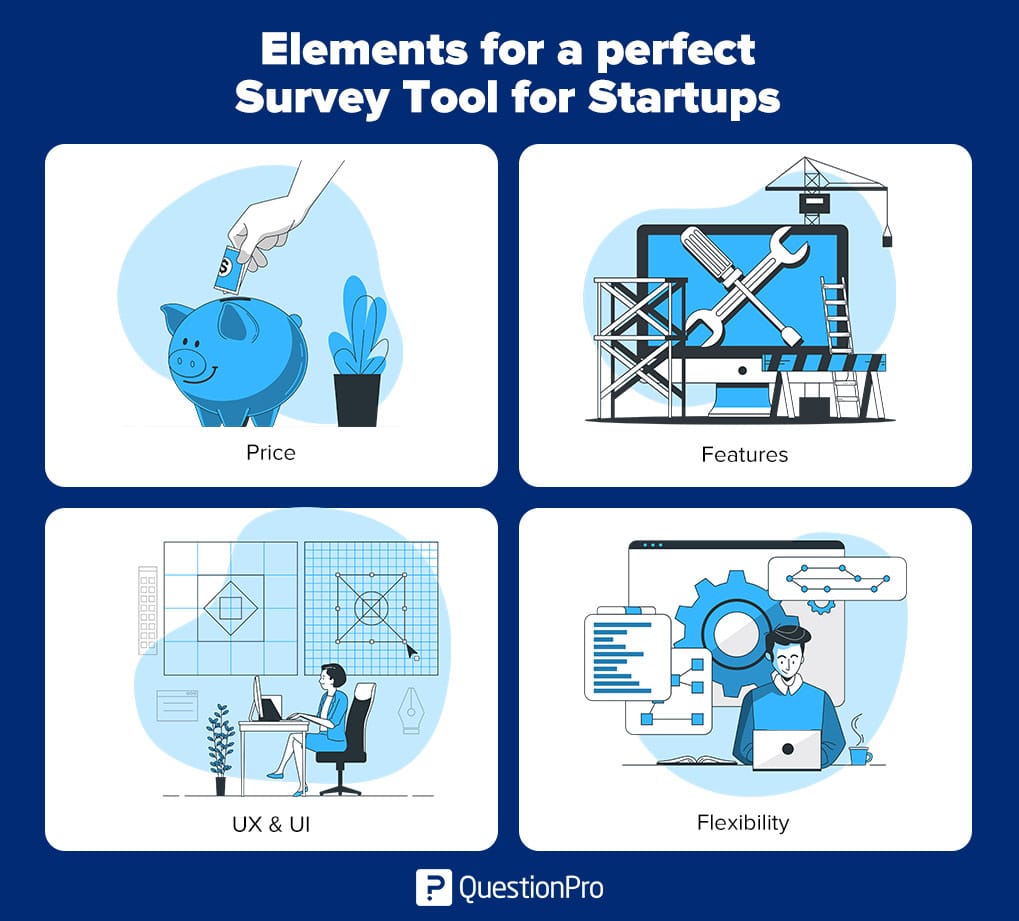 Price: Budgets can be tight at times. Optimizing expenses is the best way to stretch a budget and make it effective in providing a return on value.
Features: A startup usually has various challenges and a wide range of needs; it is essential to have many features to cover them.
UX & UI: Adding a new product to the work tools involves a new learning curve. However, a good survey tool for your startup must have an intuitive, easy-to-use interface that allows anyone on your team to start using it as soon as possible.
Flexibility: Changes in a startup are pretty standard; having a tool that adapts to them is essential to remain a vital part of the processes.
All these elements determine if a tool is ideal for the size and needs of your startup, we have taken them into account to list the platforms, and you can make an informed decision.
List of survey tools for startups
Below we show you the best tools with their advantages and disadvantages; choose wisely and start collecting data to boost your results.
QuestionPro
QuestionPro is the leading survey software with features ideal for any startup.
In addition to its intuitive interface, it also has various types of questions and multiple types of analysis that allow you to interpret the data collected in a better way.
If that were not enough, it has more than 140 survey templates created by experts to collect data for any industry and market segment.
Why is QuestionPro the best option in survey tools for startups?
Its robustness and the intuitiveness of its interface have made it the favorite of startups; as if that were not enough, its cost positions it as the ideal ally.
QuestionPro has its Essentials License, which is free of charge and has basic functions for anyone who starts research; however, as we mentioned initially, we know that startups have unique and advanced needs that few free software can cover. That's why we've launched a particular program called QuestionPro for Startups.
What are QuestionPro's survey tools for startups?
Quite simply, it is a new program that, for a limited time, is offering the Research Edition license (one of the most advanced on the market) at no cost to startups that meet the eligibility requirements.
We only need to be recognized as your "research partner," that's all!.
Are you interested? You can learn more about this program and apply on the following page: QuestionPro for Startups.
Google Forms
Google Forms has helped many startups start their journey to collect data and fulfill the function of creating online forms.
Being a product of Google has made it very popular. It is an easy-to-use platform with a pleasant appearance, and although it has few customization options, it can be acceptably adapted to most corporate branding.
Although it only has a few advanced features and question types, Google Forms can be a good ally when collecting data, especially since it is free and easy to use.
Ready to switch things up with Google Survey Alternatives? Discover your options in our latest blog post.
SurveyMonkey
SurveyMonkey has been a tool used by researchers and companies to conduct their research for a long time. It has a free plan, although somewhat limited, in which you can create simple questionnaires and add some basic logic to them.
Suppose you are willing to invest a little money. In that case, you can access more advanced features to start customizing your questionnaires and add questions that allow you to delve deeply into the opinion of your target audience.
Its interface is usually straightforward, and it has various distribution methods to make it easy for you to send your surveys and start collecting responses.
Like QuestionPro, SurveyMonkey has a suite of data analysis, integrations, and various types of questions; however, between these two platforms, there are a couple of significant differences to take into account; we invite you to read: SurveyMonkey vs QuestionPro.
Wufoo
Wufoo is a form builder acquired by SurveyMonkey, so they share many features here with a different approach.
Wufoo specializes in creating forms that start-ups use. With this platform, you will be able to do an introductory data survey, collect files and even collect payments without having advanced knowledge in research or programming.
Although it has basic logic, Wufoo can be a limited option if you want to do market research or satisfaction studies. It has a restricted free license.
Alchemer
Formerly known as Survey Gizmo, Alchemer is a widely used survey platform for market research, work climate studies, and customer satisfaction measurement.
Its paid version has various functions and types of questions that can facilitate information collection. Thanks to its distribution methods, it is easy to reach the target audience and begin to identify needs and areas for improvement.
Alchemer only offers a free trial if you want to explore its features and then purchase one of its plans which starts at 49 USD per month.
There are many alternatives to Alchemer in the market that you can also consider if you are looking for better features or more affordable costs for your startup.
JotForm
It is a reasonable alternative to Google Forms since its appearance is very similar; however, with a bit of knowledge of CSS, you will be able to improve the appearance and customize it according to your needs and branding.
Jorform offers all the necessary functions to create a questionnaire to carry out your investigations. One of its great differentiators is the multiple integrations it has.
You can start with its free version and create only up to 5 forms, among other limitations such as the available space, the visits received to the form, and the submissions made.
If you are looking to invest a little, we invite you to visit their pricing pages to learn about their licenses and limitations.
As you may have noticed, all these tools have their pros and cons. However, having survey software in your portfolio of tools is something that you should take into account.
Why should a startup use survey software?
The advantages of using survey software in your business are many and often overlooked, especially among startup entrepreneurs.
Being driven by caution and data does not characterize most startups, but having accurate data about your target market will give you a broader picture to better understand your ideal consumer.
You can create better campaign marketing, increase your lead acquisition and improve your consumer churn.
This clarity and information about your target market will also set you up for sustainable growth and give your potential future investors certainty. Nothing inspires more confidence than a startup with data in its favor.
We hope that all this information has been helpful to you in choosing a survey software that allows you to start doing studies for the benefit of your goals.
At QuestionPro, we have a special consideration for entrepreneurs who try to improve the world with their ideas and endeavors daily. If our program for startups mentioned at the beginning seems interesting to you, do not hesitate to apply. You can also contact us directly to clarify any doubts through our live chat. We want to help you grow!