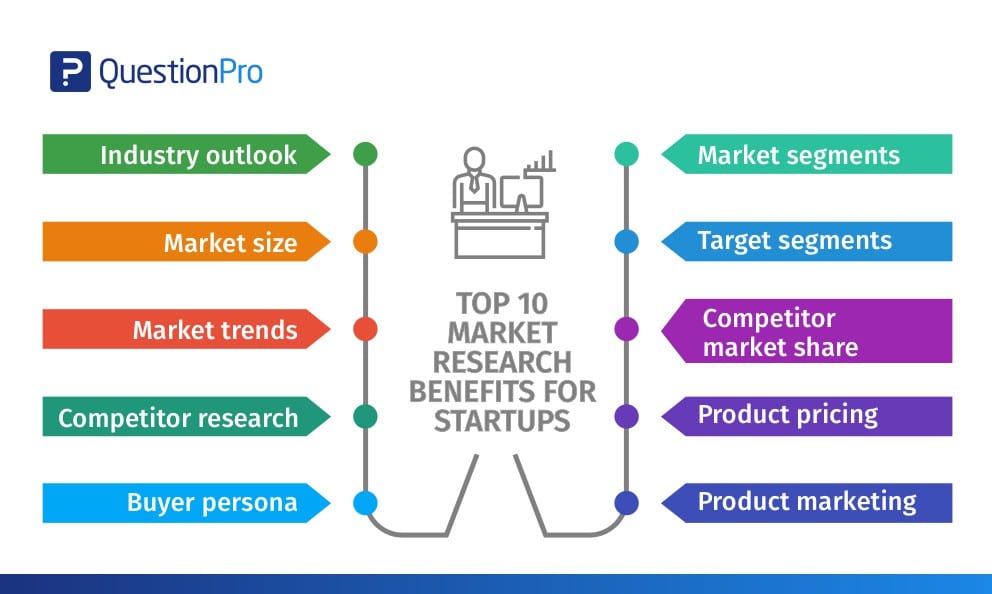 If you're reading this blog, you're probably starting a new business and researching it right now, or you're already running a successful startup business, hoping to conduct a startup market analysis. If you're somewhat a new startup, get some expert advice. Talk to experts, try out tools, understand their pricing and features, book a demo, do your research, and then make your choice. It's no secret that new companies often face an uphill battle. But they often fail due to lack of planning. Do some research. It is a good starting point, especially when you need to make informed decisions. Only startups that manage to focus and capitalize on the right opportunities manage to survive. Conducting well-structured market research helps you identify mistakes and assists in informed decision making.
LEARN ABOUT: Market Evaluation
Market research for startups – why you need it
With the aid of target market research, your startup gains access to vast amounts of actionable data from various sources. Conducting a market survey for startups brings in data that is paramount to making decisions at different stages of your business. Here are the business benefits that startups gain from conducting market research: 
Industry and market outlook:

Market research helps you gain insight and forecast future trends regarding the economic segment, target market, stock market behavior, and consumer behavior.

Market size:

Understanding the size of the market is a crucial component of strategic market planning and decision making.

Market trends:

Startups must capture market trends too, understand, analyze, and make future business decisions.

Competitor research and understanding:

Knowing your competitors will help you better price and place your product in the market with the right business plan.

Customer buyer persona:

Understanding your buyer persona is vital to driving product development, sales pitches, and everything that relates to acquiring customers and retaining them.

Market segments:

Divide your customers into smaller parts based on characteristics like gender, age, income, occupation, etc. to optimize products for them.

Competitor market share:

Identify the leading players of the market and their performance compared to yours to take further improvement steps.

Product pricing:

Understand the value held by the customer towards the product and set competitive pricing.

Product marketing:

Identify the areas to conduct targeted marketing and market the product based on the requirements of that market.

Customer experience:

Understand your customer's satisfaction levels, his/her knowledge of the product and make and give them a better customer experience.

Customer satisfaction:

Know what your customers expect, provide them what they need, and juice out a ton of satisfied customers.
QuestionPro's research software for startup market analysis:
Choosing an appropriate research tool is undoubtedly a huge decision, which can be a costly affair. Startups, especially those limited by funds, often tend to cut costs in these areas. As a startup, include market research to your business plan to boost your business.
QuestionPro's free survey software is too good to be true. Here's why:
With the 'Essentials' license, ask questions to survey respondents in more than 25 different ways.

The account is free for life and never expires.

Get unlimited access to the software, run unlimited surveys with unlimited questions, and collect unlimited responses and insights – all without the need for a credit card.

Design intelligent surveys applying skip logic and branching.

Share insights collected with your team with the shareable dashboard.

Export your survey data to xls or csv formats and apply basic quota management to surveys.

Get 24*7 expert support – applicable to all account holders.
Create a free account. Sign up free.
Guide to Business startup market research
Before diving into any new business, it is imperative for startups to do thorough market research – be it primary research or secondary research. There is a range of techniques to survey the target market. Identifying the style that suits your business type and your business goal the best is key to making smart decisions. Here's your guide to market research for startups.
LEARN ABOUT: Pricing Research
Below are some market research tips for startups:
Conduct quantitative market research
Quantitative research implies collecting first-hand information directly from a target audience in an organized manner using research tools like surveys, questionnaires, and polls.
Reasons for you to conduct quantitative market research
Generalize results:

Use the quantitative data to make generalizations of the general population based on the results of the sample respondents.

Draw conclusions:

Use quantitative research methods to draw conclusions about different areas of the business and take data-backed decisions.

Gauge customer perception:

Quantitative research is a great tool to use before launching products into the market to understand the potential customer's perception.

Product feedback:

Ask feedback from your current customers to know the areas you're lacking in and take measures to improve the product or service.

Market plan:

You need data, a lot of data to make a market plan before entering the market. Quantitative market research provides you with the data necessary to build a market plan. 
You need an audience to conduct quantitative market research. Often, your personal email list of potential clients and people interested in your business or similar business is just not enough for market research. To get a better understanding of a wider market, you need to have genuine respondents. Make use an online market research panel if you have a limited email list of potential survey takers. Online panels are great to use because of their global reach. Make use of a reliable panel services provider. QuestionPro Audience has a panel of 22+ million mobile-ready survey respondents around the globe, who are pre-screened and double opted in to take research surveys on the go.
LEARN ABOUT: Market research industry
Conduct qualitative market research
Qualitative market research implies using research techniques like in-depth interviews, focus groups, discussions, idea boards, etc. Quantitative research involves fewer audiences compared to quantitative market research.
Reasons for you to conduct qualitative market research
Often, primary research is not enough to make decisions, especially those involving finances and money. It is essential to conduct a qualitative market survey for startups.
To understand the 'whys':

Don't just try to find out 'what' the client is thinking; focus and understand 'why' he/she feels that way with qualitative research.

Accurate decision making:

A mix of quantitative research strongly backed by qualitative research is paramount for decision-making.

Specialist advice:

As a startup, consult and take advice from specialists on topics that you care about. Conduct in-depth, one-on-one interviews, and gain insights from the subject-matter experts.

Focus group study:

Focus groups are places where great business ideas are born. Conduct a focus group study under a trained moderator to gain new business ideas.
Qualitative research is much harder and more complicated to conduct; but very crucial for decision making. It allows determining a particular frequency of characteristics. Collect real customer issues through qualitative research data. If you plan to conduct qualitative research for the first time, find an online research panel partner or expert to guide you. 
Build an online community
Online communities are taking over the qualitative and quantitative market research insights world and are the newest way to do market research. Here's why: 
Online research communities help you gather real-time insights at a fraction of the cost.

Running high-frequency research among your community with a particular set of audience is cheaper than running a one-off study and getting new samples all the time.

The community members are always available to respond to research activities on the go, which is not the case when approaching survey panel providers.

Ask questions on topics you care about and collect honest feedback from members.

Nurture the community by engaging customers, act on their feedback, make them feel wanted, and make sure they don't go astray from your brand.

Companies are now taking notice and adopting communities – in one form or another to capture customers' voices and original ideas.
How can an online community help boost a startup?
Communities play a massive role in the lives of startups. As online research communities are ongoing, and last for a long time, startups must build a research community at the early stage of the business.
The online community helps members discuss problems, exchange ideas, because of the shared enthusiasm for products.

As a community manager and moderator, run surveys, polls, and discussions and monitor their inputs as moderators.

Use these consumer insights from real-time analytics to develop and tweak your products or services.

Keep the community members engaged by replying to, or acknowledging their voices and original ideas to win over their loyalty.
Take a free trial of QuestionPro's Communities to build your community and get the hang of the community experience. Create, recruit, and grow your thriving community. Intelligently engage your customers and potential clients in real-time through surveys and polls, live chats and forums, and keep them interested by offering them gamification rewards. Take advantage of the feedback with enhanced analysis, customized reports, and charts, and statistical models and analysis.
Tips for startups conducting market research
Here are some tips that your startup can use to do market research:
Be clear:

Before beginning your market research, have clarity about your objectives.

Target audience:

Know your target audience – the who and the how many. Choose a sample for quality insights. Also, choose a relevant and representative sample.

Social media:

Don't ignore social media feedback. Incorporate feedback you receive on social media or review sites. 

Give it a personal touch:

Add a personal touch to the research. Say thank you at the end of the survey. Give respondents a background of the study at the beginning.

Use open-ended questions:

Provide space for open-ended comments to help respondents express themselves fully.

Mixed research methodology:

Have a mix of qualitative and quantitative data collection and be open to discussion forums.

Include clients and customers:

Make it a point to collect client suggestions at every interaction.

Robust survey software: I can't occupational stress this enough, but the survey tool you choose is of paramount importance and will directly affect the quality of your surveys, data collection, and decisions.
Embrace criticism:

Don't ignore criticism you receive on surveys. It is the most valuable and honest feedback you receive.

Reward respondents:

Use cash (in the form of gift cards), or e-rewards as a motivation factor for your respondents.
Is your startup ready for market research?
It's better to gather principal facts before spending a lot of time and money on the startup. Gaining real-time responses will make it easy for you to adjust your product in the initial stages of business. It also gives you a chance to identify mistakes and shortcomings sooner and gets you prepared to take corrective actions. Whether you do consumer research on your own or with market research experts like QuestionPro, collecting the right data is your key to starting on a positive note in the business world.
LEARN ABOUT: Market research vs marketing research