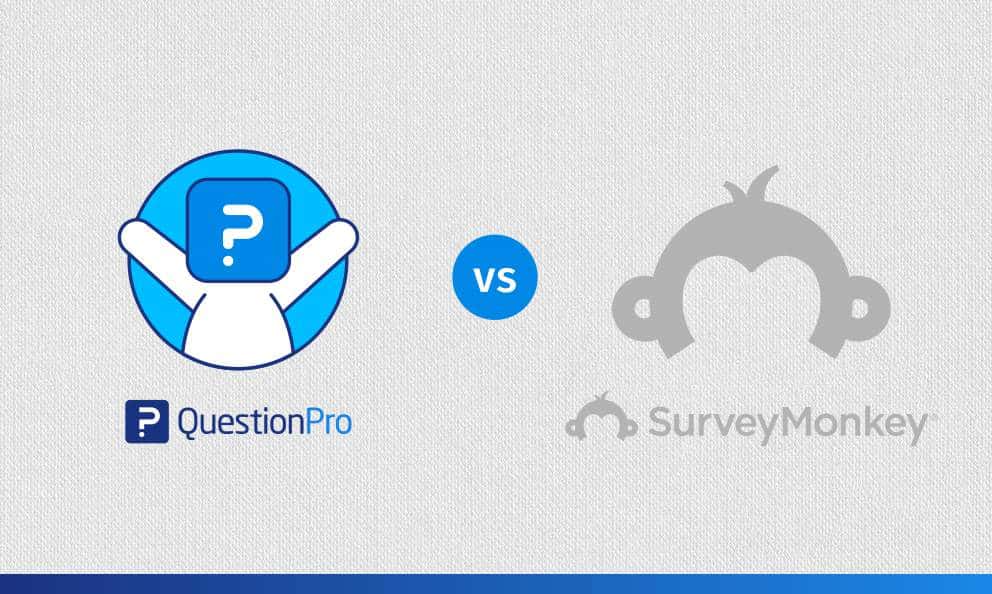 QuestionPro vs SurveyMonkey
There are plenty of free survey tools on the internet, but not all offer the same features or let you get the desired results. Much of the available free survey software is often a trial; once it's up, you'll need to buy an expensive plan. The plans that are free often come with so many limitations that it's hard to collect the right data. Let's discuss QuestionPro vs SurveyMonkey.
Two brands stand out from the rest, though, and we will explore them today. Both QuestionPro and SurveyMonkey give you advanced features to play with, but the latter tends to enforce limits on its free survey software users.
Let's take a look at this survey software comparison in which you will discover why QuestionPro is the best alternative to SurveyMonkey.
Question and response limitations
Many platforms limit the number of questions you can ask, which makes it tough to collect the right data. These limits leave you with unreliable results.
QuestionPro: QuestionPro allows you to ask as many questions as you want. Keep in mind that you should still follow a

good survey design

, which means keeping them as short as possible. You can collect unlimited responses, with up to 300 responses per individual survey.

SurveyMonkey: You can create as many surveys as you like, but you'll have to deal with tight restrictions on responses. You're also limited to 10 questions per survey, which leaves you with little room to ask more in-depth questions. Let's say you need to collect basic information before digging deeper – that's almost impossible with only 10 questions. SurveyMonkey also places a limit on the number of responses you can get, capping you at 100. Even with a paid monthly plan, you can only see 1,000 responses per month.
LEARN ABOUT: Testimonial Questions
Customization options
Branding lets your customers recognize your products and services immediately, while brand guidelines work to keep your messaging consistent. This consistency promotes the look and feel you want for your business.
Creating custom surveys lets you maintain your brand. The best options include custom colors, logos, and branded "Thank You" pages.
Respondents feel more comfortable taking a survey that looks attractive and professional, so make sure to customize the colors and theme. Participants who recognize your branding will be eager to answer your questions.
QuestionPro: A free QuestionPro Essentials account lets you add your brand's colors and custom text on navigation buttons. You can also apply a custom theme.

SurveyMonkey: Custom themes and colors are not supported in the free version, so you'll need to pay for an annual or monthly account to access these features.
Logos
A logo isn't just the first impression new customers have of your brand – it's also instant visual recognition for your existing customers. Who knew a free survey software could help!
Surveys with a logo will alert respondents of the sender immediately. This increases your response rate, as your customers already know and trust your brand. They'll also be more likely to give you honest feedback.
QuestionPro: Improve brand identity with survey logos. Your customers will instantly know that you sent the survey. This connection with your brand allows them to feel confident as they answer. You'll see lower dropout rates and more accurate responses.

SurveyMonkey: The Basic version does not allow you to add a custom logo, making it difficult to know who sent the survey. A survey without a logo might even look like a scam or advertisement. Customers aren't keen to hand their information to scammers and may drop out before finishing. Even worse, some customers won't open your survey at all.
Survey URLs
Having your name in the URL lets survey takers know who's hosting it. A custom URL not only instills confidence in your participants but also looks incredibly professional.
Ask yourself: would you feel more confident answering a survey with a custom URL or a string of random letters?
QuestionPro: QuestionPro supports custom URLs for surveys. By combining the URL with your custom colors and theme, your survey will assist customers in identifying your brand.

SurveyMonkey: You won't be able to use a branded URL with the free version. If you want custom URLs, you'll need to shell out some cash for a monthly or annual subscription.
Custom "thank you" pages
Great free survey software platforms feature high response rates and accurate responses. But how do you accomplish this? Make participants feel valued to increase the response rate — and the more participants complete your survey honestly, the more accurate the results.
Customers want to know a brand is listening to them. They want to know that you're considering their suggestions or concerns. Who doesn't like feeling valued and important?
A custom "Thank You" page validates the time a respondent spends on your survey. Let's say it takes a person five minutes to complete a survey. After they finish, they're taken to a page with a generic "Thank You" message. This could leave customers feeling like their opinions aren't necessary. However, a superior free survey software would provide a custom page showcasing sincere gratitude might turn a regular customer into a brand advocate.
QuestionPro: You can create a custom "Thank You" page with QuestionPro. Use your specialized greeting to thank your respondents for taking the survey and add a link to your website or a landing page. This link is essential – once your respondents complete your survey, they'll likely progress to your site. Use the page to showcase your best products or services. You can even up the ante by offering a discount for completing the survey!

SurveyMonkey: The free version has no option to display a "Thank You" page – respondents just receive a generic page noting the end of the survey. There's even a message encouraging them to use SurveyMonkey for their next survey. This is pretty off-putting for many people, who may expect more than an automated message after spending their valuable time.
Comparing the top features

of QuestionPro vs SurveyMonkey
The biggest drawback of free survey software is the lack of features. A lot of us have run into this problem: You begin a survey with an end goal in mind, but halfway through, you discover the platform you're using needs to support the features you need.
Many free survey software platforms offer a basic survey with only one or two question types. Sure, you can access other features and add additional questions, but only after you sign up for their premium service.
QuestionPro vs SurveyMonkey is tough because both allow access to top features. These tools help you design, build and send surveys that increase response rates.
LEARN ABOUT: Top 12 Tips to Create A Good Survey
Varied question types
Unless you're trying to collect the most basic of data, your question types must vary. Survey questions come in a large variety. It's important to know when to use the different types.
Say your survey asks respondents to rate a brand from one to five. The next question asks them to list words they associate with a brand. Vary question types and control the flow of your survey.
Respondents get bored answering the same types of questions over and over. When they get bored, they aren't going to provide insightful answers.
QuestionPro: QuestionPro gives you over 25 question types for surveys, including multiple-choice, rank order, and

Likert scale rating

.

SurveyMonkey: SurveyMonkey limits you to 13 types of questions. This gives you minimal opportunity to change question variance. You may not need more for a simple survey, but the 10-question limit makes it challenging to get exactly the information you need.
Logic and branching
Have you ever taken a survey that wasn't relevant to you? You probably started clicking through without reading the questions. Halfway through, you decided the survey wasn't right for you and dropped out.
The brand that sent you the survey got useless data.
Now consider a survey where you see an irrelevant question. The survey sends you straight to the end. You finish before you can lose interest. Pretty slick, right?
Logic tools allow you to create surveys that are "intelligent." Intelligent surveys use your answers to show relevant questions. Imaging getting all this in your free survey software.
For example, you survey people from multiple cities. A particular question asks the participant's location. When they provide an answer, the survey generates additional questions tailored to that specific place.
Skip logic questions are great to increase response rates, as they use an individual's answers to move them through the survey. Branching also reduces survey completion time.
Say you're asking about three brands of cell phones. The respondent only has experience with two brands. After asking questions about the two brands the respondent has used, the survey skips ahead. There are no irrelevant questions to answer.
QuestionPro: QuestionPro Essentials includes skip branching

to help streamline the survey process. Relevant questions engage participants throughout, so they're less likely to drop out halfway through. Responses are also more accurate since your participants only see relevant questions.

SurveyMonkey: You'll need a premium account to use skip logic, which means people will be more likely to drop out mid-survey. Your response rates will likely be lower overall.
Question and answer piping
Text piping carries text from one question to another, which acts as a type of personalization for your respondents. It's an advanced feature that can take your surveys to the next level. Most survey software platforms offer piping in premium packages.
For example, you ask a participant to choose their favorite cereal brand. They pick a particular brand. In the next question, you ask why they selected that particular cereal brand. Text piping takes their response and places it within the text of the second question.
QuestionPro: Use text piping to engage your participants and make them feel like their survey has been customized just for them. Answer piping

is a sub-feature of skip logic branching. Use piping to give survey takers a custom experience.

SurveyMonkey: SurveyMonkey doesn't include piping for free. You'll need to pay for a premium account to use it.
Quota management
Quota management is the process of restricting completed surveys. You decide how many responses you need, and once enough people take the survey, it closes.
Quota management lets you dive into your data faster. Instead of waiting for the final responses to trickle in, you can start creating insights.
QuestionPro: Use basic quota management to cap how many people respond to your survey.

You might collect enough responses before reaching the 1,000 response limit. Set a quota limit to the number of answers you need for your research.

SurveyMonkey: The free version doesn't give you access to quota management tools. You'll unlikely

need to limit responses to

100 responses per survey, but you might need more answers to get accurate data.
Data exports
Data from your survey doesn't do much if you can't share it with decision-makers. The ability to export survey data to a spreadsheet or PDF makes it more accessible.
Say your data suggests there are a few ways to increase sales. Data export features let you share your ideas with stakeholders.
QuestionPro: Export your survey data in XLS, CSV, or PDF format. You can use the spreadsheet to create reports and analyze responses further. Share data with managers and employees or display the survey results on your website. Invite participants to see how their answers compare to their peers.

SurveyMonkey: You can't export data without a premium account. All you can do is invite others to view survey data within the platform.
Start with QuestionPro today
Both QuestionPro vs SurveyMonkey offer advanced features in their free packages, but QuestionPro gives you just what you need to produce an accurate survey. So QuestionPro is quite an excellent alternative to SurveyMonkey. Take a tour to see how QuestionPro helps you create, distribute, and analyze surveys for free.
In conclusion, if you are a company looking for a reliable survey tool, we highly recommend the first option in the QuestionPro vs SurveyMonkey comparison. It will make a huge difference in your company.