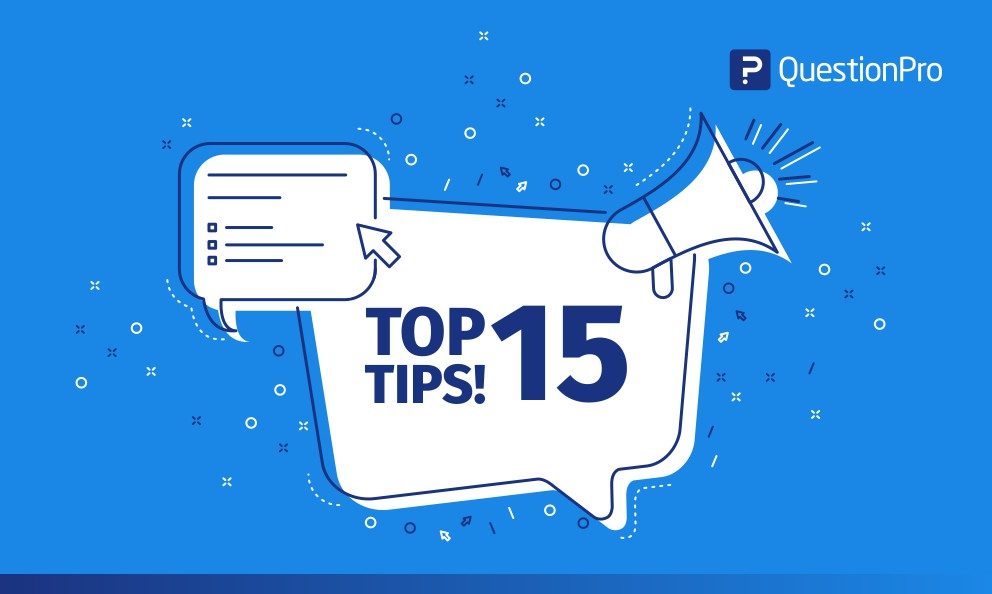 An online survey creator can help you gather feedback from your employees and customers, both existing and potential ones and gain insights. Apart from this, surveys are also used to gather public opinion, know their choices and understand their sentiments. Broadly, this falls under market research.
The fact that you have landed on this page implies you have already invested in a survey creator and want to make the most of it. But if you haven't, create an account with any online survey building tool that offers a trial version.
Tips to create surveys efficiently using an online survey creator
Based on our 20+ years of experience in the market research industry, we have noticed that sometimes enterprise survey software users don't utilize all the features of the tool optimally. These software features are meant to increase the productivity of the survey administrator. Below tips and tricks will help you create surveys efficiently using an online survey creator.
Use question library
Create a library of questions so that they can be used elsewhere without you needing to type the same question again. You can also reuse the question from other surveys in your online survey software account. You can always modify the settings and add the logic as you like.
To add a question to the library, click on the three dots and 'copy to library'.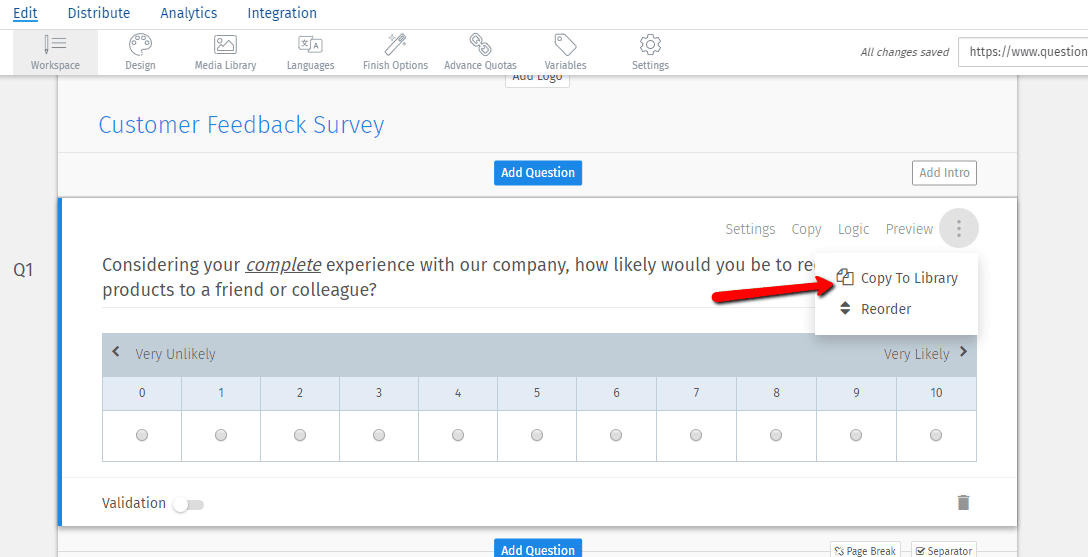 To add a question from your question library or surveys, select 'Library' from the top menu. Select the question and click on the 'Add selected question'.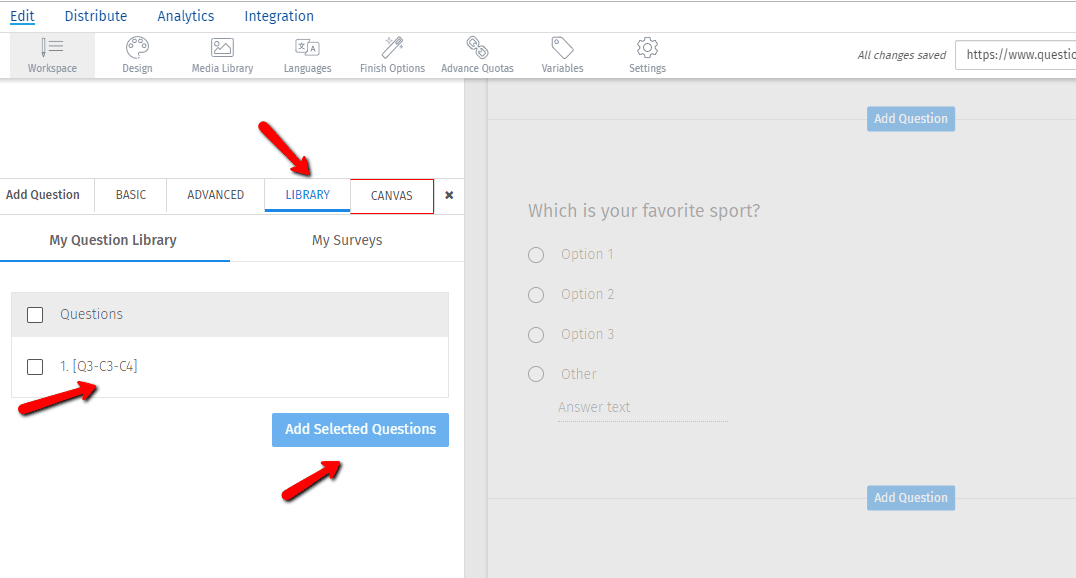 Copy question
If you have similar questions in the same survey, that differ only slightly, copy the question and edit it.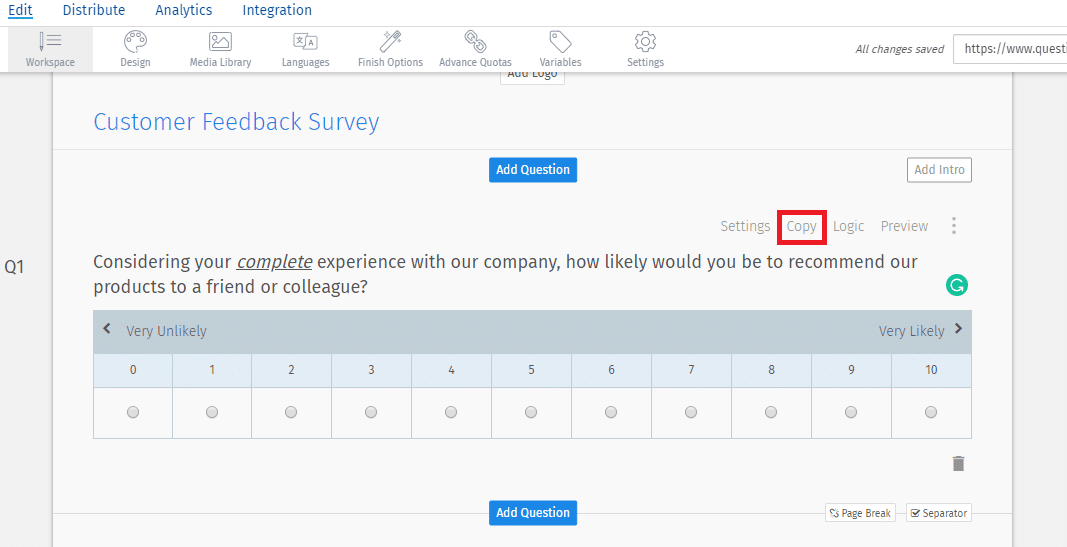 Use survey template
If you want a full-fledged list of standard questions, use the survey template. It is prepared by seasoned professionals who know the domain well. You can also customize the questionnaire and change its theme to match your brand voice using a survey creator software.
Check out: 350+ Free Survey Templates
Use logic
One of the other ways to increase productivity using an online survey creator is to use logic. You can set various conditions to display a question based on the respondent's answer. For instance, if the respondent has selected 3 options in a multi-select question, then you can loop through the same set of questions further for each of the options.
Embed question in an email 
Embed the first question in the invitation email to increase the response rate. Clicking any of the options takes the respondents to the rest of the survey. It gives a glimpse of what kind of questions they can expect in the survey and reduces the effort they have to put in answering the survey. 
QuestionPro offers HTML code to embed a question in email marketing tools like MailChimp and Gmail. This is how a question embedded in a MailChimp email looks.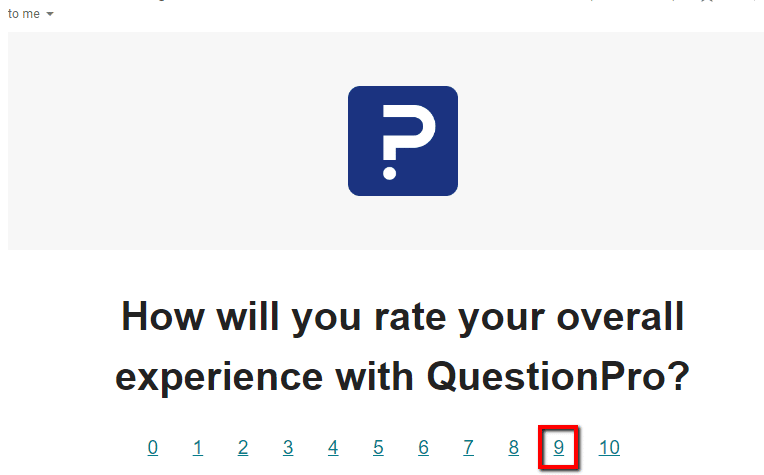 To embed the first question, click on 'Settings' and copy the HTML code under the 'Embed' tab.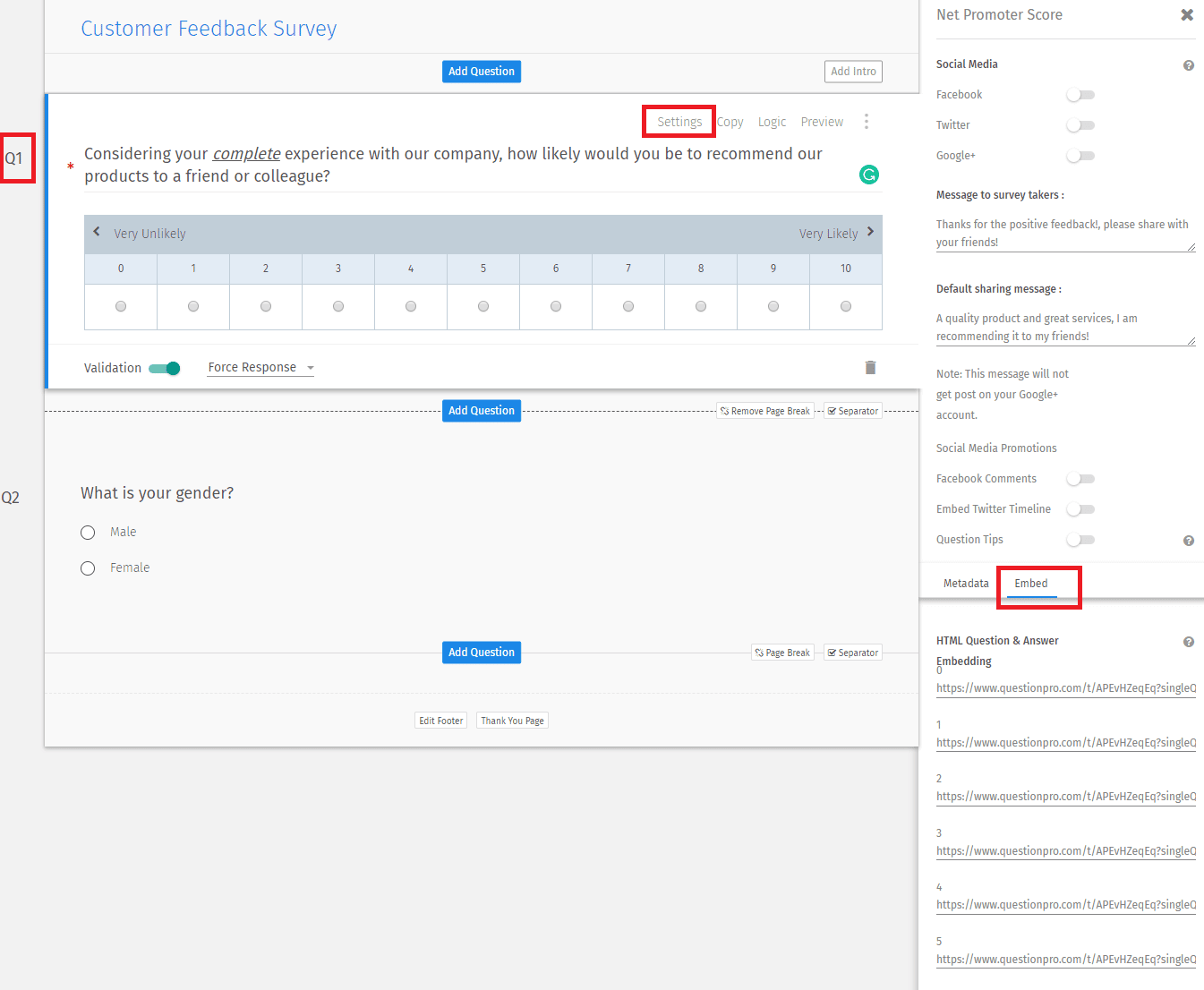 Share reports
If multiple people need to use online survey results, you can generate reports and share the URL with others. Or you can export them in common formats such as .xls, .pdf or .doc.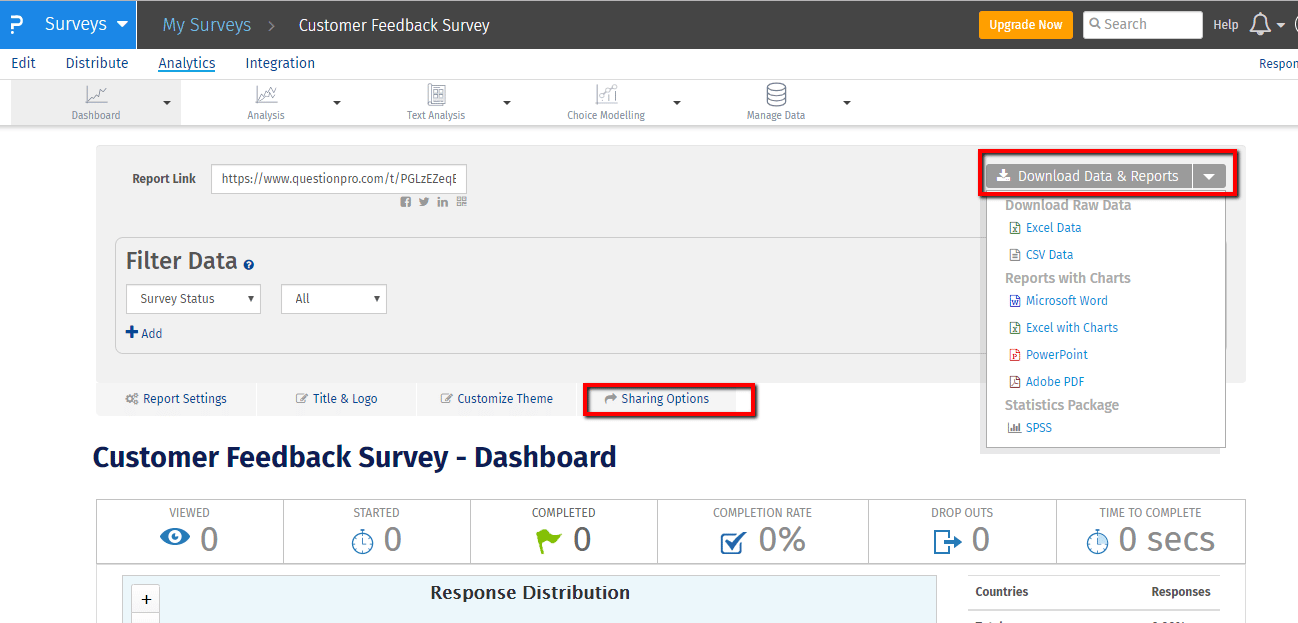 Auto-schedule reports
Another way to save time while doing market research and harnessing the benefits of an online survey creator is auto-scheduling the reports. This makes sure you get the reports generated on its own at a regular interval without your intervention.
Avoid creating long surveys
People may find long surveys boring and too time-consuming to answer. So, keep it short, to the point and ask questions that will help in getting the right insights.
Show progress bar
The progress bar gives an idea of the completion percentage. It gives an idea of the estimated number of questions and the time it will take to complete the survey.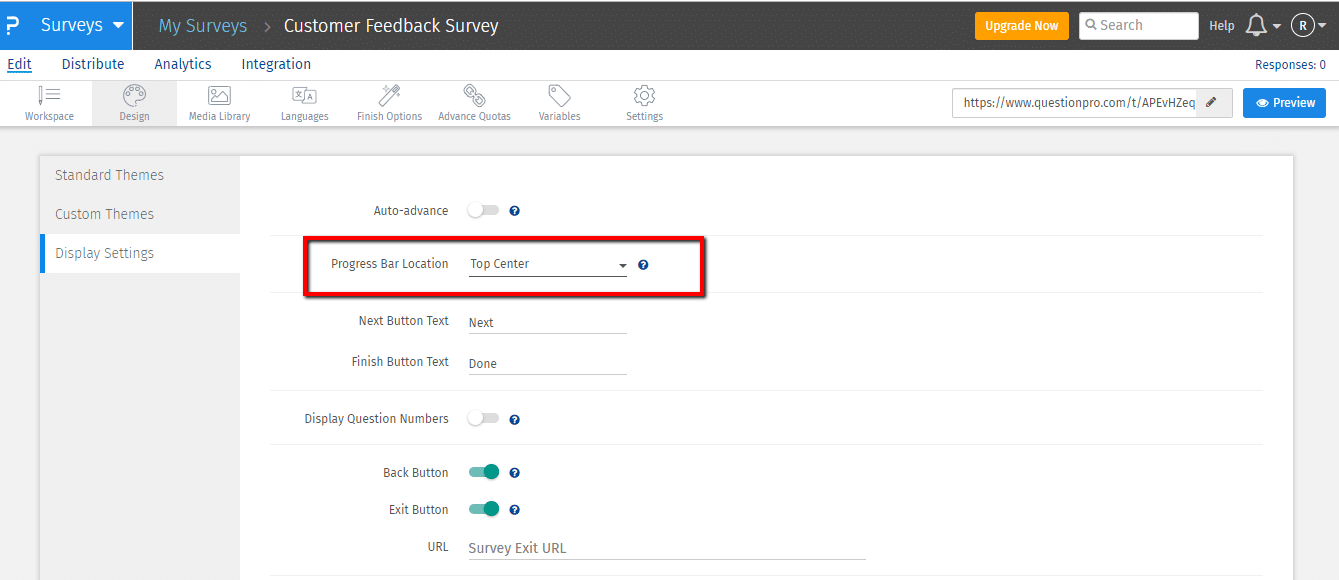 Use predictive answer options
Choose an online survey creation software that predict and auto-fill the answer options based on the question text. This will significantly save your time in creating an online survey.
For instance, for the question "What is your gender?", the survey creation software will automatically fill up the answer options, "Male" and "Female". You can always customize these options.

Use conversational tone
Make sure you don't sound too formal. Phrase the style and tone of the survey questions such that the respondents feel connected with your brand. Use a language that will increase engagement with the audience.
Use "You"' attitude
Keeping a "You" attitude instead of "I, my, me, mine, we, us" demonstrates a genuine interest in your readers and concern for their needs. In short, using an audience-centered approach helps to better connect with the audience and in turn, increases the completion rate.
Integrate with third-party tools
Integrating online survey tool with third-party tools multiplies the usability of survey results. For instance, if you integrate QuestionPro with Marketo, you can create or update a lead in your Marketo account on every new response received to your survey.
Learn more: Marry Insights & Marketing Using The Marketo Integration Tool
Mark important questions required
In an online survey, some of the questions are very important from a market research point of view. They are an-absolute-must to be answered in order to have rich and meaningful data that can be used to make better decisions. Such questions should be marked mandatory. Whereas some answers are good-to-have. They might support decision-making but aren't an-absolute-must. Such questions can be skipped by the respondents.
There are two forms of validation in an online survey creation tool: 
Force Response  – A respondent must answer in order to move to the next question or submit the survey response.

Request Response – This is a softer way of requesting a response. A respondent will get a pop-up message to select an option. He/she can choose to answer the question or ignore the message and go ahead to the next question or submit the response.
To make it mandatory question to answer, toggle the validation on and select 'Force Response'.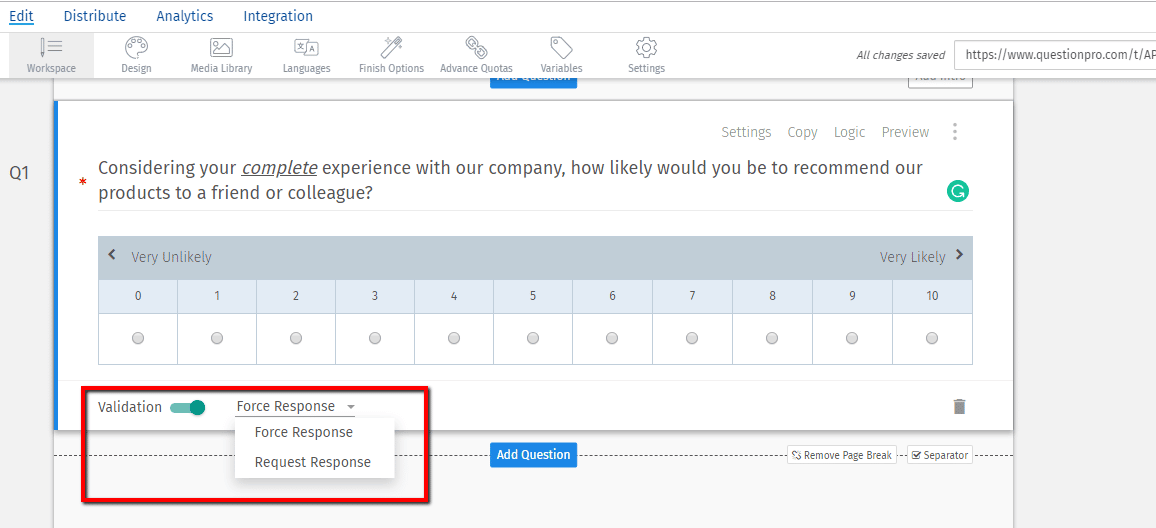 Create a stunning survey design
Survey creating tool offers you a number of options to create questions. Choose the right question type. For instance, selecting a 'Yes/No' might give you statistically significant data. But open-ended questions require descriptive answers. These answers might be more insightful, though will require more time to analyze. Selecting a question type depends on your project requirements.
And last but not the least, customize the survey theme using an online survey creator to match the style of the brand. Visually appealing survey designs look more lively, interesting, and hence have a higher completion rate.
Create a account now and see the wide range of features that QuestionPro offers for online survey creation, distribution, and analytics.