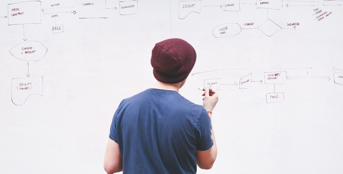 If you missed our Part 2 Webinar – Customer Journey Mapping and Best Practices, we've got you covered. David Hicks teamed up with our CEO Vivek Bhaskaran to talk about the second foundation of building a successful CX program – Customer Journey Mapping. We will walk you through customer journey mapping and best practices and present alongside a case study with Emirates Airlines. As promised, we answered the questions we didn't have time to address during the presentation below. Enjoy!
Watch the full presentation:

[Webinar Recap] – Customer Journey Mapping and Best Practices
Customer Experience is a blend of a company's rational performance and the emotions evoked in all the interactions with the customer, across all touchpoints. Consistently great experiences are purposefully engineered by deliberately designed customer journeys.
Vivek: To map out the customer journey, start somewhere small. We usually start off with a single touchpoint. Ask yourself: is it just after you close a sale? 3 months after a sale? You should choose the most important touchpoints to start with.
David: Emirates is the most profitable airline. They have been focused on CX for more than 10 years now. TribeCX worked with Emirates and they understand the importance of keeping the entire organization accountable for CX, from the management to the front-line. Everyone gets the proper training to deliver the on-brand, Emirates experience.
Take a look at the bar countertop. There is an iPad under the bar to capture unstructured customer feedback so service recovery can happen immediately, either in-flight or after landing.
The staff carries their bags with their right hand, leaving their left hand free to shake hands with others. Again, everything is purposely engineered and every element is co-designed with their customer.
For an organizational change, like Emirates, to happen, the focus needs to shift to the customer – and that's where customer journey mapping comes in.
Check out this guide to learn how to build your own Customer Journey Map.

Use Mapping to Diagnose E2E Journey
David: Mapping allows you to start looking at issues from a customer's perspective. Mapping produces an artifact; a visual element that helps get folks on the same page. It is a powerful weapon, but you must also follow through.
Customer Journey Mapping Best Practices
David: Customer journey mapping starts even before you interact with the customer. In this example, awareness is even before the customer experiences his or her first interaction with you.
A critical component that most miss is the emotional part of journey mapping. There are two parts in mapping:
Rational activities
Emotional outcomes
Remember, this is not a process mapping. It's about understanding the customer's experience and the emotional goal of each stage. When you have your mapping, you will be able to review all current customer metrics to ensure they align with key areas for customers. Because the mapping is done on one sheet, you can see the end-to-end emotional journey for customers throughout the organization.
How to build a customer journey map in one minute
To build a customer journey map, grab some coffee and a box of donuts. You'll need to create a flip chart:
Flip chart or a whiteboard
Flip chart or whiteboard landscape
Pen or something to write with
Mapping foundation (Rational to emotional)
Five to six colleagues
Using what you have above, begin mapping out current experience using post it notes. After you have completed the mapping, have each member initial and affirm the customer touchpoints. Initials are a sign of validation and buy-in. Now that you have everyone's initials, they have claimed ownership and it becomes an artifact. The goal is to get everyone on the same page and agree.
Provide each member five green sticker dots and five yellow sticker dots (or any kind of indicator). The green will represent pain points, and the yellow will represent the most critical touchpoint, or what we call a "moment of truth." This is what makes or breaks a customer.
Once this is done, repeat this process with the next five to six people.
Now that you have all your sticker dots well-represented, you should be able to distinguish your moments of truth and pain points. For the identified moments of truths, make sure you have the correct metrics in. These moments of truth are critical for everyone in the organization to be involved, starting with the front-staff.
Mapping is a powerful tool to equip front-line with the hard evidence that allows them to see the value they are providing to customers. It is also the most powerful mechanism to get everyone onto the same page. From there, you can then add metrics to track your performance.
Q&A
Q: How often do you recommend companies updating the journey map?
David: The journey map needs to be governed by an individual to make sure it is maintained. Not quite hour-by-hour, but week-by-week to maintain the performance to understand how things are changing the end-to-end experience. But in terms of substantial change, getting a group of people together every six months is helpful to maintain and nurture the interest of CX champions. More importantly, this is a great way to audit the pain points and moments of truths are still the same or need improvement.
Q: What's the best way to start building an understanding of CX in your business? How do you get people to value it?
David: What seems to work best is one of three strategies:
There are now several papers illustrating the business value of CX and its increasing importance. These papers are from large research organizations such as HBR and Forrester who have proven the CX value in terms of ROI. If you would like any of these resources, contact us and let us know!
Develop internal proof points. I tend to get asked, "where should we start?" My answer is, start where there's blood on the floor, an existing problem you can address using CX tools, or start where you have a turned on and tuned-in leader who already understands CX since this will require leadership effort to make it work. Better yet, look for a tuned-in leader who has a problem and sees if you can try to solve the problem using CX tools and build internal proof points around it.
Ask customers first, then ask colleagues second. A poll asking customers (or better still former customers) what they value most about your company and your competitors and what it would take to make them switch or buy more. This should show the merits of the rational and emotional dimensions of the offer/proposition
Q: Is it better to do a journey map with 5-6 people than doing it with only one person?
David: Great question. If you do a journey map on your own, you've really missed the point. The map is useful other than as an agreed visualization of what we do today to serve our customers. It gets really useful if you then use the map to build a collective agreement on the end-to-end experience and what the "moments of truth" and the "pain points" are for customers.
Q: You want to validate with customers any map built internally, right?
David: Of course, it makes sense to have customers agree and validate the journey map, and this is especially valuable in the B2B context. While it makes sense to have customers validate the map, don't get caught up in this because you may miss the real value of building the map. The ultimate value of this is getting buy-in and ownership across organizations and functions. Above all, the power comes from everyone across the business agreeing in addressing the top 2-3 concerns that matter most to customers. Focus on getting it across business teams to use mapping to collectively agree on what they're going to address together, rather than functional or tactical fixes.
Share if you enjoyed this recap! If you have any questions, you can shoot us an email at cx@questionpro.com.
---
We've partnered up with David Hicks, CEO of TribeCX to host a three-part Introduction to Customer Experience Webinar Series. Within this series, each webinar breaks down the basic foundations of building a Customer Experience program. If you missed Part I – Introduction to Customer Experience Metrics, you can view the presentation here.
Looking to deliver an exceptional customer experience with QuestionPro CX? Discover more about how to delight your customer at every touchpoint and turn them into brand advocates.