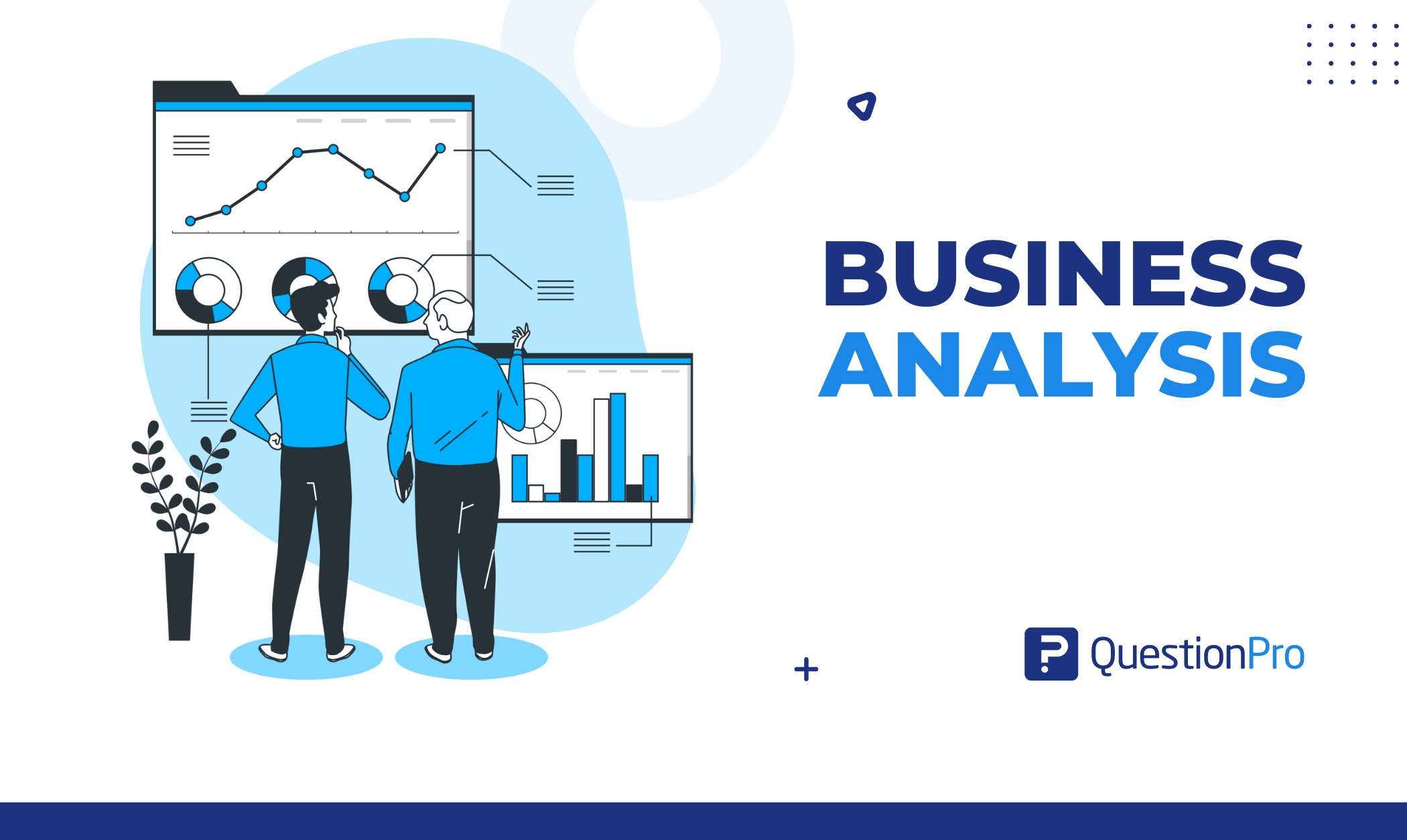 Business analysis uses tools and techniques to provide value to stakeholders. It assists organizations in identifying their needs and requirements.
In today's fast-moving business world, it's important to stay ahead of the competition by making decisions based on data. Business analysis can be useful in this situation.
You may better understand how your company runs, identify business needs, and create solutions to address those needs by concentrating on effective business analysis processes.
This blog will cover business analysis, why it's important, and how to conduct a successful business analysis.
What is business analysis?
Business analysis is the process of identifying business needs, analyzing data, and recommending solutions to help organizations achieve their objectives. Data analytics and data analysis are closely related processes that involve extracting insights from data to make informed decisions.
Business analysts are professionals who use their technical and analytical skills to look at business systems, processes, and strategies to find ways to make them better.
Business analysis usually involves collecting and analyzing data in order to comprehend business problems and identify potential solutions. It may include conducting stakeholder interviews, analyzing financial data, and reviewing business processes.
The business analysis seeks to provide insights that will assist organizations in making informed decisions and improving their operations.
Why use business analysis?
There are several reasons why using business analysis is important. Here we will learn some key importance below:
It helps organizations figure out where they aren't working well and where they could do better.
Business analysts can identify bottlenecks, redundancies, and other areas where the organization's operations can be streamlined by analyzing business processes, systems, and strategies.
It helps organizations make good decisions. Business analysts can assist organizations in evaluating the potential risks and benefits of various courses of action by providing data-driven insights.
It assists organizations in remaining competitive. Business analysts can help organizations stay ahead of the curve and adapt to changing market conditions by identifying emerging trends and opportunities.
Steps to follow to conduct a business analysis
Conducting a business analysis can be a complicated and time-consuming process. But, by following a structured approach, you can ensure that your analysis is thorough and provides valuable insights. The following are the steps to conducting a business analysis: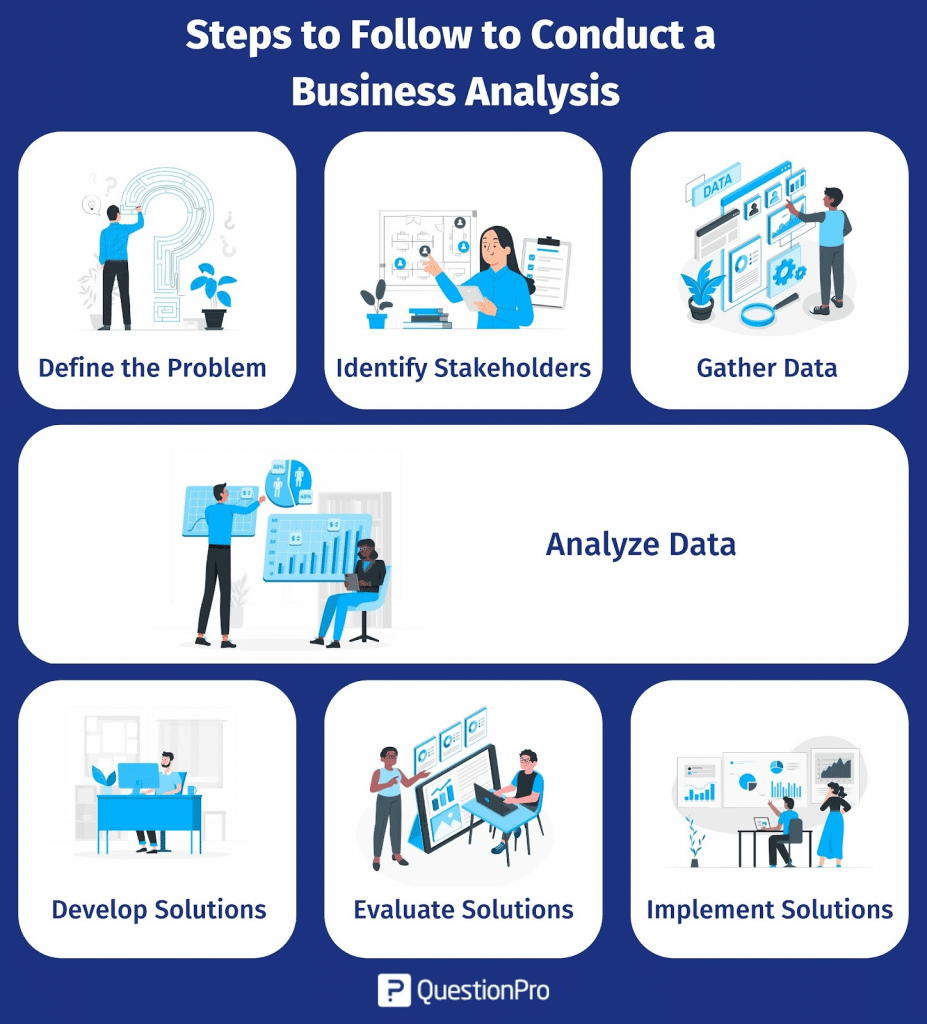 The first step in conducting a business analysis is to define the problem you are attempting to solve. It entails identifying the business need or opportunity you are trying to address. It is critical to understand the problem to focus on the right areas clearly.
The next step is to determine who will be impacted by the analysis. Employees, customers, suppliers, and other key stakeholders may be included. Understanding these stakeholders' perspectives and needs is critical for developing an effective analysis.
The next step is to collect data for your analysis. It may entail gathering data from various sources, such as financial data, operational data, customer feedback, and industry reports. The goal is to collect enough data from backing up your analysis and develop a thorough understanding of the problem.
After gathering your data, the next step is to analyze it. It entails reviewing the data and looking for trends, patterns, and insights. You can analyze your data using various techniques, including statistical analysis plan, data visualization, and trend analysis.
Based on your analysis, the next step is to think of possible solutions to the problem. It is critical to creating practical, feasible, and consistent solutions with the goals and values of the organization. It could entail creating new processes, products, or services, as well as making changes to existing operations.
Following the development of potential solutions, the next step is to evaluate them. It entails evaluating each solution's costs, benefits, risks, and feasibility. You should also solicit stakeholder feedback to ensure that the solutions are practical and effective.
The final step is to put your solutions into action. It could include creating a project plan, securing resources, and collaborating with stakeholders to gain support. It is critical to track progress and make adjustments as needed to ensure that the solutions are effective and long-lasting.
Following these steps will allow you to conduct an in-depth business analysis that will provide valuable insights and support effective decision-making.
Common business analysis techniques
The following is a list of the most important techniques used in the business analysis:
Most is a short form of Mission, Objectives, and Strategies. It enables business analysts to conduct in-depth analyses of an organization's goals and how to address such issues.
Pestle is a short form for political, economic, sociological, technological, legal, and environmental considerations. This model assists business analysts in evaluating all external factors that may have an impact on their data organization and determining how to address them.
SWOT analysis is short form strengths, weaknesses, opportunities, and threats. This technique assists you in identifying areas of strength and weakness. It also enables sensible resource allocation.
This technique serves as the foundation for both Six Sigma and business analysis techniques. It is made up of leading questions that allow business analysts to pinpoint the root cause of a problem by asking why such a situation occurs.
Customers, actors, transformation process, world view, owner, and environment are abbreviated as CATWOE. This technique assists you in identifying processes that any action taken by the business may impact.
How QuestionPro helps in conducting business analysis?
Do you want to gain a better understanding of your company's operations and customer preferences? Use QuestionPro as your only resource! Our comprehensive survey and research platform includes advanced analytics tools, data visualization features, and collaboration capabilities to assist you in conducting effective business analysis. Here are some ways QuestionPro can help:
QuestionPro is a complete survey platform enabling businesses to collect information from customers, employees, and other stakeholders. After that, the survey results can be analyzed to gain insights into customer behavior, preferences, and opinions.
QuestionPro provides advanced data visualization tools to assist businesses in better understanding the data they have gathered. Businesses can use these tools to create charts, graphs, and other visual representations of their data in order to identify trends, patterns, and outliers.
The advanced analytics tools provided by QuestionPro enable businesses to conduct more sophisticated data analysis. For example, businesses can use regression analysis to figure out which factors are most strongly linked to customer satisfaction, or they can use clustering analysis to figure out which groups of customers they have.
Businesses can use QuestionPro's text analytics tools to analyze open-ended survey responses. It can assist businesses in identifying recurring themes and sentiments among a large number of responses.
The collaboration tools in QuestionPro make it simple for teams to collaborate on data analysis. Team members can collaborate on insights and recommendations by sharing survey data, visualizations, and analysis results.
You can use QuestionPro to collect valuable data from your customers, employees, and other stakeholders, analyze it using sophisticated techniques, and gain valuable insights to help your business grow. So why wait? Integrate QuestionPro into your business analysis today to unlock the power of data-driven decision-making!