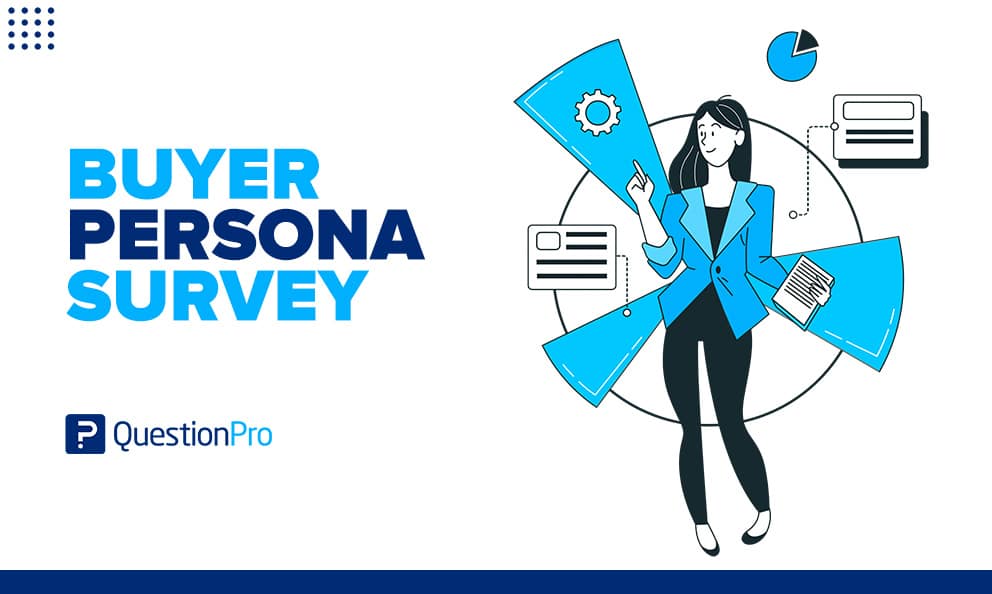 For any business, be it a startup, SME, or enterprise, it is essential to identify the right set of a buyer persona. Otherwise, you may have a great product or service, but your venture may fail because you aren't projecting it to the right people. But, how do you know who will be your right set of customer persona? How do you know what they want? And whether your product or service will satisfy their needs? We'll answer these questions and discuss how the buyer persona survey can help you identify the right pool of people. This article will also cover the buyer persona survey questions, examples, and free buyer persona template.
What is a Buyer Persona Survey?
A buyer persona survey is a questionnaire that identifies the preferences, opinions and behavior that a respondent will exhibit as a customer.
It highlights the traits of customers and puts them in various categories depending on the answers to the buyer persona survey questions. It also identifies how respondents make decisions while buying products and services. Thus, a buyer persona survey helps the survey creator with insights into the likes and dislikes of their potential buyers.
Buyer persona surveys help businesses ensure that their reach out to relevant people as they are the ones who are more likely to buy. It saves cost and strengthens brand loyalty and image.
The marketing team needs to understand and filter the right set of buyers so that they can help with the resources that might satisfy their needs. On the other hand, the sales team needs to understand the requirements to help them make the purchase. For example, a sales representative might pitch a monthly subscription instead of an annual plan if aware of the budget needs.
Learn more: How to create a buyer persona?
Best Buyer Persona Survey Questions 
Market researchers conduct buyer persona surveys to understand the target market and customer behavior. It also helps to decide if the product will be the right fit for the market and create a marketing strategy.
The buyer persona survey intends to find out their background and the challenges they face. Based on them, you can know whether you should offer their product to them. 
Here are a few criteria to filter your potential customers and include them in your buyer persona survey questionnaire.
Demographics questions
Age

Gender

City/Country

Household income

Marital status

Children
Educational background
Level of education

School or university

Major subject
Professional experience
Industry

Department

Challenges

Interests

Role

Title

Skills

Tools
Company
Size

Revenue

Employees

Locations
Goals
Free buyer persona survey template with sample questions
Along with the screening questions like the above ones, use the below questions to get a better idea of customers' expectations and needs.
Are you going to buy this product for yourself or others?

What are your challenges while using a product?

How can we help you improve your experience?

What are the top 3 features you wish in a product?

Will you be interested in buying this product with [feature]?

How much do you currently spend on a product?

How much are you willing to spend on a product?

How do you research before buying a product?

Do you check with your friends before buying a product?

Do you consider online reviews before buying a product?

Do you have any other comments or suggestions?

Would you like us to follow up with you? If so, please leave your email address
If you don't want to create a questionnaire, check out our list of free survey templates. You can customize them as per your needs. With a logo, images, fonts, and more, you can create a branded questionnaire and increase the survey response rate. You can also add survey logic and program the buyer persona survey to display relevant questions.
LEARN ABOUT: Powerful Survey Generator
How to Conduct a Buyer Persona Survey
1. Identify sample audience
Based on the product type and characteristics, you can imagine a set of people who might use your product. Create different categories based on unique qualities and behavioral traits. For instance, consider a smartphone manufacturing company that wants to launch a new model in the market. They need to analyze the needs and challenges faced by various groups of customers as well as identify potential buyers.
Buyer persona: A freshman college student
Teenager

Plays games, watches videos and listens to music

Has 25 apps installed on his phone

Needs a high-performing device, with higher RAM and storage

Needs better graphics

Budget: $1500-$2000 
Buyer persona: NASA scientist
Aged 40-50

Uses phone sparingly

Needs a device with robust performance

Data security and privacy is a top priority

Better camera for personal use

Budget: $1500-$2000



So, as you can see, both the buyer personas have completely different needs. However, they have the same budget. These insights can help the manufacturing company target the right customers and design and prioritize features.
2. Distribute a survey
Select from 40+ question types ranging from multiple-choice questions, smiley face questions, star-rating questions, matrix, and more. To create a branded survey and a request email, add a company logo, images, fonts and colors that match your brand's style. Program your survey to ask questions based on their answers. It offers a great experience to your respondents and keeps them hooked enough to complete the buyer persona form.
Import your list of contacts and send them a survey through email, SMS, QR code, website link or an offline mobile app. Save different survey email templates based on your respondents' preferences. To protect their privacy, you can let them answer the customer persona survey questions anonymously.
Schedule the survey email reminders so that you don't have to follow-up manually. You can also embed custom variables in the email to give a personalized experience.  To ensure data accuracy and avoid order bias, you can randomize the questions and options. You can also embed custom variables in the email to give a personalized experience.
Learn more: How to avoid order bias in surveys
3. Analyse results
Keep an eye on the survey's performance with a real-time dashboard. Optimize your research depending on the completion rate, dropout rate and average time to complete the survey. 
Analyse the data based on the customer persona categories you created. Dig into details with reports and have them automatically delivered to your inbox. Share them with the stakeholders and let everyone have insights into the outcomes. 
You can also integrate the survey tool with other third-party apps like CRMs, marketing automation tools and data visualization platforms to gain a holistic view of data. Use these insights to make decisions and define your business strategy.
Conclusion 
Understanding the buyer personas can play a crucial role in their product usage satisfaction
later when they become customers. It can have a significant impact on the success of your business. Hence connect with the market research experts who are well experienced in creating surveys.
We suggest getting started with a buyer persona generator that can be a one-stop shop for all things research. Sign up for a free account and explore the tool. You can also sign up for a free trial if you want to use more advanced features.