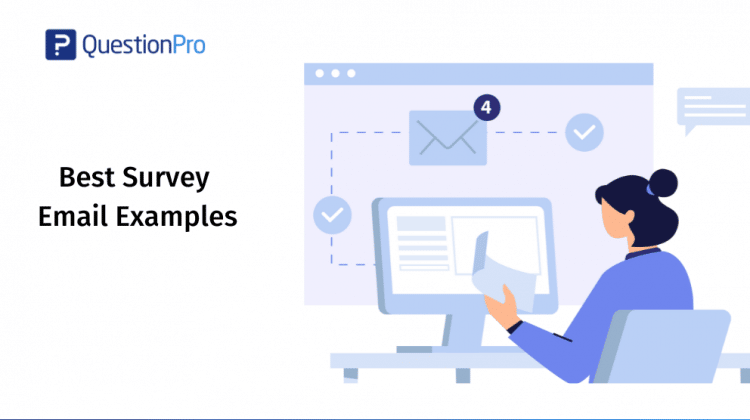 Survey invitation emails are one of the most common ways of distributing surveys. You embed a link to a survey in the email and request them to answer the questions. In this blog, we want to share the top five survey email examples that achieved desired results – more survey responses. We'll also walk through the tactics of making anyone do what you want them to with a few sample email survey templates or email newsletter templates. Let's talk about the best survey email examples.
LEARN ABOUT: course evaluation survey examples

What are Survey Email Examples?
Survey email examples are a method to gather feedback and insights from customers, employees, or any other group of people that a business or organization wants to hear from. By sending out survey emails, businesses can collect valuable data that helps them make informed decisions, create effective strategies, and improve their products, services, and overall customer experience.
But before that, let's understand the psychology behind how someone takes action as requested in the email feedback.
An obvious question that pops up in mind after reading a survey email is, "why should I spend time for you unless you incentivize me with rewards?"
So, you should explain in the survey invitation email that why answering the survey would help you improve your products and services, and in turn, better serve them.
LEARN ABOUT: Event Surveys
The key is to spike the reader's curiosity and make them open your survey email. This implies you must have a good subject line, meaningful enough to give them an idea of what to expect in the email. It should also drive them to take action.
But, opening an email for survey is just half the battle won. Once, they read the email and see a link to the survey, it must compel them to click on it. You can also embed a sample survey question in the email to increase the response rate. When you embed the first question in the email, it gives a glimpse of what to expect in the survey. Clicking any answer option will take them to the rest of the survey. The reason behind this is that people are more likely to complete the survey once they have started.
Learn more: Boost Survey Response Rates With Embedded Questions In Emails
Let's check out a few sample online survey email examples that had not only a great open rate but also a good response rate. Also, notice the survey email subject lines that increased the response rate.
Survey email examples that got read & responded
Customer satisfaction survey email

example
Subject: Happy with your <Product Name>? | Let us know how you feel
Body:
Hi <Name>,
We hope you are enjoying your recent purchase of <Product Name> from <Company Name>.
Would you like to fill up a short survey to help us improve our services? It will take only 5 mins!
<Survey_Link>
Thank you in advance for your valuable insights. Your input will be used to ensure that we continue to meet your needs.
We appreciate your trust in us and look forward to serving you in the future. For any questions, please contact our <Customer Support>.
Thank you,
Signature
Why did this customer satisfaction survey email work?
Short and simple

Gives an idea of how long will it take

Straight to the point

Gives a reason for why the customer should fill-up the survey
This is how it looks when you send an invitation email. You can also schedule it for a later date using survey software.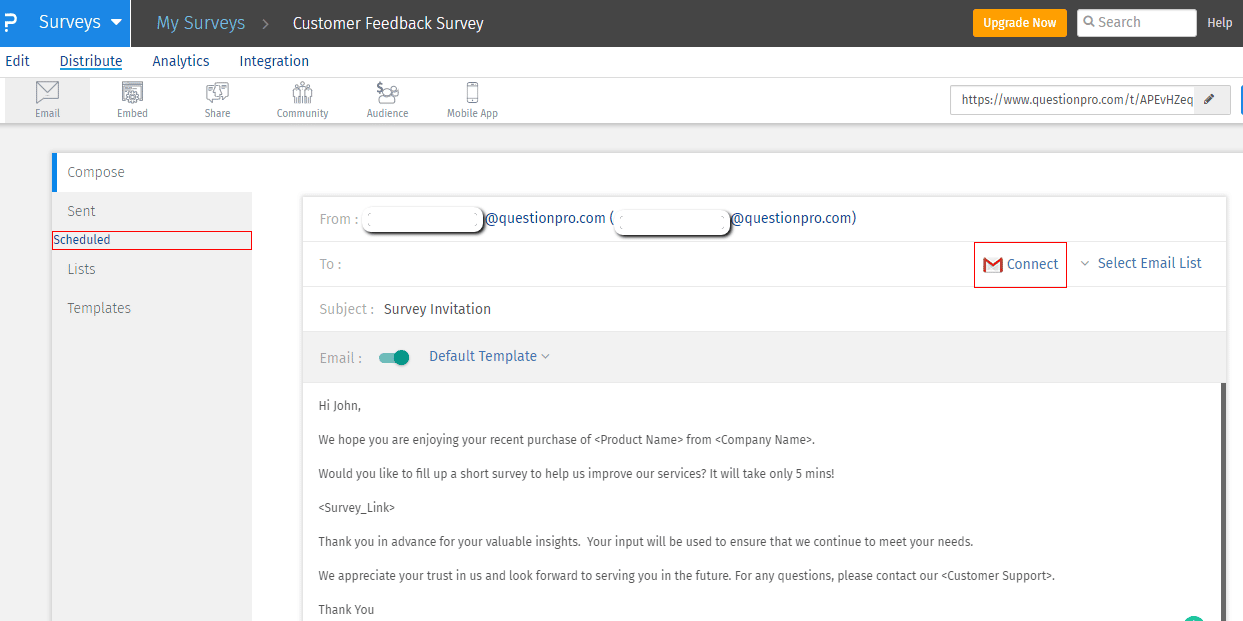 2. Customer feedback survey email

example
Subject: <Company Name> needs your feedback, got 2 mins?
Body:
Hi <Name>,
Thank you for your trust in <Company Name>. We would be grateful if you could spare 5 mins or less to answer a short survey and let us know how was your experience with us.
<Survey_Link>*
* The link will be active till <Date>.
* The information gathered will be used for quality assurance only.
* We value your privacy and do not sell personal information to third parties.
We appreciate your time and feedback, and assure you of our best services.
Thank you,
Signature
Why did this customer feedback email template work?
Short subject line

Concise mail body

Mentions survey end date.

Assures customers of privacy
3. Marketing evaluation survey email

example
Subject: Take this survey, and win a $25 Amazon voucher!
Body:
Hi <Name>,
Thank you for subscribing to our newsletter.
We want to give our customers the best experience and in this regard, we would like to hear from you what do you think about our marketing emails.
Please fill up this <Survey_Link> and let us know if our team helped you find what you were looking for.
Check out <Our_Latest_Offers> on a wide range of products.
Thank you,
Signature
Why did this marketing evaluation survey email work?
Compelling subject line.

Rewarding the survey respondent.

Soft-selling
4. Retail store evaluation survey email

example
Subject: Liked our store? Answer & earn a 15% discount!
Body:
Hi <Name>,
We noticed that you recently visited our <Store_Name> store.
We constantly strive to improve the quality of our products and services to give an awesome experience to our customers. Would you like to spare 10 mins or less and answer this short <Survey_Link>?
Participating in the survey would automatically qualify you to earn a 15% discount on your next purchase.
Please reach out to our <Customer_Support> in case of any queries.
Looking forward to seeing you again at our store,
Thank you,
Signature
Why did this retail store evaluation survey email work?
Creating a connection with the visitor

Sales-oriented

Polite
5. Employee benefits survey email

example
Subject: Want an awesome workplace? Answer this survey.
Body:
Hi <Name>,
Are you enjoying working with us? Or is there anything we can do to improve your experience?
Help us to better know your needs so that we can create a workplace that not only gets the best out of you but also gives you great memories!
Please fill up this <Survey_Link> and let us know if the existing employee benefits actually benefit you and how can we improve further.
Let's work together to create a great workplace!
Thank you,
Signature
Why did this employee benefits survey email work?
Good subject line

'You' attitude

Subtle and strong CTA
LEARN ABOUT: Product Survey Questions
How can survey email examples affect survey response rates?
Survey email examples can have a significant impact on good survey response rates. The email that you send to invite people to take your survey is the first impression they will have of the survey, so it's important to make it compelling, clear, and easy to understand. Some factors that can affect response rates include the subject line, the tone of the email, and the length and complexity of the survey.
LEARN ABOUT: Survey Sample Sizes
Here are some tips on how to improve your survey email examples and increase your response rates:
Keep the subject line short and compelling: Just reiterating what I mentioned above. Use a subject line that clearly states the purpose of the email and highlights the benefit to the recipient.
Personalize the email: Address the recipient by name and make the email feel more personal by using language that is warm and friendly. Use the recipient's first name if you have that information, and avoid using overly formal or generic language.
Keep the email brief and to the point: Use short sentences and clear, concise language to explain why you're conducting the survey and what the recipient can expect. Avoid using jargon or technical terms that may be confusing.
Include a clear call-to-action: Use a clear and compelling call-to-action that encourages the recipient to take the survey. For example, "Take the survey now and help us improve our services".
Test and optimize your email: Test different subject lines, email formats, and messaging to see what works best for your audience. Use A/B testing to compare different email formats and messaging, and use data analytics to measure and optimize your response rates.
LEARN ABOUT: Send Surveys Using Text Message
Survey Email Examples Statistics
Here are some statistics on the impact of survey email examples on response rates:
A study by MarketingSherpa found that personalized subject lines can increase email open rates by 29.3%.
According to a study by Campaign Monitor, emails with a clear call-to-action have a 371% higher click-through rate than those without a call-to-action.
A study by Econsultancy found that email marketing campaigns that are tested and optimized have a 2.5x higher conversion rate than those that are not optimized.
LEARN ABOUT: Vendor Satisfaction Survey
Conclusion
The best way to increase the open and response rate is to offer some value to the readers. Humans feel more compelled to take action when they get something in return. However, don't mislead readers with subject lines that don't match the intent of the mail body. It may increase your email open rate, but they might feel cheated and choose to unsubscribe. Utilize these free survey email examples to get responses in large numbers.
LEARN ABOUT: best time to send out surveys
Creating, sending and analyzing survey results has become easier than ever before. Create a free sample survey today and gather insights to make better business decisions.