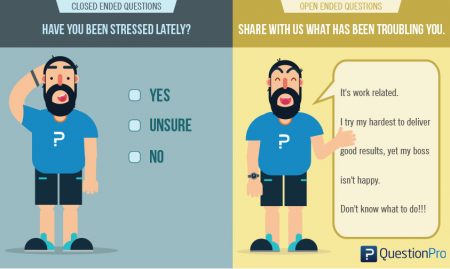 Everything easy or complex requires competence. Asking the right question is also one such thing that requires capabilities. Capability to understand and segment the target audience, determine the kind of questions that will work well with that audience and determine the efficiency of open-ended questions.
Here are 4 ways to create effective open-ended questions:
Understand the difference between open-ended questions and closed-ended questions
Before you start putting questions to paper, you need to have an absolute clarity on open-ended vs closed ended question types. Your objective of sending out the survey should be clear and based on that, you can evaluate the kind of questions you would want to use.
These are usually used where the feelings and feedback of the customer are highly valued. To receive 100% transparent feedback on these questions, make sure that you don't lead the respondents with your questions and give them complete liberty to fill in whatever they want to.
Create a list of open-ended questions before curating the survey
Once you get clarity on what are open ended questions and how to implement them, figure out a list of these questions that you'd want to use in the survey. To begin with, you can have a fair share of open ended questions in your survey and this number can fluctuate depending on the responses you receive.
Examples of open-ended questions like these are extremely popular and give you more value added insights:
Why do you think competitive market research is important before launching a new business?

How do you think you'll overcome these obstacles in our project?

Tell us about your experience with our onboarding process.

What are your professional priorities at the moment?

What domain of work motivates you?
You can make a list of similar questions before you start executing the survey.
Reconstruct any question into an open-ended question
Observation is the key here. Observe what kind of questions do you usually ask your customers, prospects and every other person you come across. Analyze whether the questions you ask are closed ended or open ended. Try and convert those closed ended questions into open end ones wherever you think the latter would fetch you better results and valuable insights.
Follow up a closed-ended question with an open-ended question
This trick works wonders. It's not always possible to convert a closed question into an open one but it's definitely possible for you to follow up by getting a question that is open ended answered.
For example, if you have a closed question like – "Do you think the product was efficient?" with the options "Yes" and "No", you can follow it up with an open question like "How do you think we can make the product better?"
When it comes to customer feedback surveys, the advantages of open questions surpass that of the closed ones.