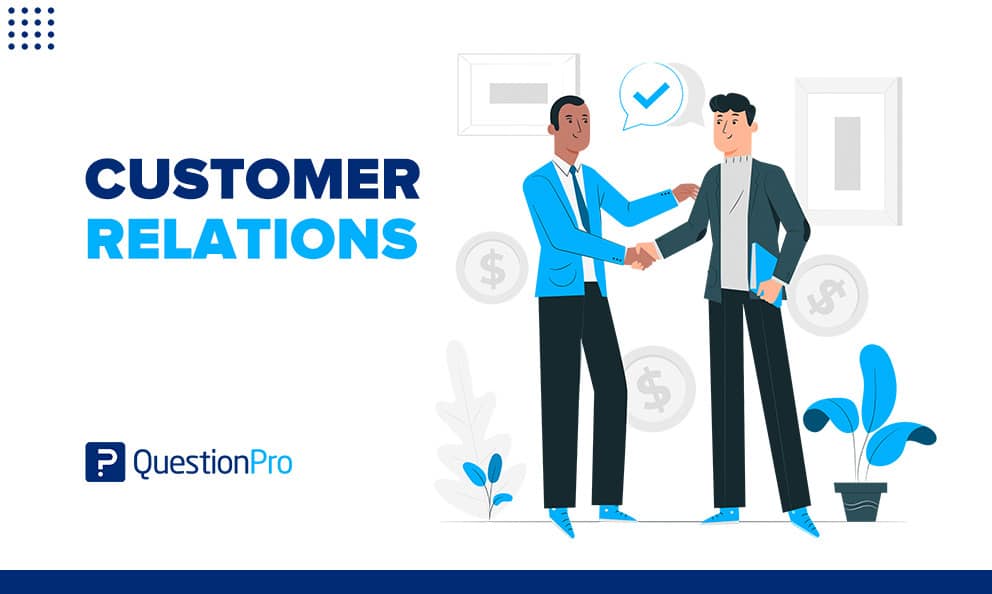 Great customer relations initiatives focus on treating clients well, answering questions, and exceeding expectations. This strategy helps organizations interact with clients and construct robust relationships.
What are customer relations?
Customer relations are the relationships a company has with its consumers. The better a company understands its customers' needs and desires, the better its chances are to develop customer loyalty, which is essential for any serious business.
Keeping clients loyal reduces client acquisition costs for the business. Research suggests that onboarding new clients is around 5x more expensive than neutering current client relations. Satisfied clients become advocates, and advocates are more likely to recommend your services, thereby creating a perpetual funnel of potential future growth and new business opportunities.
When an enterprise builds trust via excellent customer relations, research suggests there is a 50% to 60% probability that the customer will return with new spending opportunities.
Customer relations and Client Loyalty
Loyal clients supply high-quality testimonials and online feedback that can reinforce the marketing department's marketing message. Strong customer relations can lead to customers spending 8x more revenue over 3 years than their first purchase.
Research indicates that clients with strong customer relationships frequently make buying choices primarily based on suggestions from the account/support manager vs. marketing messages. 
About 90% of UK corporations go out of business within 10 years. One of the contributing issues is terrible customer relations. Buyers are pissed off over troubles that are not dealt with promptly and efficiently.
This takes place when a business does not prioritize customer relations by putting in the operational systems needed to monitor, highlight and address the concerns of their customers. These customers can then become detractors who can cause irrevocable damage to the organization's reputation.
The role of the employee
Employees choose to work for corporations that respect employee contributions, inspire new thoughts and deal with clients fairly. When working for an organization that offers the right levels of customer relations & service, they are further engaged in the role and more likely to be promoters; who are more inclined to stay with the business through the hard times, and defend the business to clients that happen to be unhappy with the products or services.
QuestionPro for customer relations
The approach taken at QuestionPro takes both the aforementioned factors into account: We strive from the moment of first contact to be welcoming, engaged and focused on understanding our customers goals, we make sure that each customer is onboarded via a tried and tested plan of introduction, training and support, once comfortable in achieving their goals, we remain vigilant in the background while working on improving our services.
Regular contact by the account manager & support manager is kept with the customer at a frequency they are comfortable with, meaning there is trust, transparency, and, most importantly, assurance that we are there with them every step of the way. 
Internally, their is a culture of open communication and comradery that allows all QuestionPro staff to feel like they have a voice, whether it is raising a customer support ticket, asking for some additional training or suggesting an entirely new product line, the team (including the executives) will listen, this allows the team to feel as one, advocating forward with a unified sense of being a family.
While you won't always get on with family, you will strive to protect and do right by them! This sense of family allows us all the confidence to drive forward, providing 1st class customer relations to each customer, prospect, and neigh sayer out there! 
Authors: Kirk & Suprativ