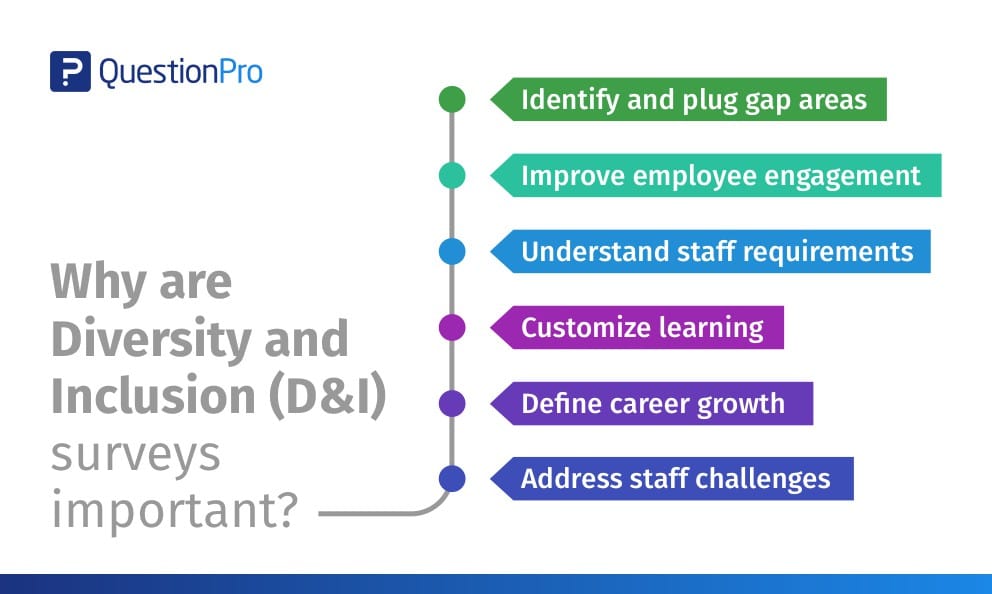 An organization is diverse when it comes to its employees, no matter the size of the organization or the nature of business. Organizations will always be made of employees of different colors, religions, races, ethnicity, gender, etc. Organizations need to have diverse teams and encourage diversity, for it has several positives. Every unique individual brings with them their work ethic, ideas, beliefs, etc. All the members within a team can learn from each other. This significantly makes a positive impact on the employee experience.
According to a study by Quantum Impact research, about 20% of organizations do not have women in leadership roles. The same study highlighted that about 50% organizations do not have people of color.
What is a diversity and inclusion survey?
With a diverse workforce come a lot of aspects that you need to look into. It helps to be mindful of your employees' lives outside of work too. Not only can you learn more from that but also plan office activities around festivals, significant events, etc. This inclusion is perfect for employee engagement; these employees will tend to stay longer with organizations.
Even though organizations feel their policies are inclusive, not all employees may feel that. Organizations may make a genuine effort but fall short for various reasons. A Diversity and Inclusion (D&I) survey is an excellent way to identify such shortcomings and address them. You can understand if they are comfortable with the current policies, can express their opinions, feel respected in the organization, etc. In the last section of the blog, you will find a set of questions and a sample Diversity and Inclusion survey template that you can deploy in your organization.
Research by Glassdoor stated that 57% of employees feel that employers could and should do more to promote (D&I).
How do diversity surveys help organizations?
D&I surveys are like any other employee surveys that you would deploy. It helps you gather inputs from your workforce, identify any gap areas, check what's working, what's not, and make necessary changes. You can conduct short or long surveys depending on your rationale and plan for your D&I initiatives. You can always take a call on the frequency and survey composition based on the responses you get.
D&I surveys help organizations:
Identify and plug any gap areas for better workforce engagement. You can also deploy custom

engagement surveys

if need be. These will have questions directed to get insights specifically on staff engagement.

Understand the requirements and needs of a diverse workforce (leaves, religious holidays, etc.)

Customize training and development as per their requirements

Define career growth plans for employees

Understand if current D&I initiatives are working or not. Benchmark your progress over time.

Identify and address situations that make your employees uncomfortable.
Harvard Business Review found out organizations that have better-than-average diversity numbers had 19% more innovation earnings.
Sample Diversity & Inclusion Survey Template + Questionnaire
Here are a few sample questions that should be included in your D&I survey. Below the sample questions, you will find a free to use questionnaire template. Please make sure you view it.
Some questions, for example:
Organizational attitude towards D&I (Agree/disagree)
The management team values D&I and any initiatives around it

All employees in the organization are treated equally and fairly
Recruitment (Agree/disagree)
Everyone in the organization gets access to equal employment opportunities.

Aspiring candidates from diverse backgrounds are welcome to apply for positions.
Career development (Agree/disagree)
Everyone in the organization has a career growth path that they are aware of

Employees are promoted fairly and based on their performance
Manager's attitude towards D&I (Agree/disagree)
Your manager is supportive and committed towards D&I

Your manager knows and handles D&I matters appropriately
Harassment and discrimination (Agree/disagree)
I know where to register my complaints regarding discrimination and harassment

I am confident management will take appropriate actions to tackle D&I incidents
Download the Sample D&I Survey Template + Questionnaire for free.