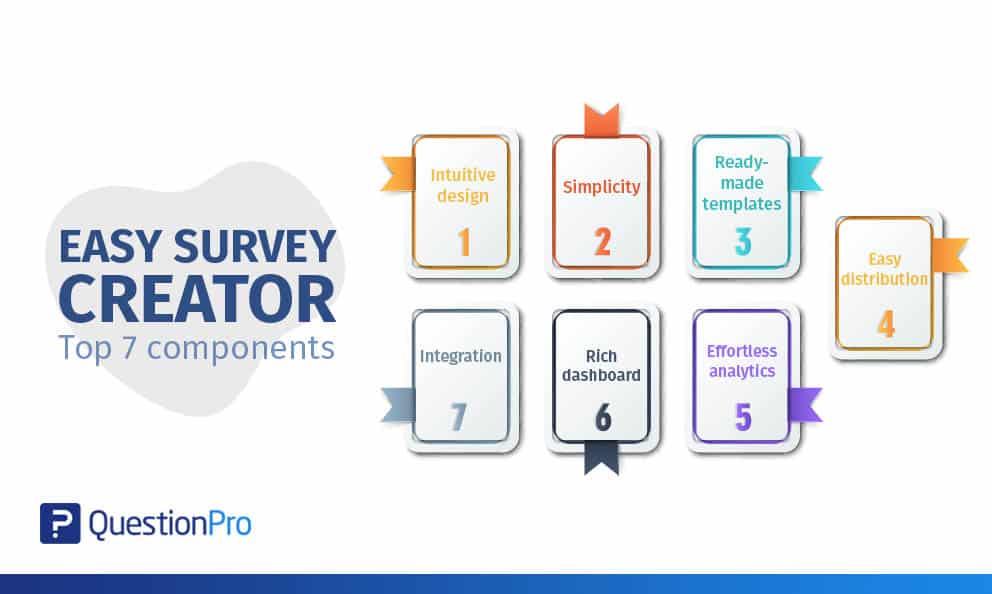 Do you think an easy survey creator is not easy to find? Nope, not at all. We'll help you find a one.
There are many tools in the software market to build a survey and do market research. With each of them, you can create surveys, distribute them and analyze results. Some of the best online survey creators offer rich design features, while some offer various distribution methods. A few of them offer a wide range of reports and analytics. 
Keep reading if you have tried free versions of various survey software and are wondering on what basis you should select a survey builder tool.
Here are the top 7 components of an easy survey creator:
This principle applies to all software in general. The design should be such that the user doesn't have to put too much effort to locate the things. The text, icons, and navigation should be intuitive in nature. The more software is user-friendly, the more successful it is. For instance, some applications only have icon buttons. While some of the icons for composing a message or sending an email might be commonly known, sometimes the user might need to spend some time figuring out the right icon. If there's a text label too, it would be far easier for the users. Here's an image for your reference.

The thumb rule is users shouldn't need to spend more time creating and sending out a survey. They should rather focus on the data collected and generate meaningful insights out of it.
Complex tools are not user-friendly. A survey creating tool might offer many advanced features, however, it doesn't make sense if the user doesn't know how to use them. Or worse, they don't even know such features exist. An easy survey creation software gets you started in minutes and can be understood by a fifth-grader.
Another way survey creation software makes it easier for the administrator is by providing templates. Survey templates are a ready-to-use list of questions specific to industry and domain. They are prepared by seasoned professionals and can be easily customized. These templates save time and are completely free.
Explore 350+ Free Survey Templates
There are a number of ways to distribute a survey – email, SMS, website, offline mobile app, social media platforms, and QR code. Choose a distribution medium depending on the target audience. Email is the most preferred option when you have filtered people based on specific criteria. Also, given the reach of social media sites, many B2C companies also launch their market research campaign on these sites.
If your respondents stay in areas with network connectivity issues, send a survey to their offline mobile app. They can answer questions whenever they want. If the phone is not connected to the internet, the answers are saved on the device. When they reconnect to the internet, the answers are transferred to the server.
In short, an easy survey creator should facilitate distribution via multiple mediums.
A survey is conducted to gather insights that can help to make better decisions. It is important that the survey software presents data in a manner that makes sense. Generating commonly used reports such as TURF Analysis, GAP Analysis, Data Segmentation, Sentiment Analysis, Trend Analysis, etc should be possible with minimum clicks. 
The dashboard is probably the most used screen by administrators once the results are out. It gives you a quick glance of the response rate, completion rate, drop-out rate and the average time to complete the survey. You might also want to see the geographical distribution of responses and filter data based on custom conditions. 
An easy survey creator should have a dashboard with charts and links to features that are heavily used and offers tremendous value to the user.
Integration with third-parties
Integration with third-party tools makes life a lot easier! You can use data captured by one application in another and multiply the usability of the data. A good survey creating platform offers rich integration capabilities with other marketing, workforce and CRM software. It should also be easy to automate creating, updating and deleting questions and responses with an API.