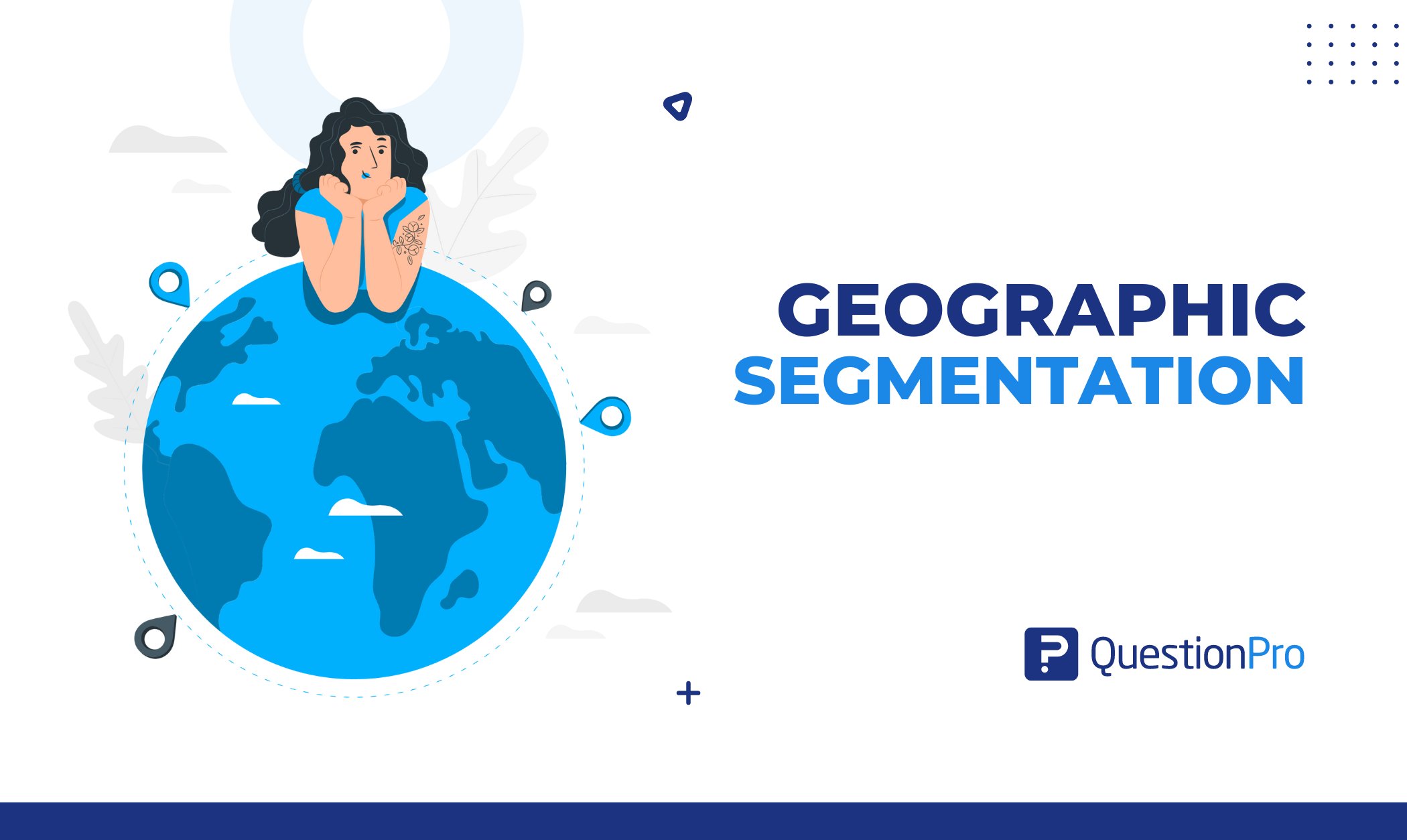 Many tools can help you figure out what your target group does, what they need, and what they like. Geographic segmentation is an important tool that helps businesses make goods that consumers and potential customers will like.
Before launching new products or services or improving existing ones, businesses need to do geographic segmentation as part of their market research.
In this blog, we'll talk about what geographic segmentation is and how you can use a number of factors to divide your market into geographic groups.
What is geographic segmentation?
Geographic segmentation is a component that competently complements a marketing strategy to target products or services on the basis of where their consumers reside. Division in terms of countries, states, regions, cities, colleges, or Areas is done to understand the audience and market a product/service accordingly.
Geographic segmentation is putting your people into different groups or categories based on where they live. In this type of market segmentation, customers are put into groups based on factors like temperature, population, food habits, clothing, etc., as well as where they live.
Customers' choices and habits are often affected by where they live. For example, people are more likely to buy tea and coffee in the winter because of the weather. During the summer, more people would be drinking cold drinks.
With geographic segmentation, you can figure out how trends and patterns, like the one in the situation above, affect the demand for your product or service in the market. Also, geographic segmentation gives you useful information that can help you make better marketing plans and put your business in the right place.
LEARN ABOUT: Marketing Insight
Geographic segmentation characteristics
People in different parts of the world display different characteristics. A marketing strategy created by dividing the target market segmentation into segments on the basis of factors such as economics, food habits, clothing habits, languages, traditions, and many other traits is known as geographic segmentation.
A classic geographic segmentation example: A classic example – people living on colder continents, such as Europe, are interested in warm clothing, heating devices, etc., almost throughout the year, whereas people living in hotter continents, such as Australia, are interested in air conditions, beach vacations, breezy outfits, and cold drinks.
Example 2: let's take another example where a government body wants to segment its geography based on the use of plastic bags in its region. The goal is to conduct a use of plastic bags survey. Based on actionable insights into the geographical spread of plastic bags, the governmental body can reinforce administrative supervision to reduce the use of plastics and add new plastic recycling plants in areas of heightened usage.
Each continent or country is further divided into places with distinction in terms of culture, traditions, languages, etc., and there can further be a geographical segmentation. Geographic location is an integral factor that determines market positioning and product sales.
Irrespective of an organization's market share or product success rate, it's extremely important for them to conduct market research before launching new products/ services or introducing better or newer features.
Why use geographic segmentation?
Geographic segmentation helps you lower your marketing costs. As a business that wants to cut costs, you would look for places to spend that will give you the best returns. It lets you focus your marketing efforts on a specific area of interest and avoid spending too much.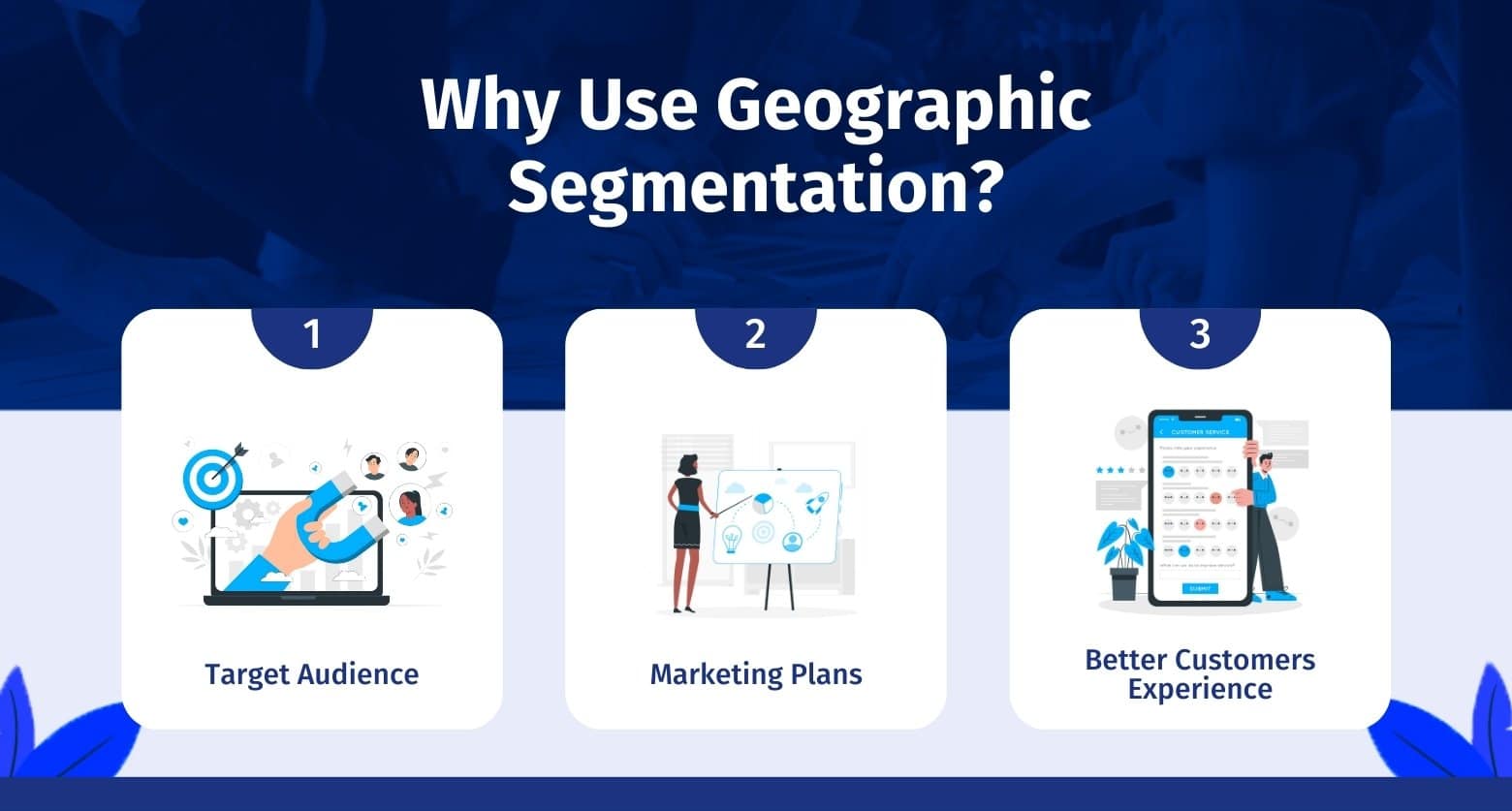 Learn more about your target audience

By using geographic segmentation, you can learn more about your customers and target market. Several things, including regional segmentation, affect how customers act.
Make effective marketing plans

You can make better marketing strategies and plans for your product or service if you know how local factors affect market trends and buyer behavioral segmentation. You can use regional segmentation to make ads that appeal to people in a certain area.
LEARN ABOUT: Behavioral Targeting
Better experiences for customers

Making personalized experiences for different geographic segments can give your target market more value and improve the customer experience. You will be able to determine each group or segment's unique problems and needs and how to solve them.
Geographic segmentation examples
Here are some examples of geographic segmentation:
Products based on season

Regions such as Canada and Russia that are cold throughout the year will see a huge number of warm clothing traders promoting and selling their products. They focus on targeting their products only to locations in Canada and Russia. Due to such targeted advertisements selling, it becomes easy for traders to make profits. These traders will fail to make profits if they target warmer parts of the world, such as Australia.
Size and type of region

There are countries in Asia, such as India, where people speak different languages in different states. This is the primary reason for successful Western fast-food outlets to devise new strategies to target local flavors and costs to flourish in the Indian market. A strategy designed around geography will help these outlets compete with local players and grow in a market as diverse as India.
Food inclinations

With the change in the region, there is a drastic change in food preferences as well. In the U.S., there is a constant supply of seafood across the East and West coast, which are promoted all throughout the year. In Asian countries, such as China, food habits are highly dependent on religious ceremonies. For example, the Chinese eat dumplings during the Spring festival to convey their relationship with God. Local food chains produce food by keeping these aspects in mind to ensure they do not suffer losses with the change in occasions.
Launch products or services in new regions

Geographic segmentation is used when an organization wishes to launch a product/service in a new geographic location. For a Western burger giant to launch a new outlet in an underdeveloped country such as Bangladesh, where most citizens are habituated to bread such as naan and roti and not the ones that the burger giant offers, it's crucial to understand how to establish or mold their products to suit the palate, traditions, and cultural preferences of this geographic segment.
Learn about: Demographic Examples
Geographic segmentation variables
Geography isn't the only thing that affects geographic segmentation. Climate and weather, cultural preferences, and people are also important. Pricing, product availability, and marketing tactics are just some of the things that depend on where an organization is located.
Let's explore common geographic segmentation variables.
Location

This is the most popular way to divide people by where they live. Consumers' decisions and market behavior can be affected in different ways by where they live.

For example, users may choose one product over another because it is closer to where they live.

Also, some products might not be useful to customers in a certain area.

For example, people living in places with no water may not need beachwear at all, and snow shovels are only useful for people who live where it snows.
Climate

The weather and climate can affect the market's desire for certain products. Organizations that sell goods and services that depend on the weather must market them based on the weather in a certain area or place.

Think about businesses that sell jackets, coats, gloves, and other warm clothes. Most of the time, these businesses would try to sell their goods in cold places, where they have the best chance of making money. In the same way, businesses that sell beachwear are more likely to make more money during the summer and in warmer regions.
Religion and culture

Market behavior is also set by and affected by cultural values. People in a certain place often have habits that are tied to their culture, faith, or just their way of life. You need to know how regional differences affect your customers to get the most out of the market.

For example, it may be very hard to sell pork-based products and alcohol in places where Islam is the main faith. But in the West, pork-based goods are very popular. For example, bacon is an important part of the English breakfast.
Population

Demography and population density play a big part in dividing places. In some countries, there are more men than women, which affects how businesses market their goods and what kinds of goods they sell.

Also, people in rural and urban areas have different needs. As a business, you need to know these differences and make your marketing efforts fit the needs of different areas.

For example, people living in the country with lawns may be more interested in a yard mowing service.
Advantages of geographic segmentation
Businesses can benefit from geographic segmentation as a marketing tactic in a number of ways. Geographic segmentation offers a number of significant advantages that are given below: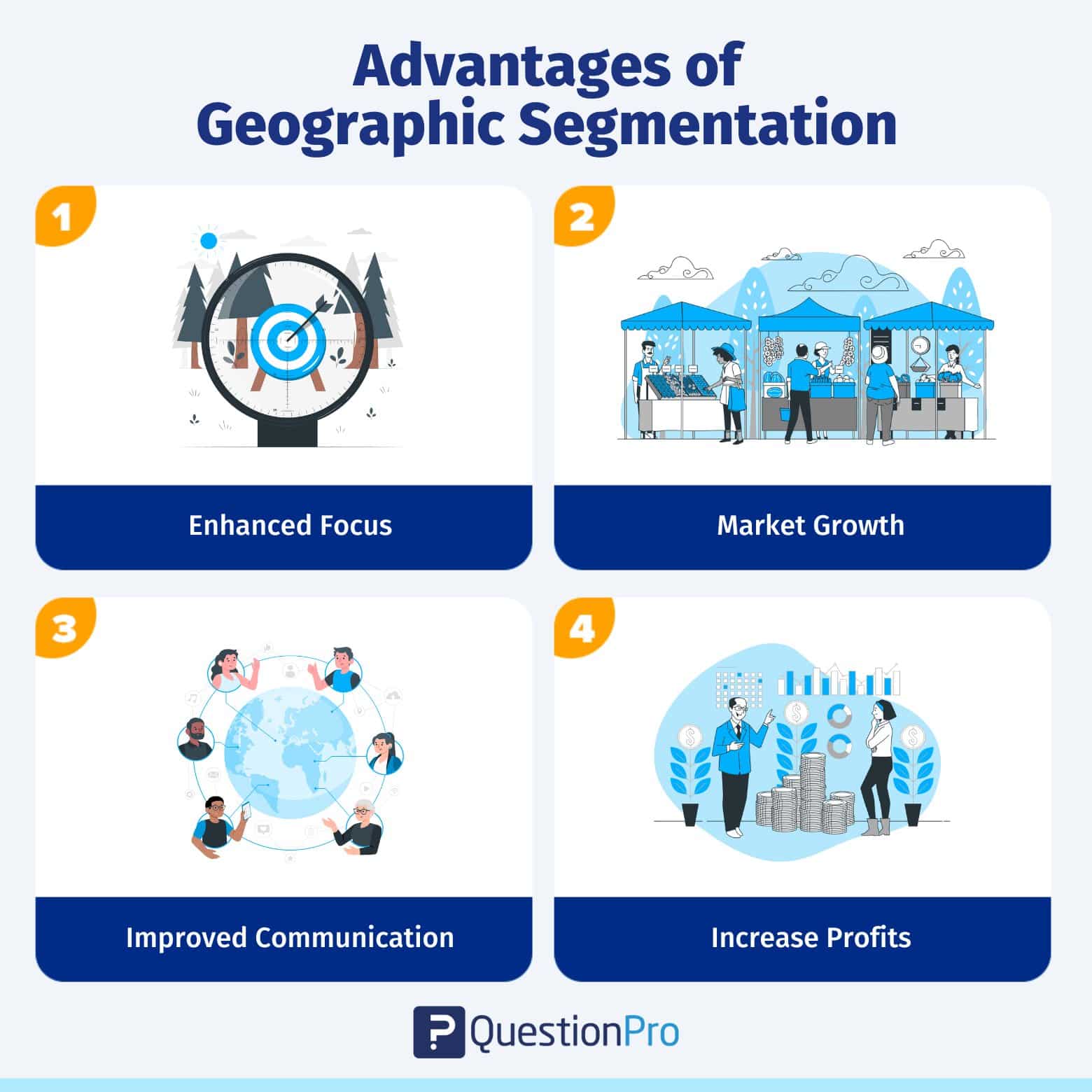 Enhanced focus due to targeting

Geographic segmentation is an effective method to improve focus on the target audience. As a division based on geographical characteristics is involved, organizations tend to create more focused marketing strategies to convert local consumers into successful customers.
Immediate market growth

When an organization has a marketing strategy for a particular location, it becomes additionally convenient to apply the same strategy to neighboring locations that demonstrate similar characteristics.

Expanding marketing operations and developing corresponding strategies for locations with unknown characteristics is much more time and resource-consuming than expanding to locations that indicate traits similar to the existent target market.
Improved communication

As targeting is based on geography and the traits that change with a change in geographies, marketing and promotional communications for local audiences need to be according to the specialized nature of this geographical segment. Better communication happens when there's clarity regarding what the audience expects from a product/service.
Increase profits

Geographical segmentation gives an organization an essential early competitive edge in localized markets, increases brand recall value, and helps provide better customer service, leading to better customer retention rates. For organizations that have limited reach, geographic segmentation is a strategy to focus their resources on accurate target audiences and receive better revenue results.
Learn more: Demographic Survey Questions
Conclusion
Geographic segmentation lets organizations target customers by region, climate, culture, and other criteria. Businesses can adjust their effective marketing campaigns to each group's demands by segmenting a market. This improves their advertising and helps them understand and personalize their customers.
LEARN ABOUT: Test Market Demand
QuestionPro, a top survey and research platform, lets organizations examine customer information by region. This tool helps organizations understand regional customer behavior, preferences, and purchase habits and build focused advertising.
QuestionPro's regional segmentation function helps businesses target prospective customers and grow their customer base in specific locations. Businesses may improve marketing, customer satisfaction, and income by understanding regional customer needs and preferences.
QuestionPro's geographic segmentation capability is vital for businesses seeking consumer insight, focused marketing, and growth. This product helps companies compete in today's market with its sophisticated analytics and simple design.