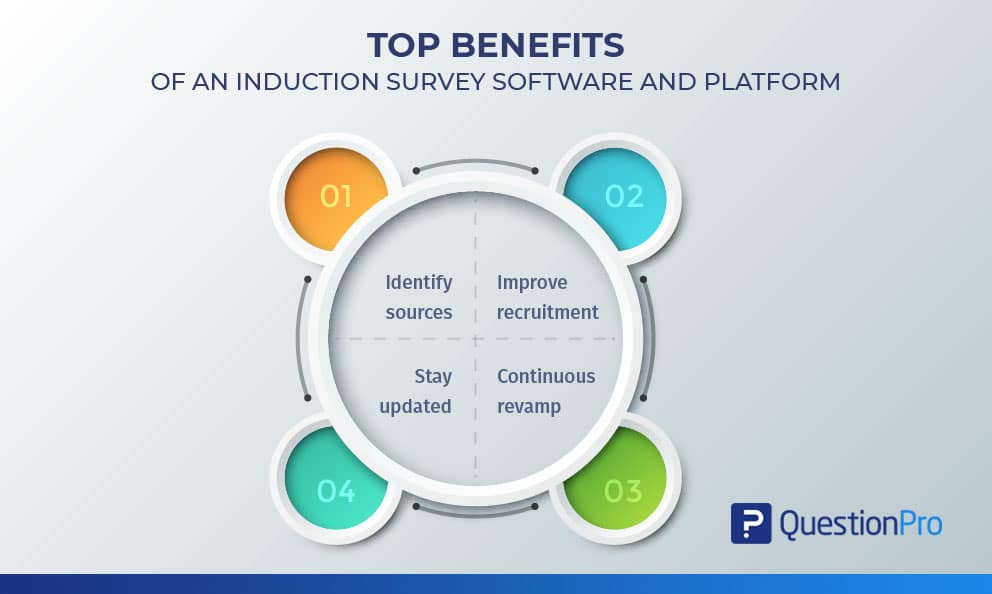 Organizations hire new people, induct them, introduce them, train them, but possibly do not check in with them. Most organizations, if not all, are guilty of that. We cannot stress enough how vital induction or onboarding surveys are.
A recent study revealed that 22% of workforce attrition takes place in the first forty-five days of joining.
Yes, that the number is quite scary, it directly hits the amount of time and resources spent on new hires.
LEARN ABOUT: Candidate Experience Survey
Top 4 benefits of induction surveys
Now that we know how vital staff induction surveys are, let's look at their benefits. We have identified below some key advantages of induction questionnaires.
What's your best source?


Finding a candidate that is right for the role can be quite the task. There are a lot of hurdles, pay expectations, capabilities, etc. If you solicit feedback from new hires, you can very well identify your best source where you get exactly what you need. There are many tools and platforms that can aid your efforts, but knowing which one is the most responsive and effective is crucial to optimizing your recruitment.



Is the fit right?

A candidate that looks amazing on paper may not perform as per your or the hiring manager's expectations. There could be gaps, which may well be bridged with online induction training. Organizations are embracing online learning now more than ever. But knowing if the fit is right or not gives you insights that will aid your future hiring efforts.

This, coupled with the hiring manager's comments, is crucial to improve any kinks in your hiring process.
Scope for improvement?

Well, like we always say, no matter what you do, how you do it, there's still room for improvement. You can continually improve your recruitment process and experience. A smooth, refined recruitment process works wonders for both the talent acquisition team and the organization. Conduct surveys regularly and find out what's missing, and how best you can fix it.



Knowing for yourself

All your hiring efforts bear fruit only when the successful transition from 'hire' to 'employee' takes place. This is important to the acquisition team, not only to know they hired a great employee but also what worked and what can be done to ensure future success. It also helps to know the employee had onboarding satisfaction which will influence their intent to stay in the organization.
Advantages of using an induction survey platform and software
An online survey tool or platform like QuestionPro Workforce is perfect for conducting employee induction surveys. Here are some benefits and utilities of using a management system like Workforce to meet your onboarding and induction survey needs.
Ease of use

: The tool or software is user-friendly and requires any formal training to operate. You may select from a range of pre-existing, ready-to-use survey question templates, or create your own. There is round-the-clock support available along with tons of help files and videos should you run into some problems.

New features and customization

:

New feature updates are happening every month to the tool. This is based on the constant improvement process set up by QuestionPro, coupled with feedback from the users. You may look at some of the

latest updates

on the website. You also have the option to customize your portal to suit your brand requirements and needs. This ranges from aesthetics to usability to reporting.

In-depth survey analytics

: The tool provides comprehensive analytics on your workforce induction survey questions. This gives you the option to track and measure your organization's employee engagement, intent to stay,

Employee Net Promoter Scores (eNPS)

, and willingness to put forth a discretionary effort.

Informed decision making

: To evaluate and revamp your employee processes, you need data. The reason behind conducting surveys is to gather that data and use it to make informed decisions. Induction is an essential aspect of the employee experience; that's an early impression of the organization and will determine how long employees stay with the organization.
Mentioned below are some related blogs that you may want to view.