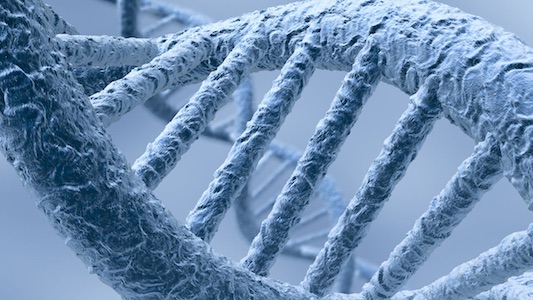 Every organization has a unique genetic code — a Workplace Genome,™ comprised of specific culture markers and building blocks that define who we really are and how we really work. Yet it remains invisible to most organizations, and that means we're all leaving opportunity on the table.
When you map your Workplace Genome™ — and then align it with your talent attraction, talent development, talent management, and workforce optimization strategies — you will unlock the incredible potential that you've never seen before.
Learn more: Work Climate Survey Questions + Sample Questionnaire Template 
If you are interested in participating in this free program – please contact success [at] questionpro.com!
FAQ:
Do we have to have a current Non-Profit Waiver account to qualify for participation in the Workforce Genome project?
Yes. If your current license has expired – you can renew this also. We will need you to follow the rules and requirements of the Non-Profit Waiver:
https://www.questionpro.com/pricing/non-profit.html
Is it truly free? What's the catch?
Yes – it's free – For a limited time.
What about data privacy? Will you sell my data?
No. The data belongs to you. We will provide you with the Survey framework that has been validated and the resources to help you execute this project. We will, however, report the data in aggregate, across all the organizations that participate in this project. This also gives you the added benefit of comparing your scores with other non-profit organizations (of similar size) – so you can not only look at your own genetic markers – you also have a reference point.
The requirement that we share the aggregate data is universal – ultimately, plan on mapping not only non-profit organizations – but also government and commercial entities for these organizational markers.
How many questions and dimensions are in the Workplace Genome Survey?
We are mapping 8 dimensions. They are:
Agility
Collaboration
Growth, Inclusion
Innovation, Solutions
Technologies
Transparency
Each dimension is calculated with the help of 8 questions. So – in effect we have 64 items for the respondent to answer.
Can I modify the Workplace Genome Survey?
No. We are not allowing customers to change this. If you want a custom project, you can call us (or WorkXO) and we can help you customize this survey. This will not be free – it will be a paid consulting engagement and a paid survey project.
Can I add questions to the Workplace Genome Survey?
Not at this point. We want to streamline this project and adding questions will increase our costs associated with the execution of this free initiative. If you want to modify/add/remove items – we suggest that you contact us – and we would be happy to sell you a paid consulting project!
Is there a LIMIT on the number of employees?
Yes. This is a free offer only to organizations in the 10-100 employee range. If you have more than 100 employees, you will have to license the Workforce Genome Framework.
What are the practical steps I need to do to participate in this project?
Just hit reply! Begin putting together an employee roster in an excel spreadsheet – so that they can be imported into the system. Please, include relevant secondary information like Team, Location, Role, Employee Type etc., so that we can do automatic cross-segmentation and provide you with a dashboard that is functional and useful.
Can I see the survey in action?
Yes. Please, see the screenshot below: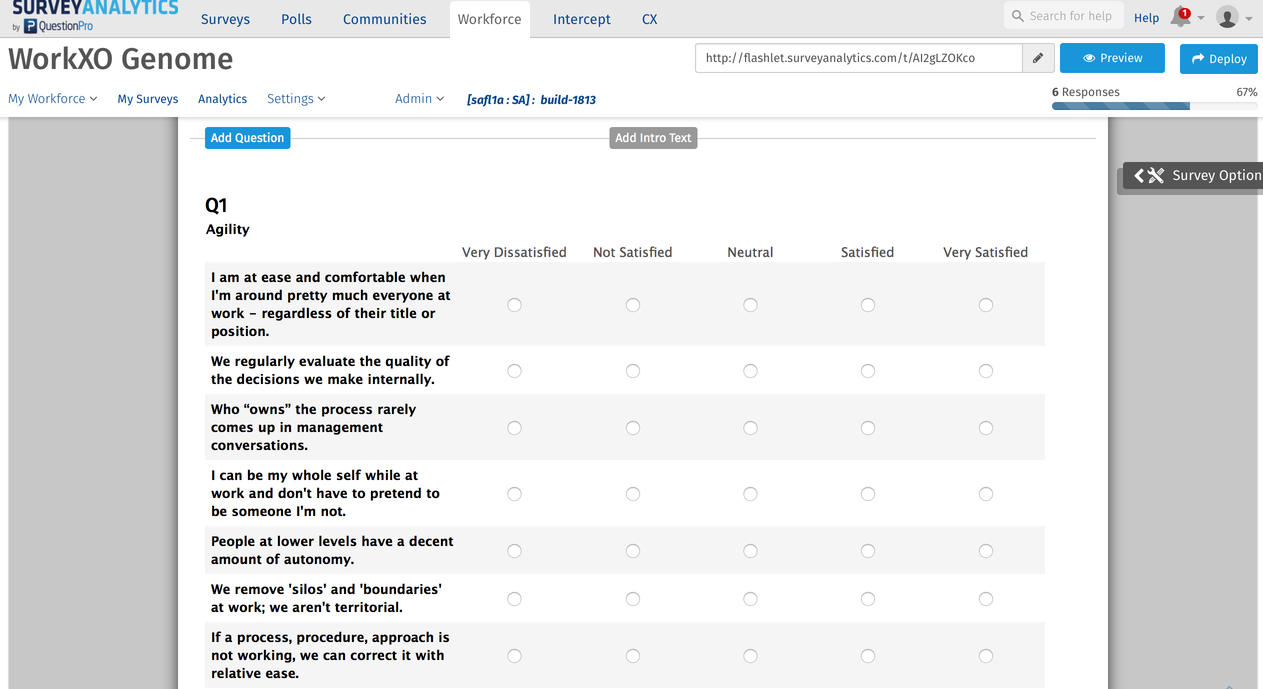 What does the Scorecard (output) look like?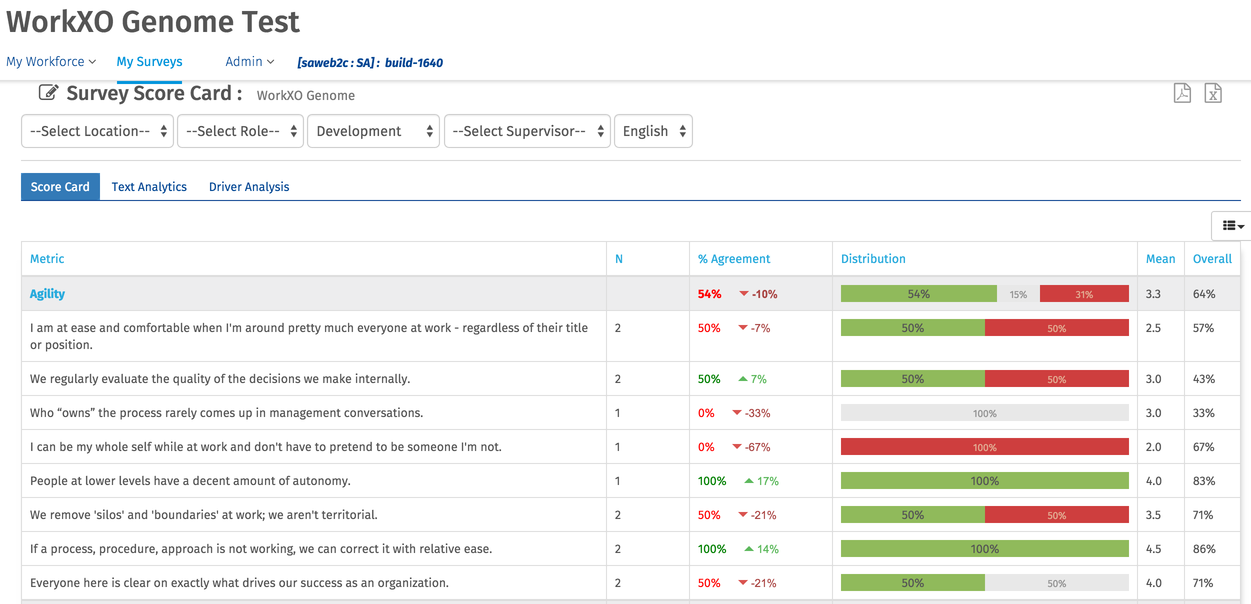 Please contact success [at] questionpro.com for more details.