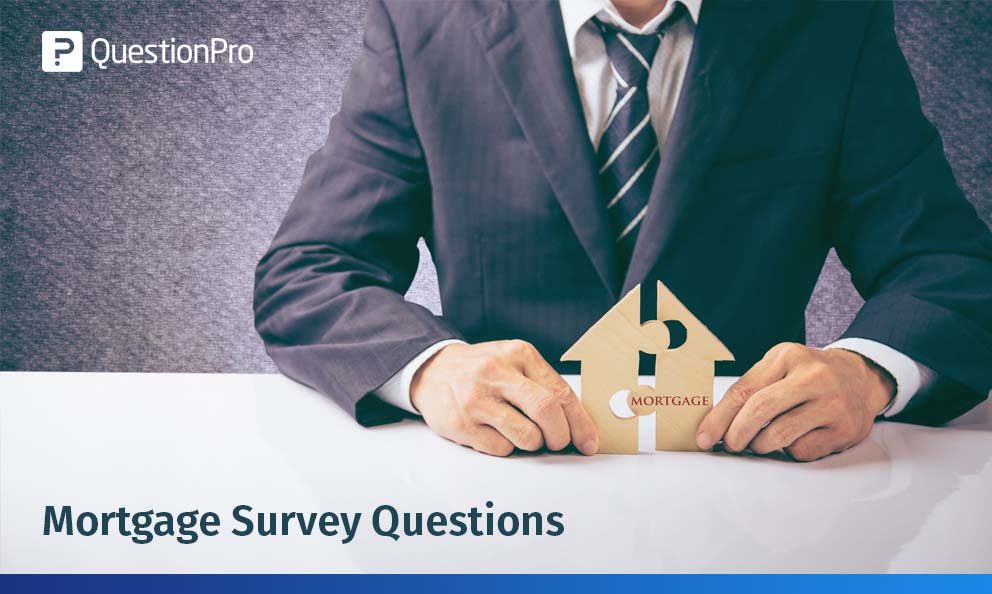 What are mortgage survey questions?
Mortgage survey questions are survey questions asked by financial institutions or government organizations to collect opinions on topics such as mortgage process, their knowledge about getting a mortgage, their experience with the lending institution and their satisfaction on the services that were offered to them. It enables these institutions to understand the benefits and problems associated with mortgages and owning a home.
For example, a government institution wants to understand what the borrowers think, experience and relate to the mortgage process. In such a case, a mortgage survey template can help the organization to collect information from the target audience. It will help them understand the level of knowledge the audience has about mortgages, awareness about the terminologies, the challenges and concerns the borrowers face.
Top 30 Mortgage survey questions for questionnaires
Following are the most frequently used survey questions related to mortgages. When used with good research design, these questions can be very helpful to financial and lending institutions to understand their customers better.
Considering your complete experience, how likely are you to recommend mortgage to your family or friends?

Have you ever been taught about how mortgages work?

Yes

No

Where did you learn about mortgages?

In school

In college

Private financial institution seminar

Government awareness seminar

Other (please specify)

On a scale of 1 to 5, how knowledgable are you about mortgages?

In the past 3 years, did you have a mortgage loan?

Yes, I had or still have at least one

No, I do not have any mortgage loan

Please select the reason for getting a mortgage loan (the most recent one)?

To buy a property

To add/remove a co-borrower

To take a new loan on a mortgage-free property

To finance a construction loan

To refinance an existing mortgage loan

Other reason (please specify)

What was the type of property you got the mortgage for? (You can select more than one)

Single-family detached house

Mobile home

2 unit, 3 unit or 4 unit dwelling

Apartment

Unit in a partly commercial space

Townhouse, row house or villa

Standalone bungalow

Other (please specify)

Do you think the monetary value of the property you got the mortgage for, has been appreciated?

Yes

No

Don't know

In your opinion. What will happen to the prices of the properties in your neighborhood?

It will appreciate a lot

It will appreciate a little

It will remain constant

It will depreciate a little

It will depreciate a lot

Did you face any of the following challenges which made it difficult to pay for the mortgage?

Job loss

Retirement

Divorce or separation

Business shutdown

Illness or increase in medical expenses

Death of someone in the family

Payments of other mortgages

Other (please specify)

When you faced difficulties to make the payment for your mortgage, did you speak with a professional housing counselor?

Yes

No

Please state if any of the following is the reason you no longer have a mortgage now?

I felt renting is a better option than buying a home

I found lower interest rates

Got divorced or separated

Moved in closer vicinity to family, parents, etc

House maintenance was too expensive

Death of a household member

Others (Please specify)

Do you think it is possible to buy a home with a down payment of less than 10%?

Yes

No

How much percentage of your monthly gross income should be spent on housing expense plus debt payment?

34%

43%

51%

62%

Don't know

With what length of mortgage do you pay the least amount of interest over the life of a mortgage?

10 years

15 years

20 years

30 years

Don't know

How many lending institutions did you do a comparison for, before getting a mortgage?

1

2

3

4

More than 4

How did you find the financial institution or the lender to get a mortgage from?

Current bank

A friend or a colleague

Internet research

Real estate agent

Government initiative

Other (please specify)

What type of mortgage lenders did you visit before choosing the final one?

A mortgage broker

Credit union

Mortgage bank

Local bank

Large bank (Eg: Bank of America)

Other (please specify)

Do you agree with the statement: You got the best deal for your mortgage.

Strongly disagree

Disagree

Neutral

Agree

Strongly agree

Please state your level of agreement for the statement: Mortgage is the best solution when buying a home.

Strongly disagree

Disagree

Neutral

Agree

Strongly agree

What changes did you see in your interest rate, since the time you got the mortgage until you closed it?

The rate of interest increased

The rate of interest decreased

The rate of interest was constant

On a scale of 1 to 10, 10 being the most challenging, please state how challenging were the following parts in the mortgage process?

Mortgage terminology

How the mortgage program works

Understanding of the closing costs and rate of interests

Eligibility criterion

Paperwork and documentation

Overall mortgage process

Please state your level of agreement for the following statements: (Answer options: Strongly disagree, disagree, neutral, agree, strongly disagree)

My mortgage lender is completely trustworthy

My mortgage lender is very knowledgable

I am extremely satisfied with my mortgage lender

On a scale of 1 to 7, 7 being the most important, how important were the following points when choosing a mortgage lender?

Lowest interest rate

Lowest monthly payment

Recommendation

Online reviews

Best customer service

Lowest closing costs

Other (please specify)

Considering your latest experience, when do you think you would get another mortgage?

1-2 years

3-5 years

6-8 years

8+ years

Never

What is your current marital status?

Married

Separated

Divorced

Never married

Widowed

What is your highest level of qualification?

Schooling

High school graduate

Technical school

Undergraduate

Postgraduate

Doctorate

Other (please specify)

Please state your level of agreement for the following statements:

Owning a home is a good decision financially

Most of the mortgage lenders are very supportive

Late payments do not have an impact on credit ratings

You can stop making mortgage payments whenever you feel like

In the next couple of years, how much change will occur for the following points? (Answer options: significant increase, little increase, no change, little decrease, significant decrease)

Household expenses

Medical expenses

Housing expenses

Non-housing expenses

Please state if you have any questions, concerns or comments regarding mortgages?