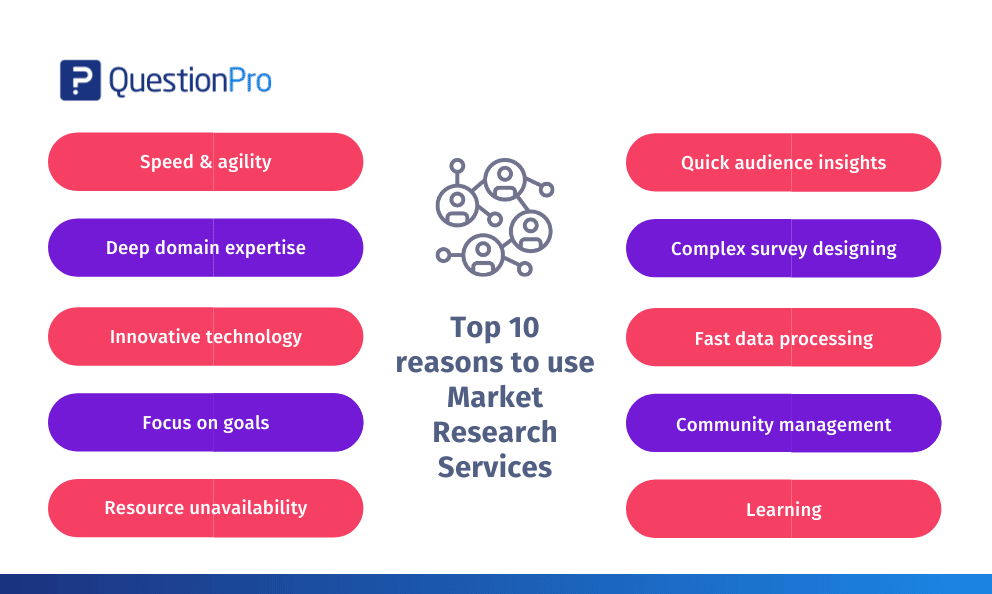 Are you looking to outsource your market research? Conducting DIY (Do It Yourself) market research can be challenging considering today's advanced research tools. It can also get overwhelming if you are looking to research on a large scale or are targeting longitudinal studies.
Many strategic decisions rely on market research data, and capturing accurate data is key to success. What are market research services? Market research services scale from simple survey designing to survey consulting to full-service market research. That includes respondent gathering, total community recruitment and management, data and reporting activities, qualitative and quantitative research services, brand tracking, longitudinal ad effectiveness, UI research, and a lot more.
LEARN ABOUT: Market research vs marketing research
You can pretty much handover the market research activities to the service company, focus on your core business, and receive visualizable data for decision making. Of course, there is room for DIT (Do It Together) research. You can take part in every research step to learn how the experts do it. Should you use market research services? Here are some reasons for you to decide for yourself.
Ten reasons to use market research services
Here are the top reasons to use market research services for advanced research data.
1. Speed & agility: Everybody today speaks about 'agile' in market research because we operate in a dynamic market. The speed at which market dynamics shift is intense, and businesses need to be on top of their game consistently. To forecast these shifts, you need to have access to quick market research insights. Research service providers do just that. Creating surveys and fielding them to the right audience to collect instantaneous feedback on various topics is a significant reason to use market research services. They drive flexibility and speed to guarantee you with a fast turnaround time.
LEARN ABOUT: Agile Market Research
2. Deep domain expertise: Expertise is a crucial factor to consider when you want to conduct research. You may have a team of researchers, but some projects may demand more skillsets than they possess. For example, recruiting a community, growing it, keeping tabs on passive members and regularly refreshing it, ensuring high participant rates, and moderating the community with close attention can overload someone without the expertise of managing a community. Handing over these tasks to experts provides risk-free research.
LEARN ABOUT: Test Market Demand
3. Innovative technology: The science of research is advancing rapidly with new research techniques emerging regularly. The advantage of partnering with a market research service provider is that this technology is automatically applied to your research studies. Service providers can suggest intuitive ways of gathering information that has more depth. Get access to advanced questions like NPS+ and Anchored MaxDiff. Customize your surveys' look and feel to match your brand guidelines and add your brand logo to increase authenticity and boost survey response rates.
4. Focus on goals: Outsourcing your market research will free your effort and time on research. It will help you focus your efforts on core activities and goals to grow your brand further. Researching on your own is interesting, but there is a learning curve. Even if you can do basic research, you will have to invest time and effort to learn advanced research techniques so that the data you collect is accurate and decision-making worthy. For example, conducting in-depth interviews or moderating focus groups can be too time-consuming and takes up a lot of effort.
5. Resource unavailability: You either do not have a dedicated internal research team, or the existing team is unavailable due to unforeseen reasons or project commitments. Having an external market research service team could do the heavy lifting for you while ensuring you continue to run high-quality market research projects while meeting your deadlines at the same time. It also enables you to effectively plan and execute your core projects and tasks that ordinarily wouldn't be possible to take on along with parallel research activities. This gives you the chance to take more significant business risks and dedicating all time and effort there.
6. Quick audience insights: Market research requires you to target the right audience within a short period to capture quick feedback. Running general population surveys or using your existing customer lists to capture responses is fine, but not good enough to get demographically varied responses. For example, QuestionPro's proprietary panel houses more than 22 million global B2B and B2C pre-screened, mobile-ready respondents to participate in surveys of different complexities. A market research services provider can help you target the perfect respondents. The provider will ensure top-class data quality by monitoring and discarding biased and unwanted responses.
LEARN ABOUT: B2B Online Panels
7. Complex survey designing: Survey designing is considered no less than art. Keep it too short, and you'll not capture all the data you want. Keep it too long, and you'll face colossal survey dropout rates. Then comes the logic bit where you must use skip logic to ensure the respondents see only the questions they are supposed to see. The question, option, and block randomization ensure your surveys are free of survey bias. It's good practice to brand surveys according to your brand guidelines. Maintaining colors and fonts increase response rates. This requires a sound knowledge of HTML or CSS and can be very time-consuming. Experts can help create engaging surveys, so you receive maximum interaction on them.
8. Data processing: Data cleansing and processing is a critical step in survey data collection(active or passive data) and analysis. Get your data wrong, and a lot of your time and effort go to waste. Research services providers are experts at handling data and cleaning invalid, low-quality survey responses so that you can build a valid hypothesis around your product or service. They generally look for speeders, straight liners, slackers, and survey bots, and doing this, especially for large-scale surveys, can get overwhelming.
9. Community management: The top three successful traits of a research community are highly-engaged, well-planned, and well-maintained community health. Building and researching with an online community of global participants is an excellent way of doing research. Thriving communities need a lot of effort, time, and dedication to function to their fullest potential. There is a lot of research scope with research communities. You can conduct surveys or live polls, engage members with discussions on a live chat forum, or conduct video discussions. With the practice of continuous discovery, ensure you always know what your customers want. Gamification rewards can boost engagement levels. A dedicated community manager will ensure to use all these functions to their full potential.
10. Learning: Observe and leverage well-established and professional procedures. DIT or Doing It Together gives you a fair understanding of how research is conducted, how audiences are targeted, how the tool is used to its maximum potential. You'll learn a few hacks that researchers have to smoothen the research process. Use all this knowledge to master the art of research and single-handedly run projects in the future.