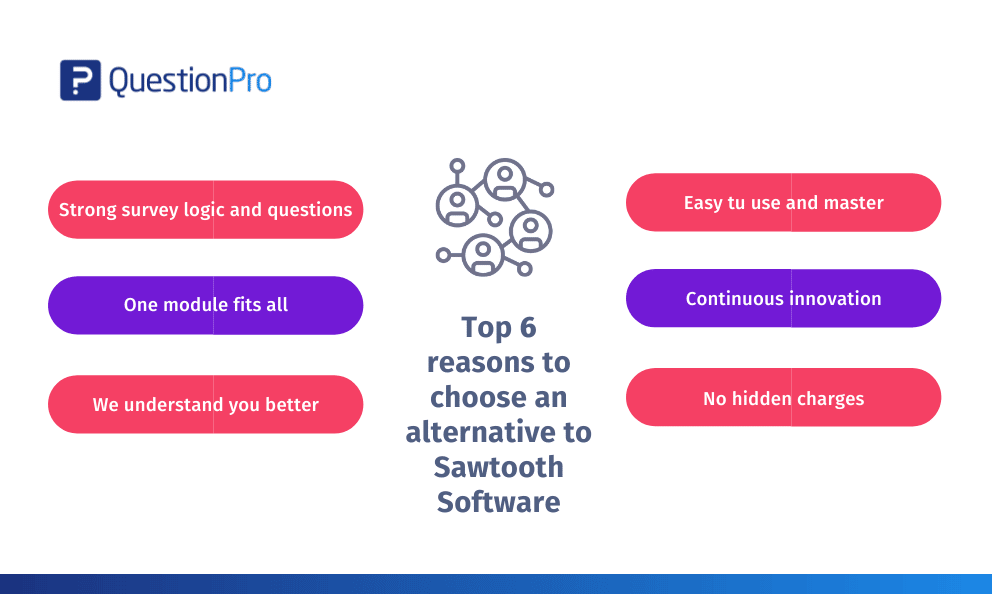 Researchers are continuously looking at new techniques to conduct market research because of the advancement of the science of research. Sawtooth is a robust research software that specializes in predictive analysis, Conjoint analysis, and MaxDiff surveys. The research software is geared towards helping researchers simulate revenue, forecast market share, or develop products.
Research is important for quite a few industries, and companies can make informed decisions only with the help of data collected from market research studies. Sawtooth is among the most robust research platforms out there. They work toward helping their customers conduct research successfully. So why must you switch to a Sawtooth alternative? QuestionPro's research platform is the best alternative to Sawtooth because it has a lot more to deliver. Check out why you should consider choosing an alternative to Sawtooth.
You can also find best alternatives of Conjoint.ly for your business.
Six reasons to select a Sawtooth alternative
Here are the main reasons to choose the best Sawtooth alternative.
Strong survey logic and questions
Make use of more than 48 different questions to survey your audience. This suite of powerful research questions helps you capture actionable insights from your market. Advanced research questions like NPS (Net Promoter Score), Max Diff, Conjoint, Heatmap, and Van Westendorp help you 'get into the minds of respondents' and know what they exactly feel. Avoid survey bias and unhealthy responses by using question randomization or options randomization. Advanced and block randomization, and a robust branching and skip logic will help you obtain clearer responses. 
Ease of use
QuestionPro is easy to use and master. Help files for all the tool functions will help you not get stuck at any point. Ease of use is essential, especially for novice researchers and hence QuestionPro is the best Sawtooth alternative. Use advanced features like piping, custom scripting, and survey logic to create personalized, attractive, and engaging surveys. Get in touch with the support team if you need any assistance and we will be sure to help you out. Check out our features that explain how and why each question is used, and use the right questions in the right place for better survey data.
One module fits all
QustionPro's research platform is a one module fits all type of software. Why buy separate modules individually when QuestionPro's research license includes various modules under one roof. At QuestionPro, we not only provide you the usual questions but also offer Community and Audience services to help your research run smoothly. Create beautiful surveys and field it to an Audience panel all over the globe in just three easy steps. We also help you build and recruit members to a community, and specialize in managing communities for longitudinal tracking research. 
Continuous innovation
At QuestionPro, innovation never stops. Large surveys have multiple stakeholders and they need various permission levels to access different aspects of the survey and reports. This is not possible with Sawtooth. Overcome these challenges by easily granting different users, different levels of access so that nobody gets held up and the right people have access to reports they need. The in-built dashboards are intuitive and instantly give you an overview of all the responses in different forms. Reading and understanding them is simple too. Assessing ad downloading even large scale data is simple with QuestionPro. The size of the survey data does not affect the speed or the functioning of the research tool which makes it the perfect Sawtooth alternative.
We understand you better
Customer service is our top priority. Ask us how to do research in a better manner, with more profitability, and we'll help you. Every license comes with a dedicated account manager to help you at any point in the study. We are open 24/7 to assist you via phone, email, or live chat. Don't get stuck anywhere while doing research. Just reach out to us and a representative will guide you with the best possible path to take, saving you ample time. Our customer service is best in class customer and we take a step further to offer you support. Run multiple research projects, at the same time, and have a hassle-free experience.
No hidden charges
Do away with hidden charges with QuestionPro. We maintain full transparency on costs, so that budgeting will be hassle-free for you. Random costs mess up budgeting and that's the last thing you want for your project. We honor price-transparency as an essential feature. Our sales team will be upfront with you about the costs as we don't believe in hidden charges.  Connect with us today to learn more.