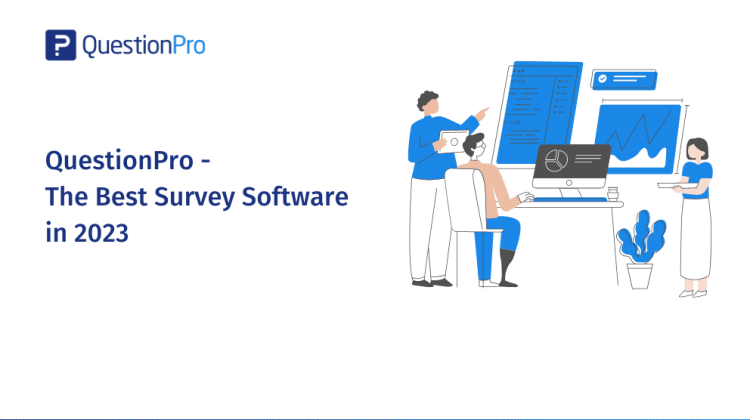 As they say, change is the only constant thing. So with changing times, organizations need to build an agile business that caters to the dynamic needs of the market. But wouldn't it be great if you could forecast the needs of the customers ahead of time? Yes, you can! Using survey software, collect data from a large number of people in a short time.
Businesses now consider market sentiment more important than ever. Tools like our survey software help you collect customers' preferences, experiences, and expectations at various points of interaction.
However, the ROI of a survey depends on various factors such as the target audience, survey questions, time, tools, etc. Hence, it is important to ask the right people the questions that matter at the right time, using tools that let you make the most out of data.
Is your survey designed to ask only relevant questions? Are you equipped with the tools that will enable you to achieve your goals?
How do you know your tool is "The best survey software"?
The results define whether you are using the best-in-the-industry.
Well, you might be happy with the results, but do you know if you can further optimize them to offer better insights.
Here's what we suggest to look for while choosing the survey software in 2023.
How to choose the best survey software in 2023?
All that you would want in a survey software can be categorized as one of the below. Base your decisions keeping these factors in mind.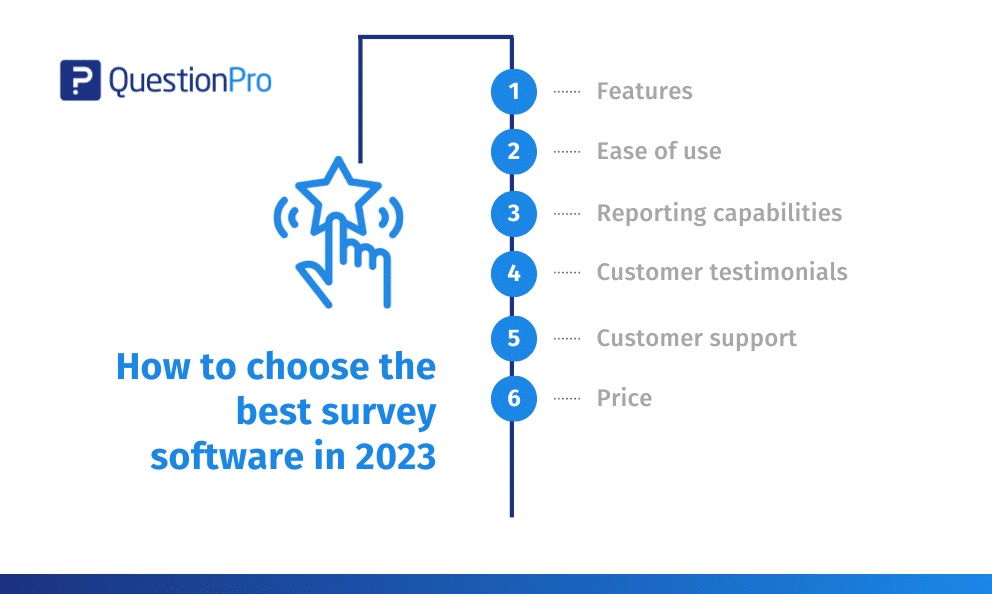 1. Comprehensive feature-packed platform
Check whether the software supports real-life scenarios and enables you to ask different question types in the survey. Find out what types of validation you can apply to the answer options. It will help you collect accurate data and minimize your effort for cleaning the data.
Equally important is asking the right questions to the right participants. Seeing irrelevant questions might prompt someone to quit the survey. Survey logic helps in presenting the relevant questions to the respondents. Hence learn more about the different logic types that a tool offers.

2. Ease of use
Some of the characteristics of a user-friendly tool are intuitive design, easy navigation, and the ability to integrate with other tools. A standalone survey software might work for individual researchers or small-size projects. Enterprises often need to see a holistic picture. They need to connect the survey solution with standard CRM software like Microsoft Dynamics, Salesforce, Hubspot, or marketing and automation tools.

Check if your 2023 survey software supports your primary business applications and has a gentle learning curve.
3. Reporting capabilities
How well does the survey platform make sense out of the data? Do you get what's needed to grow your business? Does it offer meaningful insights into customer experience and satisfaction levels? These are some of the questions you must answer before selecting a survey software in 2023.
Researchers often need to export data or share results with the team. A good tool should offer you these capabilities with an intuitive user interface.
4. Customer testimonials
Go through the product reviews and customer testimonials on sites like G2, Capterra and others to know an honest opinion of the users. Check ratings, detailed reviews and learn more about the experience of the customers.
5. Customer support
You might have questions even after weeks/months of use or face some technical issues. Check the customer service policy and how you can connect with their representative. Know how long you might need to wait before they get back to you.
Generally, a good survey software company offers multiple ways to connect with them. The premium users might get instant help or may need to wait up to 24 hrs maximum.
6. Price
Of course. It's an important parameter in selecting a survey solution. Most tools offer free access for 7 days or so, post which you need to upgrade. However, some of them let you use the free version for longer. Compare the features offered in various paid plans and find out the best option that suits your needs.
Why is QuestionPro the best survey platform in 2023?
While this may sound like blowing one's own trumpet, we have reasons for claiming the title of "best survey software in 2023".
1. Feature packed
We offer 40+ question types designed to suit various basic and advanced survey needs. You can add multiple-choice questions, graphical questions, choice-model questions, and many more to your questionnaire. Add images, audio, or video-based questions to collect customer feedback using multiple file types.
Create a library for frequently used questions to save time and customize answer options as you like. We let you add commonly used options from the in-built scale library so that you don't have to add them manually.
You can use 15+ logic methods to customize the survey flow. Show or hide questions and options based on the respondent's previous answer. Or create answer options based on the multiple options selected in the previous question. With them, you can ask relevant questions only to your participants.
Learn more: Show or hide survey questions
You can also collect respondents' information like browser, operating system, device type, location, etc., and pass to question or answer text. To give a more personalized experience, you can use this data to create a custom thank you page or offer rewards.
Learn more: Survey programming
2. Ease of use
QuestionPro has been designed and developed keeping in mind the wide range of our customers. It doesn't matter if you are a novice or an experienced researcher, our simple, easy-to-learn platform lets you send surveys in under 5 minutes!
QuestionPro has won the 'Leader Winter 2023' badge on the popular software review G2 with a score of 9.1 out of 10 for ease of setup. We also bagged a spot among 'The Top #100 Software Companies' globally.
The highest number of free features in the survey industry
We offer 80+ survey features for free as part of our essentials plan. You don't need a credit card, and it's free for a lifetime. No other market research software offers these many features for free.
Learn more: Survey software features
350+ Free survey templates
Don't want to create a questionnaire? No problem. We've got you covered. Create a survey from more than 350 ready-made templates that are totally free. They have been prepared by our experts having years of experience. You can also customize them as per your requirements.
Our template library consists of customer surveys, employee surveys, product surveys, religion survey, healthcare surveys, and many more. All you need is a QuestionPro account and you're good to go.
Learn more: 350+ Free survey templates and examples
Change the look and feel of your questionnaire with custom font type, color, logo, header, and footer. Create professional surveys with custom CSS that matches your brand style and tone. Select from standard themes or create your own.
Learn more: Survey themes
Support for multiple languages
You can design questionnaires in 95+ languages to cater to your global audience. Create multilingual email templates and use them as per the language of your contacts. You can also let your respondents choose the language of their preference while answering the survey.
Learn more: Multilingual surveys
Integration with 20+ essential business applications
Gain a multidimensional view of your survey results by integrating QuestionPro with data visualization tools like Tableau. You can integrate our platform with the leading CRMs and marketing automation tools like Hubspot. Such feedback and experience data collection at multiple levels of the customer journey enables our users to increase customer satisfaction and NPS score in different ways.
Learn more: Integrate surveys with other apps
Get a bird's view of the survey performance, including the number of people who viewed, opened, completed, or dropped out of the survey. You can also view the responses to questions and customize the scoring model and scale. Configure different chart types like bar, pie, line, or column and download the data for individual questions in various formats.
Learn more: Survey dashboard
3. Reporting capabilities
Generate 25+ survey reports or export data in standard formats like .xls, .spss, and others. Apply filters based on questions, demographics, location, device, etc. You can view data and generate reports based on custom variables storing respondent-specific data.
Compare historical data and identify trends from the data analysis report. Advanced researchers can create statistical reports like TURF analysis, GAP analysis, correlation analysis, cross-tabulation, and others. To save time, users can schedule automatic report generation and get mailed to their inbox.
Learn more: Survey reports
4. Data quality
Who likes buggy data? We let our users remove the poor-quality data to make correct decisions. Avoid one-word answers, random selection, duplicate responses, and more with our data quality tool powered by artificial intelligence and natural language processing.
Learn more: Survey data quality tool
5. Enterprise collaboration
Share reports or survey folders to work collectively and gain inputs from your team. You can also create roles and assign permissions to control access. So, based on the role, you can let your team members use the different features of the survey software.
Learn more: Custom user roles
6. Customer support
Need help? No worries. We offer support over call, email, and chat, 24/7! Our "LiveChat" service allows users to chat directly with our support team in real-time. This can be especially helpful for resolving issues quickly or getting immediate answers to questions.
Additionally, we offer a dedicated account manager to our enterprise-level customers, providing personalized assistance and support.Our users can also enroll for free training or access our extensive documentation library. We provide a knowledge base with various resources such as user guides, FAQs, and video tutorials.
Learn more: Chat support for surveys
What do our customers have to say?
Our customers make us what we are. QuestionPro is used by students, individual researchers, SMEs and enterprises. Some of our elite customers include Microsoft, Amazon, P&G, University of California, Berkeley and many others.
QuestionPro helped BMW conduct surveys and gather decision-relevant information. With our Audience platform employing more 22M members from diverse backgrounds, BMW could quickly conduct panel studies and collect high quality data.
"The flexible and responsive project management meets our requirements for the short-term nature and speed of studies to a high degree. The quality and proactivity of the project support as well as the speed in the implementation of the reporting also meets the highest demands." – Dr. Josef Köster, Team leader customer segmentation, customer foresight and innovation studies, BMW.
Read detailed case study here.
ACS partnered with QuestionPro Communities to supplement their paper surveys with an online participant portal. It helps ACS touch base with participants more often with shorter surveys and collect feedback quickly. ACS can now gather the insights they need to make critical decisions quickly and accurately.
"QuestionPro is helping us to save lives. One survey at a time." – Melissa Rittase, Scientist, Department of Population Science, American Cancer Society.
Read detailed case study here
Try the Best Survey Software
Don't believe us? Try it yourself. Create a lifetime-free essential account today and explore our tool. Let us know if you have any queries or face challenges. We are sure you would consider QuestionPro as the best survey software in 2023.