Creating your customer journey is not an easy task. It takes not only infrastructure but extensive time and resources to set it up. The challenge isn't collecting enough customer data, but rather understanding it well enough to leverage actionable insight. Depending on your business, you can have anywhere from one to over ten touchpoints.
There are 5 main components of successfully setting up a customer journey map:
Business timeline
Framework
Customer data
Data analysis
Actionable insight
Customer Journey Dashboard with QuestionPro
Whether your organization is big or small, it is critical to understand your customer's experience at every touchpoint in order to differentiate yourself from competitors. QuestionPro CX offers a unique solution, helping you create your customer journey map. We have identified pain points with many of our customers and developed a customer journey dashboard to help businesses understand the needs of their customers. We address all five of the main components above, helping you collect, analyze, and act using quantitative and qualitative data.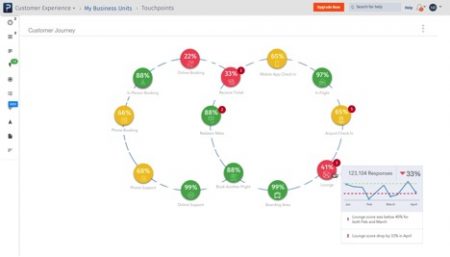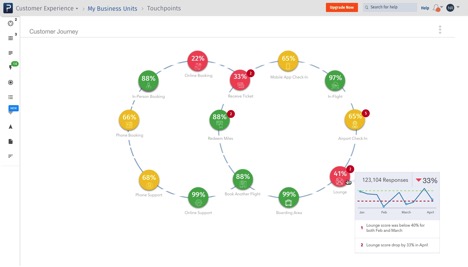 Overall, your customer experience is most likely is represented by a single NPS digit. Usually, it is difficult to comprehend how the entire customer experience adds up. In the customer dashboard in QuestionPro CX, each touchpoint is illustrated to represent an interaction with your customer. The goal within each touchpoint is to provide your prospect or customer the most value as possible, creating an end-to-end great experience. With automated metrics at every touchpoint, it becomes easier to identify gaps and understand trends. When a need or pain point is fulfilled, your prospect becomes one step closer to completing the purchase journey.
For example, say your overall business NPS score is 77. You're trying to figure out which touchpoint will have the biggest impact. The calculated scores are visualized in a customer journey dashboard, so you can easily pinpoint which touchpoints are lowest and begin to tackle those areas first.
Data you can draw from our customer journey dashboard:
Collectively and individually understand customer satisfaction among touchpoints
Trends over time per touchpoint
Holistic view of customer experience
With our extensive tool-set, we've come up with a way to automate the customer journey. This enables you to understand customer behavior, pain points, providing a comprehensive understanding of your customer interaction. Customer journey mapping is much easier and faster using powerful survey software. The customer survey software offered by QuestionPro can enable you to conduct comprehensive research and help you gather valuable insights using robust analytics. Such software help organizations to effectively measure customer satisfaction and customer experience.
Not yet there? Start here and download the QuestionPro_Customer Journey Mapping Template
What do you think of our new customer journey dashboard? Do you love it, hate it? Is there any way we can make this feature even better? Post your feedback on QuestionPro Ideas, we'd love to hear from you! http://ideas.questionpro.com/a/shIdea/20654-393
Learn more about QuestionPro CX can strengthen the relationship between you and your customers. Click Here to learn more.