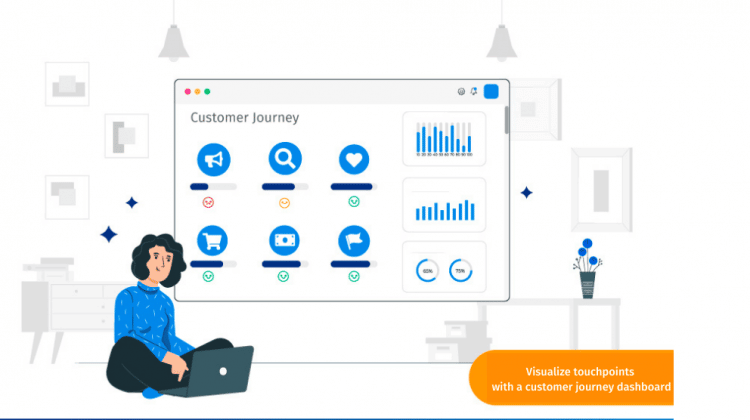 Creating your customer journey is not an easy task. It takes infrastructure and extensive time and resources to set it up. The challenge isn't collecting enough customer data but understanding it well enough to leverage actionable insight. You can have anywhere from one to over ten touchpoints, depending on your business.
To do this end, you must have a customer journey dashboard that allows you to view consumer information easily.
What is a Customer Journey Dashboard?
A customer journey dashboard is a tool that allows organizations to easily visualize and interact with data about their customers and their experience with the brand.
These panels must contain customer experience data and customer experience metrics such as their behavior, comments and information related to the purchase process at a point of sale.
A customer journey dashboard can come in many shapes and sizes. However, to ensure its success, it should make it easy and accessible for the organization to monitor, interact with, understand customer data and drill down to the information needed to improve the customer experience.
The challenge of the customer journey is not to collect customer data but to understand it well enough to take advantage of actionable insights. You can have between one and more than ten touchpoints, depending on your business.
LEARN ABOUT: Customer Data Infrastructure
With the help of a customer journey dashboard, your employees will be able to observe this data in real-time and work together and collect ideas to offer a positive customer experience at each point of contact.
Benefits of having a Customer Journey Dashboard
Among the main benefits of a customer journey dashboard are the following: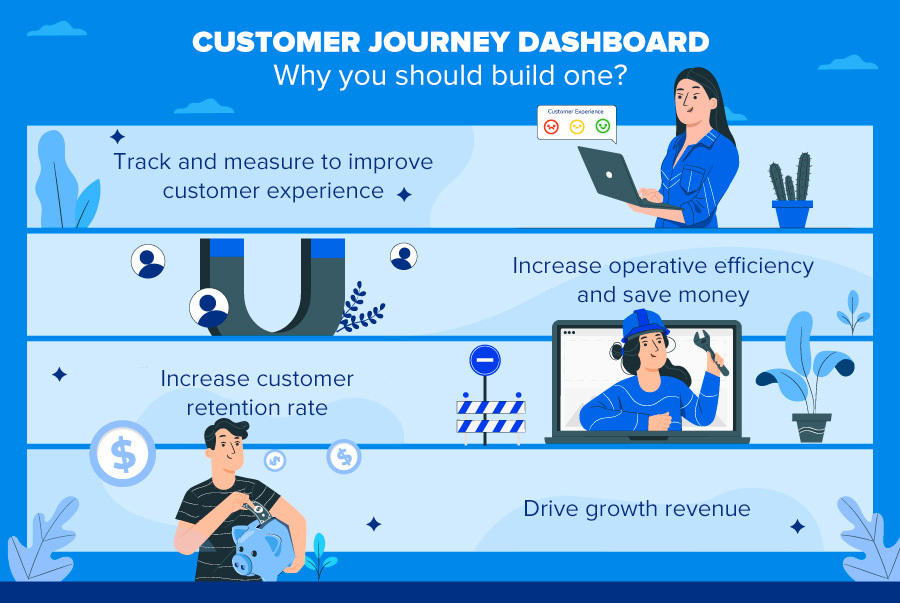 Allows you to measure and improve the customer experience: a customer journey dashboard facilitates the analysis of end-to-end journeys across channels and times. This tool makes it possible to identify the root cause of problems and improve the overall customer experience and business results.
Increases customer retention rate: CX teams make it possible to discover the trips that result in the highest volume or frequency of abandonment and the behavioral indicators that signal abandonment. These solutions provide insight to determine which areas need immediate optimization to reduce churn and increase customer retention.
Increase operational efficiency and cost savings: The customer journey dashboard allows teams in your organization to identify the journeys that hinder the customer experience and drive operational costs. Effective teams use data analytics to find optimization opportunities to reduce customer effort while lowering the cost of service.
Increase revenue: The customer journey dashboard supports revenue growth by enabling you to organize experiences based on the consumer's context and cross-sell offers, which are more likely to convert, maximizing customer lifetime value and income.
There are 5 main components of successfully setting up a customer journey map:
Business timeline
Framework
Customer data
Data analysis
Actionable insight
Key components of a customer journey dashboard
A dashboard for customer journey must have the following elements:
Business Timeline
Many companies are organized into silos, with each focused on optimizing customer touchpoints or specific aspects of the customer experience from one end to the other.
It's not uncommon for each function in a company to design and measure experiences independently of one another. But customers think that all their interactions are connected. This affects their expectations and drives the need to orchestrate the experience across touchpoints.
Framework
The successful customer journey uses the customer experience as its foundation. Instead of thinking about the stages and steps of the journey from a systems or business process perspective, it is based on what the customer does.
This extends to knowing the voice of the customer, finding out what they think and how they feel, as they engage with your brand across multiple touchpoints.
If you like reading about voice of the customer, you might find interesting this voice of customer (VOC) survey templates.
Customer Data
An actionable customer journey dashboard clearly identifies positive and negative customer emotions throughout their journey and places them in the context of their behavior, goals, and expectations.
Companies use this data to identify areas of opportunity and assess the impact of current and future investments.
Data Analysis
A key feature of a successful customer journey dashboard is its ability to identify areas of opportunity based on insights into the experience.
Customer journey analytics provides the evaluation framework to make maps actionable. Many companies take advantage of qualitative data to visualize customers' emotional ups and downs and identify and evaluate areas of opportunity.
Actionable Insight
What makes a successful customer journey is the ability to place other relevant information and be able to visualize it to engage employees is to include performance metrics to contextualize the dashboards with the real experience at all points of contact.
Stakeholders can benefit from the information by gaining a detailed view of the people, internal and external processes they influence.
Remember that the main objective of the customer journey dashboard is to make the process viable for the interested parties. Consider what data you decide to incorporate and how you will visualize it to maximize its effectiveness.
Customer Journey Dashboard with QuestionPro
Whether your organization is big or small, it is critical to understand your customer's experience at every touchpoint to differentiate yourself from competitors. QuestionPro CX offers a unique solution, helping you create your Customer Journey Map.
We have identified pain points with many of our customers and developed a customer journey dashboard to help businesses understand the needs of their customers. We address all five of the main components above, helping you collect, analyze, and act using quantitative and qualitative data.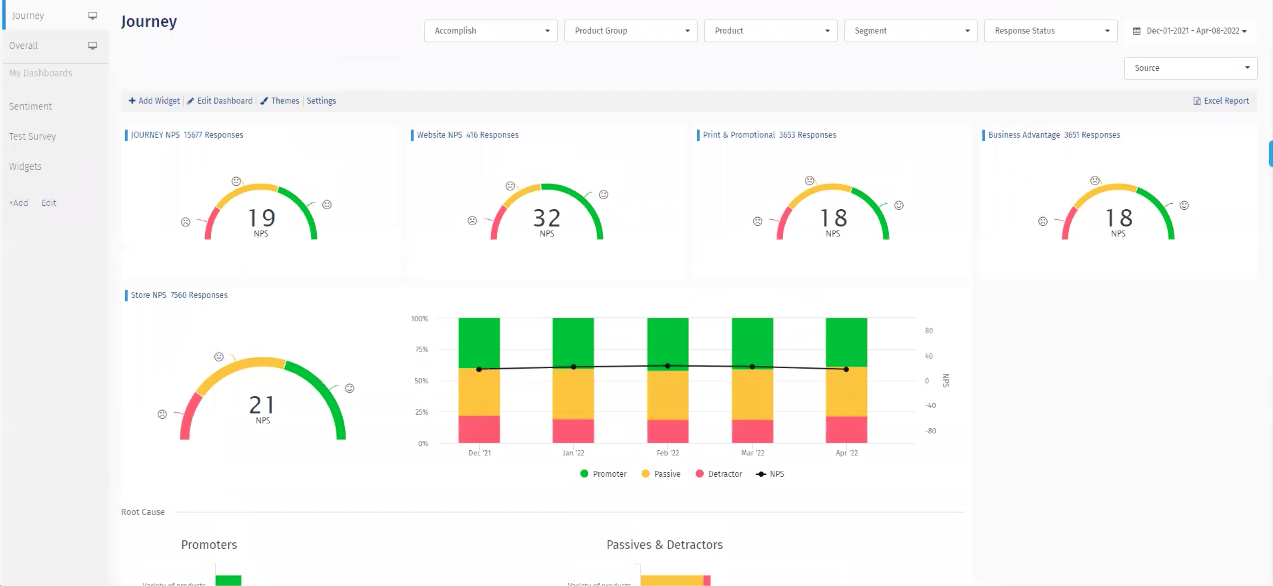 Overall, your customer experience is most likely is represented by a single NPS digit. Usually, it is difficult to comprehend how the entire customer experience adds up. In the customer dashboard in QuestionPro CX, each touchpoint is illustrated to represent an interaction with your customer. Each touchpoint aims to provide your prospect or customer the most value as possible, creating an end-to-end great experience. Automated metrics at every touchpoint make it easier to identify gaps and understand trends. When a need or pain point is fulfilled, your prospect becomes one step closer to completing the purchase journey.
For example, say your overall business NPS score is 77. You're trying to figure out which touchpoint will have the biggest impact. The calculated scores are visualized in a customer journey dashboard, so you can easily pinpoint which touchpoints are lowest and begin to tackle those areas first.
Data you can draw from our customer journey dashboard:
Collectively and individually understand customer satisfaction among touchpoints
Trends over time per touchpoint
A holistic view of customer experience
Learn how to create a Customer Journey Map with this article.
We've developed a way to automate the customer journey with our extensive tool set. This enables you to understand customer behavior, and pain points, providing a comprehensive understanding of your customer interaction.
Customer journey mapping is much easier and faster using powerful survey software. The customer survey software offered by QuestionPro can enable you to conduct comprehensive research and help you gather valuable insights using robust analytics. Such platform help organizations effectively measure customer satisfaction and customer experience.
Not yet there? Start here and download this Customer Journey Mapping Template.
If you want to know more about our customer journey dashboard, contact us today and our team of experts will offer you all the information you need to strengthen the relationship between your organization and customers.
Learn more about how QuestionPro CX can strengthen your relationship with your customers.