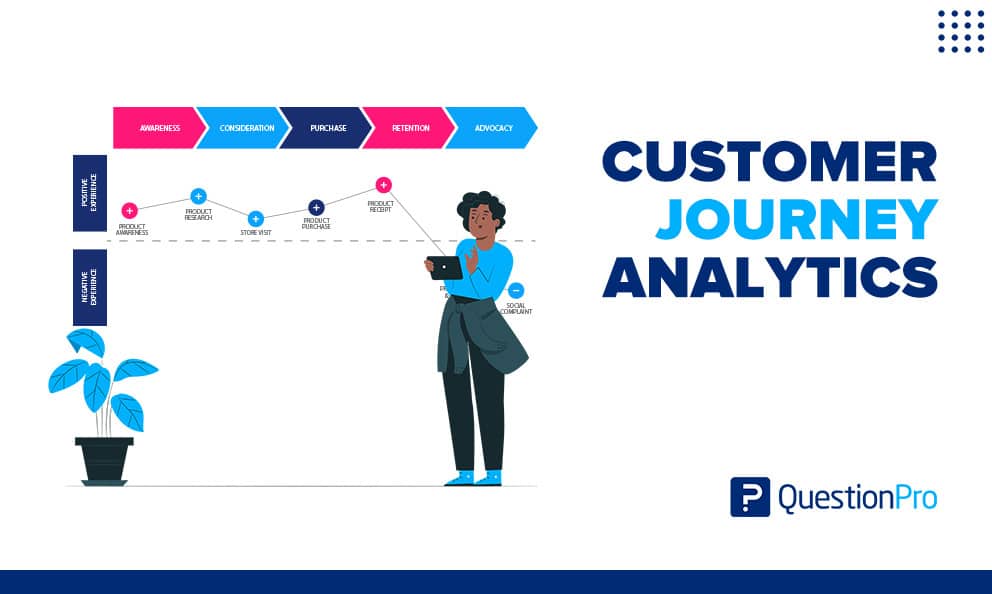 We've talked about how to map your own customer journey in previous entries. This article will focus on how customer journey analytics can become quite a resource to make the most of the analysis, review, and improvement of multiple business processes. Data analytics and data analysis are closely related processes that involve extracting insights from data to make informed decisions.
Identifying pain points in the customer journey, reducing costs, and understanding customer behavior allow business owners to drive revenue growth and ensure that all their efforts are not wasted.
LEARN ABOUT: Time to Value
But what exactly is Customer Journey Analytics? Keep reading if you would like to learn more.
What is Customer Journey Analytics?
Customer Journey Analytics (CJA) is the process that analyzes the way customers interact with a business across every touchpoint in the customer journey, which includes the different channels and touchpoints of customer interaction with a brand.
In other words, CJA is an approach based on data to get deep insights into how customer experiences effectively have a say in a business's revenue growth. With CJA you can measure and optimize the effectiveness of a customer experience.
Why is Customer Journey Analytics important for your CX?
The paths customers choose to reach out and how they navigate through them are of equal importance in a customer journey analysis, as is identifying which channels are used depending on two variables: the type of customer and the way of interaction.
Typically, a CJA will have a toolbox set of advanced analytics, such as analytics in real-time, customer segmentation, and predictive analytics. The goal of incorporating CJA into your CX program is to provide actionable insights that can directly impact their bottom line.
A good CJA program is continually updated with the latest data (near real-time or at least daily) to allow ongoing validation of past findings and provide dynamic business decision-making.
The value of the Customer Journey
Hand in hand with Customer Experience, the interest of corporations in "Customer Journey Analytics" has grown remarkably in the past years. More and more companies are already using a platform by the department through which a customer journey is analyzed as a diagnostic and measure tool.
As mentioned above, the entire process of tracking and analyzing how users interact with your brand or product is called customer journey analysis. This involves analyzing everything, from looking at the channels customers choose to communicate with the company and identifying how they move within them to finding valuable touchpoints and common issues people face during this process.
Benefits of Customer Journey Analytics
Take advantage of using customer journey analytics at your company. Applying CJA to your CX program strategy will allow your business to:
Track and analyze every step in a customer's journey

Find ways to enhance their experience with the brand

Identify pain points where customers fall in and fix them

Develop efficiency processes to achieve a more fluid and accurate omnichannel

Identify and fix pain points in the journey, avoiding future

detractors

Discover new business opportunities to increase revenue growth and lower operation costs
Customer Journey Analytics Example
As an example, consider tracing the ideal driving route from Austin to Houston. A compulsive planner may consider multiple sources -not limited- to the likes of Google, Waze and Apple Maps. You can also talk to a couple of friends who have already made the trip. At the end of the planning stage, the result would be a series of instructions to get from one point to another.
Now imagine having access to how each person made this trip, type of car, route, average speed, traffic, etc. Using that information, you would not only be able to plan the optimal route but also understand details such as, where and why other people had problems, and possible accidents on the route, among many other insights.
Learn how to create your customer journey canvas and download our template.
Customer Journey Analytics vs. Customer Journey Mapping
Combining customer journey mapping (CJM) with customer journey analytics (CJA) enables companies to track and analyze customer interactions for improvements.
This is what we mean by each of these concepts:
Customer Journey Map:

It is a practice that documents consumer behavior flows. Organizations must be clear about this and try to design ideal experiences for common activities. It corresponds to a qualitative analysis.

Customer Journey Analytics: It is a data connection program between various channels and moments, it allows measuring all behaviors, not only pleasant experiences but also those that were not satisfactory. It corresponds to quantitative analysis.
If you would like to learn more about what tools to use to map a customer journey you might be interested in reading Customer Journey Mapping Tools.
As we can derive from the definition of both concepts, CJM and CJA need and complement each other, one from an objective quantitative perspective (CJA), while the other focuses on subjective, qualitative data (CJM). This all takes to the following question: What is the use of having access to all that CJA data if it is not used to optimize and make better decisions?
LEARN ABOUT: Consumer Decision Journey
While there are many measurable benefits of using CJA, combining analytics and reports with the Customer Journey Map adds, as a result, even more value.
By understanding the key journeys (moments of truth, experiences, and intentions) that your customers have, CJA can be deployed and used more efficiently. From an implementation perspective, it's useful to prioritize data sources that contain interaction details for the main touchpoints.
If you are interested in Customer Journey you might want to read about how to improve your customer experience with a customer journey dashboard.
Things to keep in mind
There is always room for error, and there are some areas where we can easily go wrong if we are not careful. Some of them are:
Leaving aside the review phase:

it is normal to want to see results as soon as possible, but if we skip reviewing this data, all the work will have been in vain and the actions we take based on the results will be equally faulty.

Not having enough data:

Without it, we simply cannot draw accurate conclusions. If we do, we are surely falling into prejudice and this will lead us to dismiss real opportunities. Having enough data is time-consuming and difficult to collect, even with dedicated software.

Focus our attention on the average:

When drawing conclusions, it is normal to want to know what the majority wants, but by doing this, we ignore trends that may become the norm in the future and place us one step ahead of the competition.

Underestimating the necessary team:

Even once the software is integrated, your company may need a team of analysts to get the most out of the customer journey.
Don't let your team decide on hunches: Democratize customer data
Excellent customer experiences are within reach. To stand out in today's hyper-competitive, multi-channel marketplace, brands that want to differentiate themselves and deliver five-star experiences must use a combination of CJA and CJM. By listening carefully to customer feedback and using the right analytics like pricing analytics, such as QuestionPro CX, you can anticipate roadblocks and proactively rectify them, thereby delivering a seamless CX experience to current and future customers.
QuestionPro CX is the Customer Experience management platform that provides you with an extensive toolbox set that allows your team to have a 360º view of where the customer experience is falling short with the use of actionable insights, turning them into promoters of your brand.
Try QuestionPro CX today if you want to boost customer loyalty by efficiently processing large amounts of data in real-time and turn them into fact-driven action support.