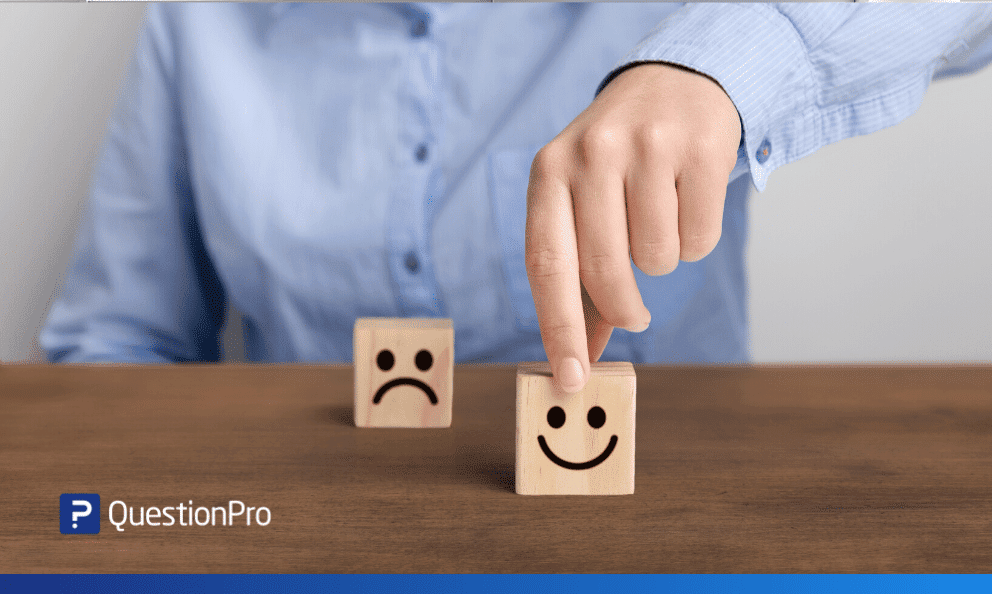 The most successful of the organizations are the ones who keep their customers on top of their minds. Their products and services revolve around customer satisfaction KPIs. These organizations have dedicated teams and market researchers whose sole job is to improve customer experience and customer satisfaction. Since customers are the biggest brand ambassadors of any company, the growth and sustainability of a business depend on how happy the customers are. To offer them excellent experience, companies must listen to them. It also validates the investments that they make in satisfying their customers.
What is 'customer satisfaction' though? Many would say that customers could never be truly satisfied because they are fickle beings who are always changing their minds. This is true, but there is a way to support customers that allows them to feel heard and allows you to gather insights to create experiences that both surprise and delight customers. 
Customer satisfaction, as defined by Neil Patel, a digital marketing expert, is "how your product, service, and overall experience either falls short, meets, or exceeds customer expectations." It is also a reflection of how the customer feels about your brand, whether that be positive or negative. 
Why is customer satisfaction important
1. Even the most loyal customers can switch to your competitors.
Customer loyalty needs to be earned with time, patience, and exemplary service. According to a research study, in the US, if the customers don't feel satisfied or get the expected response, organizations can lose up to 45% of their customer value. Connecting with unhappy customers is a must, but even if you don't keep in constant contact with your loyal customer base, you might disconnect with their changing preferences.
2. It differentiates your brand from competitors.
If you want to purchase a smartphone, you would probably spend hours doing research on all the features you want and compare various brands. Finally, you would conclude that you want to buy brand X.
And then you might tell your friend how excited you are to buy brand X. But your friend says, "Naah, brand Y is better. I have used it, and it has an excellent camera." Which phone do you think you will end up buying? The answer is straight, brand Y. Customer satisfaction is one of the key differentiators that helps your brand to stand tall in the competition.
3. Positive branding can be achieved by great customer service.
The importance of customer satisfaction can't be emphasized enough. It plays a crucial role while creating the marketing and branding strategy of an organization. Digital and social media play an important role in branding activities. A disgruntled customer can express his/her view on a platform that is accessible to millions of people all over the world. Just one negative comment is enough to do irreversible damage to the business. Hence it is very important for an organization to make sure that their customers leave positive comments and feedback. At a later stage, businesses can use these social media posts as testimonials or success stories to promote their brand.
LEARN ABOUT: Branding Questionnaire
4. Happy customers remain loyal to their brand
Satisfied customers not only spread a positive word of mouth but also keep coming back to the brand. They will refer your business to their friends and family, and thus lead to more sales. According to a research study, customer advocacy can result in 48% business growth for small and medium scale business.
5. Make customer experience more personal
When organizations realize the importance of customer satisfaction in the sustenance and growth of their business, they make every effort to connect with unsatisfied customers. They check with them on what will improve their experience and take the right action.
Use CSAT survey templates to understand your customers
One of the ways to know what your customers want is to conduct a survey. If you interact with your customers daily, of course, you can read their minds, expressions, and body language to know how they feel. But there's a better way to sneak into their brains. 
And what if you don't meet them daily in-person? Many times, people who design products for an audience, hardly talk to them or would have lost touch with them a long time ago. So, running an online survey offers great help to stay relevant with the times.
You can gather actionable intelligence from the data collected through a survey and make decisions that will further grow your business. For instance, consider a software product company that has a user voice portal where their customers can post their requests for new features. Out of the many ideas, the product team can pick up the top 10 ideas with the highest votes and ask their users to pick up the most desired feature. Thus, the company can ensure satisfaction to most users. 
However, it doesn't make sense if the response rate of the customer satisfaction survey is dismal. So, organizations need to be innovative and creative in their approach. 
Free customer satisfaction survey templates
15 Groundbreaking customer satisfaction survey templates that popular brands use
In this post, we have curated a list of groundbreaking customer satisfaction survey templates of many popular brands across the US and world.
1. McDonalds
McDonalds is a brand that serves a large number of customers on a daily basis. It is extremely important for them to listen to the voice of the customer and make sure they offer the best service.
They have an online portal called McDVoice, where their customers can enter the survey code located in their receipt. It is a great example of customer-centricity as they convey a message that their feedback matters, right from the moment they make a purchase.
However, if the customers do not have the survey code, they can still answer the survey. Thus, there's nothing stopping them from giving their feedback.
What's even more noteworthy is that they show the respondents where they will locate the details they need to fill in the survey. These details can further help them filter responses and have a more detailed view of the data.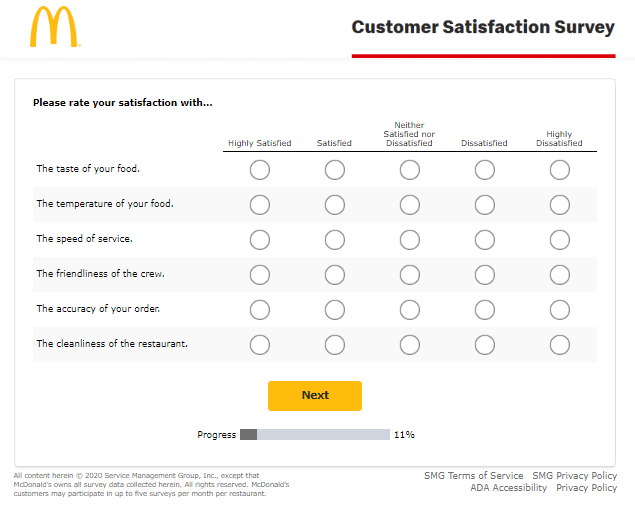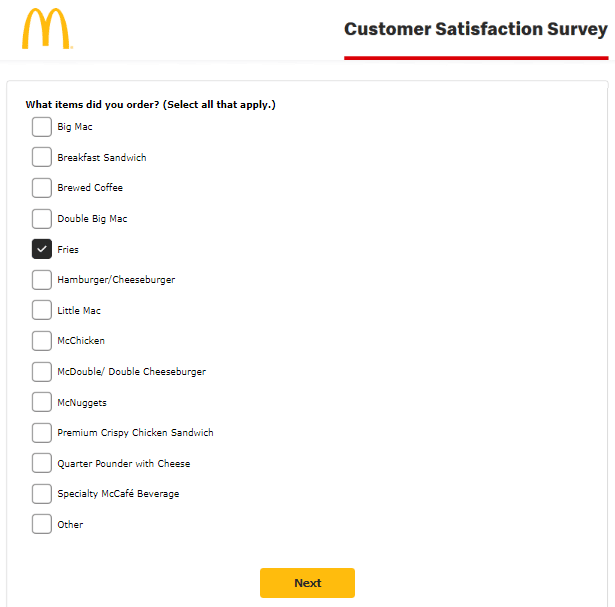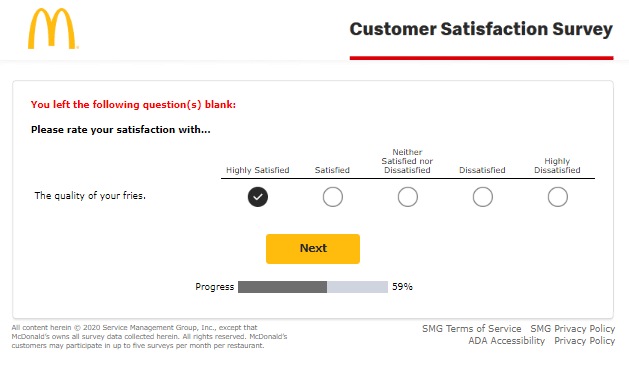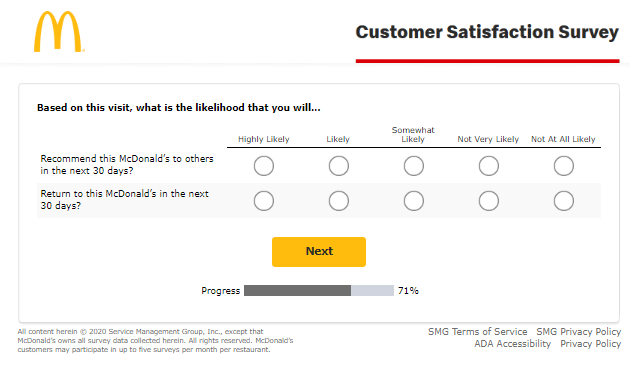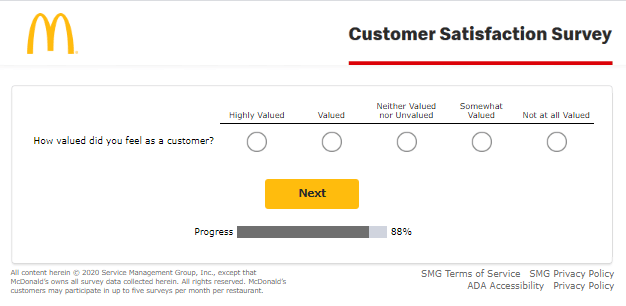 Source: https://www.mcdvoice.com/
2. Nike
Nike is one of the companies that values its shoppers' feedback on the customer service and products they offer. Their store survey aims to improve the shopping experience of their customers and offer them great customer care.
In the below survey, Nike asks very specific questions on how greeting them affects their purchase decision. The respondents can rate their experience as well as leave their comments in open-ended questions. Such textual responses can be used for text analytics like sentiment analysis, word cloud, and other text analysis reports.
Another striking feature of their survey is they have customized the look and feel of the questionnaire to match their brand style.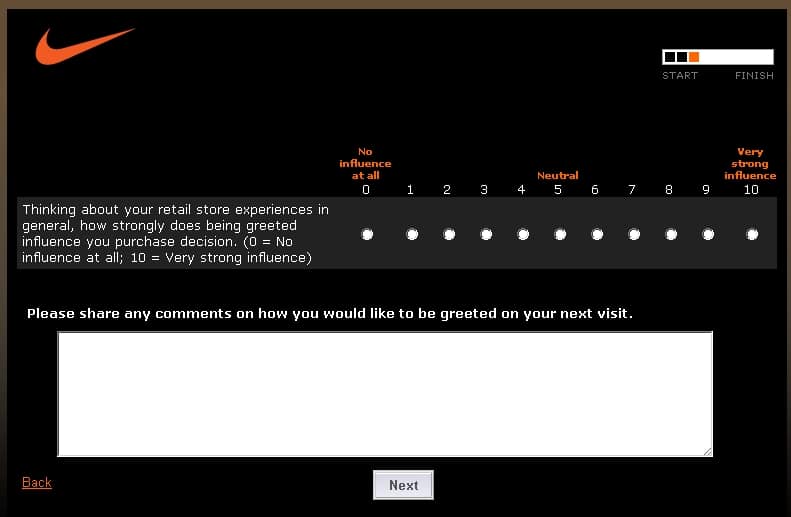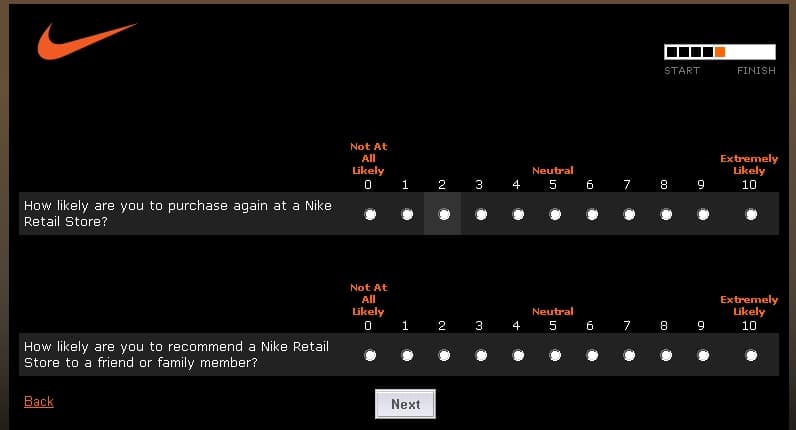 Source: https://customersurveyreport.com
3. Starbucks
Starbucks, one of the world's favorite brands, wins appreciation when it comes to designing customer satisfaction surveys too. They have short and crisp questions, but at the same time, collect information required to gain insights.
For a business like Starbucks, it is important to view survey data along with demographic filters like age. Some of the other common demographic questions used by organizations include gender, income, location, and ethnic origin. This information helps businesses to design products specifically for a target audience.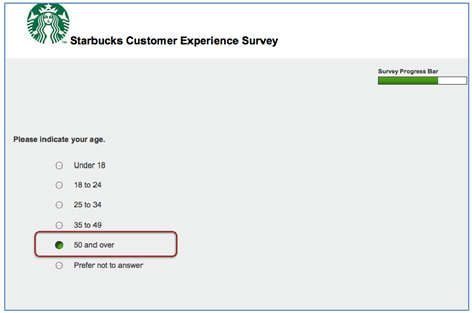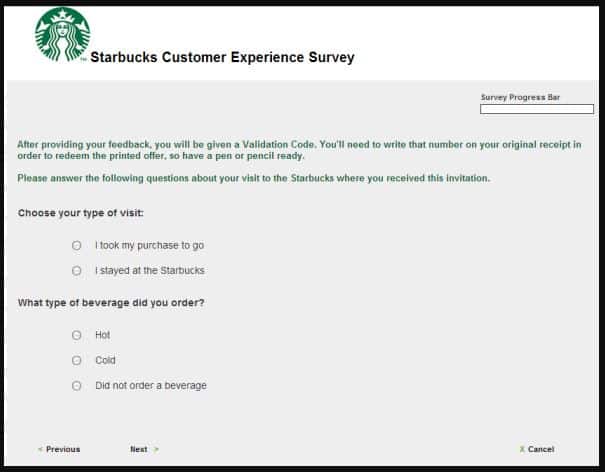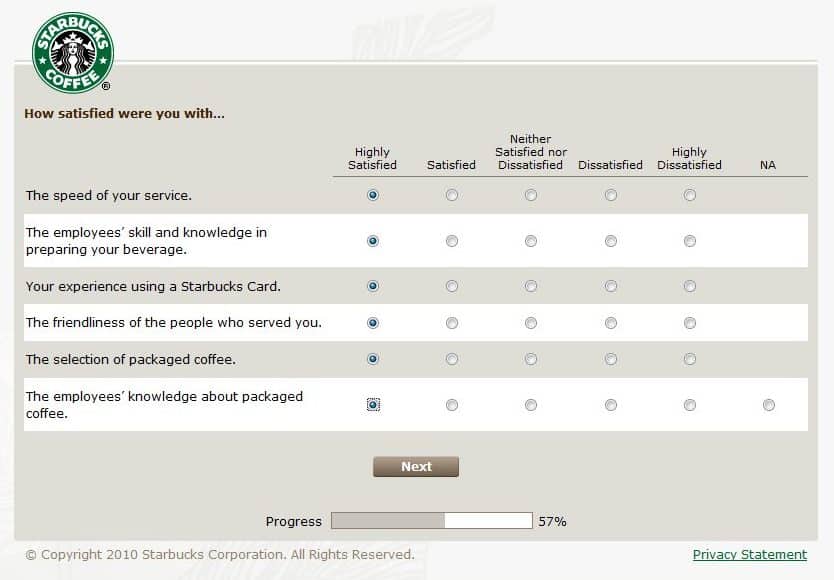 Source: https://www.softwaresuggest.com
4. University of Texas, San Antonio
UT Health, San Antonio, distributes an online satisfaction survey to their patients to know how they can better help them. It is a great way to learn more about the patients' experience with healthcare providers and management staff.

Source: https://wellness360.uthealthsa.org
5. Ford
Ford collects customer feedback at multiple touchpoints by leveraging its strong dealership program. Whenever customers get their car serviced, they receive a survey from the dealer. It asks customers to rate their satisfaction on a scale of 1-5 and if they are likely to recommend the dealer to their friends. Such questions let the company know how happy the customers are. If the dealer consistently receives poor ratings, Ford would be in a better position to forecast sales and plan on what steps to take to improve the customer experience.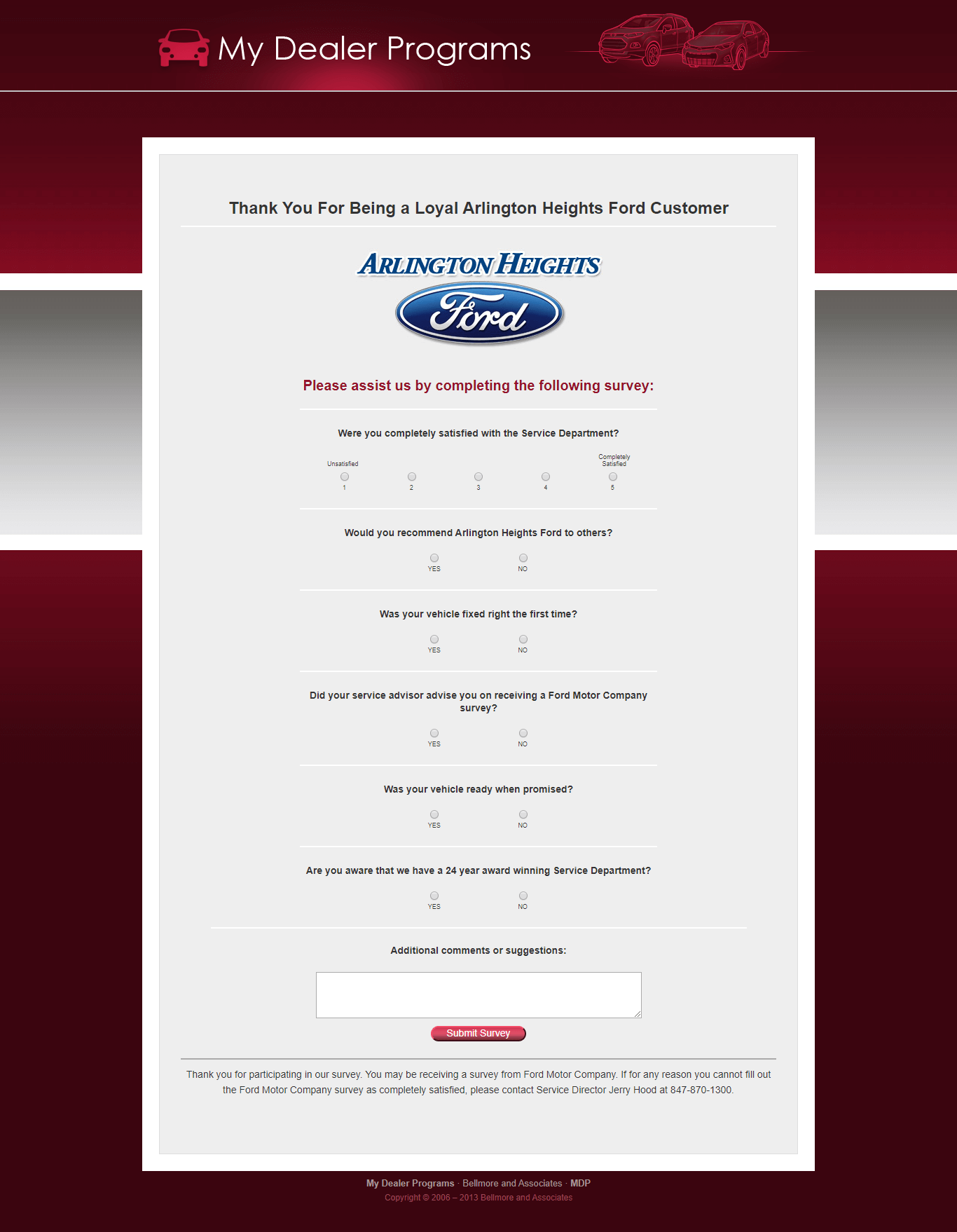 Source: http://timeforcarservice.com
6. FedEx
FedEx surveys all its customers who visit their office and request their feedback to improve their services. Their customer satisfaction survey asks for the basic order information in the first few questions such as type of service, transaction number, date, and time of the visit. 
The customers rate their experience on a scale of 0-10, with 0 being extremely dissatisfied and 10 being extremely satisfied. The survey also asks a Net Promoter Score (NPS) question to know how likely the customer is to refer FedEx to their friends and family. Based on the NPS score, FedEx can find out whether a customer is a promoter, passive, or detractor.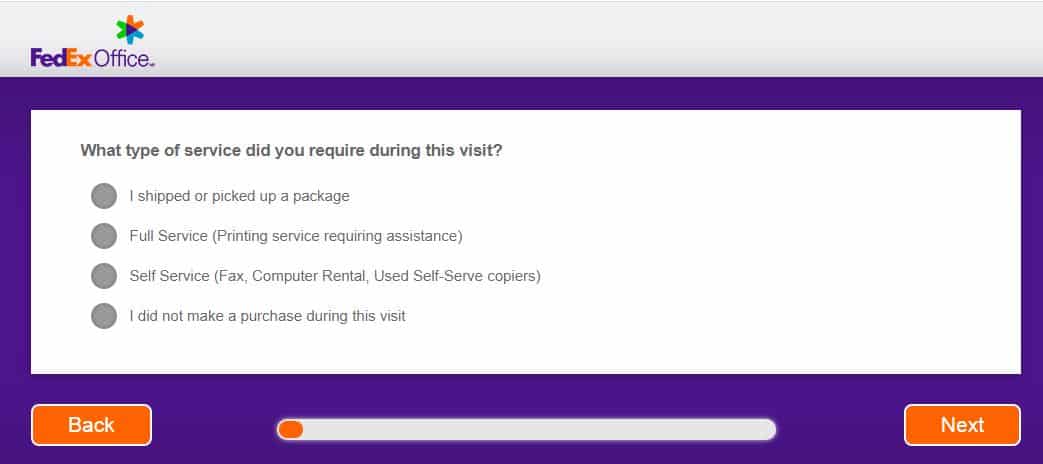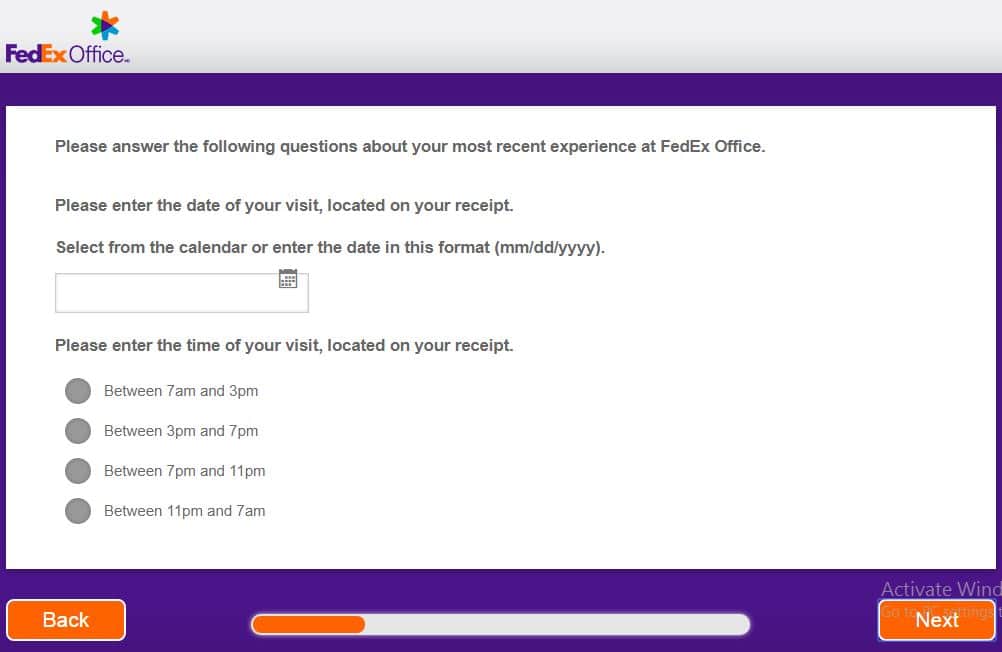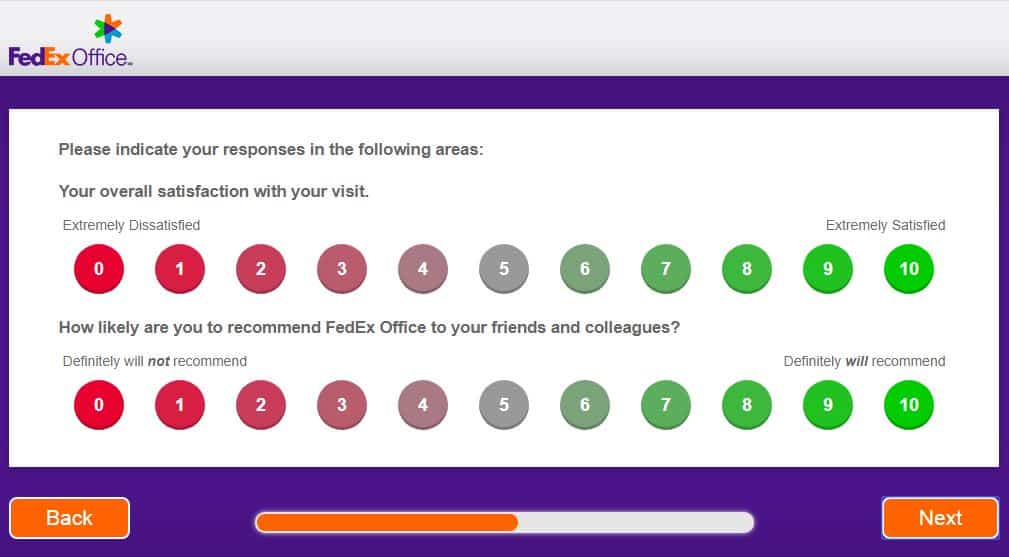 Source: https://customersurvey.onl
7. Walmart
Walmart lets its customers select the language of their choice to answer the survey. This is one of the most excellent ways to get a higher number of responses. It also shows that you care for the customers and are willing to serve them the way they will feel comfortable.
The accuracy of the insights depends on how honest and genuine answers are. To get honest feedback from the respondents, they must understand the questions correctly. Asking questions in their preferred language also improves their experience answering the survey and the overall experience with your brand.
After selecting the language, the respondents move to rate various aspects of the store.
Walmart also asks questions specifically about the quality of products, so that they can compare the in-store experience versus the quality of products.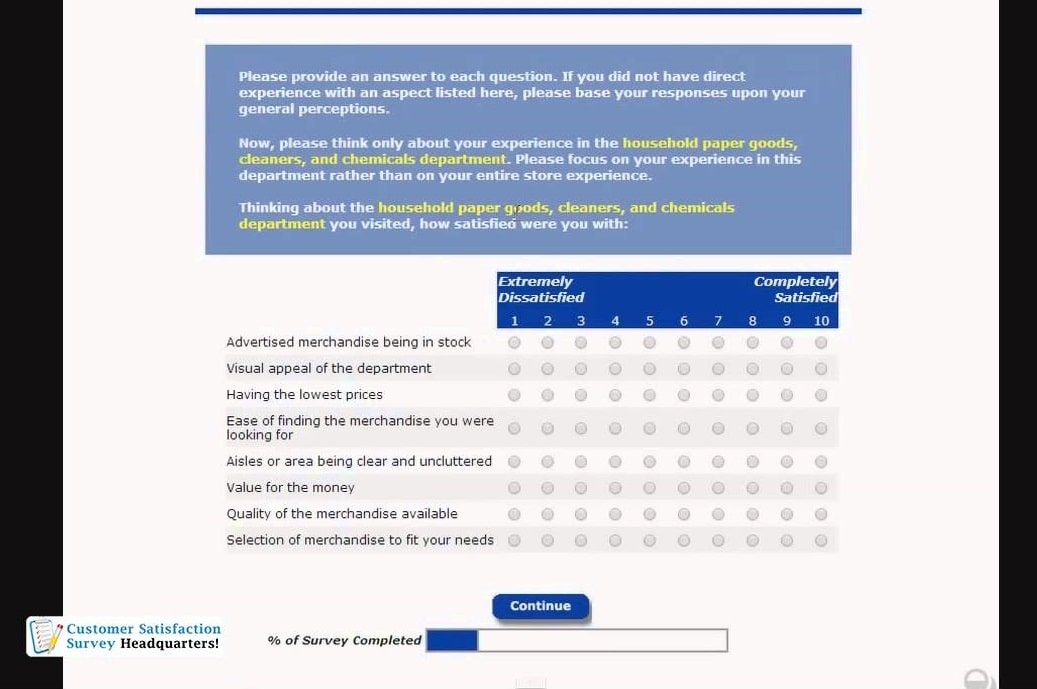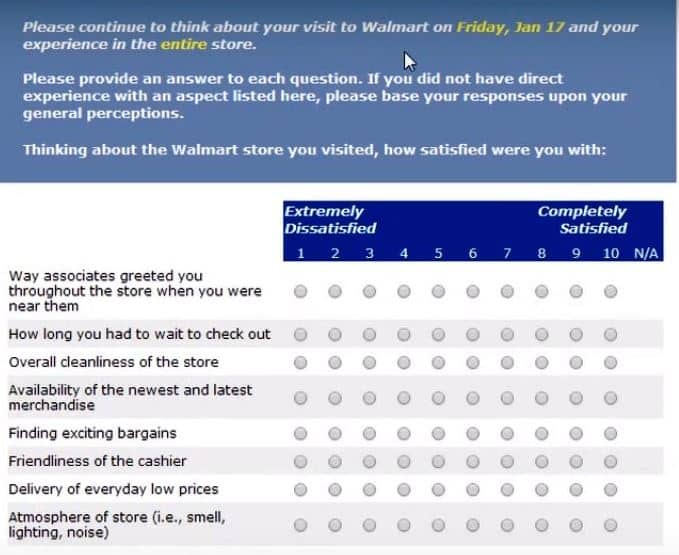 Source: https://happycustomersreview.com/
8. Apple
Apple is known worldwide for its customer-centricity, and probably that's why they have some of the most loyal customers. As Steve Jobs has put it, "You've got to start with the customer experience and work back toward the technology, not the other way around."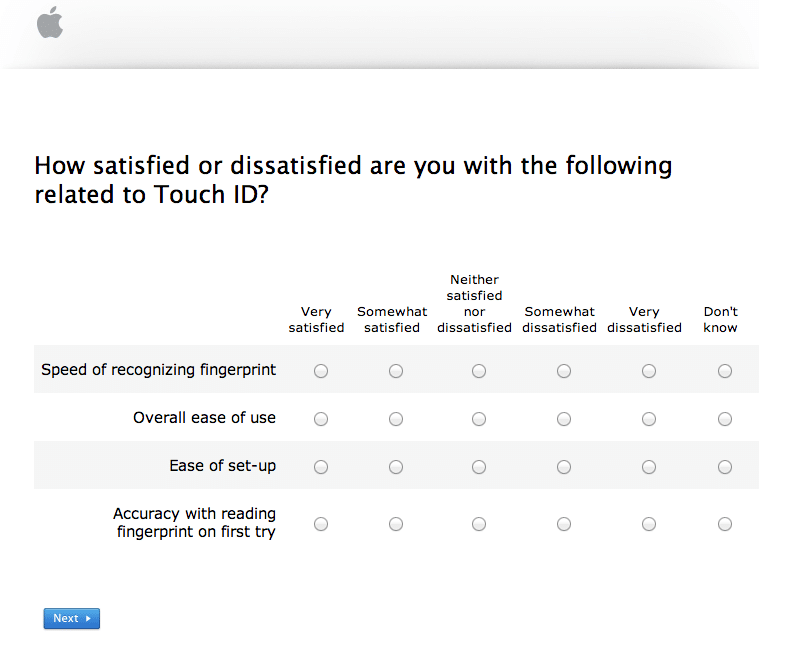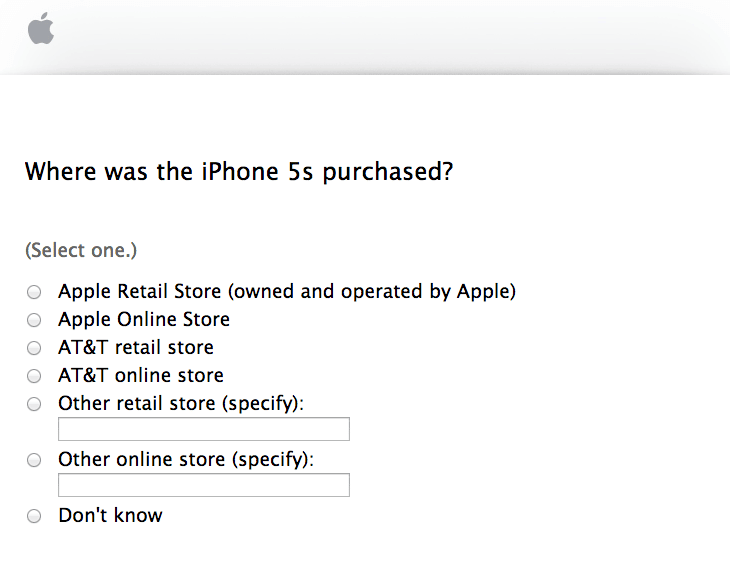 In the below question, Apple gets to know whether iPhone 5s has replaced any other iPhone or any other smartphone. From the responses, it can make out whether their customers have upgraded to a new phone or not, and thus measure their customer satisfaction and loyalty. Also, they can analyze if they have replaced any competitor and predict their growth and market share.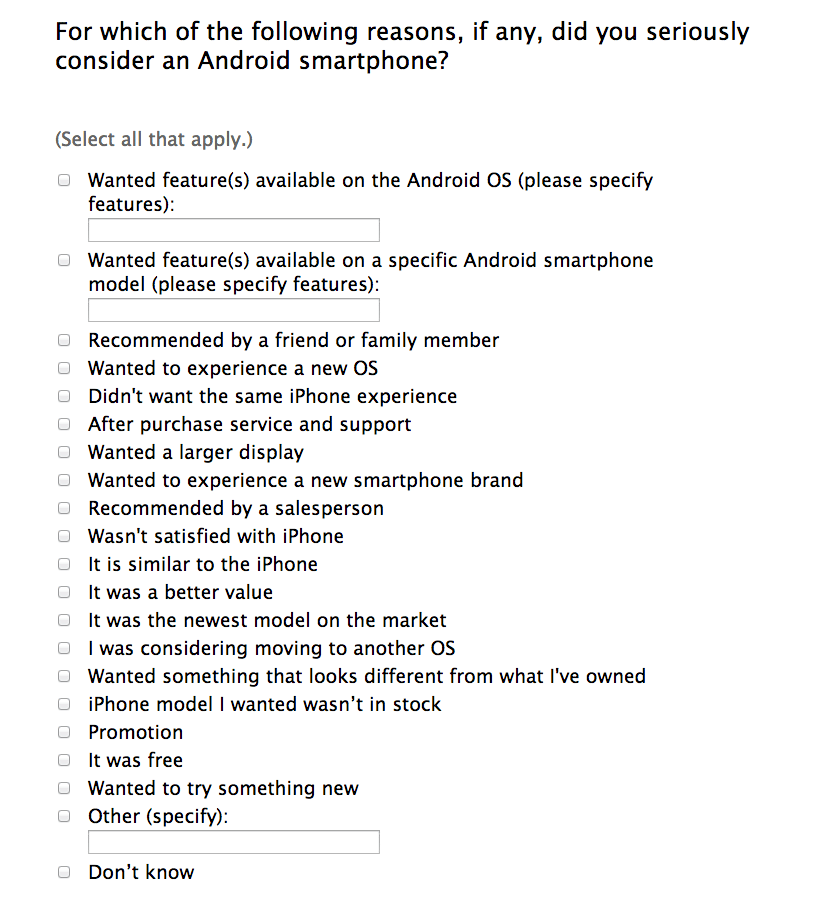 Source: https://techcrunch.com
9. SAP
SAP requests feedback from its customers through a support interaction survey and simplify users' experience based on their input and industry best practices. 
After every interaction with the customer support team, you will see a chat survey with 5-point data labels. It measures how their interaction was with the support executive and if their problem got resolved. SAP will simplify your experience by reducing the number of response choices and will replace the numerical scores with text labels. If customers have any suggestions, they can leave their comments in the open-ended question.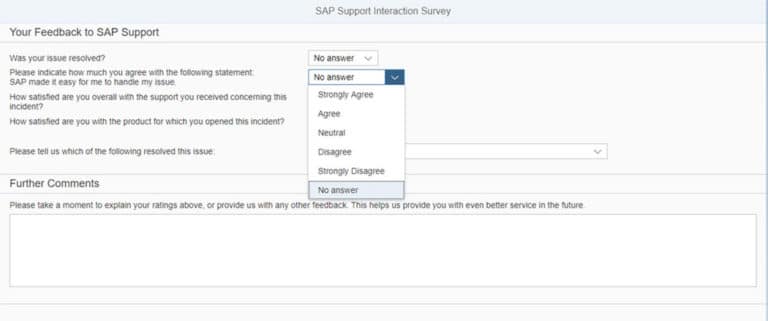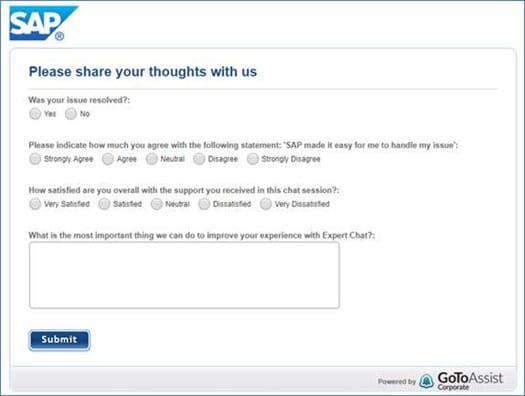 Source: https://news.sap.com
10. Walt Disney Parks and Resorts
Disney uses a multi-point scale basic matrix question to collect feedback on multiple areas. This makes the questionnaire concise and easy to answer. It takes less time for both the survey creators and respondents to answer such questions. They have a numeric scale from 1 – 7 so that feedback can be used to perform calculations and generate statistical reports.
Another striking feature in this survey is the use of a progress bar. It gives an idea of the percentage completion of the survey, and so the respondents can estimate how long it will take to complete the survey.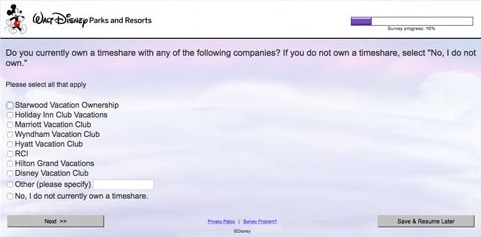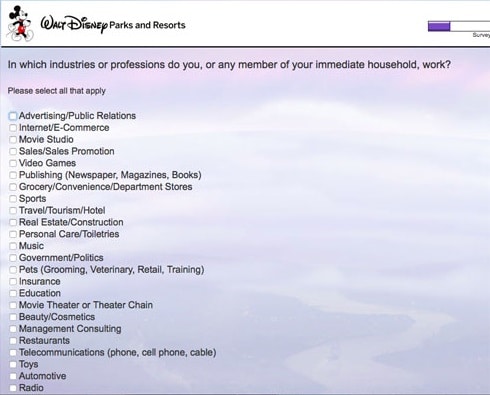 Source: https://www.worldofwalt.com/
11. Xfinity
Xfinity, a subsidiary of Comcast Corporation, offers a way to their customers to give feedback on Comcast services and products. It helps the company to identify what areas they should focus on and improve on to meet the customers' needs.
To understand why customers visited their store or website, it offers multiple options to select from. In case their reason is not listed in one of the options, they can specify their own. Once they have substantial data, Xfinity can find out the most common reason people visit their store or website. They can customize their marketing strategies or use data to automate customer service. Thus, when customers don't have to ask for what they want, it will significantly improve their satisfaction levels.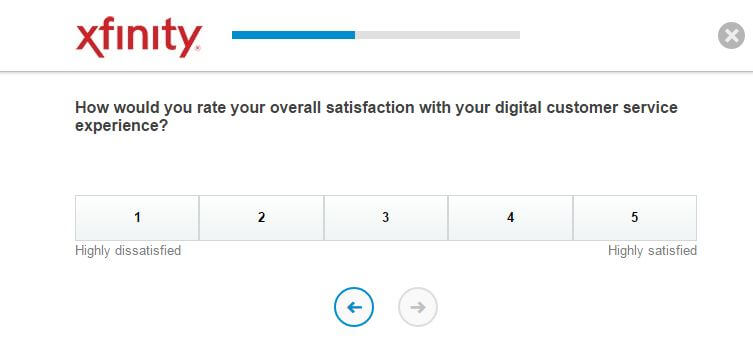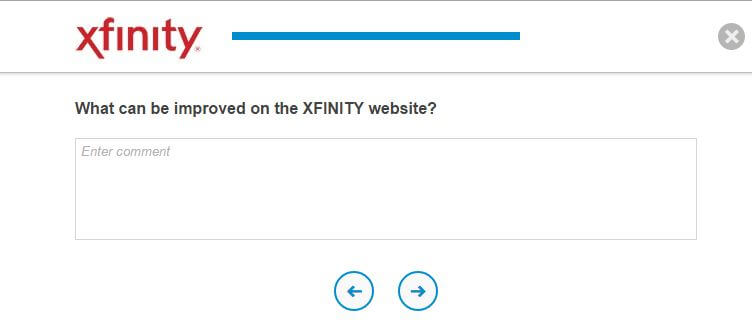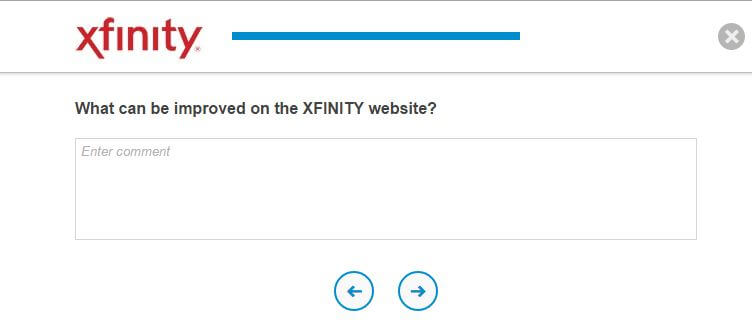 Source: https://customersurveyreport.com
12. Tommy Hilfiger
Tommy Hilfiger, a leading clothing brand, shares the survey code in every purchase receipt so that they can gain insights into whether their clothes meet the expectations of their customers.
Their customer satisfaction survey inquires whether the customer visited the store and could find what he/she wanted. In case the customer didn't make any purchase, they offer a wide range of options to know the reason behind it so that they can improve on it and increase their sales.
The survey asks specific questions if they got the required assistance at the store and their perception of the brand Tommy Hilfiger. The company also rewards its customers with a discount for taking out the time to answer their questions.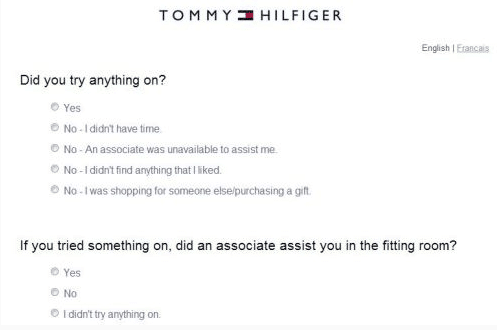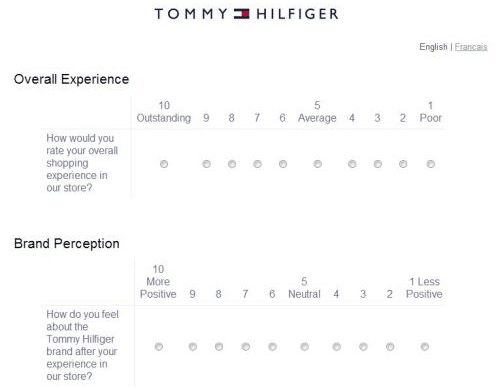 Source: http://sweepstakes-surveys.blogspot.com
13. eBay
eBay, an e-commerce giant, runs a large part of its business online. The customer experience is directly related to the design, ease-of-use, and the overall look and feel of their website. Hence, it is important for them to know what visitors think about their website and find out ways to improve it.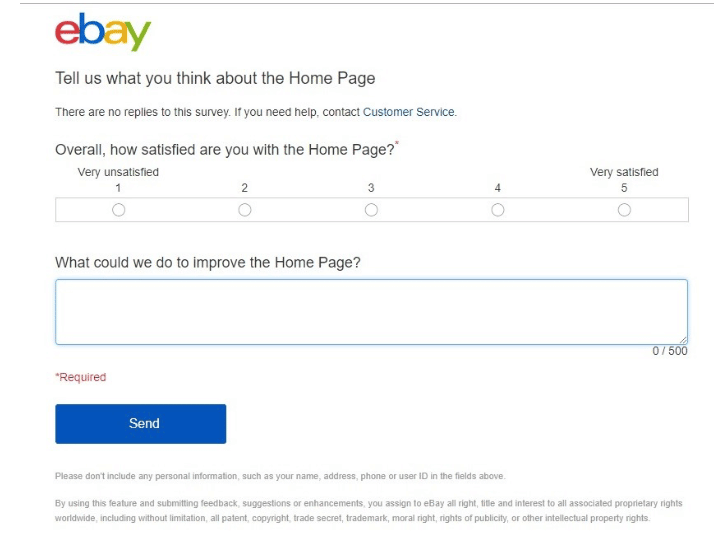 Source: https://clutch.co
14. Chipotle
Chipotle asks detailed multiple-choice questions regarding the quality of food, serving size, point of purchase, and more. Based on the answer choices, their customer satisfaction survey asks further questions. Thus, they use logic and programming to customize their survey so that the customers are asked questions relevant to them.
Chipotle has used a multi-point matrix to get feedback on various topics related to their restaurant. It made their questionnaire not only concise but easy for respondents to answer the survey.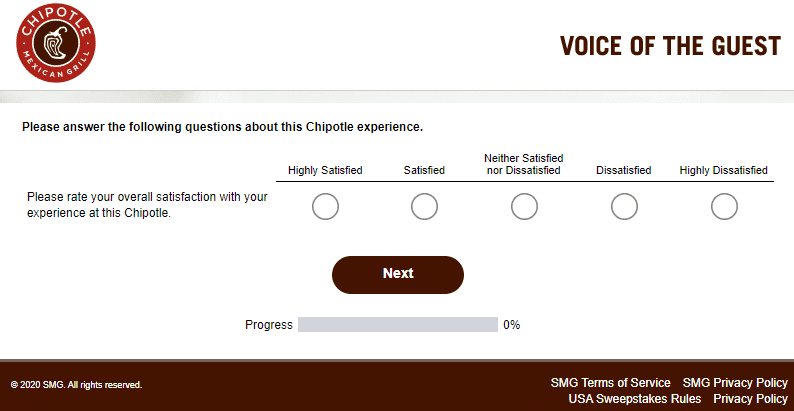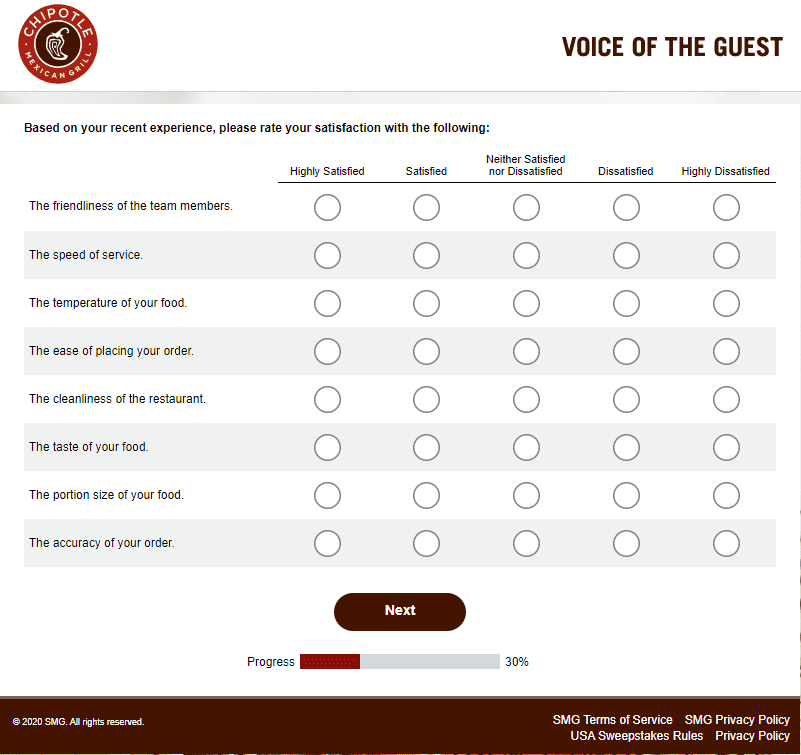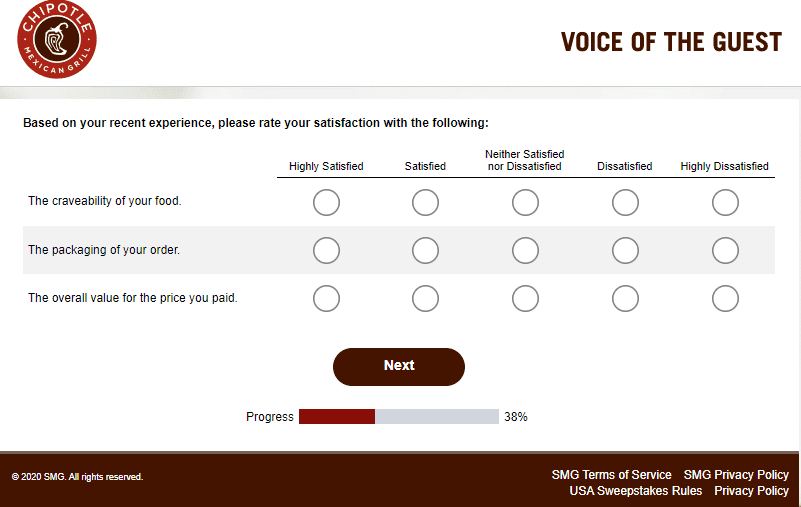 Source: https://chipotlefeedback.com
15. SubWay
This fast-food giant uses an advanced grid to collect feedback. Customers can select an option from the dropdown menu for a specific area of service and select a rating based on their experience. They can also choose a reason for their rating from another dropdown menu.
This customer satisfaction survey template is one of the most compact questionnaires that make the most out of the space it occupies and, at the same time, collects a lot of meaningful information from the respondents. It increases the response and completion rate and leads to a great survey experience for the respondents.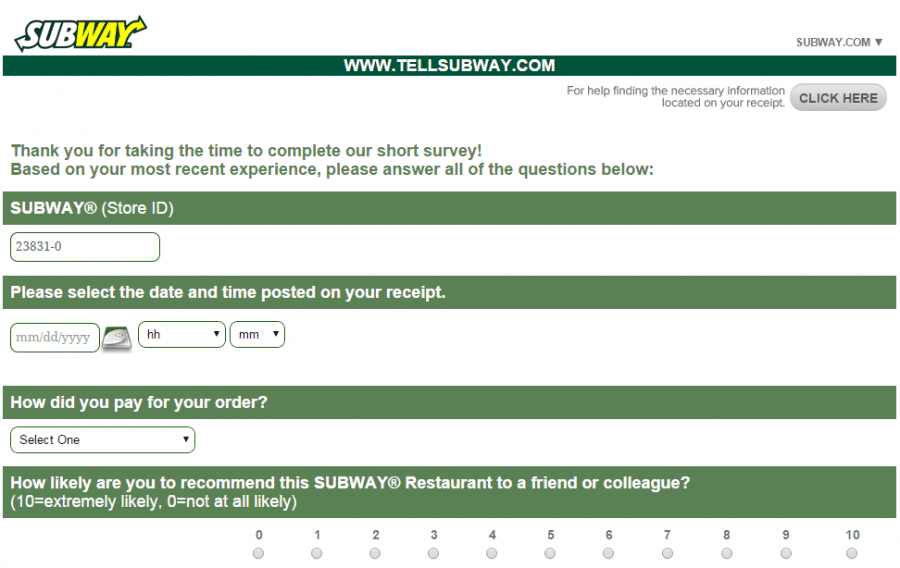 Source: https://customersurveyreport.com
Tips to create an effective customer satisfaction survey

 
Different businesses have different sets of target audiences, and hence their customer satisfaction survey must also differ. For one company, it might be okay to have just two questions in a survey – Give us a rating and why. However, for other businesses, customer feedback forms the backbone of their business, right from the product design and marketing to customer support. 
Here are some of the basic principles to keep in mind while creating a customer satisfaction survey.
1. Write straightforward questions 
Your questions must be simple and easy-to-understand. Avoid bias, complicated language, hypothetical questions, and difficult concepts. To achieve objectivity, you should avoid questions with negative phrasing. For instance, questions like "Wouldn't you like … ?" or "Don't you agree … ?" force an answer on respondents. Also, avoid double negatives and questions to which users will have a hard time recalling the answers. You can also use ready-made survey templates to save on time and customize them to suit your needs.
2. Be careful with the answer options
Phrase answer options such that there is enough scope for the respondents to select one of them. Add 'Other', 'Not applicable', and 'Can't say' options to let respondents choose an option that doesn't fall in any standard category.
3. Use open-questions infrequently
Organizations often state that their most-valuable feedback comes in the form of comments. Although responses shared in the text boxes can be difficult to quantify, they can also deliver deep insights into customer satisfaction. However, open-ended questions should be used sparingly, with no more than 3 in a survey.
4. Be crystal clear
Asking vague questions will spoil the show. Your questionnaire should be short and sweet, with as many direct statements as possible. Unclear questions like "What do you like about our product?" receive unclear responses. It would be too difficult to run text analytics algorithms on such responses and generate insights that can be trusted to make business decisions. Ask direct questions about the subjects that matter to your business and have the potential to make a difference.
5. Time your survey
Create timed surveys so that your customers can have an idea if they need to increase their speed of answering the questions. Also, send your survey immediately after your interaction with them. Say, soon after they visit your store, website, or attend an event. It enhances accuracy and adds relevance as the quality of interaction will be fresh in their minds.
6. Close the loop
Not only do the customers want to be heard, but they also want you to take action on their feedback. Use survey software that lets you feed all responses through a process that leads to actionable results. For instance, if the total NPS score is less than the threshold number, a ticket must be created, and the customer should be contacted via first call resolution or email. According to a Gartner report, 95 percent of the businesses collect feedback, but only 10 percent really deploy and use it.
Collecting data is only part of the equation when it comes to the survey. Data analysis is equally important. Use survey software that lets you create analytical reports that actually help you.
Customer satisfaction surveys can help you find out how happy your customers are with your product or service or with the help they've received on the support issues. By taking care while phrasing your questions, executing your surveys, and designing the right metrics, you can get high response rates and meaningful results. 
By using the best practices shared in this article, you can go a long way towards ensuring survey success. Hope the above customer satisfaction survey templates will assist you in creating the best surveys for your customers and help you offer them the best experience.