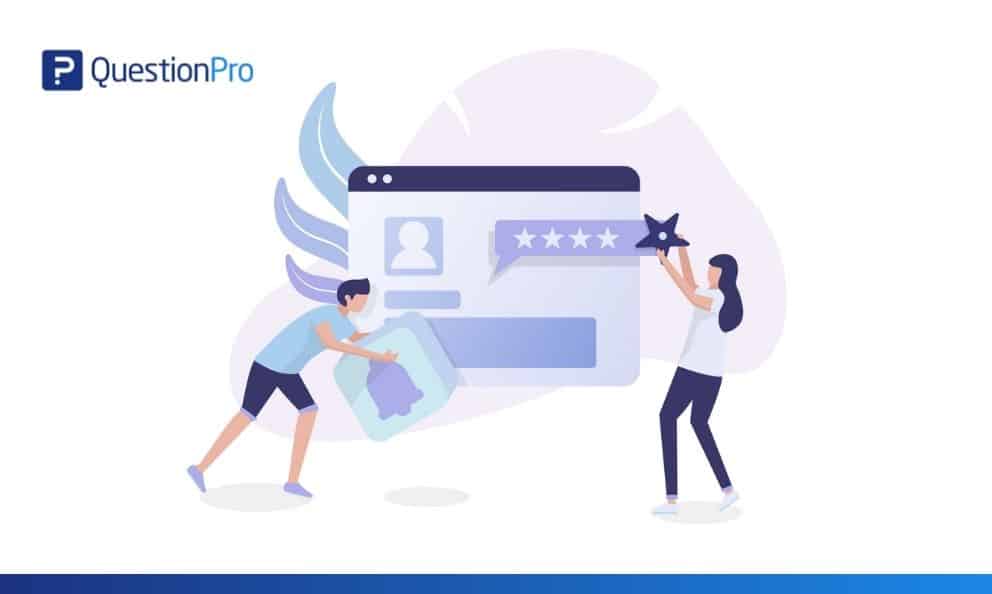 You weren't able to join us on our CX webinar last week, or had to rush out for a meeting? Are you still curious about how the CX platform can help you build customer loyalty if used the right way? No worries, we've got you covered. Continue reading for the webinar overview and some of the questions that came across from attendees on the topic of execution of CX software, ways to create efficient CX surveys, analyzing CX data insights and how to act on them, as well as cool features like NPS+ and the priority matrix.
View the deck slides click here.
Watch the full webinar recording below:
Speakers
Sally Donovan, Client Relations Lead at Marketing Rove
Crystal Weise, Director, Marketing at QuestionPro
Why is implementing a CX program important for your business growth?
Before even talking about why both the theory and practice need to be applied when using a CX management software platform, we thought it important to share the following numbers:
83% of executives feel that unimproved CX presents them with considerable revenue and market share risks. (Forbes)

77% of consumers consider a company's customer journey to be just as important as the quality of its products and services. (Forbes Insights)

CX drives over two-thirds of customer loyalty, more than brand and price combined — but over 70% of CX leaders struggle to design projects that increase customer loyalty and achieve results. (Gartner)

80% of Americans are ready to pay more for a product or service, just to ensure a superior customer experience. (White House Office of Consumer Affairs)
As these statistics imply, customer experience resonates with your business's end goal in many ways. Your company may have the best price and product, however, if your customer experience is not great, you might have a hard time trying to keep your customer loyal to your brand. 
Also, consider that customers with a positive customer experience are more likely to make a repeat purchase than those with a bad experience. So just keep in mind customers might spend more if a business is capable of providing an exceptional customer experience.
CX surveys: critical for business success
One of the most market-proven tools for building and maintaining a healthy relationship with your customers is knowing about their experience with a product or service. What better way to know this, than by simply asking them?
LEARN ABOUT: Service Recovery
This is where automated, digital, and analytics-powered survey software can help your business. The right customer experience platform should help brands not only better understand customers as they navigate their journeys, but to empower teams to improve their customer's overall experience.
The main reasons to implement CX surveys are:
It helps to identify product or service loopholes

Gives a voice to your customer

Gather useful insights to analyze and act on them

Increases client retention, brand loyalty, and visibility
By tracking the customer experience through surveys, you can identify problem areas and make changes to improve the overall experience of your customers at different touchpoints of their journey.
Set your goals – What do you want the investigation to accomplish? Is it customer feedback on one touchpoint or rating the entire experience?

Choosing the right tool –

QuestionPro CX

is one of the most effective solutions for evaluating the customer journey. The real-time dashboard allows you to begin analyzing responses as they come in. It also has a detractor recovery feature to help resolve customer issues quickly before you receive bad customer experience reviews or publicity.

Select a template and customize it if needed – It's always easier to work on a template rather than designing your survey from scratch. You can also customize it by using your brand logos and colors to make it consistent with your brand.

Use open-ended questions – Open-ended questions often generate better responses than structured or multiple-choice questions. Customers often give more insights into their opinions when you offer them an open format. Include open text questions in your customer satisfaction survey questions to encourage customers to open up about their experience.
But how do we actually implement a CX program from a practical viewpoint?
First off, we get that sometimes there's too much in-depth theory revolving around CX, and when you actually want to use all the information you've learned, you don't know where to start. Also, if you've never used a CX management software before, it can get tricky to employ it adequately at first. Similarly, it's expected that within days of CX program implementation, results start giving in, when the reality is that, like all good things, it requires being constant and patient to start seeing results. 
In the webinar, guest speaker Sally mentioned that having a clear outline of your company's customer experience strategy is crucial before starting to implement it on CX. To make a product or service customer-centric, we need to ask the right questions to our customers at the right time. Asking customers their experience with your brand it's a start, but it certainly doesn't end there. CX surveys are essential to better understand what will make your customers happy, but you need to act on whatever feedback your company receives in order to deliver an excellent customer experience.
Once you've delimited what are the objectives, your customer's journey touchpoints, and what sort of questions and key metrics you should be focusing on, then you're ready to execute. 
Using the NPS+ question in your CX surveys
If you want to uncover root causes and give your customer a voice while acting on what's best for them, NPS+ is the answer. See how the NPS+ feature works here. 
A normal Net Promoter Score (NPS) question would look like this:

However, with NPS+ you get to combine NPS, root cause, and comment question types. It calculates your NPS score, uncovers the reasons behind it, and lets customers provide additional information. The best part is that it's done all at the same time.
Using NPS+ is easily the best way to find out what works for your promoters and what not for detractors.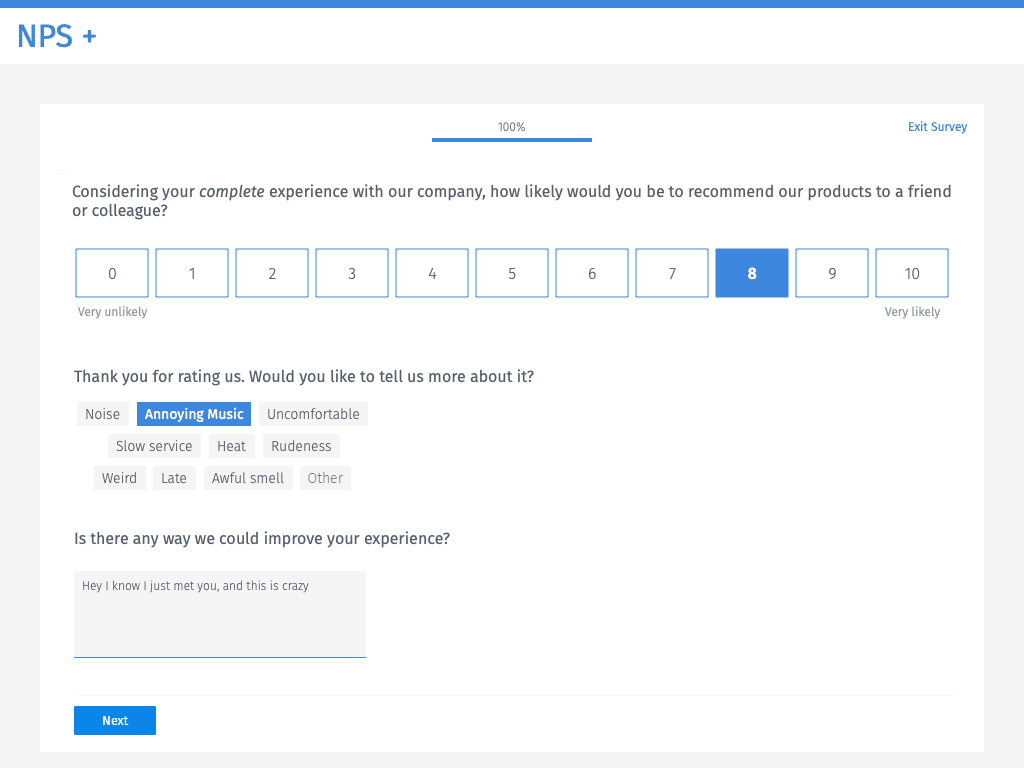 Lastly, a respondent can also have the opportunity to view and vote on other customers' comments.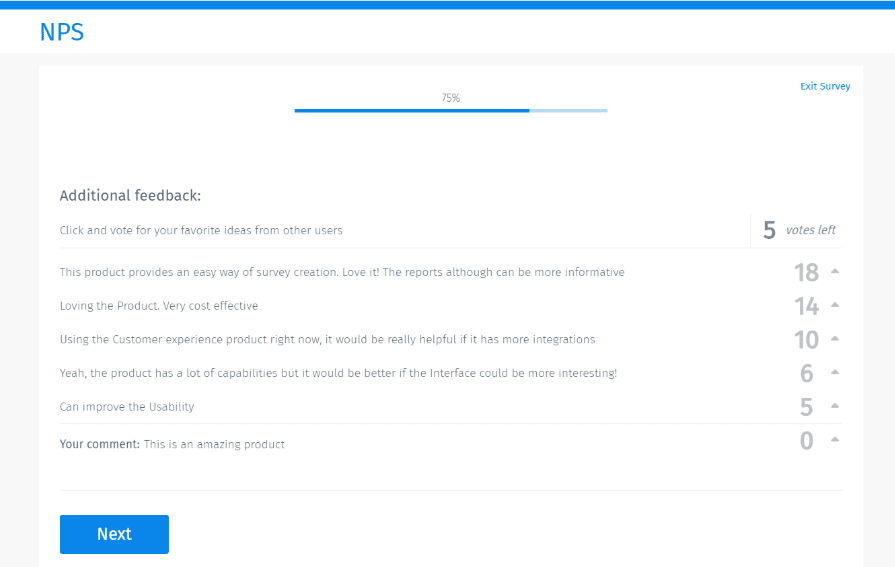 "But why would I want to add more steps for a customer to fill out an NPS question?" Well, for starters, NPS+ goes deeper than just a score. It goes the extra mile and empowers customers by asking the reasons behind the ratings. Then, the voting system allows them to vote for specific feedback from other customers. Viewing and voting others' comments allows a customer to interact with how other customers' experience has been and can relate to those experiences.
I got my survey results. Now what?
Next stop, analyzing and taking action on results. We all know the feeling when there are so many things to improve/ to do. Where do I start first? Are all equally important? Which one is urgent? Priority Matrix works on the Eisenhower method, a simple but powerful technique for considering the long-term outcomes of your daily tasks and focusing on the ones that will make you most effective.
On that basis, the priority matrix widget is used to analyze the priority of actions required on the basis of the driver score (importance) and NPS score (urgency). 

As you can see in the previous example, the priority matrix widget uses the NPS score given by the customer to prioritize the issue affecting the business which needs urgent resolution. You don't have to worry about sorting out in your mind what problem needs to be solved first. This makes the process of deciding more productive and efficient. In other words, you get to worry about how to solve with your teams what CX has already prioritized is more important and/or urgent to tackle first, based on the recollected data.
The priority matrix helps not getting caught up only in distributing data or writing the insights. Remember the whole purpose of data is to act on their results and make the pertinent actions for your customer to feel valued, heard, and that their problems are actually being solved.
What is more important: theory or execution?
Bottom line, sure is vital to learn how to use the CX platform. However, it is equally important to know how to put all the knowledge you've learned into practice. You could have a very powerful tool in your hands, but what is the use of it if you don't make the most of all the resources and possibilities CX can provide you to deliver a great customer experience?
For a CX program to succeed, your customer needs to be at the heart of every decision. To achieve this, your business needs to be equipped with the right tools and generate timely insights to deliver experiences that best empathize with their needs and expectations.
This was just a sneak peek at some of the questions that were answered on the CX webinar.  Here's the full video on how Sally puts in practice CX theory: 
QuestionPro offers some of the most advanced customer experience tools available. Gain valuable insights into your customers' thoughts and feelings using QuestionPro CX software today.