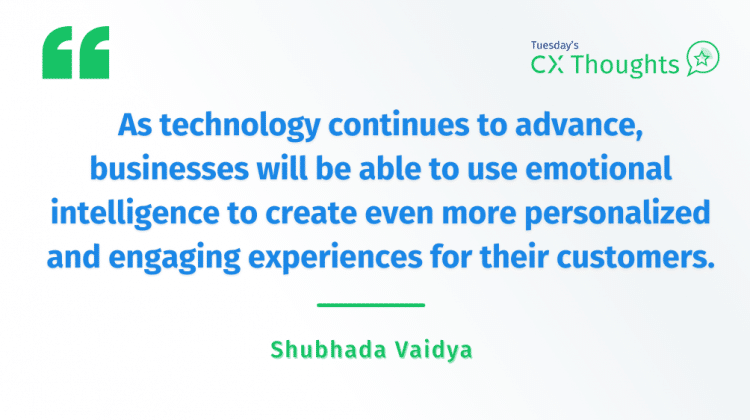 Emotional intelligence (EI) refers to the ability of a business to recognize, understand, and respond to its customers' emotional needs and expectations. This involves both understanding and managing one's own emotions, as well as understanding and influencing the emotions of customers.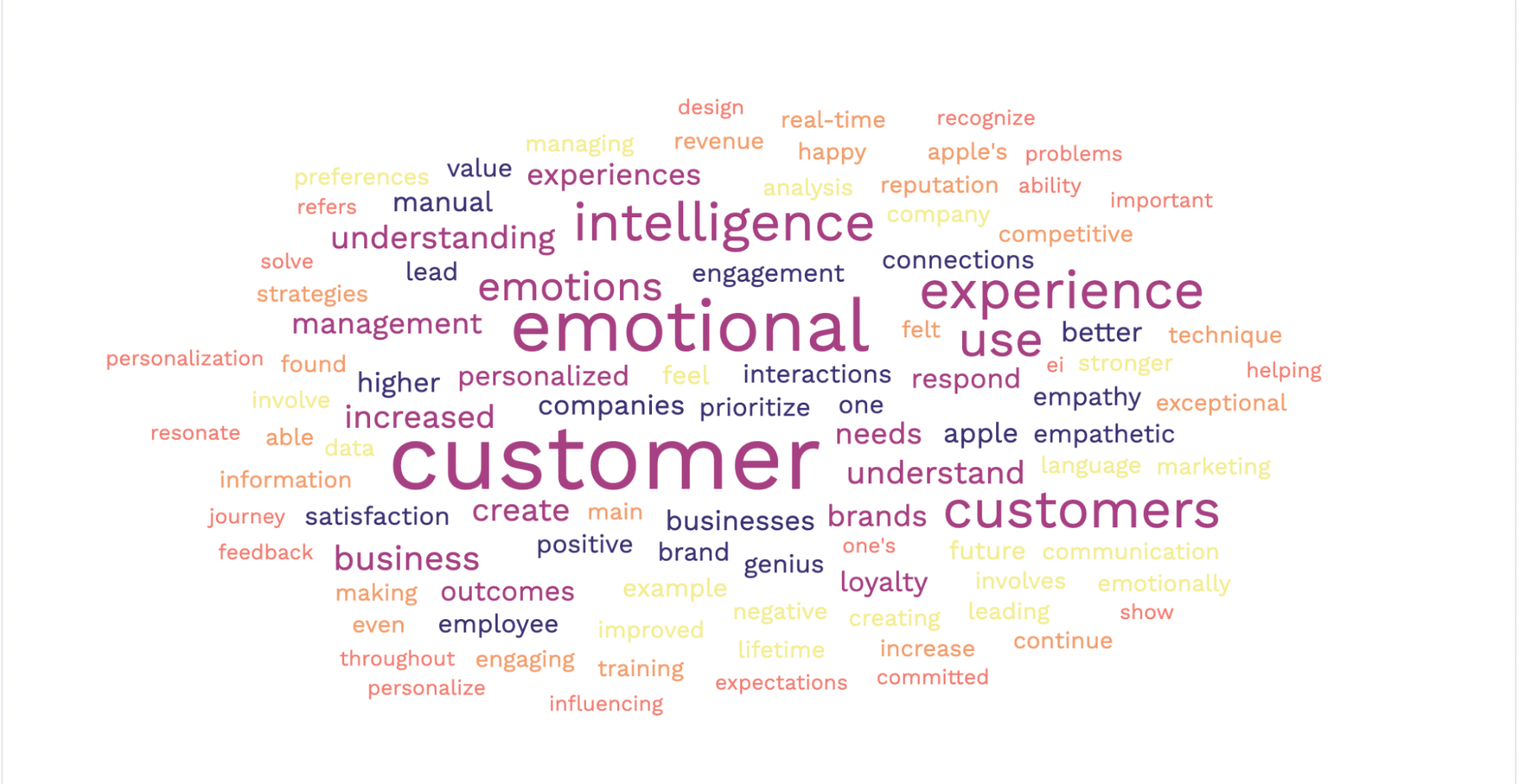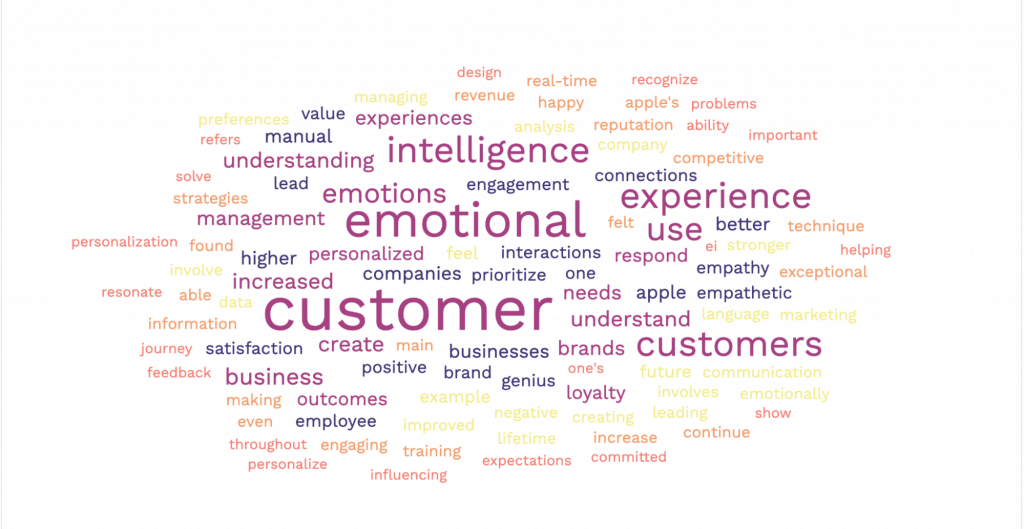 Why is Emotional Intelligence so important for Customer Experience?
Understanding customer emotions:
Brands can use data analysis and customer feedback to understand the emotions customers experience throughout their Customer Journey. They can use this understanding to design experiences that resonate with their customers' emotional needs.
Empathetic communication:
Brands can use empathetic language in their communication with customers to show that they understand their emotions and are committed to helping them solve their problems.
Personalization:
Brands can use emotional intelligence to personalize the customer experience based on individual needs and preferences. This can involve offering tailored product recommendations, customized marketing messages, and personalized customer service interactions.
Managing negative emotions:
Brands can use emotional intelligence to manage bad customer experience emotions that customers might experience, such as frustration or disappointment. This involves being responsive and transparent in addressing customer issues and concerns.
Emotional engagement:
Brands can use emotional intelligence to create emotional connections with customers. This can involve creating emotional experiences through marketing campaigns, brand messaging, and social media interactions.
We recently published a blog that talks about Customer Intelligence; why don't you check it out for more ideas?
Business Outcomes
Increased customer loyalty:
When a company uses emotional intelligence to understand and meet its customers' emotional needs, it can create stronger emotional connections with them. This, in turn, can lead to increased customer loyalty and repeat business.
Improved customer satisfaction:
Emotional intelligence can help companies to better understand and anticipate their customers' needs and preferences, leading to more personalized and satisfying experiences.
Higher customer lifetime value:
By creating a more positive and emotionally engaging customer experience, companies can increase the likelihood that customers will continue to do business with them over the long term. This can lead to higher customer lifetime value and increased revenue for the company.
Improved brand reputation:
When companies use emotional intelligence to provide exceptional customer experiences, it can enhance their brand reputation and increase their credibility among customers.
Increased employee engagement:
Companies that prioritize emotional intelligence in their customer experience management strategies often also prioritize it in their employee training and development. This can lead to higher levels of employee engagement, job satisfaction, and retention.
Better business outcomes:
Ultimately, all of these positive outcomes can translate into better business outcomes, such as increased revenue, higher profitability, and a stronger competitive advantage.
Apple – A case study
Apple has always been known for their exceptional customer experience, and their secret lies in their exhaustive manual – The Genius Training Student Workbook.
The manual focuses on understanding customers and making them happy, with sales taking a backseat to good vibes. Empathy map, consoling, cheering up, and correcting various Genius Bar confrontations are the main themes of the manual. The assumption is that a happy customer is a customer who will buy things.
One interesting aspect of Apple's customer experience is the use of gestures to create a subconscious experience. For example, Apple trains their Genius's to stroke their chin to look thoughtful, as if they are evaluating the situation. Unbuttoning your coat shows that you are getting down to work and collaborating.
Apple's manual also explains how to evoke customer emotions, with empathy being one of the main ones. They have developed a list of specific words that are not allowed to be used in order to create the right experience, and negativity is strictly avoided. Their employees are trained on customer emotions, and they use the "Three Fs": Feel, Felt, and Found.
This technique works especially well when the customer is mistaken or has bad information. For example, if a customer says, "This Mac is just too expensive," the Genius would respond with, "I can see how you'd feel this way. I felt the price was a little high, but I found it's a real value because of all the built-in software and capabilities."
This technique is brilliant because it switches places with the customer, making the customer feel heard and understood.
The Apple store experience is undoubtedly great, and now we know how it's done!
Summary
The future of emotional intelligence in customer experience management is promising and exciting. As technology continues to advance, businesses will be able to use emotional intelligence to create even more personalized and engaging experiences for their customers.
One way this could happen is through the use of AI-powered chatbots and virtual assistants that are able to understand and respond to customer emotions in real-time. For example, a chatbot may use natural language processing and sentiment analysis to identify when a customer is feeling frustrated or upset, and respond with empathy and understanding.
Another way emotional intelligence could shape the future of customer experience management is through the use of biometric data. By tracking customer physiological responses such as heart rate and facial expressions, businesses could gain insights into their emotional states and use that information to tailor the customer experience in real-time.
In addition, emotional intelligence will continue to play a critical role in building trust and loyalty with customers, particularly as the business landscape becomes increasingly competitive. Businesses that prioritize emotional intelligence in their customer experience management strategies will be better equipped to create positive emotional connections with their customers, leading to increased customer satisfaction and loyalty.
Overall, the future of emotional intelligence in customer experience management is likely to be characterized by even more personalized, empathetic, and emotionally intelligent interactions between businesses and their customers.
Is there something wrong with your customer experience?
When you complete an honest assessment, the outcome can be beneficial. Particularly when it comes to your Customer Experience program.
Take five minutes and complete an audit for your organization here.
You may discover a gap in measurement, an opportunity to improve a process, the place where an organizational shift needs to take place or an opportunity to win a greater share of your customers' wallets.
We all want that bigger "return". In this situation, the worst case scenario is that you'll get some information that will help your organization since there is no cost or obligation in completing this audit.