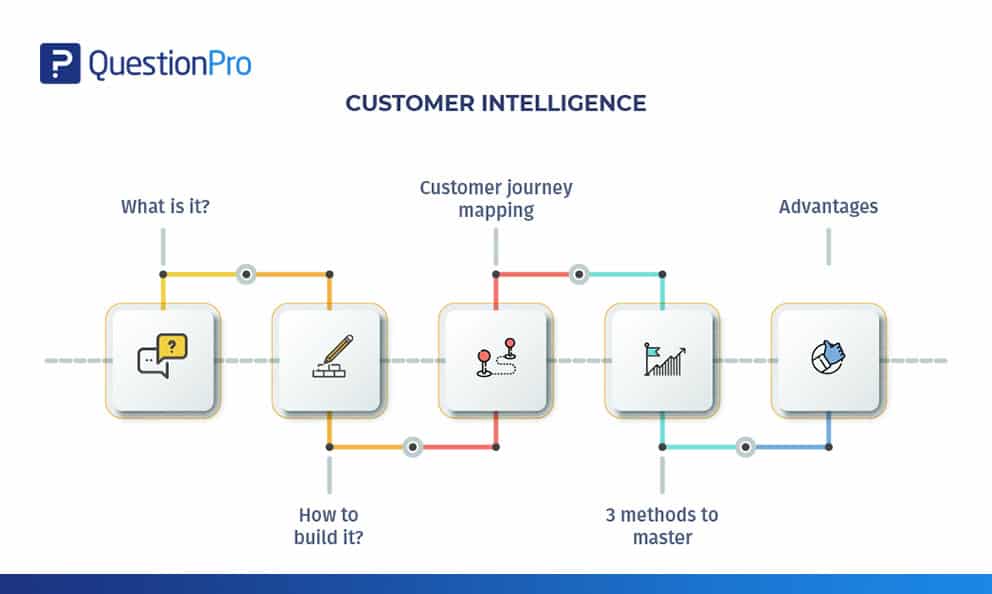 Customer Intelligence: Definition
Customer intelligence is defined as the method of collecting and analyzing details related to customer data to be able to understand customer behavior in a detailed manner so that businesses know the best ways of interacting with individual customers.
In today's digitally-driven world, most customers share their information with the businesses they interact with: their demographics, interests, purchase habits, their preference, and their needs. A good marketer, who will find ways to use this gold, will be able to able to communicate with each customer in ways which will make each customer feel understood and valued.
This behavior certainly increases enhanced brand perception, positive word of mouth and Net Promoter Score (NPS) which determines customer loyalty. I think I won't be exaggerating in saying, in this age of cut-throat competition mastering the art of customer intelligence is necessary for any business or organization to survive.
Learn more: 50+ Free Customer Surveys: Questions & Templates
Building Successful Customer Intelligence
There is a huge amount of customer data that flows into your company from numerous channels, including customer activity on company websites, apps, communications initiated by customers etc. Following steps can be considered the building blocks for successful customer intelligence.
Step 1- The first task in building customer intelligence is the ability to collect all the customer information to form a single archive of data that will help you examine and analyze it effectively. This is known as a single customer view.
Step 2- The next immediate step is the infrastructure needed to analyze the data- technology. Modern customer intelligence allows organizations to dwell deeper into customer insights based on customer lifecycle: newly acquired customer, active customer, customer churn and so on. Customer Lifetime Value forecasting helps in predicting customer churn.  
Step 3- Once the data is collected and analyzed, it now is ready to deliver meaningful insights that will help an organization or business make informed decisions to suit their business needs. Customer intelligence not only allows organizations to get great clarity about customer interaction but also customer expectations.
Customer Intelligence through Customer Journey Mapping
This elaborate 360-degree view of customer journey is a proven model for understanding, how, when and where your customers have experienced your brand, there creating a proper channel for customer intelligence through communication and data collection.
In order to have a successful customer experience, you would want to measure your customer's perception at a variety of stages over time. Here are some of the common customer intelligence platform that can be used by businesses to gather meaningful insights through customer journey mapping:
Physical Location: If your customer comes to a physical location, like your store or restaurant, hotel etc. then it is highly recommended to collect their feedback at the location itself, like setting up a kiosk and set up a quick poll question, so that the customers don't have to spend a lot of time giving their feedback. This is one of the easiest ways to communicate with them, as they have just bought something from the store or dined at the restaurant or even stayed at the hotel. The feedback will be spontaneous.
Sending Emails: This is one of the easiest ways of getting in touch with your customers. It is extremely easy to automate this process so that a closed ticket or a successful sale generates an email from the system to be sent to the customers to collect their valuable feedback and establish communication with them.
Call Center: This mode of communication can be used for either conducting telesales or even collecting customer feedback. You can get customer feedback either by an email or a telephone-based interview. Please note, if it's a telephone-based interview, you don't want to ask too many questions and annoy your customers.
Website: If customers are visiting your website often, for example, if you are an online retail store and most of the customer interaction happens through your website then this is one of the best customer intelligence platforms that will generate ways of communicating with your customers. Gathering feedback on your website is a holistic customer experience approach.
3 Essential Ways of Mastering Customer Intelligence
1. Voice of Customer (VOC): Voice of a customer, the first step is all about gaining genuine knowledge of important trends and discussion that come from customer inputs. This is known as the voice of the customer, where the customer is free to give feedback through surveys or questionnaires that are sent to them. The art here is to discover different channels through which their voice can be heard including open-ended survey questions and using flexible tools to capture their valuable inputs.
2. Capture Customer Insights in real-time: Capturing customer insights will help you understand the grey areas in your business. A real-time insight will indicate where the business is working and where it isn't. What is important here is your customers are damn intelligent so as a business owner you too should be intelligent. Whenever a customer sends in a negative response there should be an automatic email trigger to know more about the issue, this will help you solve the issue immediately.
3. Customer Satisfaction is the Key: Be proactive, don't let the customer feedback disappear in the black hole. Make customer satisfaction the most important part of your organization or business. Let the customer feedback be of use to your organizational development and not just merely meaningless stacks of paper.
The above mentioned 3 ways can be conducted using powerful online software. Such software enables organizations to conduct real-time customer surveys, collect automated survey data and get robust analytics to measure customer satisfaction and experience, thus allowing them to master customer intelligence.
Learn More: Customer Survey Software
Advantages of Customer Intelligence
1. With a well-executed customer intelligence system, an organization will be able to shift all the customer interaction to be highly personalized. This personalization will, in turn, better customer satisfaction, helps increase Net Promoter Score and similar attributes.
2. This level of customer satisfaction generated unique brand affinity. There is no better way to build strong customer relations to reduce customer churn and as a business, you will be able to cater to customer needs efficiently.
3. Customer intelligence, when done right, gives you clear visibility of all your marketing efforts. As customer intelligence primarily focuses on the entire customer journey, you can keep a track of what marketing activities are bringing in better customer communication.
Customer Intelligence Software- QuestionPro Communities
If you looking for comprehensive customer intelligence software, your search has landed you in the right place. QuestionPro Communities is a customer intelligence platform where you can:
1. Recruit your customers and engage with them.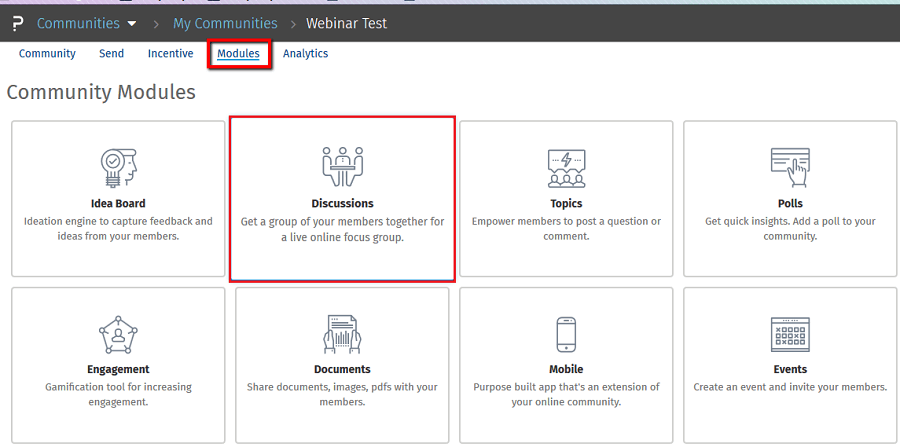 2. Collect their feedback in real-time.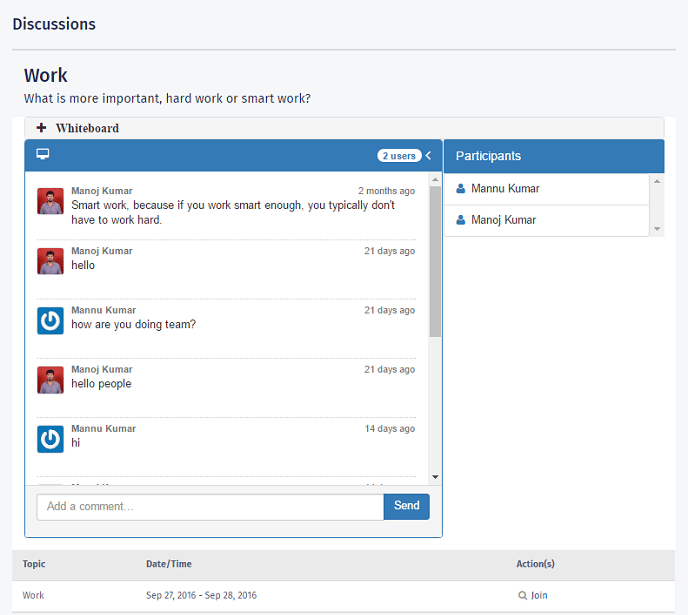 3. Improve their customer experience with your organization by simply deploying a survey or conduct a quick poll.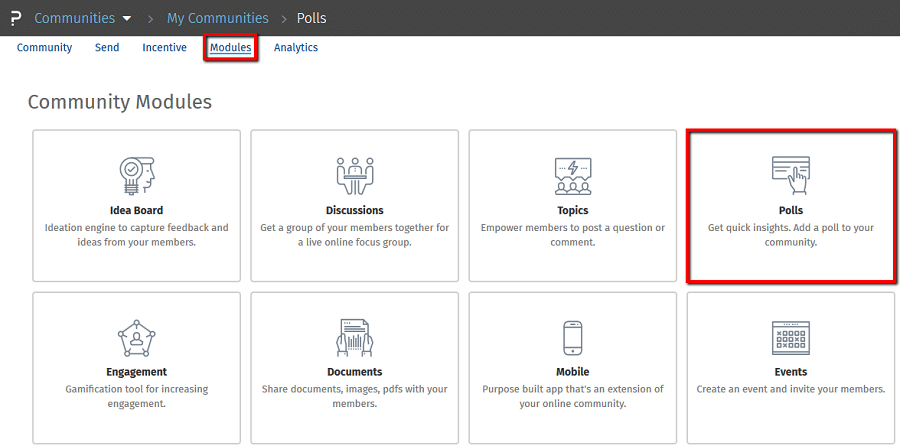 4. Reward your customers for their help in improving your business and also for their honest feedback.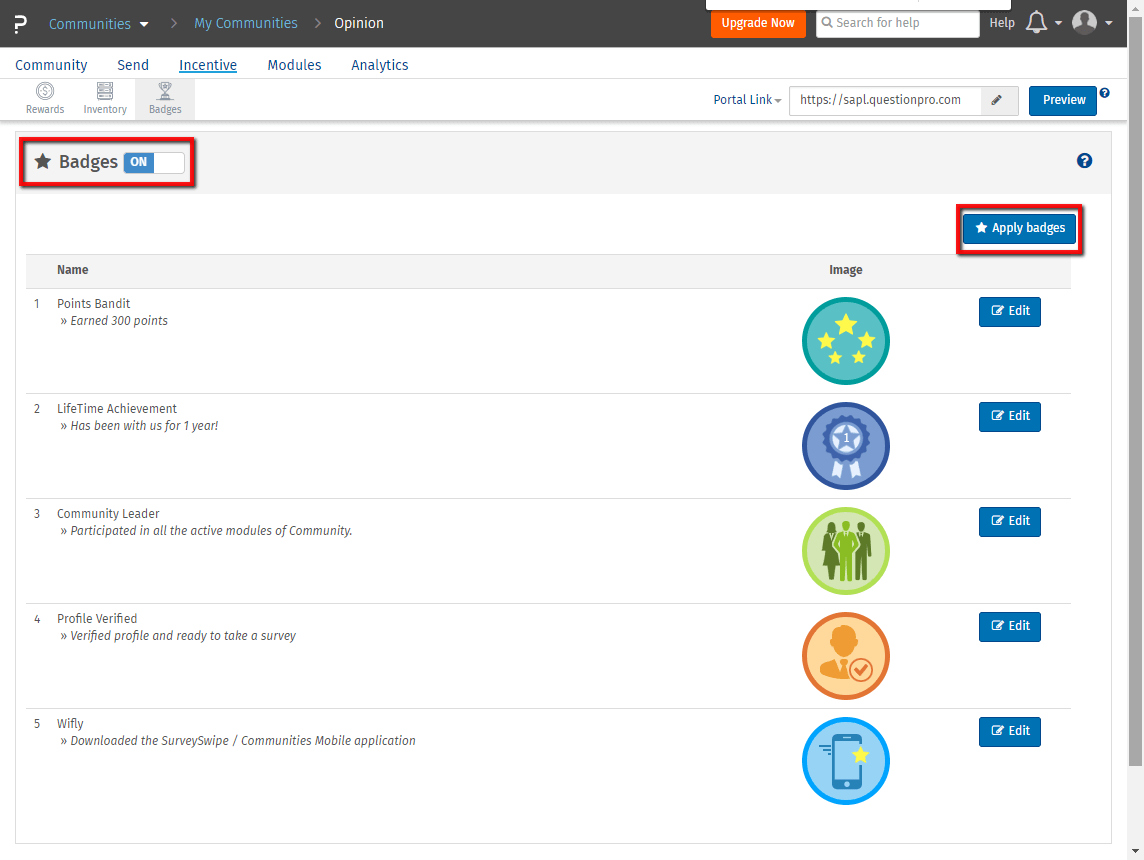 QuestionPro Communities collects feedback at the click of a button and helps you analyze the data like a pro. This customer intelligence platform is a great software tool to interact with your customers and listen to their concerns/suggestions/feedback. At the end of the day, you can inspire your customers to be your loyal brand ambassadors thereby improving your Net Promoter Score extensively.