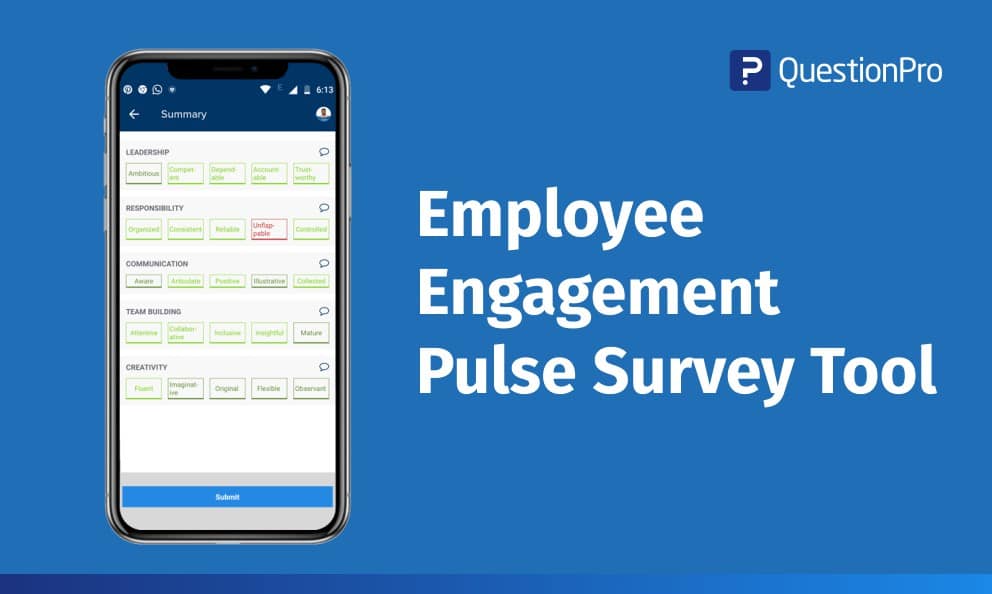 Gathering employee feedback is the first step organizations must take towards making informed decisions that directly affect their workforce. Employees contribute better to the workplace culture if their opinions are taken into consideration and their feedback is taken seriously.
One very good example to know the pulse of the organization is to deploy an employee engagement survey. This is an excellent way of collecting feedback from employees and at the same time also know the levels of engagement in the organization.
However, you need to know once you start conducting these surveys you cannot do it to a point where employees get irritated and stop responding to the surveys. Monthly or weekly employee engagement surveys are known are employee engagement pulse survey.
Pulse survey is growing in popularity and is considered to be one of the quickest ways of collecting feedback. Again, you need to keep a check on the frequency at which you deploy this survey. According to a study conducted 90% of organizations who continuously send pulse survey struggle to keep the response rate more than 50% when the same people are being surveyed.
Employee Engagement Pulse Survey Tools- Workforce Pulse Review
QuestionPro Workforce is a comprehensive employee survey software platform that enables organizations to create and analyze fully automated employee engagement pulse survey, polls, and questionnaire. You can also distribute the survey using multiple methods like email, website embeds, using the pulse review app.
With Workforce, you can map, track and measure employee experience throughout their employment lifecycle using the employee pulse survey software. The survey software platform has robust features that enable an organization to keep track of its employee sentiments and help collect actionable insights from them.
LEARN ABOUT: Employee Lifecycle
With QuestionPro's pulse survey software platform get real-time insights and easy to infer data, all in one platform using our advanced analytics such as Conjoint Analysis, TURF Analysis, GAP Analysis, Trend analysis and much more. You can also download all these analytics as a detailed report in Excel, SPSS, txt, PowerPoint and PDF formats.
Advanced Features of Employee Engagement Pulse Survey Tools
Seamless Integration:

The pulse survey software has seamless integration with Slack, Google and Office 365. You can save your time and energy and use your mobile device to login to the pulse review app using any of the above sign-on. Make data-driven decisions, collect feedback from employees systematically to distinguish what works well in the organization and what doesn't.

Proven competency framework:

Pulse survey software has a robust and proven competency-based framework that makes the review process extremely simple. You can choose from the following competencies to review your colleagues, peers or reporting managers: leadership, responsibility, communication, team-building, creativity, initiative and more. You can choose up to 5 competencies to review. Based on these competencies the entire framework of the review process is orchestrated.

Colorful attributes: The pulse survey software has a color assigned to each attribute. Green is good, yellow is mediocre and red not so good. Based on these colorful attributes it is easy to give feedback to the employees and vice-versa. If you have enough greens then there is nothing to worry but if you have more yellow and red, you may probably want to up your game. This survey software platform uses advanced analytics and drivers of employee engagement like spearman coefficient of correlation and more.
Drag and drop functionality:

Now you can simply drag and drop the selected attributes. This is quick, simple, easy and extremely convenient. This feature is available in the pulse review app. Instead of the boring checkboxes, the drag and drop facility gives uniqueness to the attribute and employees can rank the attributes at the same time. Collect feedback and convert it into meaningful data to help improve the overall employee experience.

Zero time to launch:

Our pulse survey software platform enables organizations to practically save hours by providing them with well-researched survey template designed by subject matter experts. Organizations shouldn't take long to collect the feedback, the longer you wait, the less likely exiting employees are to respond. We help you minimize the timeline to launch an exit survey.

Advanced reporting:

As a standard practice it is advisable to analyze collective data. Looking at individual feedback provides value but looking at the collective feedback provides solutions- employee experience! This might look like a no brainer but many employee surveys fail to collect appropriate data. Employee pulse survey software helps organizations see a bigger picture, gives a holistic view of what an individual has responded as compared to the entire team and how the response is similar or different from the others.
Employee Engagement Pulse Survey Tools: Best Practices
Know your purpose:

There should be a clear purpose of using these surveys. Pulse surveys are usually shorter with 5-10 questions and the purpose is to track employee engagement, understand the action plan, demonstrate how important employee feedback is for the organization and more. By including

employee engagement

questions you can understand what is driving engagement in your organization.

Don't survey if you can't take actions:

Survey only if you intend to take the necessary actions. The most typical reason people dropout is because you haven't done anything since the last survey you deployed. Survey fatigue is for real. Only survey as often as you can take action, else please don't bother your employees.

Communication is important:

Once your

survey

is ready before you send it, communicate with your staff, increase their awareness about the survey. When employees know the purpose of the survey they are inclined to provide feedback without hesitation.

Take your survey for a spin:

Before you send out the survey to the entire organization, send to a handful first. Ask them how they feel about the length of the survey,

survey questions

, survey design and more. Ask them to check for any errors. Image sending out a survey to your employees with spelling mistakes in it. Nightmare!
QuestionPro Workforce as a tool is widely accepted by several organizations to gauge how employee experience (EX) processes are doing. You can sign up and start measuring too.