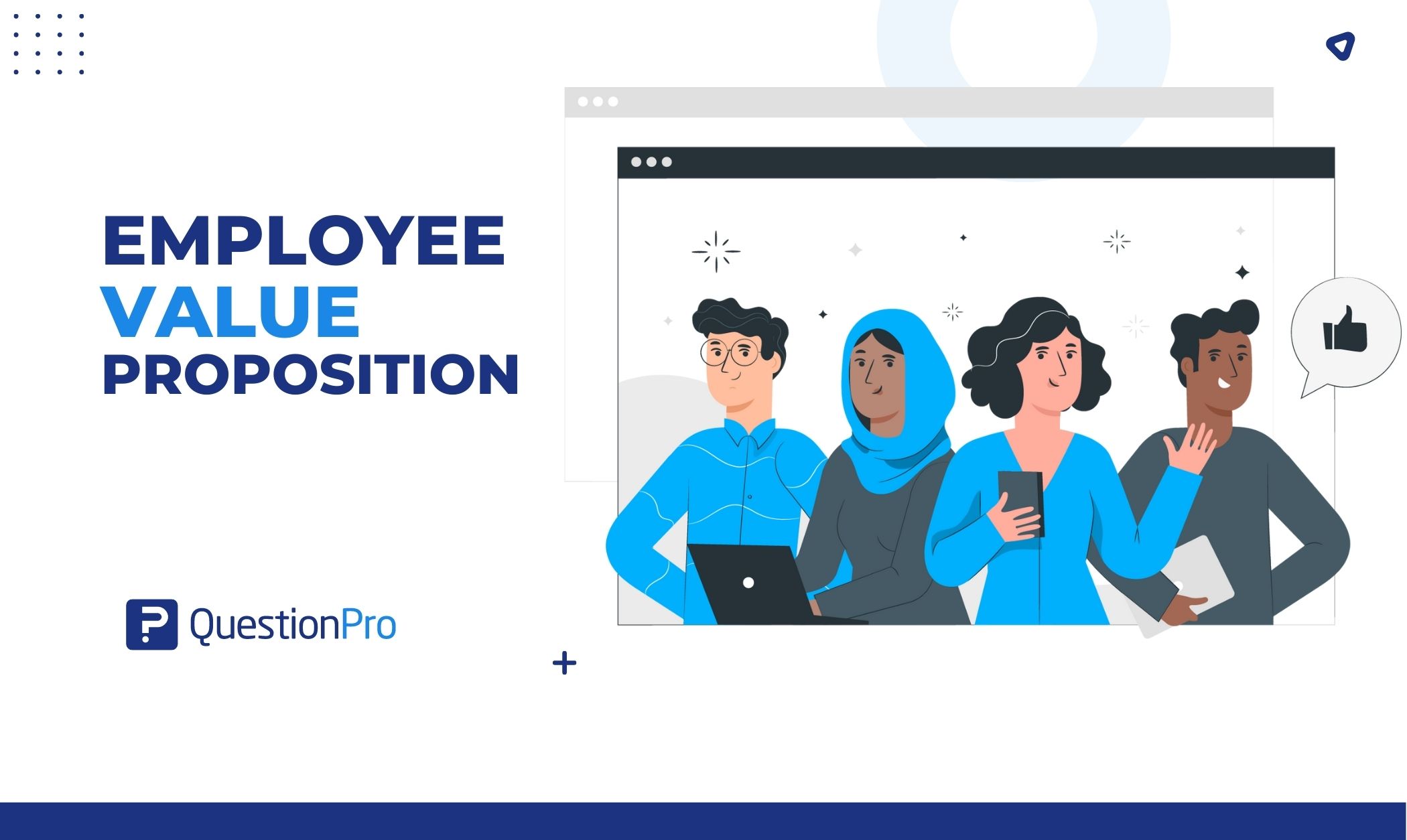 Owners and managers of businesses have always known that taking care of their employees is good for both sides. Because of this, we take the time to talk about the well-being of workers whenever we can, and this blog is no different.
Your employee value proposition is the most important part of your Employer Brand. It should explain what your company does and what makes it different. We will discuss the EVP and explain its key elements with examples.
LEARN ABOUT: Candidate Experience Survey
What is the employee value proposition?
An Employee Value Proposition is what you promise your employees in exchange for their hard work. This promise includes the total of all the advantages and awards employees receive from the organization they work for.
EVP is also defined as the unique set of benefits an employee gets because of the skills, abilities, and experience they bring to an organization.
An EVP outlines why a candidate should apply for a job with a company and what benefits they would receive. It's also an excellent tool for retaining talent, and companies with strong EVPs typically have higher retention rates among their top performers.
LEARN ABOUT: Employee Care
Elements of the employee value proposition
A strong Employee Value Proposition includes several elements. These elements influence how your employees approach your company as an employer. Here, we will discuss some key elements of the EVP for your better understanding:
Compensation
This element of employee value proposition, often known as compensation and benefits, covers your employees' salary satisfaction, bonuses, and evaluation system. Fair compensation based on performance is one of the seven best HR practices.
LEARN ABOUT: Salary Survey
Surprisingly, pay may not be equally important to everyone. There are differences between the generations in the workforce. For example, the younger generations care more about development than the older generations do.
Work-life balance
It is all about the advantages. Consider everything from paid time off and vacations to flextime choices and retirement plans.
Employees value most of the benefits of flexible hours, the chance to work from home, paid vacation time, and paid parental leave. But there is no magic recipe for benefits that works for everyone. People value different benefits, so try to personalize as much as possible.
Job Security
Stability or job security refers to career stability, the opportunity for your employees to advance their careers and improve themselves, and employee training. It is where your learning and development efforts and any mentoring or coaching programs you've set up in the organization come into play.
Location
This element of the employee value proposition is about much more than just where your office is located. Consider its location in the broadest sense: a nice work environment, some flexibility, work-life balance, and so on.
In fact, the location has a lot to do with how employees feel about their work environment, which is made up of three parts: technology, physical space, and culture.
Respect
Respect is about great relationships, support, and team spirit, among other factors. Respect is important, but it's also important to consider your corporate culture and the fundamental principles that guide it.
How to make an effective employee value proposition?
Use this guide to make an EVP and start putting this program to use in your company:
Step: 01 Plan your goals
Before you begin designing an Employee Value Proposition, you must first outline the goals you intend to achieve with its implementation.
These goals include attracting fresh talent, establishing a business presence among employees, increasing the number of candidates, lowering recruitment and hiring costs, and so on.
Step 02: Recognize your ideal candidate
The next stage is to determine the attributes and capabilities that the employee you wish to hire and keep in your organization should have. To do this, you should list what the perfect employee would be like.
But it's not enough to just think of the person who would be perfect for the job and who has all the qualities on your list. It is very important to give top priority to someone who fits the culture of the organization.
Step 03: Define your EVP
The next step is to specify each element or advantage you have as an employer to attract the best candidates by defining your EPV.
These elements can include:
Attractive job benefits
Career opportunities
The workplace that allowed them to grow
Their ideal workplace
Step 04: Do your research
This step of employee value proposition is very important for a good Value Proposition. It involves setting up all the channels to help you get solid answers for your research. Surveys could be an appropriate tool.
We suggest sending an email survey so people can answer from anywhere and anytime. The goal is to identify all of the communication channels that can assist you in making your brand known to the ideal candidates.
QuestionPro is a complete survey software platform that allows you to do any kind of survey with its versatile survey features. You can conduct a work climate survey to solicit employee feedback on the proposed proposal. Contact QuestionPro if you are thinking about conducting surveys.
Step 05: Personalize your proposal
You must do more than research to make an Employee Value Proposition. If you want to get the right candidates, you need to divide your audience into groups and make proposals that fit each group. The goal is personalization.
LEARN ABOUT: Workplace Employee Experience Examples
Examples of the employee value proposition
Even though there are many ways to explain how to make a good employee value proposition, we will look at five key examples to help you improve this in your company.
Here are 5 examples of employee value propositions you should know, in no particular order:
If our leadership is lacking, our employees won't be happy. Furthermore, we must always set a good example. But we can not expect an effort-based culture if we are always late and the first to leave.
Companies all over the world face the same issue. They have many bosses but few leaders because a true leader is the one who motivates his troops and gets them to work together to accomplish all possible successes.
Although a leader is as important for a company as a prime minister is for a country, it is very difficult to sell a product and motivate your employees if your organization does not exercise some key values. Because, in the end, we work with people, not machines.
When we wish to increase our employee value proposition, we must remember that our workforce constantly requires genuine motivation to perform at their highest level.
And none of them will do anything for us until we communicate that to them before we become an organization. We are human beings who value fairness and respect.
A good work-life balance is one of the most important things for many people; if they don't get it, they may even quit their job. As a company, it is your job to come up with a work plan that lets:
Flexibility
Build employee loyalty
Increasing the employee value proposition.
How does QuestionPro Workforce help in employee value proposition?
QuestionPro Workforce is a platform that offers different survey and analytics tools for measuring employee satisfaction, engagement, and other key metrics related to the employee value proposition (EVP).
These tools assist businesses in gathering insights on what employees value and what may be improved to improve their work experience.
By looking at the survey data, organizations can change their EVP to meet the needs and expectations of their employees. It makes employees happier and more engaged with their job roles.
Conclusion
A company's talent management strategy depends on its employee value proposition (EVP). An effective EVP is a clear, concise statement that explains the unique benefits and rewards that employees can expect from working at the organization. It describes remuneration, work atmosphere, growth prospects, work-life balance, and more. 
LEARN ABOUT: Employee Rewards Ideas for Employee Engagement
A strong EVP may set an organization apart from competitors and motivate employees. Organizations may develop an excellence culture that attracts top people and drives commercial success by investing in their EVP.
QuestionPro can help you with your EVP with its rich survey software tools. By using QuestionPro Workforce to evaluate and improve their EVP, organizations can create a more engaging and fulfilling work environment for their employees. It can lead to higher employee satisfaction, retention, and productivity.
So, try out QuestionPro today!