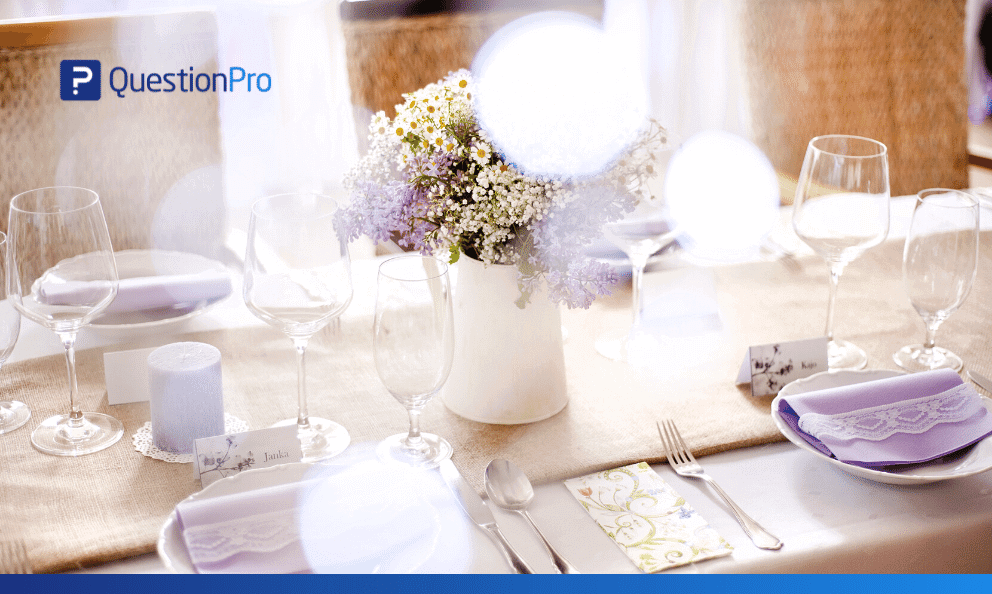 It takes a lot to make an event successful. At times, teams work day and night to make sure it's a pleasant experience for the attendees. But, how do you know if the participants were satisfied?
There's a lot to be done even after the event ends. Some of the questions that need to be answered are:
Was it worth it for the sponsors?
Was it helpful for the attendees?
Were attendees happy with the arrangements?
And so on.
A host of the event knows more or less whether the event went well or not, but the feedback gathering mechanism needs to be more sophisticated, professional and technology-driven. 
Also, some of the participants might stop by and tell you how it went for them, it is important to know the views of all of them. To know whether the event attendees were satisfied or not, you need to ask them.
Online survey software offers a good solution when it comes to collecting and analyzing data. They also offer ready-made event satisfaction survey or hotel survey templates that are prepared by professionals. These templates are easy to use and can be customized to meet your needs.
What is an event satisfaction survey?
An event satisfaction survey is used by the organization to measure the attendees event feedback and make necessary improvements. Through this survey, you can find out if the sessions were good enough; the event was informative or not, presentation skills of the speaker, accommodation, and so on. 
The organization which conducts events on a regular basis must keep a mindset to measure their success after each event gets completed. This measurement will help the companies to learn and take the necessary steps to make future events more successful. If you are an event manager, then you should keep on improving the structure of the event for both short and long term satisfaction based on the feedback you received from the participants.
Event satisfaction survey questions
You can start with the survey questions that are objective in nature and quick to answer. They can be multiple choice questions, NPS questions or simple Yes/No questions. So in case, the respondents do not complete the event satisfaction survey, you would get high-level feedback from them.
Keep open-ended questions for the latter part of the survey as they are descriptive and subjective. All event attendees may not like giving writing detailed feedback in the beginning, but some may want to share their views in detail. Also, most topics are covered in the beginning. But say, if the respondents want to add anything on top of that, then you can use open-ended questions to learn more about their event experience.
Free event satisfaction survey template
If you want to write your event satisfaction survey questionnaire, here's a list of questions you should include in your survey.
1. How would you rate this event?
This is a simple multiple-choice question to start your survey. Keeping this question on the top will ensure you get an idea of whether the participants were satisfied with the overall event.
2. Considering your overall experience, how likely are you to recommend this event to your friends or colleagues?
This question type is known as the Net Promoter Score (NPS) question. It finds out the likelihood of your attendees referring to the event to their friends and colleagues. It is an indirect indicator of their event experience.
Based on the score given by the participants, they are classified into 3 categories.
Promoters: Customers who rate 8 and above, and are most likely to attend your event in the future.

Passives: Customers who rate 6 or 7 have a neutral stand.

Detractors: Customers who rate 5 or below did not have a great experience and are likely to share their bad reviews with others.

3. How well did this event meet your expectations?
The success of an event depends on the expectations of the attendees. So, to gauge whether the event was successful, you need to know if you met the expectations of the people who attended it. Also, you might be aware of their goals, you may not know their expectations clearly. While you may already know their goals, you might not know what they were expecting from this event. 
This event satisfaction survey question not only finds out if you met their expectations but also how well they were met. The way your phrase your questions can make a lot of difference while generating reports and making decisions.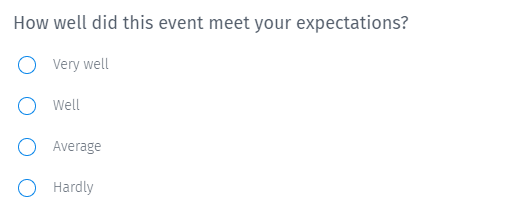 4. Are you likely to attend this event in the future?
A simple Yes/No question that finds out whether all the stakeholders would like to do the same event next year. It can help event organizers to plan for the next event and predict if it will be a success.
A striking characteristic of this question is the number of options. Respondents don't have to spend much time in reading the options and selecting the one. If they aren't sure if they will attend the event next time, they can select 'Can't say'. Keep in mind the various scenarios that the respondents may face and add answer options accordingly. A survey that covers all possibilities in the answer items is considered as an effective job satisfaction survey.

5. How would you rate this event in the below areas?
Event satisfaction survey creators can ask this question to get detailed feedback. It is a multi-point scale matrix question type with multiple rows and columns.  Respondents need to select one or more row items using the same set of column answer options.
Without a multi-point scale matrix, survey makers will need to add many multiple-choice questions. But this question reduces the length of the questionnaire and makes it concise and compact. Thus, it also improves the experience of the respondents and helps increase the survey completion rate. 
In the below question, radio buttons are used, but depending on the requirement, you can also use a checkbox, dropdown list, slider, or textbox.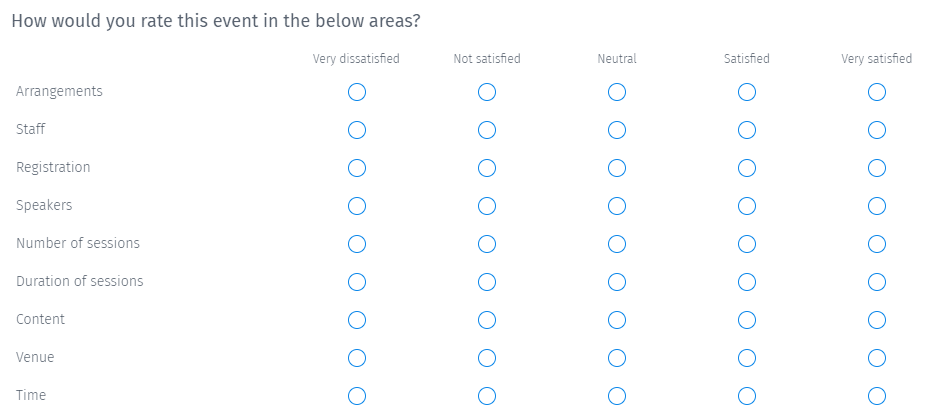 6. What did you like about this event?
This question can help event organizers to know what did the attendees liked most about the event.
To let respondents share what they liked and express their feelings, open-ended question type makes it an apt choice. Also, once you reach mid of the questionnaire, you can ask open-ended questions. It is considered that if the respondents reached here, they are likely to complete the survey.
Alternatively, you can also use a multiple-choice multi-select question type and offer a range of options to select. 

7. What did you not like about this event?
Just as it is important to know what the event participants liked, it is equally important to know what they didn't. It helps organizers find out the improvement areas so that when they host an event in the future, they can offer a better experience to their attendees.

8. Why did you choose this event to attend?
This is again an open-ended text question that will help event hosts to learn more about the reasons their participants attended the event. Learning more about their attendees will help them better organize their future events.

9. How much impact will this event have on your goals?
This question can offer great insights into whether the event actually made any difference in the lives of the attendees. Make sure they take away lessons that add value to their business.
If you don't align the goal of the event with the goals of your attendees, it will not be worthwhile for any stakeholders to organize the event. Based on the responses, you can decide if you need to improve and by how much.

10. Do you have any other comments or suggestions for us?
Finally, the last question that aims to collect event feedback data that might not have been explicitly asked in the survey, but the attendees might want to share. It also offers a chance to let survey respondents give their suggestions or share their concerns if any.

How to make the most from your event satisfaction survey?
Once the event is over, gather feedback from your audience so that you can improve future events, and create effective marketing strategies. Below are the benefits of conducting event satisfaction surveys:
Understand your audience: The more information you collect from your audience, the more you will come to know about their likes and dislikes for the event. These collectible insights will help the organization to take necessary actions for improvements and retain their audience for future events.
Engage more sponsors and boost your success: Many event planners find it difficult to get sponsors for their events. But post-event surveys can overcome this confront. Well, the positive post-event survey results and delivering your event success story will work as proof of your capability to succeed and convince the sponsors. 
Just creating a simple post-event survey will help you to grab the sponsors for your event and will add more kindle to your business. 
Improves your future events: Every event planner wants to see the exponential growth of their events in terms of sign-ups, audience, feedback, sponsors, and fundings. To make the most from your recent event and improve the future events, you need to find out the areas of improvement based on the feedback you got from the attendees on the post-event survey.  
From stakeholders and sponsors to speakers and attendees, you know that your event will have an audience with different interests. By surveying all these people, you will get extensive insights on how strongly your event is compatible with your industry's needs. The thumb rule for any event planner is to keep up with the latest trends and changes by surveying more and more audience. 
Take action: Once you have the data, use an event satisfaction survey software to generate analytical reports. Take actions based on the insights gained from the reports and make sure you convey the same to your attendees. The whole process of feedback collection and analyzing data is to make sure your attendees feel more satisfied and achieve their goals.