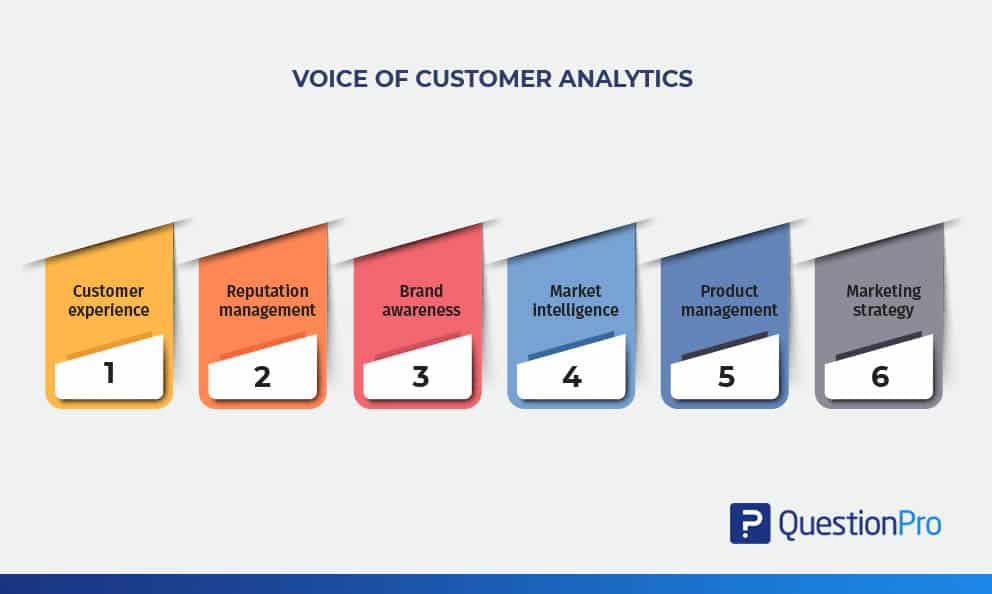 How do you come to know on what basis do customers make decisions? You can engage with them in informal meetups and on social media. But, how do you collate data and generate meaningful insights out of it? This is where the voice of customer analytics comes to help.
Voice of customer surveys creates a communication channel between the business and customers. When you collect data from the right target audience, you can understand their experiences and preferences. You can learn more about what do they think about your products and services. In addition to that, you get to know what's their perspective.
Why businesses need voice of customer analytics?
Listening to customers is the key to becoming the market leader. It sends out a message that you value them and that their opinion is important for you. You can understand and identify various customer personas and learn their behavioral patterns.
Some of the reasons why organizations conduct VOC survey analytics are:
Understand what are the pain points of existing consumers.
Get to know customer experience.
Find gaps in the current market.
Analyze if their product will solve the problem.
Create a two-way communication channel with customers.
Improve products and services.
Innovate marketing strategy.
Find new opportunities.
Explore 350+ free survey templates
How to capture customer feedback for analytics
Voice of Customer data can be used for a wide range of applications, from getting new ideas for the content to the product design. Most awesome products are the ones that are most popular among the users. The reason behind the popularity would be they would be solving people's problems. Organizations need to put themselves in the customers' shoes and understand what they want.
Customer feedback provides a way to let the organizations know if their products or services are working or not. It lets them know if they have been effective in solving people's problems.
Customer feedback collection can be classified into 3 categories:
Direct feedback: Customers contact an organization directly through channels such as surveys, testimonials, customer support interactions, etc There is some company representative who is listening to them and collecting feedback.
Indirect feedback: In this method, customers talk about business but not directly to them. They will post their opinion and experiences on social media sites and review sites. If they had a positive experience, they will refer to their friends and colleagues. To know whether your customers are promoters, passives or detractors, you can run a customer satisfaction survey and calculate your Net Promoter Score (NPS).
Inferred feedback: Users' feedback is also inferred from website traffic, text analytics, purchase history, etc. Their buying pattern is observed to understand if they are having a good experience.
How to use voice of customer analysis tools?
Collecting responses for the Voice of Customer analytics takes only 3 steps.
Design a survey
Distribute a survey
Analyze the results
The data collected from the survey campaign can be used to generate various reports. Some of the reports commonly used by companies to improve their customer experience are:
Trend analysis
Data segmentation
HeatMap analysis
Correlation analysis
Customer experience
One of the primary aims of the voice of customer analysis is to assess customer experience. Their feedback is used to identify what features of the product or services need to be worked upon. Such surveys help to carry out a SWOT analysis based on the word straight from the customer's mouth. Positive customer experience analytics will increase the NPS score and in turn, get you more business.
Reputation management
A good online reputation score is a big asset to a company. People research online before buying new services. They want to know about other customers' experiences. If they see too many grievances and worse, complaints that haven't been paid adequate attention to, they are less likely to trust you. Hence, what people speak about matters a lot.
Brand awareness
Voice of Customer Analytics can be used to find the reasons your brand appeals to the customers. Based on the questions around the 'X' factor that attracts them, you can measure the market value of your brand too.
Market intelligence
The customer's voice lets you find out how does your product stands as compared to other players in the market, what do they like about others and their list of "good-to-haves". It can also uncover potential danger areas and sign a red flag based on their opinions. Apart from these, you can analyze what factors influence their buying behavior.
Product management
Product usage and experience statistics can give insights on which features should be further developed. You can also find out what among the performance, quality, UI, and UX is most valued by the customers and that one thing they badly want you to improve.
Marketing strategy
There have been cases when customers wished for new features but weren't aware that they already existed. This points out the need for user training and change in the marketing strategy. Users will have a far better experience if they regularly get emails on new features and enhancements. It will also reduce customer support costs. Also, you can get ideas for the social media marketing strategy from their feedback.
Voice of Customer analytics can be used in many other ways to improve customer experience and grow your business. To learn more about how QuestionPro can help you, get in touch with us. We would love to have a chat with you!
At QuestionPro, we work on what we believe in. Schedule a demo with Ken and discover how to boost customer loyalty and collect valuable consumer insights through our CX survey and analytics management platform.