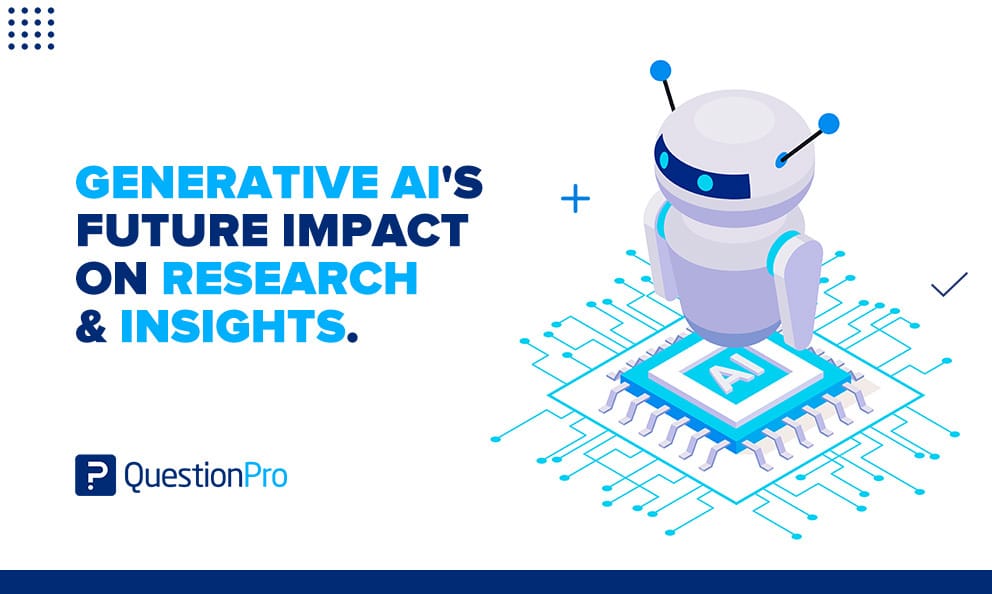 Market research is the cornerstone of brands and strategy. With generative AI expected to grow at 42% over the next decade, there is a case for it to be an integral part of transforming insights faster and more efficiently. Learn how QuestionPro is aiding in the native use of generative AI to usher in a transformation of insights as we know it!
What is Generative AI for Research?
With an ever-changing consumer economy, global market conditions, and the need to be agile, market research is now the cornerstone of business strategy. In the past few years, the global market research industry has seen two instances drive it further into being agile and digitizing quantitative and qualitative market research – the global pandemic and, most recently, the accessibility of generative AI.
The market research landscape underwent a profound transformation during the global pandemic, constantly changing consumer preferences and economic trends rendering previous research obsolete. Real-time and agile insights became essential in this dynamic environment, prompting researchers to adapt and stay ahead of shifting trends and demands.
The accessibility and democratization of generative AI, even though artificial intelligence has been around for a while, has further pushed the research and insights industry to the precipice of adopting conversational AI as an essential part of market research.
From generating research ideas, validating past hypotheses, analyzing large data sets, and evaluating human emotion in qualitative research, AI is pushing the global research industry towards Research 3.0. This evolution involves embracing direct and non-direct research methodologies, leveraging extended media, chatbots, reduced human intervention, and observational research.
With generative AI expected to grow at 42% over the next decade, recent studies have shown that the market research industry will see some traditional roles redundant while simultaneously pushing the boundaries of market research to hyper-agile and intelligent insights.
As someone with extensive experience in the research and insights industry, I have rarely seen technology drive such swift advancements, reshaping how insights are managed and utilized. Generative and conversational AI market research tools have revolutionized the field by continuously learning and providing intelligent and adaptive answers, fostering a more efficient research process.
Earlier this year, on a "Live with Dan" episode, esteemed market research leaders like Jamin Brazil, Vivek Bhaskaran, and Leonard Murphy discussed the impact of ChatGPT on data quality in research and insights. We at QuestionPro, being early adopters of generative AI in market research, have seen the industry surpass the interest and adoption in this field.
Overall, generative AI's influence on the market research industry has been transformative, propelling it into a new era of innovation and adaptability.
However, engraining AI in market research is yet at a nascent stage and needs the push from research facilitators to help increase adoption.
Democratized and Agile Research at Scale with Generative AI
At QuestionPro, a pioneer in web-based research technologies, our focus on generative AI has revolutionized the insights management process. From research ideation to insights management, we integrated artificial intelligence into our technology manifesto and natively into our product suite, streamlining research at scale while maintaining efficiency and cost-effectiveness.
Our proprietary AI research engine, QxBot, plays a pivotal role in multiple stages of the research process, simplifying complex tasks and expediting innovative research. Here's how we empower researchers and brands to leverage generative AI:
Build surveys on any topic within seconds: With conversational AI integrated into our survey platforms, users can effortlessly create surveys on diverse topics, reaching a broad audience within seconds. QxBot generates research studies with intricate logic and advanced quota management.
Retain legitimate survey data within your research: Intelligent development by QuestionPro ensures the elimination of poor responses generated through AI, safeguarding the efficacy of research studies to maintain a high level of data quality. Our intelligent machine learning-enabled engine also validates qualitative research studies and data to minimize non-human interaction with data.
Simplified data synthesis and natural language processing (NLP): Generative AI automates time-consuming tasks like data synthesis and qualitative research data transcription, yielding meaningful insights. Access motions, sentiments and trend lines with discover, which is surfaced through native AI integration in our qualitative and quantitative platforms.
Visual representations and custom images in research: Leveraging a generative AI engine and OpenAI's Dall-E, QuestionPro enables users to draw visuals from text and prompts, offering visually accurate images within the survey tool.
Data-based storytelling with intelligent dashboards and widgets: Researchers can easily create smart, customizable dashboards within seconds from survey data, identifying trends and patterns. Furthermore, you can automatically generate insights for widgets added to the dashboard
Enhanced insights repositories: By analyzing vast amounts of research data, generative AI eliminates tribal insights and siloed information, leading to better insights management within InsightsHub.
Generative AI's potential in research processes is boundless as long as there is a willingness to explore and learn. At QuestionPro, we are committed to pushing the boundaries and advancing the field of market research with innovative and efficient AI solutions.
The future of market research jobs in the age of generative AI
The AI manifesto for many research facilitators, including QuestionPro, will see an addition of investments in technology and processes. It will impact specific roles, however, leading to more significant innovation.
The impact of generative and conversational AI on researchers and brands depends on their comfort level with technology, playing a more profound role in the research and insights management process.
Training generative AI to adopt user personas tailored for researchers and brands offers the opportunity to delegate mundane research tasks to the tool, allowing researchers to focus on generating more intelligent insights. This collaborative approach empowers researchers to strategically navigate vast amounts of data, access diverse demographics, conduct advanced modeling studies, and run agile market research.
Nascent stage studies show that roles like research ideation, data entry, data analysis, report building, storytelling, drawing conclusions and trendlines from past research, and more will see a proliferation of the use of conversational AI.
Generative AI's role in the Next Decade of Market Research
Market research has evolved significantly, transitioning from paper surveys and manual data analysis to where it stands today. With the advent of generative AI, QuestionPro has a mature research platform and the opportunity to take insights management to the next level, revolutionizing market research in the coming decade.
However, to safeguard the research and insights industry, I am a coordinating group member in ESOMAR's AI task force. Leading research practitioners and facilitators under the ESOMAR umbrella established this newly formed cross-functional team to tackle the challenges related to the widespread adoption of artificial intelligence in the global research, insights, and analytics sector.
Generative and conversational AI is here to stay. However, the onus to let it make us better professionals lies on us!