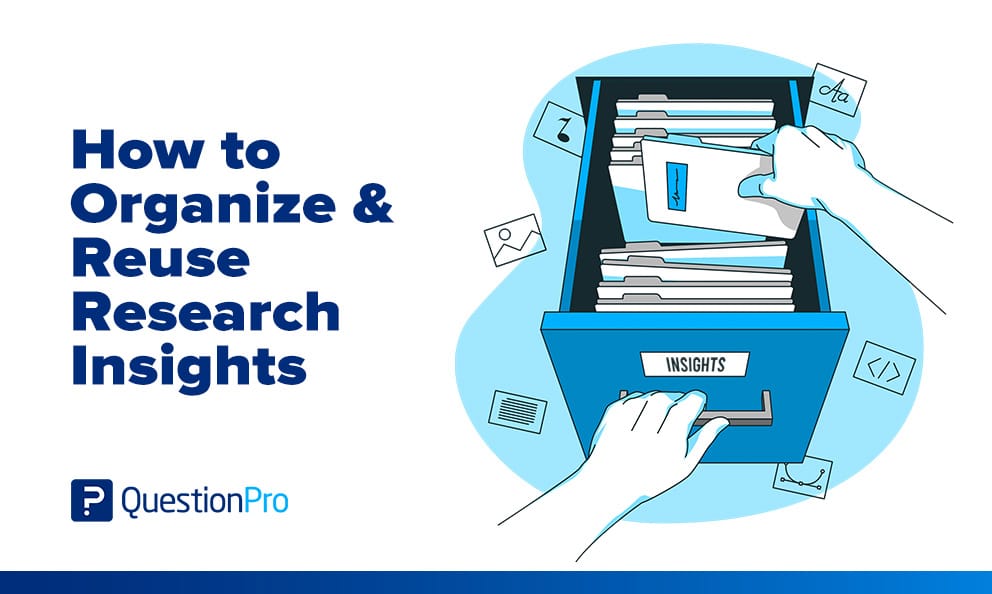 Collecting user insights is critical for businesses, but organizing and reusing these insights, in the long run, is what helps them grow.
Often, organizations possess a lot of research data but soon lose track of the data because it is unorganized or not stored properly. Nobody knows where to look for historical research insights or how to reuse insights previously collected. Research teams end up running duplicate research to collect user insights they already possess. Researchers in recent times have demanded an insights repository to help them overcome duplication of effort and save ample time and money.
What are research insights?
In simple words, research insights are a collection of user insights gathered from various research projects over time. These insights are generally saved in a centralized repository and are accessible to all the stakeholders, on-demand. They are storable and searchable for sharing within the organization with ease. A repository where these research insights are housed must be well organized and reusable to help researchers save valuable time, effort, and cost.
LEARN ABOUT: Marketing Insight
How can you organize your user research insights?
Here are a few helpful tips for organizing your user research insights:
Build a team that leads the insights hub: The research team and business stakeholders should form the core and be the primary owners of the user insights repository. It's best to appoint leaders from within this team to drive the activities related to the data repository. Ensure that the leaders have an overall understanding of the organization's research goals, both short and long-term. The team should be responsible for adopting the insights hub, handling research projects, setting guidelines, and managing it overall.
Consolidate and organize projects of the past:

Ensure to update the repository with insights from past projects. You can organize them by location, time, industry, projects, etc. Don't forget to add insights from the projects you're currently running too. This enables business stakeholders to gain access to research information, derive insights, or map the ROI of research projects.

Put all the relevant information together:

Relevant info means supporting information that will enable better reuse and understanding of insights. This information can be anything from notes, minutes, observations, best practices, feedback, or other data that allows you to make better sense of the user insights gathered. Use correct tagging logic to ensure you retrieve insights more quickly. This practice of adding supporting insights will reduce your time to insights considerably.

Cut down complex studies:

Research studies can be vast depending on the type of study. Some reports get extensive even with full efforts from researchers to condense them. It makes sense to cut down these complex studies into more petite, digestible ones, so looking back at the study in the future can be much simpler for researchers and stakeholders. Creating snapshots of findings can help stakeholders make faster decisions without referring to all the user insights again.

Tag your insights: Get into the habit of tagging your insights for a smoother experience in future projects. Accurate meta-tagging can go a long way in saving critical research time, paving the way for faster user insights. It helps stakeholders get immediate insights into past or even current projects, allowing them to focus or re-focus efforts to the right places. Tagging helps smoothen the user experience and and it will help you create a kind of Insights Engine to boost your research efficiency.
Why should you reuse research insights?
Research is maturing in many organizations, and user insights are vital in driving a positive change. Often a lot of user data is collected, but reports don't contain all the findings gathered from that study. Once research reports are created, all the additional precious user data is lost.
LEARN ABOUT: User Experience Research
Reusing research insights from a searchable repository reduces wasted effort and boost research efficiency. It makes more sense to reuse these findings or identify patterns across multiple insights than run separate research studies that target the same type of audience and collect similar data.
A research hub can help you quickly trace specific findings compared to looking for insights from published reports scattered across various platforms. As time is of the essence and insights need to be transformed promptly to decisions, reusing already existing insights can help researchers reduce the time to conduct research, boosting research ROI.
QuestionPro's official Insights Hub launch
To aid better research, we officially launched the Insights Hub platform in June 2021. Most of our clients needed this system to boost their research efforts while cutting costs and time. The insights repository now helps customers better understand and manage research insights, and reduce it's wastage. Watch the official launch here.