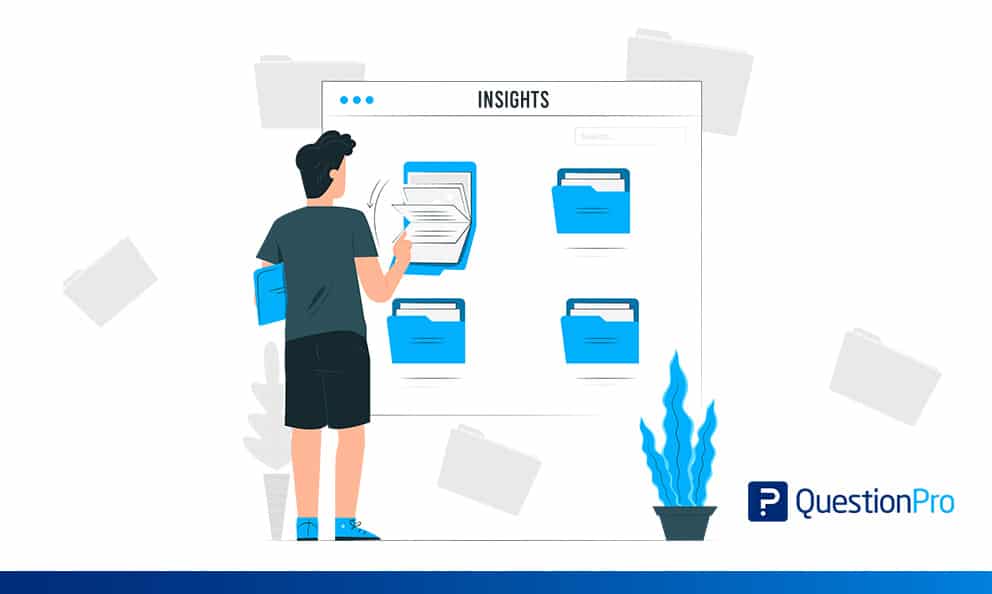 Market researchers are constantly in urgent need of converting market research reports to user insights. The quicker this transformation happens, business stakeholders can make faster decisions. User research today is vast, and data points are captured from different sources. While capturing the data is relatively easy, organizing it is challenging, often leaving gaps in research memory. We've seen a growing need for a user insights repository and created an Insights Hub to consolidate and organize your data for further exploration and discovery.
Why must you have user insights at your disposal?
Organizing user insights with a repository can help eliminate common research problems. Let's look at the real issues that researchers face while maintaining data and looking for it.
User insights are tough to reach: Researchers' data usually lies under mediums like slide decks, emails, PDF, and plain text documents. While sharing files in these formats is easy, it's a poor way of storing data. Retrieving specific information will always be a hassle, even in small studies. Searching for research insights will be a manual effort, and researchers will spend too much time retrieving limited information. Most research projects have different designs to top it off, purely because of different styles and techniques used by various researchers. Someone who is not familiar with a research project will have a tough time locating information and insights. Metadata is another cause for concern. Due to naming conventions not being uniform, researchers may often have to open each and every document to check how old the information is.
Mapping user research insights to actions is tough: Knowing the cause and effect of decisions within businesses is paramount for their growth and success. Being able to map insights to actions helps researchers and stakeholders get a background of the important events of the past. Having an insights repository immediately puts you in a better position to map the decisions because it gives you a clearer picture of the user insights that led to particular choices. Storing insights in an easy-to-use repository is key to going back in time and understanding the situation at any given time. Knowing which data led to a particular decision will go a long way in avoiding any shortcomings of the decisions previously taken while creating a roadmap for accurate decision making.
User insights quickly turn stale: Because of the way user insights are distributed, updating them is almost impossible. Research insights turn stale very fast and turn useless quickly if not organized well. Not all stakeholders have access to the most recently updated information, and it leads to confusion. External members may find it hard to identify whether the insights are still relevant or not. This creates confusion and often leads to research duplication, where research is rerun, and the same data is collected. A research repository ensures to cut out double efforts, saving time and costs. A reference point helps researchers run only relevant studies and collect the necessary information. Stakeholders can access a central repository and look at the latest information to make decisions.
Features of a successful user insights repository
Here are the features that make a user insights repository a success
Unified data management hub:

The insights repository should be a one-stop solution for creating new projects, managing them, storing information, searching for insights, and sharing it. It must have the ability to display data in real-time to all the stakeholders at the organization. Having a repository with access to user insights on demand boosts decision-making efficiency.

Transparent:

The goal of a user research repository is to offer as much transparency as possible for better decision-making. A unified

insights hub

ensures that all stakeholders have access to the same information while making decisions. Transparency is necessary to reduce the risk of misinformation passed around and keep everyone on the same page.

Easily accessible:

The user repository is accessible to all stakeholders anywhere in the world. The ease of access ensures that researchers don't spend time trying to collect data that already exists. Larger organizations benefit from a unified hub the most as they have offices spread across the globe. Research teams can build on top of already existing projects and share the information across the organization. They no longer have to worry about working in silos.
QuestionPro's Insights Hub launch
We at QuestionPro recognized our client's growing need to access a centralized user insights repository for better data management, faster insights, and cheaper research costs and so we officially launched the Insights Hub in June 2021. Join us in this journey of transforming research data into action while saving costs and efforts. 
Finally, we recommend you read our article where we explain everything about an Insights Engine.