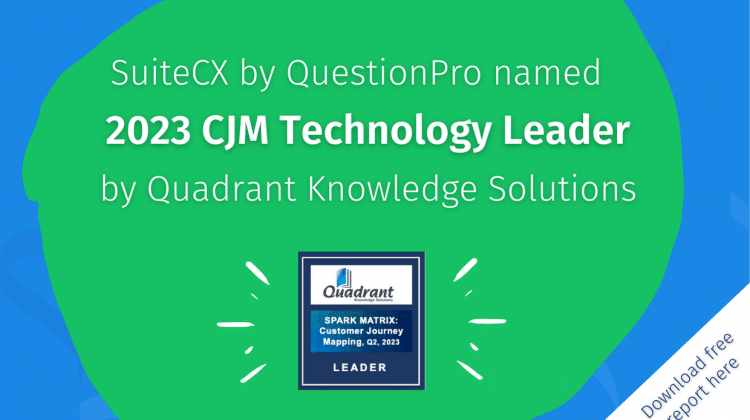 SuiteCX by QuestionPro is named amongst the top Customer Journey Mapping (CJM) vendor technology leaders platforms in 2023 regarding customer impact and technology excellence.
The industry analytics company, Quadrant Knowledge Solutions, went on to say in the CJM 2023 report, "SuiteCX enables organizations to visualize end-to-end, strategic, and persona-based customer journeys, integrate customer data into journey maps, track & measure the impact of changing CX landscape, and formulate strategies for customer retention & acquisition."
According to Nikhilesh Naik, Analyst, at Quadrant Knowledge Solutions, "SuiteCX by QuestionPro provides a wide range of mapping visualization templates as well as the facilitation of rich set of persona creation, and offers innovative UI capabilities to deliver sophisticated customer journey mapping. The company's CJM software empowers its users to formulate decisions to improve interactions, create persona-based maps, perform data-driven tracking, measure the impact of customer interactions, and visualize the implemented customer experience strategies."
Download for free the 2023 CJM vendor industry analyst report here.
SuiteCX's customer journey maps hold a range of data sources, including sources from surveys that include VOC, VOE, VOI, interaction metrics consisting of NPS & CSAT, big data analytics, segmentation, clickstream, & mainstream data for measuring the experience of the customer throughout its interaction with the organization.
This is not the first time QuestionPro has been recognized as a top VoC and CJM global vendor. In 2021, QuestionPro CX was privileged to receive the highest score out of 15 total VoC providers in Gartner Voice of the Customer Rankings; that same year Quadrant Knowledge Solutions ranked QuestionPro amongst the top global performers and technology leaders in the SPARK Matrix analysis of the global voice of the customer (VoC) platforms market. Furthermore, last year QuestionPro in partnership with The National Independent Soccer Association (NISA), was awarded Gold for Best Innovation in CX and Bronze for Best Measurement in CX by the US Customer Experience Awards™ (US CXA'22).
Quadrant Knowledge Solutions is a global advisory and consulting firm focused on helping clients in achieving business transformation goals with Strategic Business and Growth advisory services.
Download for free the SPARK Matrix™: Customer Journey Mapping (CJM) Platform of 2023 to review the detailed competition analysis and vendor evaluation with the proprietary SPARK Matrix analysis.
SuiteCX by QuestionPro offers some of the most advanced customer journey mapping tools available. Gain valuable insights into your customer's journey and map its key touchpoints with SuiteCX by QuestionPro today.