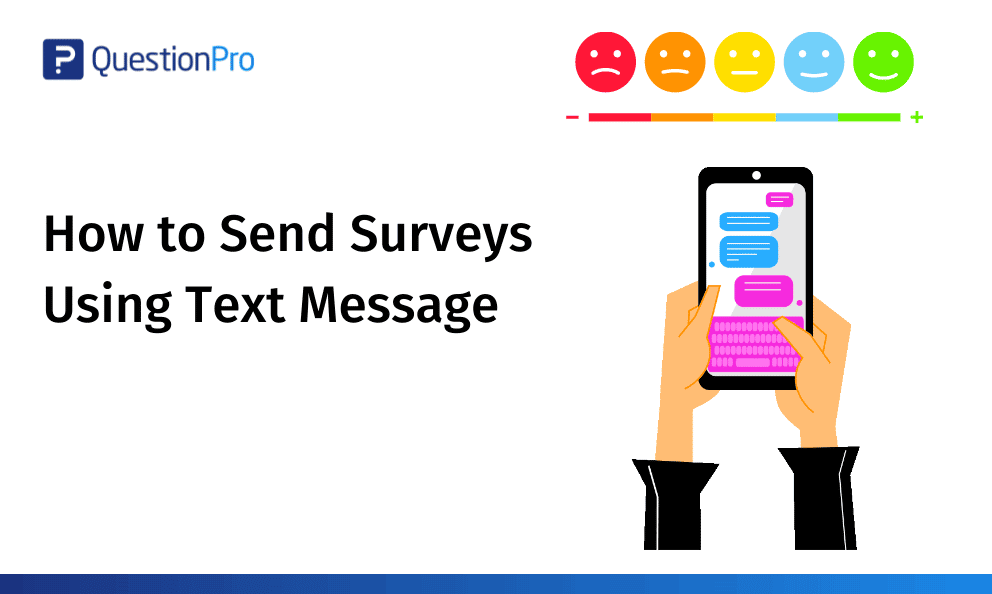 Surveys provide an excellent way to collect feedback from customers, students, or employees. While emailing surveys is a popular method of distribution, you might be surprised to learn there's another useful option.
Text message surveys allow you to connect with participants instantly on a device they probably have close at hand. It's no secret that most people spend a lot of time on their phones. As a result, when you send a text survey, your respondents are going to see it right away.
In this article, we'll look at how to send a questionnaire through text using SMS survey software and how it can help increase your survey results.
Index
How does a text message survey work?
An SMS questionnaire collects fast, simple data from respondents. Many text surveys are only one or two questions long, as shorter questionnaires are easier to answer on your phone.
Here is an example of how an automated SMS is sent to your customer's phone:
The customer receives a notification about the text.

They read the message, which includes a link to take the survey.

After tapping the link, the customer arrives at a simple online questionnaire. The survey should be designed and tested for mobile phone screens.

The customer answers the questions.

Customer feedback arrives on your survey dashboard instantly.

You analyze the responses.
How to conduct an SMS survey or Text survey?
Much like email surveys, your customers need to opt in and provide their phone numbers to receive texts from your company.
For example, you can ask for a customer's phone number as they make a purchase online. You can add a checkbox the customer can click, which then permits you to reach out via text.
Once you have permission to contact customers through SMS, you can set up your survey. The easiest way to create an SMS survey is by using a text survey app or website. These platforms give you powerful tools to analyze the results you receive.
Each platform has its own method of creating a survey, inputting customer phone numbers, and sending texts. QuestionPro SMS surveys, for example, take only a couple of minutes to set up. After creating your survey, you can input customer data, including their email, name, and phone number. You can create SMS templates with a short message inviting participants to follow your link. Once you write your greeting, you can simply select "SMS" from the sending options when distributing surveys.
Advantages of a text message survey
Text messages provide plenty of benefits to help you get the information you need, including:
Increased engagement: Nearly everyone has their cell phone next to them all the time. People are playing with their phones on breaks, during commutes, and before getting out of bed in the morning. Once a respondent sees the notification on their phone, they're unlikely to ignore it.
Fast responses: In addition to increased open rates, your text message survey is likely to see almost immediate replies. Most customers respond to text surveys right after receiving them. Traditional mailed paper surveys must be printed, mailed, and delivered – and then you must wait for the recipient to open it, answer your questions, and mail the survey back. The process could take weeks or months. Even email surveys, which offer instant delivery, usually require the respondent to log into a computer and open their email to respond. Texts give you direct access to your customers.
Avoid spam filters: Emailed surveys can sometimes get filtered into spam folders, while traditional paper mailers tend to get swept into the trash with other junk mail. Text messages overcome these barriers by going directly to customers. Of course, you'll need to get permission from customers before you start texting them.
Enhanced reach: Most people with cell phones can text. This means you can reach a lot of people through texting. Someone who doesn't have an email (or doesn't check it often) still probably keeps their phone nearby. A text survey also makes it easy to reach people from many different areas at once – you aren't limited to one geographic location.
Cost-effective: Text surveys often cost less than other methods of data collection. Most service providers charge a small SMS fee per message. If you need to reach a smaller population, you'll get the cost-saving benefits of texting. Businesses that need to send more surveys can still take advantage of texts as a cost-effective method, as tools like QuestionPro give you the option to purchase SMS credits to cover these charges.
Accurate answers: In the modern world, a cell phone is an extension of its owner. Receiving a message via text encourages respondents to let their guard down. Your participants feel comfortable answering your questions honestly. Additionally, they'll enjoy knowing you value their responses.
When should you not use a text survey?
Sending feedback requests through texts provides immediate insights from customers. For example, you can send out a Net Promoter Score (NPS) question through a text message survey. You'll gather the most robust data by using different types of surveys throughout the customer journey, such as emails or social media polls.
Here are a few situations where text surveys aren't the best choice:
Unreliable network coverage: Not everyone lives in bustling cities with expansive cell networks. If you're gathering data in rural areas or places with poor network connection, your texts may not be delivered on time or at all. In such cases, use offline surveys to collect data. When the devices connect with the internet, all the responses are transferred to the data systems.
Limited answers: Texts are great for surveys with little complexity. When you need to gather more in-depth answers, however, other methods deliver better results. For example, if you want to know why a customer feels a certain way, an open-ended question would allow the respondent to explain their answer in detail. Typing a full response is nearly impossible on a mobile device.
Demographic restrictions: Although cell phones and texting play an integral role in modern society, there are still people who don't have one. An older customer, for example, may not regularly text, and thus would not attempt to answer a survey conducted via cell phone.
In such cases, we recommend using paper surveys. They are simple and anybody can answer, even those who are technologically challenged or do not use a smartphone. This methodology is particularly useful in remote areas in developing nations.
Text survey tips
You hope to get a large number of responses every time you send a survey, as that will give you more data to analyze.
Text surveys face unique challenges. Although you still want to follow proper survey design in SMS surveys, you need to consider the strengths and limitations of the medium.
Use these tips to help you increase response rates and collect accurate answers from customers through text:
Design for mobile: If you send a survey to mobile phones, make sure it renders correctly on that device. This includes testing multiple screen sizes and brands. Thoroughly testing your survey on different screen sizes keeps you from sending a distorted survey or accidentally cutting off questions.
Introduce your brand: Include a quick note introducing your brand in your texts. This helps customers easily identify who sent the text and reduces the chance of your message being considered spam.
Ask simple questions: Phone keyboards aren't designed for writing lengthy messages. Make sure you use simple question types in your surveys, such as multiple-choice or smiley face questions. The way you write questions matters as well. Wordy questions lead to frustrated users who rapidly tire of scrolling up and down. This could prompt them to drop out of your survey altogether, leaving you with less information.
Keep it short and sweet: The overall length of your survey shouldn't be more than a few questions. Customers quickly lose interest in longer surveys when answering on their phones. To get the best engagement, try to keep text surveys to one or two questions. Likewise, the text you send to customers shouldn't be more than a few sentences. SMS messages split your text in half once it reaches a certain length, so keep it short when texting your customers.
Make it personal: Adding a quick greeting with your customer's name makes them feel special. A customer who feels valued by your company is more likely to answer your questions than one who receives a generic greeting.
Use a call to action (CTA): Be sure to include a call to action (CTA) in your text. Since you have limited space in a text message, your CTA should be short and direct. Most texts include a link to the survey and encourage the recipient to tap the link to view the survey.
Think about send times: When you send your texts can make a big difference. For instance, if you want customers to rate customer service at your restaurant, you need to catch them when their dining experience is fresh in their minds. It's best to send the text survey right after they pay their bill, as waiting for a couple of days could lead to inaccurate results.
Add an incentive: Adding an incentive boosts the engagement of any survey. Coupons always make a great incentive, but you can experiment with others as well. Sharing the survey results with participants, for example, provides interesting insights for anyone who took the time to answer your questions.
Reduce survey numbers: Consider how many text messages or other notifications you get in a day. No one wants a constant barrage of texts from a company asking for their opinion. Limiting the number of surveys you send to customers increases your response rates. Most are happy to answer an occasional survey but grow tired of answering questions every day.
Send reminders: Everyone gets caught up in other things now and then. Most people get multiple text messages each day, so it's easy to overlook an invitation to take an online survey. A gentle reminder text letting your customers know the survey is available goes a long way, as long as you're not overly pushy. Use warm, friendly language that invites them to take the survey.
Finding the right text survey app
Writing a great text message and survey won't do much good if the program you use to create and send your surveys is lacking. Look for a survey platform that gives you the tools you need to not only create a survey and send it via text but also analyze the information you collect.
The best text survey app and online platforms give you access to powerful tools to organize your data. The most important features of a text survey tool include:
Analytics tools, such as NPS or GAP analysis

Real-time response collection

Responsive surveys that fit mobile screens

Survey creation tools like templates or sample questions
QuestionPro is a powerful online platform that allows you to create, distribute, and analyze text surveys. Our software gives you the tools you need, such as SMS survey templates, to collect the information you need. Sign up for a free account today to see how the QuestionPro system can help you use text message surveys to improve your business.