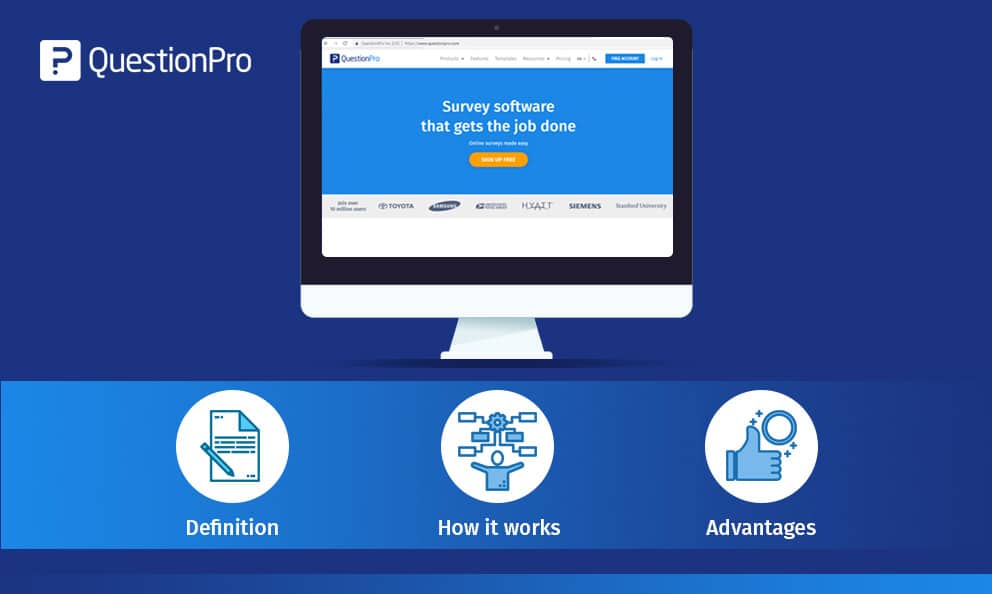 Definition: Survey builder is an online tool or an online platform offering an easy-to-use interface for creating appealing and interactive survey designs. It has all the essential features, tools, and other requisites in a single online platform necessary to build a beautiful yet appealing survey. A great survey builder makes it seamless to create a survey, popularize, distribute, and produce valuable data. It is hard to conduct and manage a survey but becomes pretty smooth when you have a great survey design; designing a powerful survey is possible when you have an equally powerful survey builder.
Example: Whether you are planning to conduct cross-sectional studies, successive independent samples studies, longitudinal studies or want to build a questionnaire, a survey builder eases your efforts by making available all the tools, question types, logic, conditions and everything needed to design a survey holistically. Surveys designed and carried out using a survey builder run smoothly, makes respondents happy, presents more accurate data and secures simple reporting.
Organizations and businesses are interested to run almost all kind of surveys, irrelevant to type and purpose; but all these surveys need one and the same thing – a good survey builder. Businesses do know that running a survey is a costly endeavor; therefore, they want the value they will be getting out a survey must be more than the value invested to conduct it. Now, how to ensure the value gained through the survey is more than the investment? The answer is pretty simple – work on appealing survey design.
Before actually starting to design a survey, it is very important to understand two major things. Try answering these two very important questions and you will find half of your survey building efforts are reduced
Why you need a survey?
Brainstorming over what is expected out of the survey, what is the intention to conduct the survey, what you intend to do with the collected data, what reports you plan to execute and how you are going to access the target audience might give you a good idea to create a great survey design.
What is the goal of your survey?
After having clear thoughts on the need of the survey, you need to focus on the goal behind the survey research. Finding answers to questions like how the collected data will be used and for what purpose will help you define the goal. If your goal is to identify brand awareness, so that measures can be implemented to strengthen the brand position or brand image with focused activities is always a good goal to conduct a brand awareness survey. But if your goal is to overwhelm the audience with futile branding efforts, then you better control your urge.
Top motives to run a survey
To venture business into new territories

To identify key drivers of brand awareness, including competitor analysis, marketing effectiveness, and understanding the brand psychology of respondents.

To collect customer, employee, brand, and product-related feedback and research so that informed and productive decisions will be initiated.

To analyze the market trends for launching a new product/service and for

consumer research

To gauge the customer satisfaction levels

To understand the

hollowness in work culture

To gather customer opinions on a newly launched product

To find loopholes in a business process

To understand employee, customer, partner expectations from the organization
Survey design is an envelope term comprising, questionnaire, theme, flow, logic, conditioning, and expected outcome. Survey Builder is a utility provided as online SaaS survey tool to remove the hardship involved in designing the survey. The survey builder with its simplistic dashboard ensures the survey owner never loses control or ownership of the survey. Using numerous features made available through this dashboard, surveyor or researcher is not only able to create a questionnaire but is also able to distribute, analyze and manage the survey.
There are two ways to create a survey in a survey builder – first is to create it from a scratch and the second one is to create using a template 

Enter the name you intended for the survey

Click on

'Create Survey'

button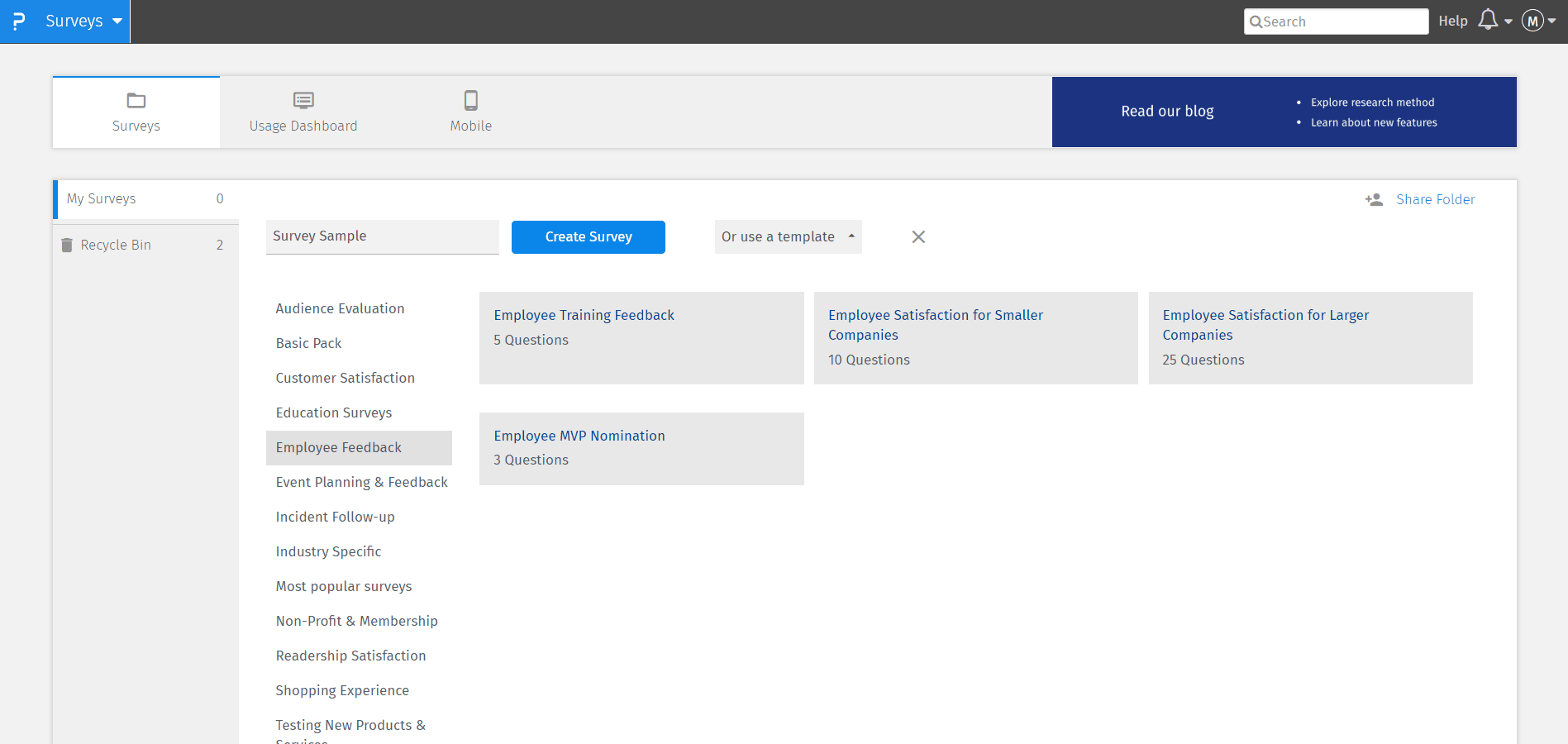 Click on

'or use a template'

option.

Select the template suiting your survey needs (After selecting the template you have an option to check out the template and questionnaire to ensure you can use it or modify it to suit your needs).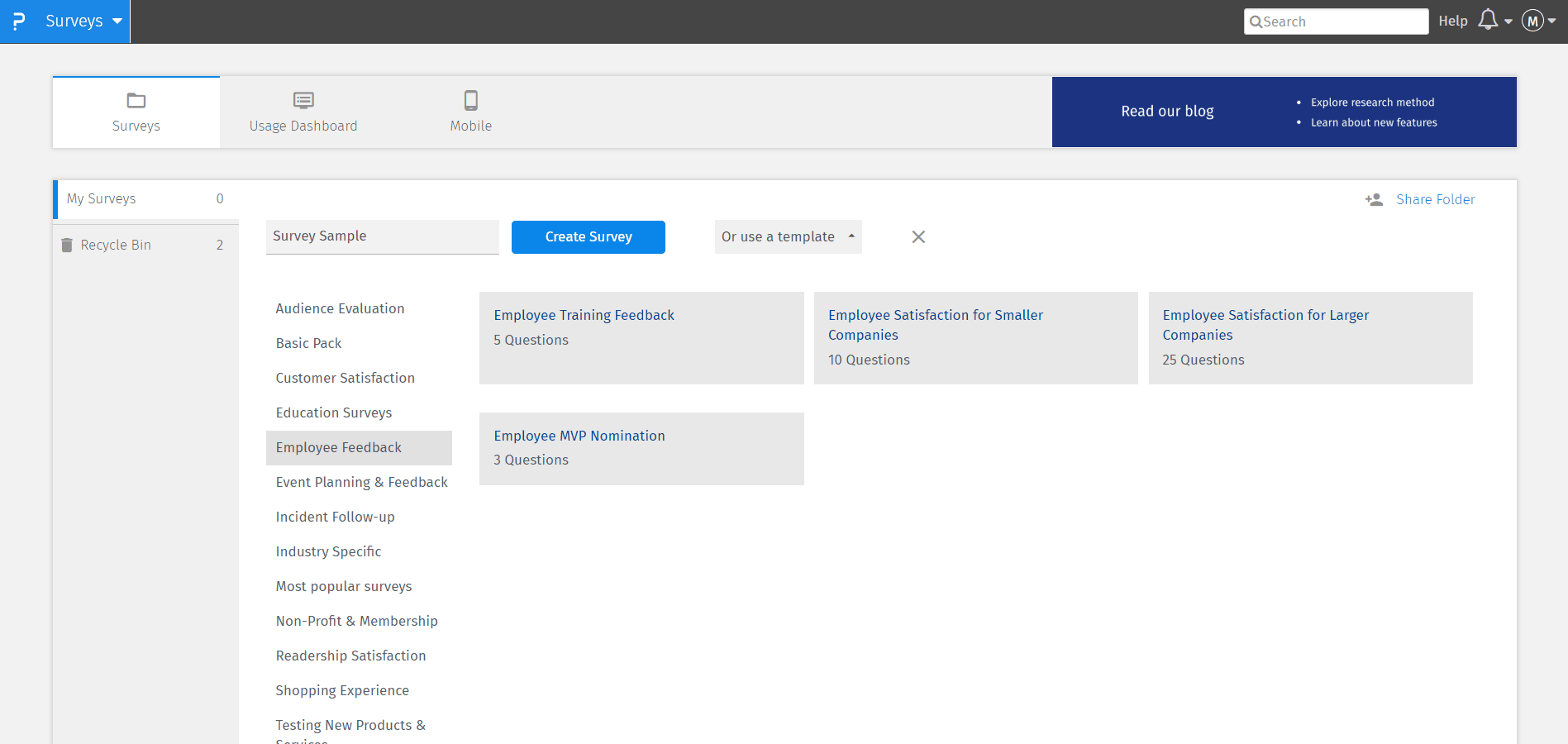 Click on

'Use this Template'

button

Your survey with a sample questionnaire is ready to be used/modified
When you are creating a survey from scratch (Point 1), you need to add questions to the survey
Create a survey and click on the

'Add Question'

button

Question Types
Almost all the survey builder provides different choices of question types. However, the question types are usually grouped under Basic and Advanced question types. Type of license determines whether a specific question type is accessible or not. In addition to that, a number of questions you can add in a survey also depends on the type of license.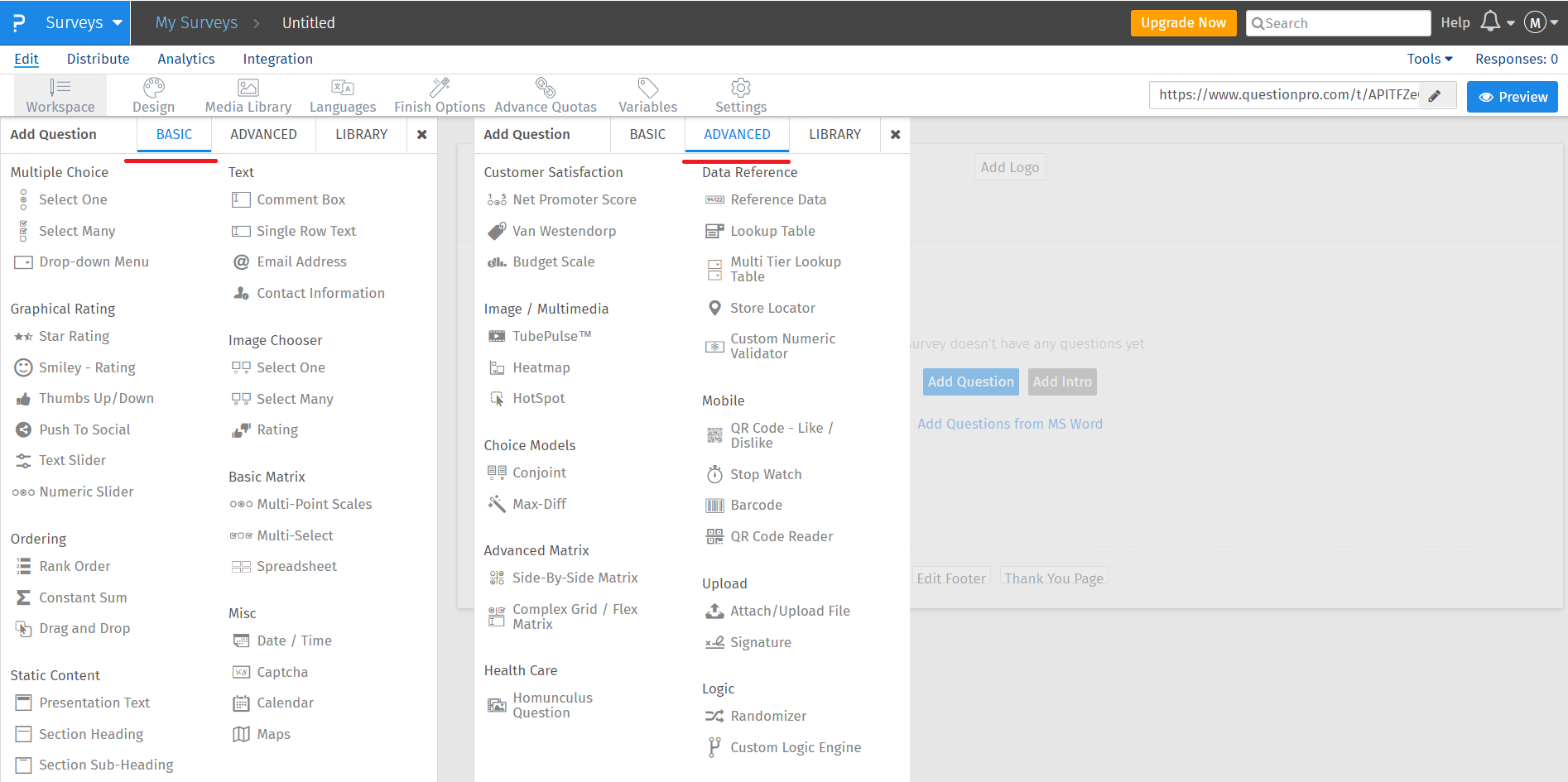 There are about 27 question types grouped under various question types in the

'Basic'

question section of the survey dashboard

Similarly, if you do not find a suitable question in Basic sections, you can add a question from

'Advanced'

question section again having versatile question choices

Select any question type of your choice

Edit the question using 'Rich Text Editor'

Edit the answer options by clicking 'Edit Options in Bulk'
Click 'Add Question' to add another question
Number of questions you can add usually depends on the type of license you have
Deleting a question
To delete a question (active or hover) click on the bin button present at the bottom right-hand corner of the question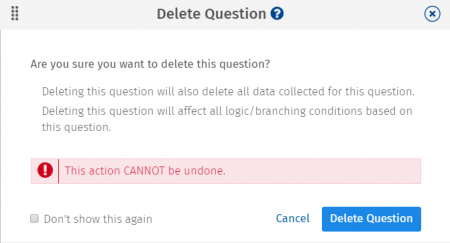 If you choose to press 'Delete Question' the question along with the associated data will be permanently deleted, the action is irreversible
Usually, the survey builder provides full functionality and numerous options to send a survey. However, you need to have your own email list of respondents; else, you need to opt for targeted communities offered by most of the survey builders for extra fees.
Send a survey to the email list
First, you need to create an email list containing email addresses of all the respondents

Second, use a default email invitation provided by the survey builder or create your own

Third, send the survey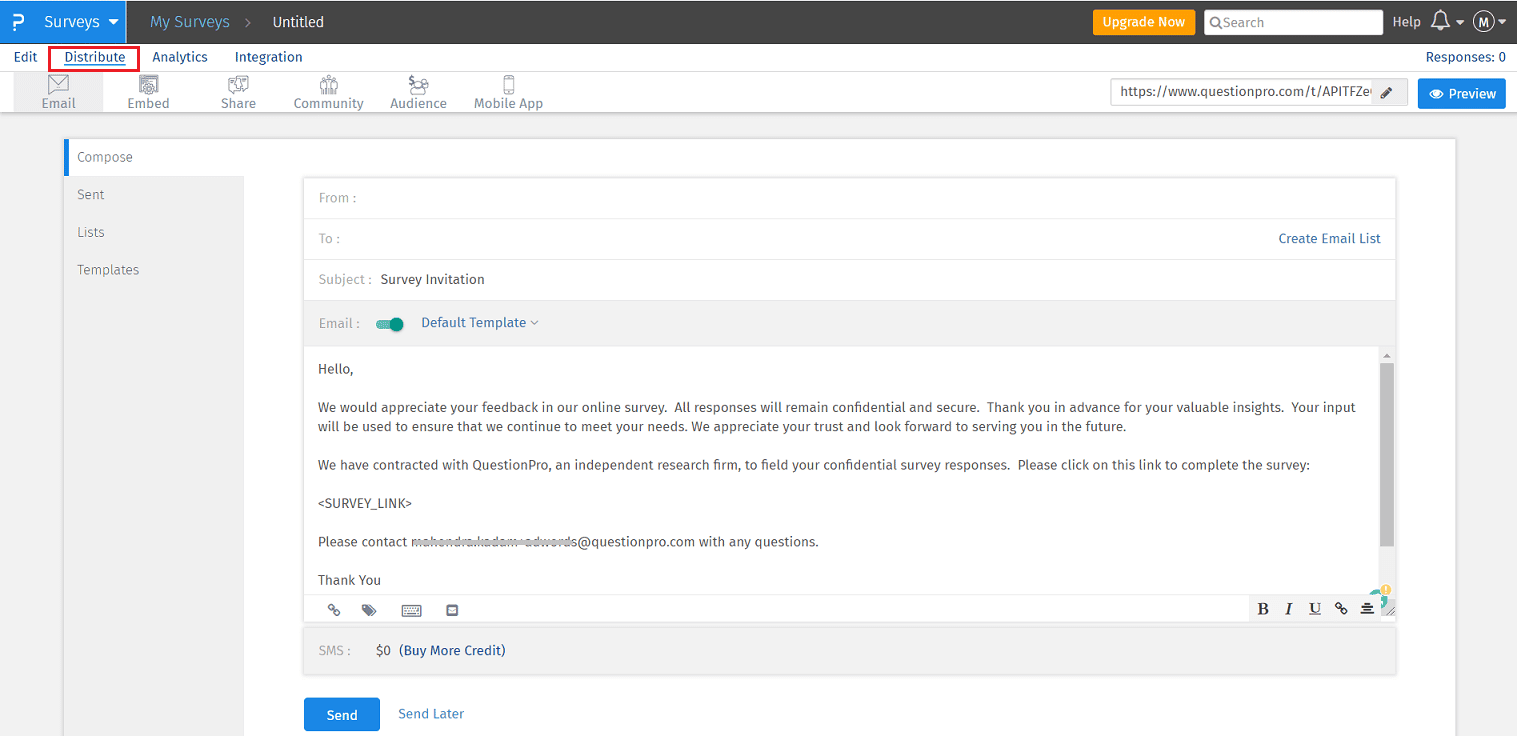 Click on the

"Distribute"

tab present at the top of the dashboard beside the 'Edit' button.

Either customize the invitation or use the one integrated into the builder.
Send a survey using a live survey links
Sending a survey using a direct survey link is also possible. Additionally, you have the liberty to send the link using your personal email address or through the survey builder's distribution platform. However, the surveys distributed using this method does not allow respondent tracking.

Copy the survey link.

Send it externally either using your own email ID or through SMS
Other methods of sending a survey
There are different online and offline methods to send or distribute a survey through a survey builder.
Export Batch

Simple Mail Transfer Protocol

Social Media Sharing

API (Application Programming Interface)

Embedding it in website

QR Code

Offline mobile app
A survey builder offers user-friendly, robust, and affordable online tools so that the organizations designing and taking surveys could gain key insights from the collected data for making informed decisions. Remember, different survey builders have different survey analytic tools and features.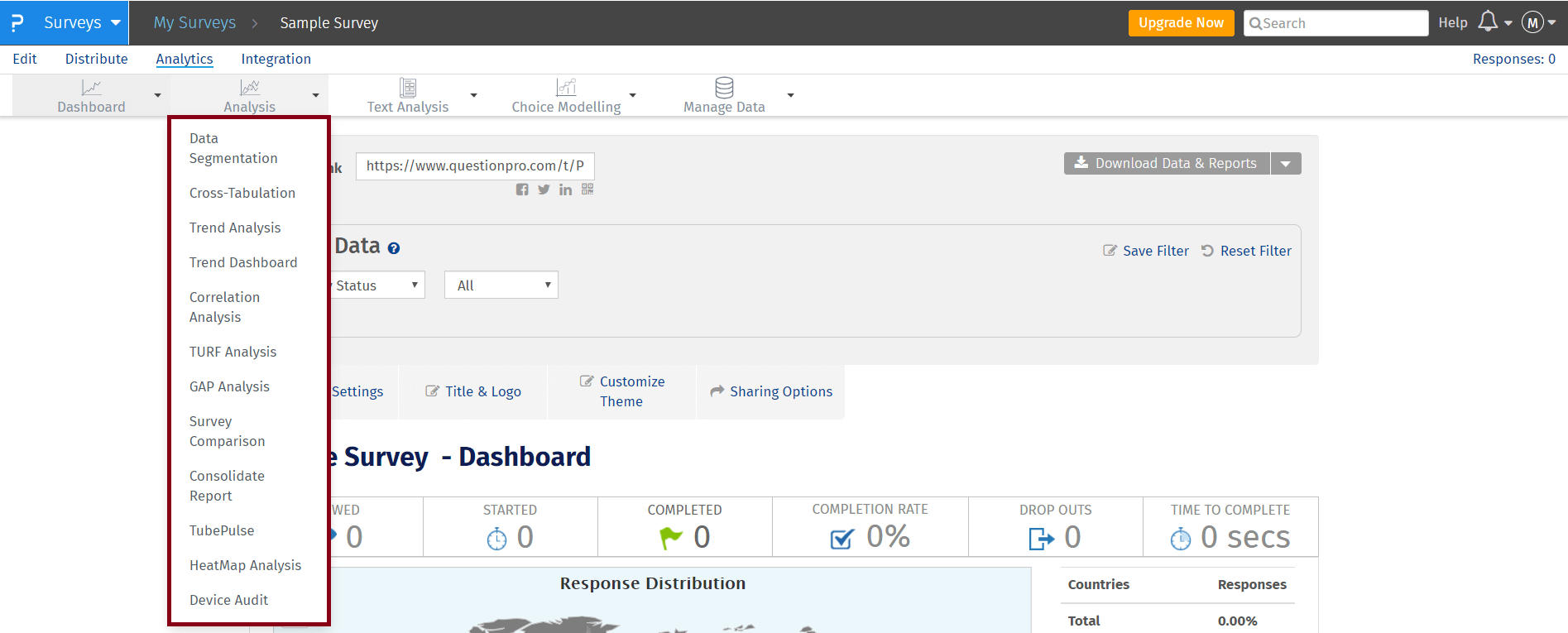 Click on "Analytics" tab -third on the dashboard besides Distribute.
The menu bar will show five different options Dashboard, Analysis, Text Analysis, Choice Modelling, and Manage Data.
Click on the 'Analysis' tab – Choose the type of analysis you want to perform and click on it.
Provide further information and you will get the desired analytic report.
Download Reports:
The survey builder has an integrated feature to showcase your survey findings in a smart way providing you ample opportunities to analyze your survey reports.

Click on the

'Download Data and Reports'

The Drop-down list will show all the types and formats in which you can download the reports. 

The options are divided under three types Raw Data, Reports with Charts, and Statistics Package.
   TIP:
Different survey builders will have different options, features, and functionality. We chose QuestionPro because it is a powerful and innovative Go-To-Market survey builder having an easy-to-use interface that can be used by anyone.
Getting up to speed:
The survey builder platform is based on the best practices of survey methodologies, designing a questionnaire, data analysis, and data visualization. If the surveyor or researchers are aware of the reason behind the survey and goal to attain the results, then the survey builder does the rest. Readymade survey templates suiting needs, or customizing pre-existing templates to match the needs is the best way to save time in creating a formidable questionnaire.
Versatile question types:
A survey builder gives you access to a hundred of question types. From checkboxes, dropdown menu, rating, multi-select, net promoter score, radio buttons, drag-and-drop, continuous sum, social media sharing, to user rating grid, multimedia embed, to demographic questions, a survey builder has all the necessary question types needed in a great survey.
Responsive surveys:
A survey builder offers great flexibility to design anything from a simple contact form to a detailed multi-page survey. The drag-and-drop interface makes it easier for anyone – even the non-coders to build surveys on the go. Furthermore, the surveys created using the survey builder are pre-optimized and responsive enough to work on any device.
Easy survey distribution:
There is no better medium than a holistic survey builder for sharing the survey with the right audiences. Different survey distribution methods and survey permission settings enable factual responses from the audiences thereby increasing the quality of data gathered. Options such as email lists, custom links, survey embedding, social media integration, etc. work in favor of surveyors to reach the right audience interested in giving you the right feedback.
Actionable analytics:
Survey analysis is directly proportional to the decision simplicity index. Different analytics options embedded in the survey builder empower surveyors or researchers to analyze the real-time data under different parameters, to compare data, and draw insights. Moreover, the possibility to download data in different formats including graphs and charts makes it easier to analyze the data to its fullest potential. Graphs help in visualizing data in a wide variety and by focusing on trends you avoid reading between too many differences existing in the data. Analytic precision helps in avoiding sampling errors as the survey builder helps to replicate surveys to highlight signals by distinguishing it from the statistical noise.