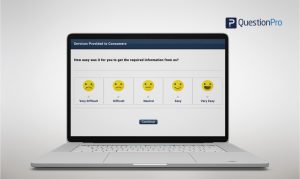 Customer Effort Score (CES) is a type of customer satisfaction survey metric used to measure the level of easiness of a customer's experience using a single question with a view to induce customer loyalty by reducing customer efforts.
Market researchers across the globe focus on innovative ways to measure customer satisfaction with a simple survey and that's where Customer effort score places itself.

Research indicates that measuring the ease of the experience that a customer has with any organization directly reflects onto their loyalty with that particular organization and therefore customer effort score surveys are most often used by customer service teams globally.
Researchers also state that the more efforts a customer has to put in, the more he/she is inclined to move towards disloyalty whereas when a customer has to put in least of his/her efforts, the chances of their loyalty are the best!
Example of Customer Effort Score
Once a simple CES survey is distributed and it's data is analyzed, if your organization has a higher average rating towards the positive options, it certainly reflects that- with lesser efforts to be put in you have made things easier for your customers. On the other hand, a low average (high on the negative options) reflects poorly on a customer's experience with you and indicates that immediate improvements need to be implemented effectively.
Any organization with high goals of customer satisfaction facing trouble with maintaining good satisfaction levels amongst its customers should utilize customer effort score (CES) to measure their service efficiency.
CES is a clear attribute of the complete experience of service quality for a particular transaction any customer has with an organization. The use of such questions is therefore targeted right after an interaction that transpires between the two entities and is drafted in a way to understand the existence of any problem throughout the process of that interaction. Every researcher should have a proper and thorough understanding of the accurate application of a customer effort score survey.

Benefits of Customer Effort Score (CES)
It enables organizations to understand and predict loyalty patterns, repurchases and thereby makes it more reliable and less volatile compared to similar other metrics.
The CES model can be placed within any process involving customer interaction and thereby makes it possible to identify problems or gaps at different steps or levels of the process.
By measuring what drives away disloyalty, this model provides a solid ground to rectify customer issues and induce loyalty amongst users.
The efficiency of all customer experience surveys like CES is largely determined by the accuracy of the benchmarking process put in place thereby.