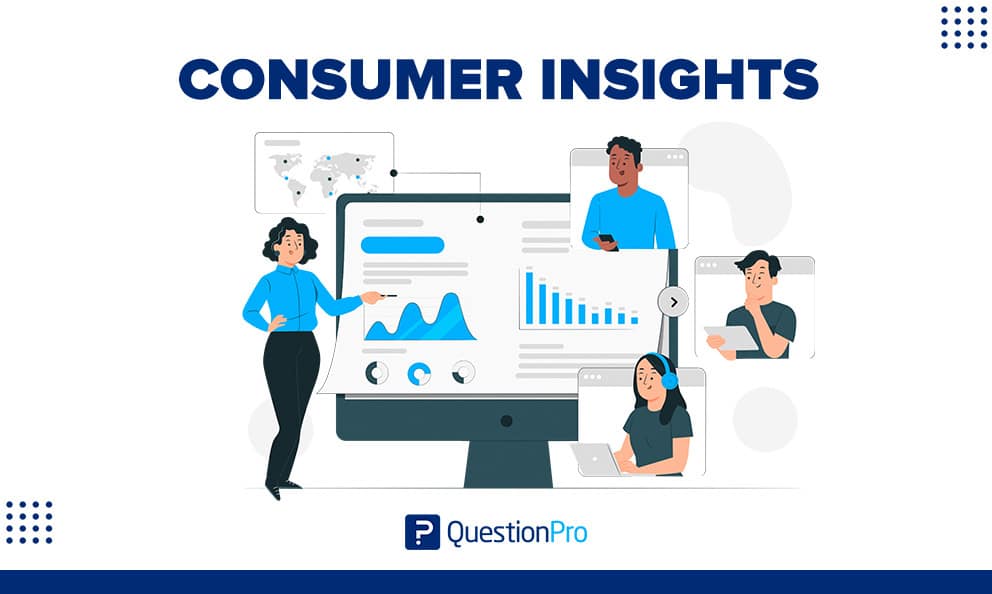 Business exists only because we have customers, listening to what they have to say certainly makes sense. In order to survive against our competitors, Consumer insights become essential. That's why the less the organization understands its customer, the more difficult it will be to survive. It's vital to be as close to our consumers as possible.
LEARN ABOUT: 5 Ways Market Research
What are customer insights?
Customer insights are the data collected from the customers of a company. They're used as a tool and it's been widely adopted by companies all over the world like Apple, Walmart, Kodak, and many more. A business plan is only as good as its consumer insights are.
Business goals can be defined in two ways, what the business wants to achieve and secondly what the customer/market wants today and for the future, by using tools like QuestionPro CX and its homegrown futuristic fundamentals like the NPS+, Closed-loop, and outer loop functions the customer feedback data can be studied seamlessly. 
Customer satisfaction (CSAT) and Net promoter score have indeed opened doors to emotions that drive people to products, with Artificial intelligence the open end data give clarity that can be attended to at all levels. This not only gives insights into the transactional experience but also gives leaders opportunities to plan ahead in terms of roadmaps for the product, service, or experience.
LEARN ABOUT: Marketing Insight
The Role of Market Research
Market Research is a term that refers to the practice of gathering and analyzing data to answer discrete business questions, while consumer research is the practice of studying consumer behavior to drive broader business insights for effective business decision-making. 
For example, QuestionPro Communities and Panel management services ensure pristine quality of raw data and dynamic analysis tools such as Maxdiff & Conjoint analysis define pathways to understand customer expectations and plot the path forward.
Customer Experience tools (Experience management softwares) QuestionPro CX has the capacity to derive NPS+ analytics that highlights key components like churn, sentiment analysis root cause analysis, and certainly an NPS score all in one go.
LEARN ABOUT: Market research vs marketing research
How to get insights from your customers
Technically reverse engineering methods allow small and big companies to retain business by analyzing consumer sentiments and market demands. Market research caters to the latter however consumer sentiment is gauged by collecting feedback at all transactional touchpoints using the scientific method and global metrics.
These metrics allow large volumes of data to be interpreted using simple analytical techniques and graphical representation of the emotion and reaction to a particular service or a product that contributes to adding value to the current transactional instance or larger business aspects that impact the evolution and the scalability of the business life cycle.
LEARN ABOUT: Customer Lifecycle
Insights can be collected by mapping a detailed customer journey and collecting feedback using various channels like Email, Call centers, TV and Radio, Consumer Surveys, Post-call, Web, Social profiles, POS transactional Data, post-mobile app feedback, SMS, and Digital.
This gives managers and operational team members along with executives clarity on the immediate next step and business leaders can take those steps that lead to recurring business opportunities targeting growth with every instance to long-term actionable planning that ensures achieving short and long-term goals.
Processes that involve analyzing customer behavior and the overall brand loyalty that brings customers back for more.
LEARN ABOUT: Consumer Decision Journey
Why are Customer Insights important?
If 85% or more growth in sales is the goal, businesses should certainly focus on customer insights so that we operate in what the customer really wants while market research contributes to leadership decisions that will map out phases for product development and the right product-market fit.
Market research is the first step to gathering information and customer insights follow to generate deeper knowledge.
Takeaway
Customer insights could be your secret weapon when understanding how you can improve your customer experience in many ways. You'll get a better idea of how to optimize your products, and you can also use this information to create new lines and net future customers.
Change is a continuous process so is making money, understanding change, and taking action by planning and implementing strategies. Target and achieve if that's what you believe, taking customer insights into account is the best foot forward. Ask and you shall receive, use a tool to ask effectively, and meet the user's expectations to define successful road maps to 10X growth.
Authors: Fede / Sagar