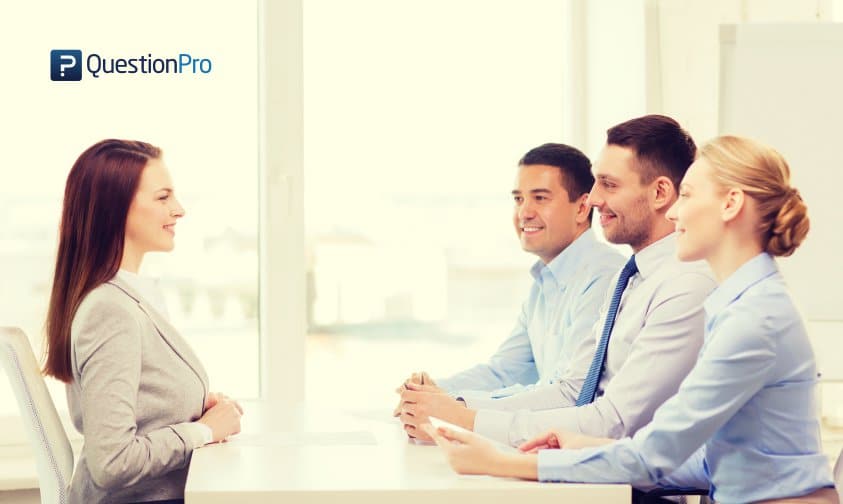 Interview questions to ask a potential employee can be tricky. Any entrepreneur aims to create a high performance organization. It makes sense for many to know that this requires a great team, but few give their hiring strategy adequate time to understand exactly who their ideal candidate is.
LEARN ABOUT: Candidate Experience Survey
What are Interview Questions?
A discussion between two people where the interviewer asks questions which are answered by the interviewee is called an interview and the questions asked are known as interview questions. Usually, interviews are two-way, unlike oration where conversations are just one-way. The questions asked are the pivotal catalysts in the primary objective of the interview, exchange of information.
Ideally, interviews are conducted in person but with the progress in technology, with the help of video conferencing and other similar tools, interviewers are now conducting interviews via the internet. Good interview questions are valued in situations related to employment, research and analysis, media and press, psychology, college or school level etc.
LEARN ABOUT: This or that questions
Good interview questions to ask candidates
The interviewer has to be well-equipped to ask appropriate questions on the basis the candidate might or might not be selected for the desired position. Also, an interviewee has to be extremely prepared to answer the various types of questions that may come their way.
To judge whether a candidate is ideal for a particular job or not, the interviewer must have a list of questions to ask to make well-informed decisions. Here are a few questions that can be asked to a prospective hire:
1. What is that one quality that makes you extremely capable of this role?
Reason to ask this question: The answer to this interview question will almost immediately make it clear to an interviewer whether the candidate is worth being hired for the current position. It gives an interviewer the understanding of the interviewee's thought process and self-awareness in terms of skill sets.
2. Share with us, a few professional achievements which you are proud of?
Reason to ask this question: A candidate will usually be extremely nervous at the start of an interview. Questions similar to this one will not only make them comfortable but will give the interviewer an insight into what the candidate is capable of doing and does that fit their requirements or not.
3. Please tell us about critical hurdles that you successfully overcame over the course of your career?
Reason to ask this question: Behavioral questions such as this one are impactful in a lot of ways. This question will provide details about the candidate's credibility and the type of obstructions faced in the past that will give a fair idea of how well the candidate performs under pressure. Even if it is highly likely that the candidate might not disclose the 100% truth, a vague idea about his/her obstacle handling adequacy can be understood with this question.
4. Which step in your professional world would you like to avoid in the future?
Reason to ask this question: This question is effective in understanding how did a candidate deal with tasks that they weren't ecstatic about. Based on the nature of the answer- tough situations, ignorable situations or peer-related situations, an interviewer can decide a lot of factors such as the nature of the candidate or workplace stress handling capabilities.
5. What is your ideal work environment?
Reason to ask this question: A candidate's expectation from a work culture can prove whether he/she will be able to manage in the organization's culture. For any candidate, this is a very introspective question but the interviewer seeks to understand whether the candidate will be able to manage and put in continuous effort to grow in the work culture.
Learn more: Workplace Culture Surveys
6. Tell us about your relationships with colleagues, managers and other staff members in your previous organization?
Reason to ask this question: Understanding whether the interviewee would be productive and happy working with a particular team is important. Past experiences can give the interviewer a picture about how well did the candidate get along with peers, what were the factors that bothered them or what were the worst interactions they had with their colleagues or managers. Some candidates may feel hesitant when the interviewer asks this question but this question provides insights about an individual at the workplace.
7. What is the reason you are quitting the current job?
Reason to ask this question: This question is most effective to understand whether he/she will manage to stay with the organization for a longer time span and what are the factors which prompt him/her to quit and will make some interviewees uncomfortable. This interview question is generally used to filter those who are best for the current job opening apart from questions on previous job roles and responsibilities.
8. Truthfully, share with us how punctual are you at your job?
Reason to ask this question: It is an interview question that has very obvious answers that all point out to a fact that it is important to be punctual, all the time. But, there are individuals who do not believe in this and might end up saying that punctuality is not an important factor. Understand why are they saying that and judge them once they are done. In case of difference of opinion in this aspect, an interviewer knows what to do!
Learn about: Exit Interview Questions
9. Share a fact that you normally would not share in an interview.
Reason to ask this question: This is an unconventional interview question which gives the interviewer insights about trait/s that the candidate would normally not share in a formal interview.
10. How motivated are you about this position and why?
Reason to ask this question: Motivation or excitement is something that candidates intrinsically come with and cannot be guided. They can be trained for the skills pertaining to the job but if they are not motivated about the offered job role, they might prove to be a bad hire for the company and will lead to loss of time and energy. It is advisable to clarify their level of motivation to be hired and contribute towards an organization in the interview.
Learn about: STAR Questions
Interview Questions for Managers
Here are a few questions that for managers:
You have a lot of work but your team members are facing a lot of issues that day and keeping coming to you for advice. How will you handle this situation?

Share an experience where you had to deal with a tough team member who never agreed to anything you ever did.

There might have been instances where you set far-fetched challenges for your team. How did you motivate each team member to achieve their goals?

In the course of your job with the previous employer, mention one project that you handled from scratch and what were the major hurdles you faced with that project?

How do you deal with assignment of work to each team member?

There must have been instances where an individual was underperforming. How did you communicate that?

Talk about an instance where you head a meeting and how did you put together your presentation for it.
Learn more: Employee Satisfaction Survey Questions
Good Interview Questions for Employer
An interview can deliver prolific results only when the candidates are also given the opportunity to ask the employer some questions. These questions also must not be Yes/No questions or too generic that it may not yield any results.
Here are 5 good interview question examples for an employer:
1. Can you elaborate on my job role?
Reason to ask this question: This is good interview question to be asked to an interviewer so that a candidate understands more about the offered role and create a rough idea of what is in store for him/her with the organization.
2. What is the training procedure if I am hired?
Reason to ask this question: Training is as important as being hired. Being hired is just the start of a journey with an organization. What must follow is a proper training. A candidate must understand whether the training will happen parallelly as he/she works or will there be a specific time period for which they will be trained.
3. In general, what do you expect from a person you would hire for this job?
Reason to ask this question: If a candidate realizes the expectations an organization has for him/her, it will be better for the candidate to strive and perform according to those expectations after being hired.
4. What is the work culture like in your organization?
Reason to ask this question: This question will be perfect to understand whether an individual relates to the company culture and would he/she be able to strive hard to be a part of the organization.
5. After I am done with this interview method, what will the next step be?
Reason to ask this question: The interviewer should know that you are interested in the job. This is a good interview question to ask once every other concern is addressed and the candidate wants to communicate his/her interest in the job.
Learn more: Research Questions
Conduct workplace culture and employee experience (EX) surveys using QuestionPro Workforce. Gather and analyze staff data and make informed employee decisions.