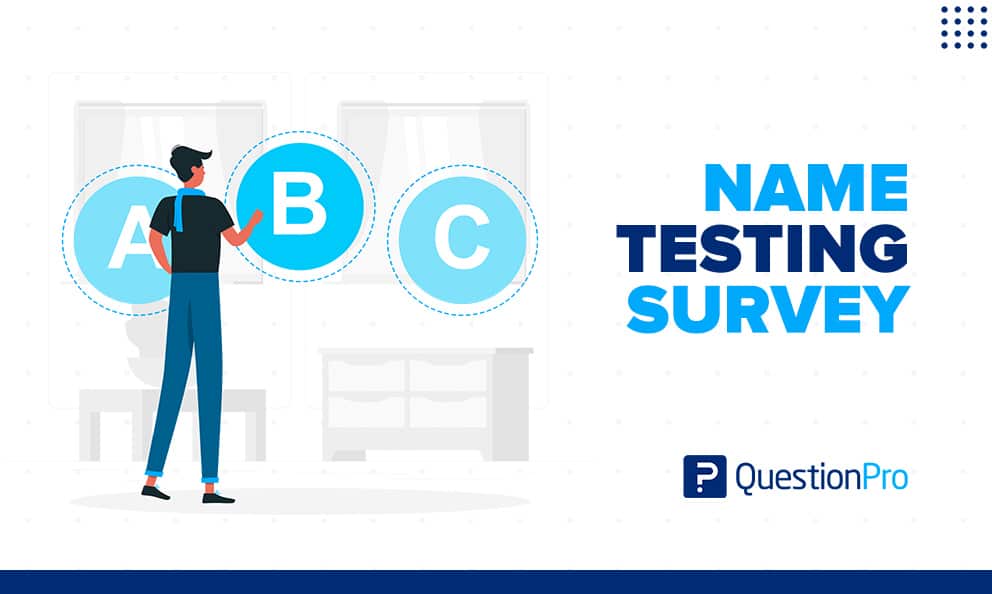 Creating and establishing a big brand in the market takes a lot of effort. From selecting the brand name to ensuring a solid base of satisfied customers, it requires a tremendous amount of market research to gain insights into customer preferences.
Surveys play an essential role in collecting data that affects making decisions. Hence, companies must conduct a name testing survey to ensure that the name of the product, service, or business resonates with potential customers.
What are name testing survey questions?
A name testing survey is used to find out whether your audience likes the brand name. If you are going to launch a new product, then you can check if people connect with the name, find it catchy and easy to remember. In such an instance, it helps to conduct a name testing survey before the launch.
However, if you are already running a business and looking for insights into what can improve your sales, you can survey to check if your customers trust your brand name and find it appealing. 
For instance, you may present different options of names of your product or service to your audience and ask them, "Which of the below names would you like the most for our business?"
A change in a brand name significantly impacts how people look at a brand. It changes their opinion about the brand and forces them to think from a new perspective. Hence, it is advised to conduct a name testing survey at regular intervals to check the audience's pulse.
Creating a name testing survey lets you discover why your existing or potential customers would choose your products over your competitors. It helps you find out why people like (or don't) your brand name. 
Some of the things you can consider while selecting a brand name are;
Uniqueness

Easy to remember

Easy to pronounce

Easy to understand

Relatable

Colors and fonts

Trustworthiness

Emotional value

Perception 
Free example brand name testing survey questions
Customer feedback offers crucial insights into their experience and choices. Ask questions to collect data on how the business's name affects their purchasing decisions. Understand the weightage a brand name carries in their decision to buy a product or service. 
On a scale of 1-10, how would you rate our brand name?

On a scale of 1-10, how likely are you to refer our brand to your friends and family?

What do you like the most about our brand name?

What are the top 3 things you think of when you hear our brand?

What do you think when you see our brand name on a product or collateral?

How satisfied are you with the brand name?

What kind of emotions does our brand name evoke?

Would you like to change our product name?

Rank below options in the order you think first when you hear our product name.

Rank below options in the order you think first when you hear <your niche>.
How to create a name testing survey?
You can conduct an online name testing survey under 5 mins! Just sign up with an online survey software and use their free ready-made survey templates or create your own. You can always customize survey template to suit your requirements.
QuestionPro lets you create a free account and use 80+ features to create a survey, collect data and analyze results. It's free for ever and doesn't require a credit card.
Here's how you can get started with creating a brand name testing survey.
Design a questionnaire
Distribute the survey
Select the channel: Choose a distribution channel such as email, website, social media, QR code or mobile app to send your survey. 
Select email template:

Email surveys

are most commonly used type of survey. Import contacts, create distribution lists and select an email template. For respondents spread across various geographies, you can save multilingual email templates as well as offer an option to them to

translate the survey

in their preferred language.

Schedule email reminders: To save on time, you can schedule

survey reminders

to go out automatically on a specific date with a survey link embedded in it.
Generate reports
Real-time dashboard: Keep an eye on the real-time performance of the

survey with a dashboard

showing completion rate, dropoff rate, average time taken to complete the survey, summarized view of response, etc.

Apply data filters: Drill down into data with filters based on demographics, question, device, system variables, etc.
Export data: Export survey results in commonly used formats like .xls  or .csv and analyze it further. Additionally, you can also export reports in various formats.
Integrate third-party tools: To gain a holistic view of survey outcomes, integrate your survey tool with third-party applications like CRMs, marketing automation tools, data vizualization tools, etc.
Share reports with stakeholders: You can

share the survey reports

by sharing the report url with the stakeholders and involve them in the decision making process.

Schedule auto-generation and delivery: Configure your survey software to generate reports automatically and deliver to you inbox at a fixed date and time.
Conclusion
Brand name plays an important role in the success of new product, service or startup. So, research your target market to gain insights into the likelihood of your brand name being accepted by the audience.
Name testing survey can ensure that the name you choose will be liked by the customers without having to do the guesswork. In fact, it is advisable to conduct it at regular intervals to stay on top of changing consumer behavior. 
Sign up for a free account now and get started in no time!