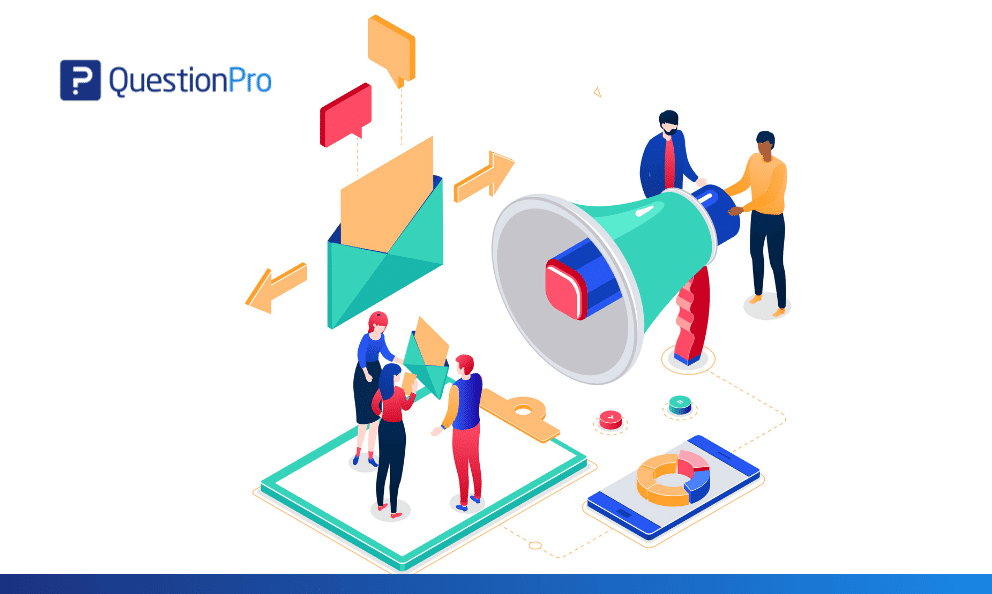 Net Promoter Score (NPS) email is sent to request customers to answer a short question and rate you on the scale of 0-10. It is one of the key metrics to measure the business's success. NPS question measures the likelihood of somebody referring your organization to their friends or colleagues. It also helps to estimate future sales and hence the growth of the company.
The Net Promoter Score survey question helps you understand who your loyal customers are and who might be a risk churn. Net Promoter Score calculation helps you classify your customers into three categories, detractors, promoters, and passives, based on how they rated you on the NPS question. It also lets you know where you stand concerning your competitors by way of NPS benchmarks.
While it might seem to be a no big deal in asking people to give you an NPS score, writing an NPS email can get a bit uphill task if you don't pay attention to small things – small things that can make a huge difference.
Based on our experience, we thought of sharing some of our takeaways from conducting thousands of NPS surveys with you. Below are some of the tips that will get you a high response rate from your NPS emails.
NPS email examples to measure your Net Promoter Score
Customer NPS email template
Subject: Your honest feedback can make a difference; please rate us.
Body:
Hi <Name>,
You have been using <Product/Service Name> for some time now. Thank you for selecting us over others.
Could you please spare a few mins to answer this <Survey*> and help us further improve our services.

* The link will be active till <Date>.
* The information gathered will be used for quality assurance only.
* We value your privacy and do not sell personal information to third parties.
We appreciate your time and feedback.
Thank you,
<Name>
If your survey consists of more than one question, embed a link to the survey in the NPS email.
Staff NPS email template
Subject: Love working here? Answer this Employee NPS survey.
Body:
Hi <Name>,
Thank you for being part of our team. We appreciate your contribution to the growth of this organization and would like to have your feedback.
Request you to answer the below question.
<Embed_Question>
We assure you the response will be kept entirely confidential.
Thank you,
<Name>
20 Tips to make your NPS email surveys effective
Most of the Net Promoter Score (NPS) surveys are conducted via emails; they are convenient, easy to send, track, and fill-in. The response rates, however, are below 5%, which is a cause for concern. We will share 10 tips or hacks to make your Net Promoter Score (NPS) email surveys more effective and improve response rates.
1. Brand your NPS questionnaires
Customizing your surveys to reflect your brand themes, colors, logos, etc., is important. It lends credibility to your emails and surveys and improves your open and response rates significantly. You can also modify your surveys' language to mirror how your brand communicates, be it jargon, key phrases, call to action (CTAs), etc.
2. Personalize your email surveys
This is very important, and probably the most neglected element to email surveys. Personalizing your email surveys has shown to boost open and response rates significantly. According to a recent survey, 74% of the marketing community believes personalization improves response rates and engagement.
3. Ask for reasons
Many NPS surveys ask for ratings but not the reasons behind customers' ratings. Unless you have the reasons, how can you work on improving your customer experience? Do not be afraid; your customers will be more than happy to let you know.
4. Keep it short
Do not lose sight of the survey focus, and ask too many questions. The more questions you add, the more people you are going to lose. Keep your NPS email surveys short and simple for the best results.
5. Perform A/B tests
It is ideal to run A/B tests for your email surveys and see which works better. This data will come in handy for any future NPS campaign that you'll conduct. Use this information to improve upon your survey response rates.
6. Mobile-first
A recent survey suggests more than 75% of survey respondents complete questionnaires on their mobile phones. Needless to say, your surveys have to be mobile-friendly, or you may have low response rates.
7. Incentivize your surveys
Give your survey respondents or customers an incentive to fill out your surveys. This could be a coupon or discount on their next purchase, a shout out on social media, etc. Whatever it may be, make it worth their time.
8. Remind once
Not all your customers will respond to your surveys. You may remind them about the surveys, but do not overdo it. Remind them once, and that should be enough, do not annoy your customers into unsubscribing from your emails.
9. Avoid email aliases
Surveys that come from info, marketing, or team aliases have lower response rates than emails from individuals. If you are conducting customer surveys, let them come from customer support or customer success team's head or manager.
10. Time your surveys
Just because people can take online surveys at any time of the day does not mean you don't need to time them right. Be mindful of working hours, any upcoming major holidays or events, etc. This is crucial to have a healthy survey response rate.
11. Embed question into an email
Instead of asking customers to click on a link that will take them to another page, embed an NPS question in the email. It will make it easier for them to answer the question. All they need to do is click on a button. Because of such ease and speed, the response rate will drastically improve.
12. Short and crisp
NPS email should be concise and to the point. The email subject and body should be so to-the-point that the customers don't need to spend much time reading the email. The longer the email, the more time they spend in reading it and hence lesser the chances of answering your survey. It's about capitalizing on that short window of time for their attention and action. Use an NPS survey template if you want to embed customer loyalty or customer satisfaction surveys on your website.
13. Do not deviate from the context
The questionnaire should be concise and consist of a scoring question and an open-ended text question to let them share the reasons behind their customer feedback. Ask questions such that it will help you analyze how is the experience with your business and whether they will continue the relationship in the future.
14. Send from your personalized email account
Using an alias account such as [email protected] sounds too generic and cold. Instead, send an NPS email from an account that looks more human. For instance, [email protected].
15. Customer journey
Send NPS survey email considering their journey. For instance, to measure how an event or a purchase affects their experience, run an NPS survey immediately following the event. Or to measure the silent customer experience journey, you can also send a survey every quarter or twice in a year. In the latter case, you will be able to identify passive customers soon and prevent them from becoming a detractor. Happy customers will rate your business well, which will lead to a good NPS score. Also, the chances are they will continue to be your customers and recommend your business in the future. NPS score is an indicator of customer satisfaction and what your customers feel about your business.
16. Select templates
To save on time, use NPS email templates tried and tested by many researchers.
17. Distribution method
There can be different ways to reach B2B and B2C customers. Choosing the right platform influences the response rate of an NPS survey. Find software that offers different distribution methods to reach your target audience.
18. Time to send an NPS email
Based on our research, we have found out that Tuesday, 10-11 am, is the best time to send a survey. Also, week 4 is the best week to get a high response rate for your surveys.
19. Iterations
If you don't get a response after the first feedback email, send a follow-up email. Sending up to 3 emails to get their answer can be considered as an appropriate number.
20. Mobile-friendly
Before sending out to customers, test how NPS email renders on various mobile platforms. If the NPS question text is long, it might not look good on mobile.
While generally, NPS email surveys are sent to customers, they can be sent to employees as well. They measure the probability of them referring a position at your organization to their friends. In such cases, the employee NPS score can act as a pointer of employee satisfaction.
How to improve NPS email survey response rates with effective subject lines
Subject lines play an important role in influencing user action. Send emails with catchy subject lines to have higher open rates. This is most crucial when it comes to Net Promoter Score emails. If your customers fail to open your emails, then there will be no email feedback for you to consider and act on. You will have no way of knowing if your customer is a detractor, promoter, or passive. We tackle this problem with subject lines that are well thought and that incite action. Remember the below points on subject lines to boost your email open and response rates significantly.
Personalization
As elaborated above, personalized emails have higher open rates and click-through rates. Imagine these two email subject lines and tell us which one would you read and click on.
We would like to hear from you about our services

John, we would like your feedback to improve our services
Sentiment
Your customers will be willing to take surveys that convey emotions and excitement. Have subject lines that indicate feelings of humor, curiosity, excitement, etc., to improve your open rates.
Significance
It is ideal to indicate the significance of your email and their journey to encourage better response rates. Consider this example, would you be willing to respond to this email? Hey John, your free trial ends tomorrow. How'd you like our service?
Incentives
Your response rates are going to be high if you incentivize your surveys. Make it worth their time, include something that excites them. It can be a coupon or tickets to a movie, making a charitable contribution in their name, etc.
Clarity
Clear and concise subject lines work better than creative ones. What does that mean? Avoid vagueness, be honest about your motives and what you expect from the customers. Subject lines that say We value your feedback are vague and should be avoided. Avoid subject lines that are suggestive, lines such as Tell us why you like our service. Instead, use subject lines that are clear and to the point such as, Would you recommend us to your friends and family?
Questions
A recent study suggests that people tend to take notice of questions. If you wish to improve your NPS email and Net Promoter Score survey rates, try using direct and concise questions.
The best NPS email software
NPS data can be an indicator of how well you meet your customers' expectations and your team's performance. Choose software that lets you import your contacts and create an email list at both surveys and a global level. Save commonly used email content as a template and reuse it in other surveys.
Your NPS email survey software should let you send, schedule, and scale from zero anonymous surveys. If you are an organization with customers and employees spread worldwide, your survey software must also support multiple languages.
QuestionPro lets you view NPS emails' distribution history along with statistics like the number of emails sent, bounced, pending, viewed, and batch status. You can send reminders and increase the response rate of the NPS email survey campaign.
NPS email is an extension of your brand and so, should resonate with the same style and tone. If you need more tips on how to write a good NPS email or need any help with surveys and market research, get in touch with us.
At QuestionPro, we work on what we believe in. Schedule a demo with Ken and discover how to boost customer loyalty and collect valuable consumer insights through our CX survey and analytics management platform.