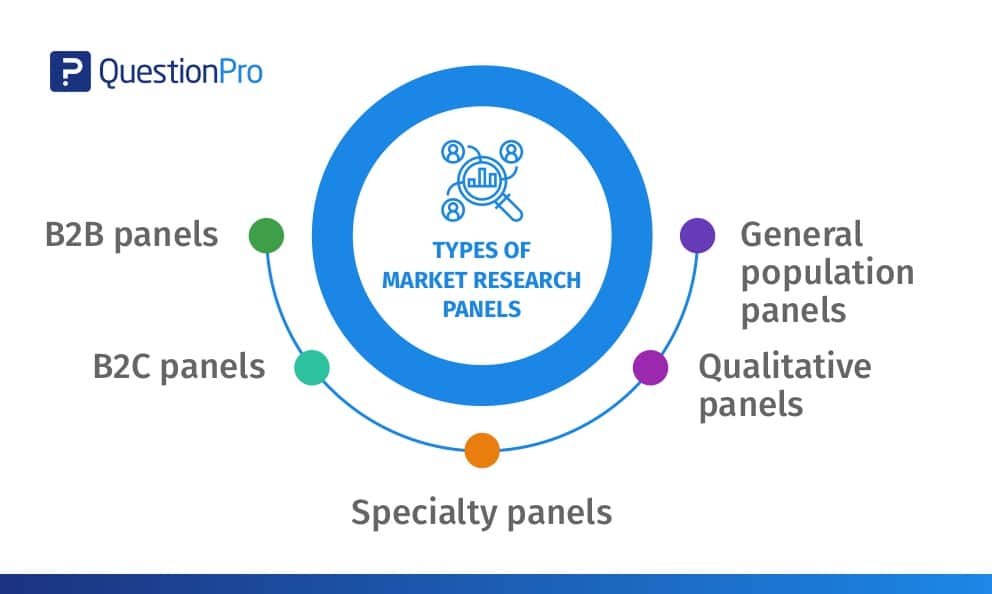 What is a paid market research panel?
A paid market research panel is a group of pre-recruited survey respondents who opt to participate in various research studies. Researchers reward panelists for taking part in market research studies for their inputs and time for completing the survey. They hand out rewards in the form of direct cash benefits, gift cards, and gamified rewards. Paid market research panels are growing in popularity. Panelists take part in research such as surveys, online focus groups, in-depth interviews, or even IHUT's (In-home usage testing).
Why use a paid market research panel for valued opinions? 
Getting valuable opinions on a research study helps the researcher get accurate data to make the right decisions. Panel members are pre-screened to take part in research studies. Respondents are generally quick to respond and take part in paid surveys. Panel companies regularly 'identify' and 'clean' their panels to maintain the health of the panel.
For example, panel companies monitor responses based on the time taken to answer the survey, the questions skipped, or straight-lining. It helps them identify fake or bad responses. They check open-ended questions in the survey for reasonability.
What are the types of paid market research panels:
Paid market research panels are generally always online panels. They come in different types and sizes. Researchers send panelists an invitation to participate in various kinds of research studies. Here are the most commonly used paid market research panels:
B2B panels:

A B2B panel, also known as a business-to-business panel comprises of business decision-makers. Panel companies recruit these panelists after profiling them by employee size, industry type, occupation, organizational revenue, designation, to name a few. Members of the panel belong to the various corporate functions like HR, marketing, finance, etc.

B2C panels:

A B2C panel, also known as a business-to-consumer panel comprises of customers or end-users of a product/service. They are customers belonging to different business fields like automotive, leisure, travel, entertainment, tourism, etc. Service and product-based businesses make use of these types of panels for their research activities.

Specialty panels:

Individuals who perform a specific type of job or belong to a particular specialist group of people make up a specialty panel. Specialty panels come into picture when the research that demands responses from a target market that is beyond the general population. Examples of specialty panels are general contractors, college students, home-owners, video gamer panels, healthcare professionals, and more.

Qualitative panels:

Qualitative panels are panels made up of individuals who participate in focus group discussions for qualitative market research. They take part in open-ended discussions rather than answer closed-ended questions. They are usually used to gather information and gauge opinions from customers or experts about products, features, and services before further development.

General population panels:

A general population panel is also known as a GenPop or CensusRep panel. This panel comprises a group of people or individuals who belong to a specific country, state, region, or locality and represent the actual demographics of the

population of interest

. But, researchers seldom target GenPop panels to conduct paid focus group interviews.
How are market research panelists rewarded? Types of rewards:
Many researchers reward their research panelists for dedicating their time and effort to fill online surveys. The main objective of rewarding panelists is to complete the data collection phase quickly and accurately. It can also get difficult to find focus groups for your study easily. The type of incentive you offer depends on the pre-planned budget. Panelists who join market research panels do so with the motive of earning extra income for the time they dedicate to research. Here are the most frequent incentives:
Cash/cheque:

Cold, hard cash is probably the most attractive reward. Many agree that 'cash is king,' and earning extra cash is undoubtedly the most attractive research incentive. Cash incentives are a good option when conducting qualitative surveys or in-depth interviews.

E-gift cards:

An e-gift card works pretty much like an everyday gift card. But, instead of a physical card, the respondent receives a virtual card with a number via email. Respondents can use the card to make purchases online with the help of the card number and other details shared via the email.

Merchandise:

The respondents are gifted merchandise for the time they take to answer surveys. It generally does not apply when online research (with many respondents located over a large area) takes place, due to the logistics, of course, but it is a great way to attract survey respondents. 

Raffle tickets:

Raffle tickets are an exciting way to engage respondents. Each respondent has an equal chance of winning the amount, but only after completing the survey.
Paid market research panel vs Voluntary market research panel
Here are the differences between using a paid market research panel versus a voluntary market research panel:
| | |
| --- | --- |
| Paid market research panel | Voluntary market research panel |
| Paid research yields quicker responses. | The response collection rate is not as quick, especially if there are no incentives. |
| The quality of responses is higher. | Respondents may lose interest leading to a drop in quality of responses. |
| Helpful for IDI's and specialist/ niche panels. | Helpful for general population studies. |
| More completes – especially for longer surveys. | Lesser completes as respondents can drop out midway. |
| It helps to keep the panel members engaged and coming back for more. | Members may drop-off due to a lack of benefits or incentives. |
| Panelists join these panels to earn extra money. | Money is never the motive here. Either, the respondent is randomly chosen, or, opts to take the survey out of interest. |
What are the benefits of a paid market research panel?
Incentivizing your respondents benefits them. But most importantly, it helps the accuracy of your research. Let's look at the benefits received by the respondents and the researchers.
Respondent benefits:

Respondents receive cash, gift cards, merchandise, or raffle tickets. That's a good deal for them to spend just a few minutes of their time. Many researchers also share the research report with the respondents. Many respondents who take surveys because they are interested in the topic of research. Hence, most respondents even accept a summary of the study.

Researcher benefits: Even though researchers spend money incentivizing respondents, it's a good investment. For starters, they receive quick responses to the study and hence can wrap up the data collection activity quickly. Panelists are aware of the fact that researchers weed out inferior responses, and thus take the survey seriously, positively affecting the survey response quality. Getting hold of specialty panels and respondents for IDI's is more manageable as these respondents need to spend more time on the survey compared to a more basic gen pop study. There are high chances of respondents completing the survey because of the incentives they receive upon completion. The researchers keep panel members happy, resulting in a higher incidence rate.