In market research and data collection, a research panel is a powerful tool for gathering valuable insights from target audiences. Research panels allow researchers to access a representative sample of individuals, enabling them to gain a deep understanding of consumer behaviors, preferences, and opinions. 
This blog will discuss what a research panel is, its type, and why it is important. We also discuss examples of it for better understanding.
What is a research panel?
Panel research is a method for repeatedly collecting data from a pre-recruited set of people. These individuals generally provide demographic, household, and behavioral research data, making conducting future studies more accessible.
Technology, primarily the internet, has transformed research panel methodology by allowing us to access more significant numbers of respondents. The research panel provides many advantages for companies, including faster turnaround, higher participation rates, and cost savings.
Quantitative data can provide market research panel companies with insights into pricing, effectiveness, and sales projection of their products or brand.
Why is the research panel important?
Building a quality research panel is important because data quality depends on it. With a research panel, you can build rich profiles of your members, which will help ensure that your reporting provides quality responses.
If you are looking to launch a new mobile phone, you would want to target panelists interested in mobile phones and technology to yield more informed answers. Additionally, a well-managed panel of pre-recruited respondents allows for a faster response rate, as the participants have shown interest in participating in surveys by joining the panel.
Here are a few more reasons why research panels are important:
Research panels pick representative samples. This representative sample improves research validity. Panels ensure data correctly reflects the broader group's ideas, behaviors, and preferences by recruiting individuals who closely match the target population or specialized subgroups.
Access to a targeted audience
Panels give research-relevant audiences. Panels help market researchers target customers, professionals, or people with specific traits. Comparatively, targeted sampling saves time and resources.
Flexibility and customization
Panels allow flexible research design and data collection. Surveys, interviews, focus groups, and experiments can be tailored to research goals. Panels allow academics to engage individuals frequently and obtain in-depth data on various topics.
In comparison to other sampling methods, research panels enable quicker data collection. Since the panel members have been pre-selected and willing to participate, researchers can rapidly gain access to them, reducing the time necessary to begin data collection.
What are the advantages of conducting a research panel?
The research response rate is amplified as panel members have willingly signed up to participate in the research process.
Different aspects of a particular subject can be discussed with panel members, unlike other market research panel methods where a single topic must be addressed. This makes the market research panel effective and less expensive.
A panel with a sizeable number of participants makes it easy for marketers to record behavioral changes across demographics due to the diversity of panel members.
Capturing better details in market research panel insights as panel members have a more sophisticated understanding of the research subject since they are profiled, screened, and validated during recruitment.
Qualitative market research methods such as focus groups, discussions, and online interviews can be far more effective if they're conducted with a well-recruited panel.
Quantitative market research can be conducted to muster data and metrics-based inputs for survey research by sending out online surveys and online polls to a panel.
Types of research panels
Research panels are classified into several types based on various characteristics. These are some popular types of research panels:
These panels are made up of people representing a particular customer category. They provide helpful information about consumer behavior, preferences, and attitudes toward products, services, or brands.
Individuals who work in specific professions or sectors make up professional panels. They are often hired to provide insights and viewpoints on their expertise.
These panels are made up of people who have chosen to participate in online research investigations. Online panels provide researchers with convenience and accessibility, allowing them to reach a bigger and more diverse pool of participants.
B2B (Business-to-Business) panels
These panels are made up of business or company representatives or people who make decisions. B2B panels give people in the B2B market information about business methods, industry trends, and customer tastes.
Medical panels are extremely important in shaping medical practices and promoting healthcare. Medical panels are made up of healthcare experts, physicians, specialists, and researchers. These groups are frequently involved in clinical trials, medical research, and the creation of treatment standards.
When to use a market research panel
An online market research panel can be used to obtain valuable information on customers, markets, and products in various situations. Here are some times when using a market research panel can be helpful:
A research panel can provide focused data on market segment traits, preferences, and habits. Surveying panel participants from certain demographics or customer segments can help you customize marketing techniques, product features, and pricing to distinct consumer groups.
A research panel can provide feedback during product development or improvement. Their input can improve functionality, identify flaws, and satisfy customer expectations. Concept, usability, beta, and feedback testing might involve panelists.
A study panel can help you measure brand perception. Surveying panelists about their brand awareness, perceptions, and affiliations can reveal strengths, flaws, and improvement areas. This data informs brand positioning, messaging, and marketing.
Who uses market research panels?
Many persons and organizations use online market research panels to obtain insights and data for various purposes. Here are some organizations that frequently use online market research panels: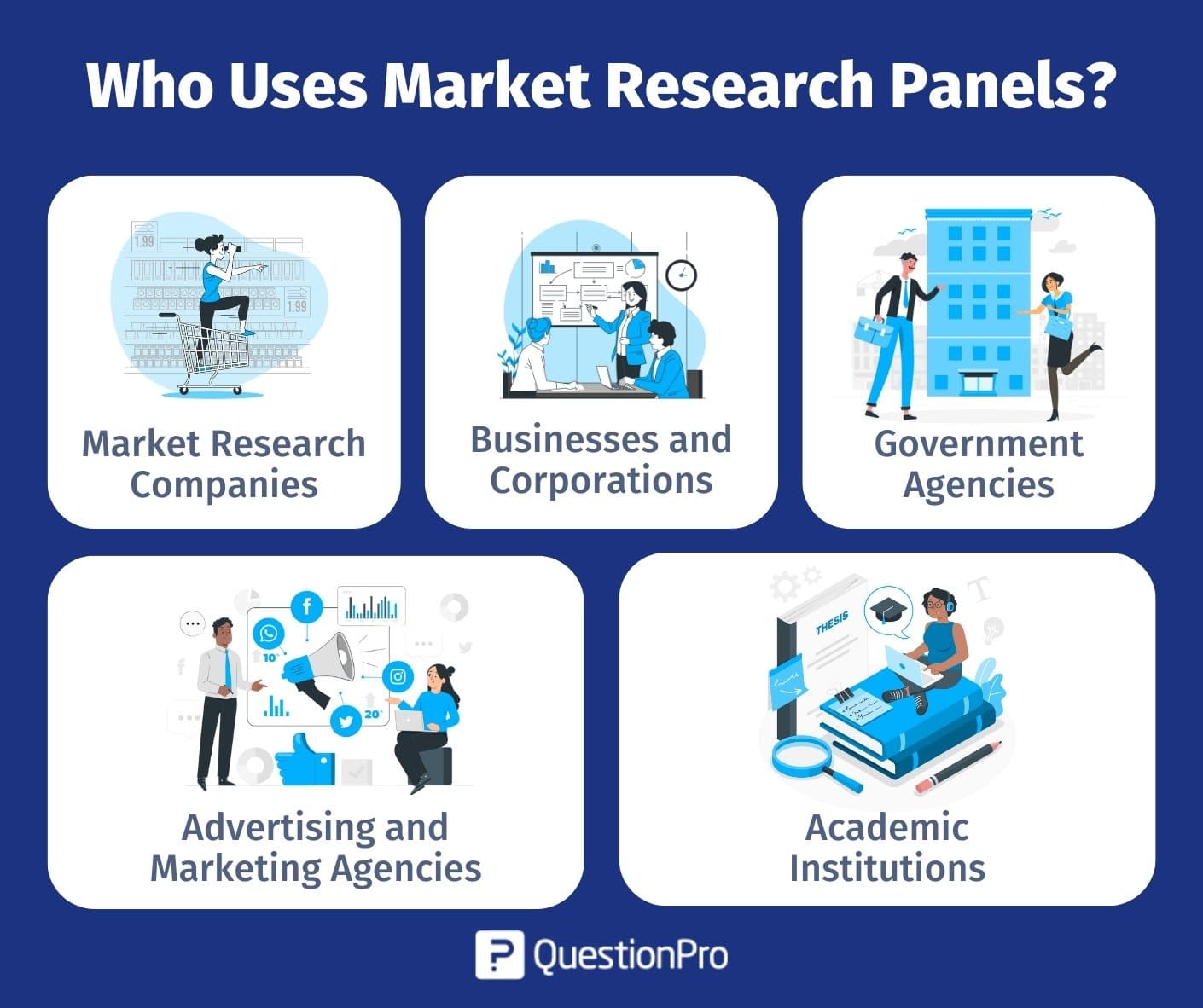 Market research companies
Market research companies specialize in conducting online surveys for corporations and groups. They frequently use private research panels or panel suppliers. Market research organizations employ panels to poll, focus groups, and otherwise gather data about customer behavior, preferences, and market trends.
Businesses and corporations
Market research panels help businesses understand their target market, analyze customer satisfaction, evaluate product concepts, and make informed business decisions. Panels help companies discover consumer demands, enhance products, and create efficient marketing tactics.
Advertising and marketing agencies
Market research panels help advertising and marketing organizations test ad concepts, evaluate creative materials, analyze ad effectiveness, and acquire consumer insights. Panels assist agencies in targeting, messaging, and optimizing advertising campaigns.
Many government organizations use market research panels for policy development, program evaluation, and public opinion research. Panels help governments understand citizen opinions, evaluate policies, and make educated decisions.
Researchers and academics use market research panels from numerous disciplines to obtain data for their studies and experiments. Panels are a practical approach to reaching out to many people and collecting data for quantitative and qualitative research initiatives.
How do you recruit an audience for a research panel?
We use many different channels to recruit members who will be active participants in our research panel. We've found the most effective via email and social media via the internet. Once we've recruited a member, we have them fill out a short survey with profile information, which we use to understand our target audience better.
Build your research panel or "rent" one?
In cases where your customers are considered niche, it makes sense to invest the time into building out your own online panel of survey respondents. While it takes more effort than using an outsourced panel provider ("renting"), the quality of the respondents is generally higher in self-recruited panels. The cost is cheaper than using external vendors for all your market research initiatives in the long term.
Example of the research panel
Let's take an example of a market research panel to understand how it is executed at an organizational level and how it helps derive meaningful insights.
In market research, the most commonly used panel is the consumer panel. Organizations use this panel type to understand buyer/customer psychology, personality, and purchasing habits that extend to the kind of product/service preference, features, and influence of cost factors.
Typically used in qualitative market research studies, the panelists are localized, sourced from specific geographic regions, and rarely generalized.
Let's take a hypothetical instance where, say, Apple intends to understand the scope of improvement or feature enhancement compared to a competitor, say, Samsung. In this case, Apple can get effective consumer insights by conducting online community research on a sample of "smartphone customers who use Samsung products."
This way, Apple can gather actionable feedback on what it needs to do to attract Samsung users by potentially implementing the collected feedback. The success of such panel research is highly dependent on the quality of the sample with multiple determining factors such as concept and question understanding, honesty, and willingness to provide active feedback.
Learn how to use QuestionPro to ask better questions leading to better Insights!
Panel research with QuestionPro
QuestionPro's research panel platform offers a full platform for managing and conducting research with a panel of participants. Here is a step-by-step instruction for using QuestionPro for the market research panel:
QuestionPro offers panel management solutions that allow you to develop and manage your market research panel of participants. You may keep a database of panelists and track their demographics, engagement, and participation rates.
If you already have a market research panel or work with external panel providers, QuestionPro can integrate with it seamlessly. You may input panel data into the platform, assign surveys to panel participants, and manage panel research communication and incentives.
Create bespoke surveys for your market research panel with QuestionPro's simple survey creation tools. The platform includes a variety of questions kinds, such as multiple-choice, rating scales, open-ended, and more. Advanced features like as skip logic, branching, and randomization can also be used to build dynamic and entertaining surveys.
With QuestionPro, you can send surveys to your panel members in various ways. You can send survey invites via email, share survey links via social media platforms, embed polls on websites or gather offline data using QR codes. This enables flexible and convenient distribution to successfully reach your panel.
Data collection and analysis
You can use advanced analytics tools to generate real-time reports, visualize data, and derive relevant insights from panel research. QuestionPro can collect and analyze data in real-time. When panel members complete surveys, their responses are instantly recorded and saved in your QuestionPro account.
Using QuestionPro's panel administration tools, you may continuously monitor and maintain your market panel research. Maintained panelist demographics, updated participant profiles, and oversaw panel attrition and recruiting. Assess the quality and representation of your panel regularly to ensure its effectiveness for future research projects.
At QuestionPro, we understand the importance of panel research. We provide power to your research with an incredible sample of 22 million panelists from over 32 countries with 300+ profile data points. We provide our customers with 360-degree survey solutions. We understand our customers and their needs and deliver the answers accordingly.
Frequently Asking Questions
What is the purpose of a research panel?
A research panel company's established survey participants supply data and input to companies, governments, and non-profits studying customer behavior and other trends.
Why do researchers use panel data?
Researchers often use panel data to conduct studies on numerous issues requiring quantitative data, which is data in the form of numbers.
What method is panel discussion?
A panel discussion is an excellent approach to involving students in significant classroom topics. A group of 4-6 students serve as panelists, while the remaining students serve as the audience.
Why is panel data better than others?
Panel data can be used to model both common and individual group behavior. Panel data has more information, variability, and efficiency than pure time series or cross-sectional data.
Which type of research involves a panel?
 A panel survey is a type of longitudinal research. It can be either a qualitative or quantitative survey used to assess people's behavior.