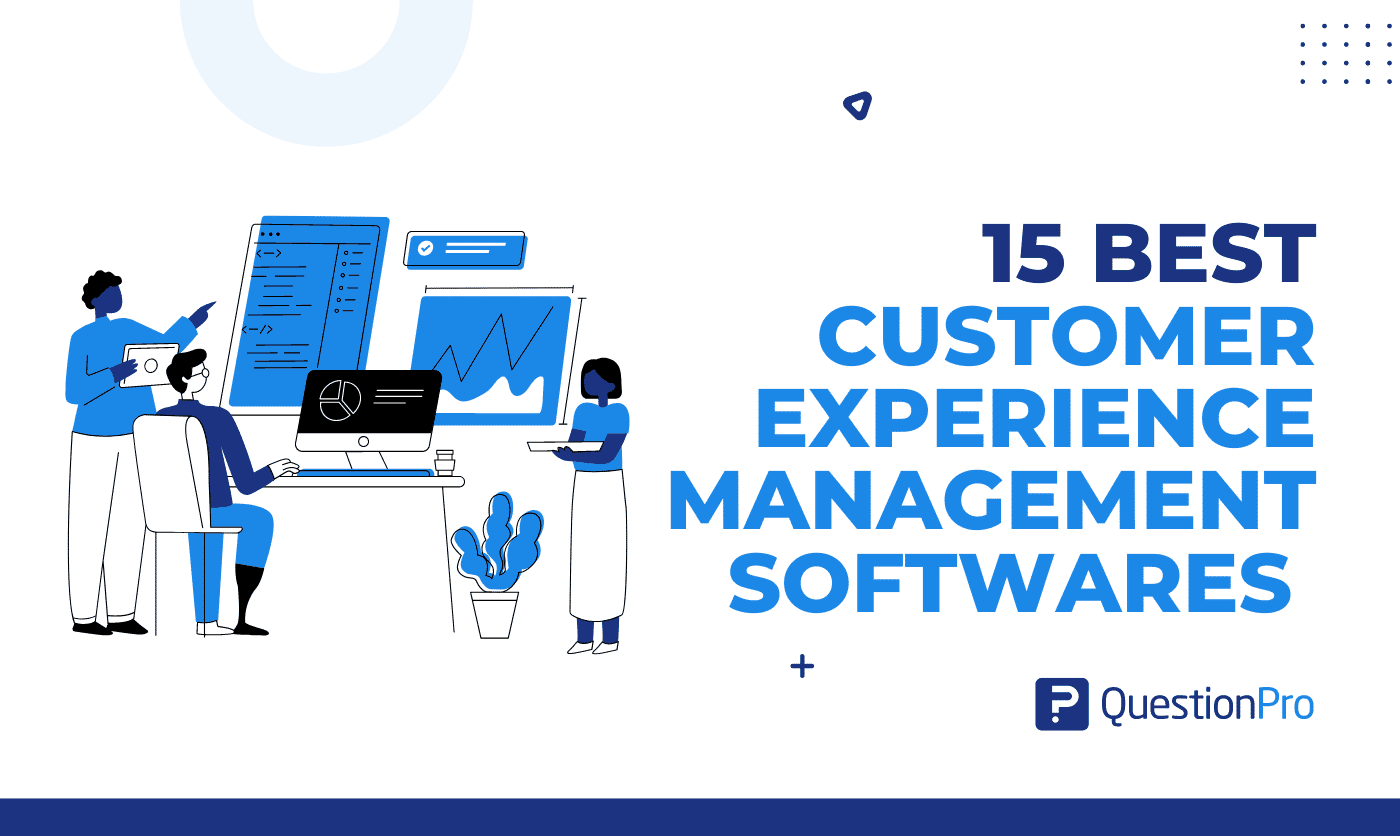 The likelihood that customers will stick with your service over the long run vs. switching to a competitor is greatly influenced by a satisfying and memorable customer experience. For this, let's discuss the 15 best customer experience management software to achieve a customer experience that includes elements like user path optimization and communication with customer support representatives.
LEARN ABOUT: Service Recovery
Two-thirds of businesses compete based mainly on customer experience, according to a Gartner survey on customer experience. The customer experience is the top priority for roughly 50% of firms to ensure success over the next five years.
Businesses need a reliable system to monitor and enhance the customer journey and experience to accomplish that. Customer experience management software (CEM) can be used in this situation.
But with so many options on the market, selecting the proper software can take time and effort.
In this blog, a list of the top customer experience management software based on their features and pricing has been compiled to make it easier for you to choose the tools that best meet your needs.
What is Customer Experience Management Software?
Customer experience management (CEM) tools help businesses keep track of and organize all client interactions over the course of the customer lifecycle.
LEARN ABOUT: Customer Lifecycle
The answer aids in improving client interactions and cultivating client loyalty. Businesses must develop strategies that include all client interactions if they want to manage the customer experience. With integrated, current data on their accounts and profiles, CEM systems give businesses a holistic view of their consumers.
LEARN ABOUT: Client Management
Experiences with customers encompass communication through traditional channels like live chat, phone calls, and online transactions in addition to text and social media. CEM has become a challenging procedure due to additional touchpoints and communication channels.
15 best customer experience management software to use
The best customer experience management software currently on the market is listed in the following list, which can be found worldwide.
1. QuestionPro CX
Over 96% of online reviews give QuestionPro five stars, making it a frontrunner in online survey software. You may develop, send, and evaluate online surveys, questionnaires, quizzes, and polls with the aid of this program.
You may do sophisticated analysis and further tailor your survey experience with additional options. QuestionPro offers its consumers access to its industry-leading 24 X 7 LiveChat whenever they need assistance.
Four product editions are available for QuestionPro: the free version for life, the Advanced for single users, Team for cooperation, and Research (with all premium features).
There are also additional QuestionPro products available for automating CX, Workforce, and other uses. QuestionPro CX examines the textual comments left by your consumers and concludes the qualitative information.
Features:
NPS & churn risk
Sentiment analysis
Advanced dashboards
Workflow setup
Disposition metrics
Closed loop
3rd party software integration
Price: With more than 80+ restricted features, QuestionPro is free to use. Starting at $99 per month are premium plans. Premium features are available for trial.
2. SurveySparrow
The NPS survey tool from SurveySparrow makes it simple to track consumer trends and employee engagement. With SurveySparrow's omnichannel approach to feedback solicitation, you can make converting consumers into promoters effortless.
With customized workflows from SurveySparrow, you can automate closing the feedback loop to value client feedback right away and appease your critics. The omnichannel strategy enables you to communicate with your audience via any channel, including email, SMS, in-app embedding, and QR codes.
The case management function of SurveySparrow can be used in conjunction with the NPS tool to create tickets and respond to client feedback quickly.
Features:
360 Degree Feedback
A graphical representation of the activity
Feedback Provided in an Anonymous Caption
Chat/Messaging
Management of the Experience Provided to Customers
The Process of Separating Customers Into Groups
Price: With the CX Basic subscription, SurveySparrow costs as little as $99 monthly (2 users included). It provides a 14-day free trial without requesting your credit card information.
3. Qualtrics
Qualtrics is software for managing surveys, research, and customer experience. It contains built-in intelligent features, such as Text IQ, Stats IQ, and Predict IQ. It can be used with the tools you are already using.
Qualtrics is a platform for gathering information about customers, employees, products, and brands. It can be used to build forms, do surveys through multiple channels, and analyze data.
Features:
It has Customer Analytics and Customer Retention features.
Customer Surveys Software is available on this platform.
It has CX Digital.
It has the ability to do Closed-Loop Follow-Up.
Price: You can ask for a demo and receive a quote. According to online reviews, it offers a free plan, and the program costs $3000 annually.
4. Medallia
For customer experience, Medallia provides a cloud-based platform. It provides tools for customer recovery, benchmarking, data integration, and data collection. It will offer in-the-moment, thorough insights.
For the financial services, retail, public sector, telecom, and B2B industries, Medallia provides Enterprise Feedback Management SaaS platforms and Customer Experience Management platforms. This platform will enable you to gather input from any internet-connected device.
Features:
It offers dynamic analytics.
It provides text analytics and pushes reporting functions.
It offers the ability to share media and receive a mobile response.
Price: On demand, a demo is offered. According to online reviews, the monthly cost would be between $40 and $350. To learn more about their prices, request a quote.
5. LiveAgent
One of the most significant help desk applications available today that streamlines communications boosts agent effectiveness and raises customer happiness with sophisticated features. Enjoy a robust ticketing system, native live chat, knowledge bases, customer portals, an integrated call center, and more.
Featuring cutting-edge automation features, LiveAgent is a potent support desk solution. The program promotes teamwork and increases the effectiveness of workflow. Any size remote team can benefit from it.
Features:
Utilize proactive chat invitations, real-time typing view, and pre-chat forms, or track which pages of your website are being viewed and for how long.
Create a single dashboard with a universal inbox to consolidate all consumer communications.
LiveAgent connects to an infinite number of phone lines, emails, live chats, knowledge bases, social media platforms (Facebook, Instagram, Twitter), and specialized apps like Viber.
Create a variety of gorgeous knowledge bases or customer portals to give your users self-service capabilities. They are completely editable and may be created using a WYSIWYG editor.
Connect LiveAgent with all the devices and programs you often use with its 40+ third-party connections.
For customer care on the go, iOS and Android apps are available for download.
Support for multiple languages: LiveAgent is available in translations for over 40 languages.
Price: It has a free 14-day trial period and a freemium payment structure. The monthly fee for the All-Inclusive package is $39 for each agent.
6. ZOHO Desk
A very simple-to-implement and used customer experience management tool is Zoho Desk. Utilizing a variety of channels, including email, phone, social media, and websites, the solution enables firms to manage client interactions. Additionally, the software excels at automating routine tasks, which helps users save both time and money.
The fact that this application can be integrated with so many other platforms, including Salesforce, Trello, Slack, and others, is arguably its best feature. Additionally, with SDKs, you can create your own custom help desk applications.
Features:
Workflow Automation
Management of omnichannel conversations
REST API can be used to add customized capabilities
Integrate AI and a knowledge base into your website
Price: Free up to three users, Standard plan $14 per agent per month, Professional plan $23 per agent per month, and Enterprise plan $40 per agent per month.
LEARN ABOUT: Effective Customer Success Plan
7. Zendesk
Zendesk provides tools, including security, help desk software, ticketing systems, knowledge bases, and community forums. Customer connection and service are made possible by Zendesk's reliable and flexible platform. Businesses of any size can utilize it because it is a scalable platform.
The Zendesk customer support platform will facilitate communication and assist you in turning encounters into friendships. A knowledge base, community forums, a ticketing system, and other features are abundant.
Features:
Sunshine is a free CRM platform that can create custom customer interfaces and applications. Additionally, based on sunlight is Zendesk.
It offers security capabilities for data center and network, application, product, and product security.
You will have the option to translate articles into 40 different languages using Zendesk knowledge management software.
Price: Different pricing tiers are available from Zendesk for various products. You will pay $89 per agent per month for Zendesk Suite. It provides a risk-free trial.
8. Adobe Experience Manager
An open and flexible system, Adobe Experience Platform provides intelligent tools and services. Data governance, customer data platform, customer location mapping, and other functionalities are included.
There are many platforms that Adobe Experience Manager supports, including Windows, Mac, Linux, Android, and iPhone/iPad. It is the answer for teams of any size in any sector. It offers attributes like identity control, real-time segmentation and customer profiles, and AI and machine learning.
Features:
To assist you in creating your own experience-oriented application, it offers the Experience Data Model tool and other APIs
The Customer Data Platform will be made by combining Adobe Audience Manager with Adobe Experience Platform
It offers the GDPR Service and the Identity Service
Data Science Workspace, Data Governance, and Data Ingestion functionalities are all present
Price: To learn more about their prices, request a quote. According to online reviews, price is dependent on the components used. The cost every year will be between $250000 and $1000000.
9. SurveyMonkey Enterprise
An AI-powered feedback management platform called SurveyMonkey Enterprise offers seamless integration with 150 business-critical applications, a user-friendly experience for administrators, end users, and survey respondents, and the unmatched speed to insights that businesses need to speed up and maximize ROI.
You can improve the customer experience and increase satisfaction and retention with the correct information. You can also build a high-performing workforce by raising engagement and enhancing employee well-being. Finally, you can accelerate business growth by enhancing marketing performance and conducting quick market research.
Features:
Sentiment Assessment
Poll/Survey Management
Feedback Management
NPS Survey Research design
Reporting/Analytics
Price: Pricing Model Per User, Free Trial Available, Starting At $25.00/Month
10. Freshdesk
An omnichannel customer service process tool is Freshdesk. It provides the tools and functionality needed to manage end-to-end field service operations, quickly and effectively solve customer issues, and simplify ticketing. Its built-in automation features can be used to automate repetitive help desk tasks.
Freshdesk offers a single platform for managing all conversations relating to customer assistance from various channels. You can personalize the platform's workflows, agent roles, customer portals, and other features. You can measure and boost productivity using its dashboards, reports, smart loop, and customer satisfaction ratings.
Features:
For consumers seeking self-service options, Freshdesk provides tools like an AI-driven chatbot
Built-in means of automation
Functions for assigning, classifying, and prioritizing tickets
It has attributes like connected tickets, team huddles, shared ownership of tickets, etc.
Many other features are available, including mobile field service, time tracking, and intelligent ticket assignment
Price: A free plan is provided by Freshdesk. Growth ($15 per agent per month), Pro ($49 per agent per month), and Enterprise ($79 per agent per month) are the last three options. These costs are all for annual billing. For 21 days, the platform is available for free use.
11. Alchemer
Asking questions and obtaining feedback are the first steps in every market research, employee, or customer feedback program. There are no per-response fees with Alchemer, formerly SurveyGizmo, making it the obvious choice for serious researchers, businesses surveying large groups, teams that frequently conduct surveys, and ongoing customer satisfaction surveys.
Alchemer makes it simple for small, midsize, and large businesses to incorporate customer feedback into their core applications so that they can develop into more customer-centric organizations.
Features:
Management of Feedback
Various Channels of Data Collection
Management of Negative Reactions
Sentiment Evaluation
Management of surveys/polls
Price: Initially, $49.00 per month. There is a free trial as well as a free version.
12. Acquire
Companies can get a centralized customer service helpdesk from Acquire. It combines all communication channels into one timeline, including voice calls, text messaging, social media, live chat, video chat, and email.
This enhances the response time for client questions and complaints, which enhances the customer experience. Additionally, it offers data analytics that supports choices that enhance the client experience.
Features:
Use the built-in customizations to change the colors, messages, and other aspects of how chatbots seem
Using triggers, the chatbot can send specific messages based on user activity
Using personalized shortcuts, chatbots can send users the URL to your knowledge base
To enhance the experience, assist users while they browse
Depending on the user's interaction, send automatic emails
Price: On request, pricing is provided.
13. Salesforce
You can deliver a superior customer experience across your business units with Salesforce's fully integrated CRM platform. It accomplishes this by combining your sales, commerce, marketing, service, and IT divisions under one roof to give clients a more individualized experience.
Salesforce offers a simple-to-use solution that can be used to achieve a higher return on investment. Also very versatile and scalable are the solutions.
With Salesforce, you can be sure your company will get the customer experience it needs to compete and succeed in its market. Its client 360 solution is incredibly effective at supplying a distinctive customer experience that affects all areas and endpoints of your firm.
Features:
CRM
Complete Integration
Flexible and scalable
Implementation and design simplicity
Strong analytical skills
Price: For a Quote, Contact
Conclusion
Choosing the right Customer Experience Management software is essential if you want customer feedback and information. You might not be able to find out everything about your customer experience with just one tool, but a good mix of tools will do the job.
For example, you can choose QuestionPro CX for feedback surveys and real-time insights into customer behavior. Also, explore the other softwares explained in the blog according to your need.
With the right customer experience tool stack, you can quickly find problems with your CX strategies and make your products and services better fit your customers' needs.