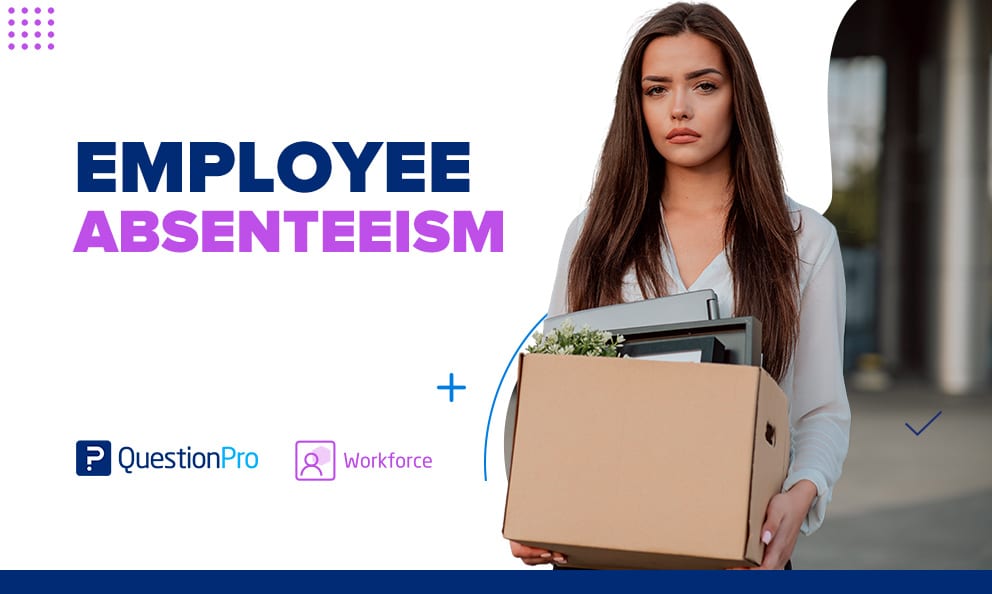 When people don't show up for work, it directly affects productivity. Employee absenteeism can delay projects, undermine customer satisfaction, and significantly impact the bottom line if left unchecked.
Employee absenteeism can negatively affect company morale, productivity, and revenue. No team can perform at its best without all its members, and if the numbers get too low, your employees can feel overwhelmed by the extra work assigned.
You can expect a certain amount of legitimate absence because unforeseen circumstances are a natural part of life. Still, specific incidences of employee absenteeism can be a symptom of deeper problems.
What is Employee Absenteeism?
Employee absenteeism is an employee's habit of being absent from work for diverse, unjustified reasons. Generally, this habit is an indicator of problems in the work environment.
Although employee absenteeism is not an easy problem to solve, it is essential to determine the causes and try to solve it, since it could be detrimental to your workplace's culture and your company's success.
3 strategies to reduce Employee Absenteeism
Understanding the reason is vital to decreasing employee absenteeism. While it's not easy to avoid, several measures can be taken to guarantee that employees are satisfied and won't want to miss work. We'll explore three strategies you can implement to start taking action now: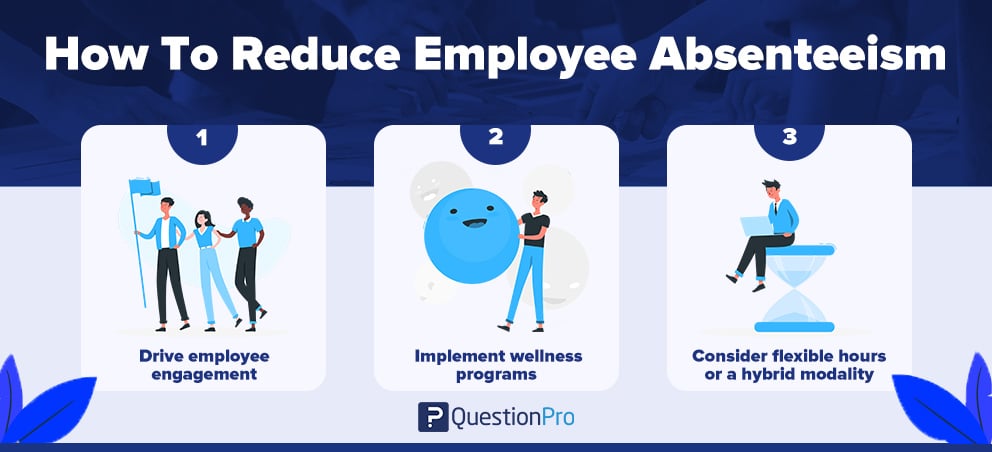 Drive employee engagement
Empowering your employees and increasing employee satisfaction in the workplace isn't just about reducing absenteeism. It's critical to the long-term success of your business. The more engaged your employees are, the better they will perform.
How to increase employee engagement? It's simple, using employee surveys.
Insights gathered through employee engagement surveys will help you build a more robust culture and a better business. When companies use surveys to understand the drivers of employee engagement, they can take effective action on what's important.
Because employee engagement is an outcome, you can use surveys to ask questions about different aspects influencing employee engagement to see which ones are damaging and helping the most at your organization.
Insights from employee surveys empower organizations to make data-driven, people-informed decisions. When managing organizational culture, staying on top of the most critical drivers of employee engagement and well-being in real-time is essential.
You'll need an employee experience survey and analytics platform to implement continuous listening in your business. This is where tools like QuestionPro Workforce can help you grow your business.
Learn more: Workforce Engagement Management
Implement wellness programs
Employee absenteeism is often related to an unhealthy work environment. Good physical and mental health are essential for an engaged and productive workforce.
You can look for ways to reduce stress in the workplace, for example, by implementing a wellness program. These kinds of programs can help mitigate health-related absences while decreasing health care costs and reducing employee stress.
In addition, well-implemented wellness programs can help improve workplace morale and culture, which is essential to the company's operation.
LEARN ABOUT: Employee Wellness
Consider flexible hours or a hybrid modality
It may sound funny and even a little tongue-in-cheek, but allowing your employees to work from home helps reduce absenteeism. Working from home allows your employees to care for sick children, run errands or let the plumber in without having to take a full day off.
While working remotely, many managers may have concerns about the time their employees spend exclusively on work. We recommend watching this webinar on the future of work and how to manage a hybrid workforce.
Ready to create a workplace culture where everyone can reach their full potential? Learn more about how to get ongoing feedback from your employees and start taking action to make a positive impact in your organization with QuestionPro Workforce.